Congress Funds Government, Additional COVID Aid to Wait Until After Election
October 02, 2020

Congress returned to D.C. for a quick session in September before adjourning for the fall campaign season. Members passed a continuing resolution to keep the government funded through Dec. 11 but did not come to an agreement on another COVID-19 relief package.

The government funding measure includes an important provision that reimburses USDA's Commodity Credit Corporation (CCC). The CCC is used to fund programs critical to dairy producers, such as the Dairy Margin Coverage (DMC) and other risk management programs and, more recently, USDA's Market Facilitation Program and Coronavirus Food Assistance Program. NMPF joined other agricultural stakeholders to urge Congress to include CCC reimbursement in the funding measure.

"We are glad Congress reached a government funding deal that provides important support to farmers and families who have weathered incredibly difficult challenges all year long," said NMPF president and CEO Jim Mulhern in a news release after the measure's approval Sept. 30. "This measure not only avoids a government shutdown; it also ensures that additional COVID-19 assistance can be provided as further needs arise and provides important nutrition assistance to families in need."

The funding measure paves the way for a final agreement on Fiscal Year 2021 Appropriations after the election. The House-passed Agriculture Appropriations measure contains multiple priorities for dairy, including a bipartisan amendment directing the U.S. Food and Drug Administration to allocate $5 million toward enforcing federal rules that reserve dairy-product terms for real dairy products. The bill also provides important funding for farmer stress programs, rural broadband, and nutrition assistance.

Congress did not agree on another round of COVID-19 relief, after months of discussions. Negotiations to resolve differences between the Democratic-controlled House measure, the HEROES Act, and various Senate Republican proposals stalled over disagreements on coronavirus-specific unemployment benefits, state and local aid, and other non-farm related issues.

The chambers' plans agree more than they differ on dairy and agriculture provisions. The HEROES Act includes specific directives in how it funds USDA, including additional direct payments based on second-quarter losses without limits to those payments; $500 million for a new direct dairy donation program; $500 million for a new recourse loan program for dairy processors; and enhancements related to the Dairy Margin Coverage program. The Senate proposal provides $20 billion to USDA to support producers but gives less direction as to how the money should be spent.

The congressional sprint toward election day makes it unlikely that Congress will pass another COVID response bill anytime soon. NMPF will continue to work for further coronavirus relief for dairy, with the sector still reeling from coronavirus-related disruptions.

NMPF is advocating for emergency disaster assistance for dairy farmers that reflects losses regardless of an operation's size or structure as well as additional direct dairy-product purchases for distribution to those in need, which will support communities and stabilize prices. NMPF also is working with members of Congress on a dairy donation program designed to maximize access to wholesome, dairy products for individuals and families facing food insecurity.

NMPF expects some type of additional support regardless of the outcomes of November's election.
---
NMPF 2020 Annual Meeting Free to Participants; Will Review Momentous Year for Dairy
October 02, 2020

The COVID-19 pandemic has changed, but not cancelled, NMPF's 2020 annual meeting. This year's joint meeting, held again in conjunction with the national checkoff groups overseen by Dairy Management Inc., will be held online and offered free of charge to all participants.

The two days of general sessions will be held midday Oct. 27-28, while other events associated with the annual meeting will be spread out before and after the main events. The NMPF Board of Directors will meet Friday, Oct. 16, then convene again on Thursday, Nov. 12, for its 2021 organization meeting, including a wrap-up of the Nov. 3 elections. The NMPF Delegates meeting will be Monday, Oct. 26, while NMPF Young Cooperator 2020 program sessions will be Oct. 29-30.

Registration information for the Oct. 27-28 programming can be found here. Sessions will include:
A panel featuring the farmer leadership of DMI, NMPF and the U.S. Dairy Export Council focusing on lessons learned during unprecedented times.
David Wasserman, House editor for The Cook Political Report, will offer an elections forecast.
NMPF's Town Hall session, in which senior staff will share updates and answer questions regarding key policy issues that affect dairy farmers and U.S. dairy via a moderated discussion.
A dairy-organization executive panel will share promotion and policy priorities and plans for 2021 and beyond, including how COVID-19 has uncovered and accelerated opportunities for U.S. dairy. Featured panelists include DMI executives Tom Gallagher and Barbara O'Brien.
Peter Sheahan, founder of Karrikins Group, will share his thoughts on what creates innovation for companies looking to create value in their industries.
An industry spotlight panel will share critical updates and context around environmental stewardship and U.S. Dairy's Net Zero Initiative. Panelists including dairy co-op, brand and organization leaders will share why this topic is more important than ever among dairy consumers and customers, and how U.S. dairy is positioning itself for today and in the future.
---
Dairy Margins Decline on Prices; DMC 2021 Signup Begins Oct. 12
October 02, 2020

The monthly Dairy Margin Coverage (DMC) program milk price-feed cost margin for August was $10.83 per cwt. This was down $1.58 per cwt. from the July margin but still well above the $9.50 per cwt. needed to trigger payment under the DMC. The milk price dropped by $1.70 per cwt., from $20.50 per cwt. in July to $18.80 per cwt. in August. The feed-cost calculation for August was $0.12 per cwt. lower than in July, mostly on a lower corn price. The DMC feed cost has been dropping every month since April.

The USDA-sponsored DMC Decision Tool is currently anticipating a further drop in the margin to $8.26 per cwt. in September driven by lower prices, which would generate significant payments to the higher levels of coverage for the third month this year. Following this, the margin is expected to rebound above $9.50 per cwt. for the remainder of this year.

Signup for the DMC program for 2021 coverage will begin Oct. 12 and will run through Dec. 11. The USDA DMC Decision Tool is currently projecting the margin will begin to drop below $9.50 per cwt. starting in February next year and continue to drop at least through June. Enrolling in the program for next year is strongly recommended for those operations not already signed up under the previous multi-year enrollment option.

The DMC information page on NMPF's website offers a variety of educational resources to help farmers make better use of the program.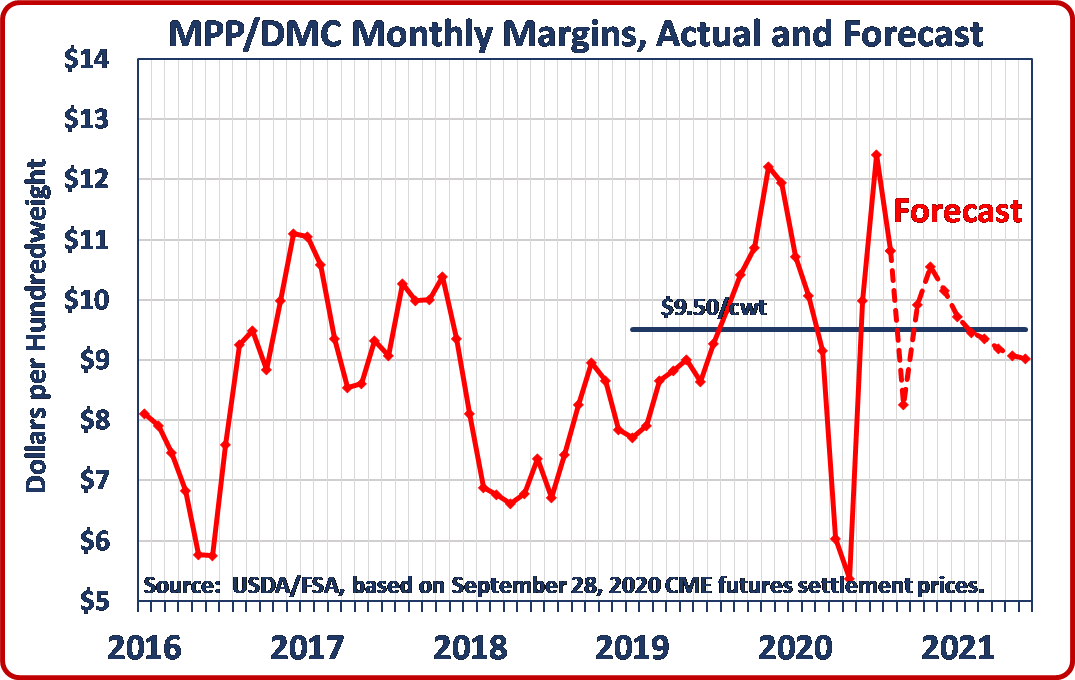 ---
NMPF Annual Cheese Competition Goes Virtual
October 02, 2020

Due to the 2020 Joint Annual Meeting moving from an in-person to a virtual format, the 2020 NMPF Cheese Quality Competition is also going virtual. Because of travel restrictions and social distancing requirements, our cheese judges will evaluate select cheese classes at locations in California, Illinois, and Wisconsin on Oct. 15. Key changes this year include:
Co-ops will send cheese entries directly to the judges, divided by the classes each judge is judging;
The number of entries per co-op per class will be limited, to help keep the amount of cheese manageable for the judges;
Cheese entries should be no larger than 5 pounds. Cottage cheese entries should be in no larger than 2-pound containers; and
There has been minimal rearranging of the classes.
NMPF looks forward to having a great cheese contest that will showcase the wonderful cheeses our members make. More detailed instructions can be found here. Questions may be directed to jjonker@nmpf.org or mhanselman@nmpf.org.
---
NMPF Pleased with FDA on NCIMS Plant Ownership Issue
October 02, 2020

NMPF is pleased with FDA's response to an Interstate Milk Shipment (IMS) listing issue for dairy processing plants that change ownership. On Sept. 28 FDA responded to an NMPF letter challenging an agency Memorandum of Information (M-I) which stated that a change in ownership of a Grade "A" plant would trigger revocation of the IMS status and require the facility to be re-inspected and re-rated prior to being relisted.

The M-I, drafted five years ago, held the potential for real problems for Grade "A" dairy plants in situations in which ownership was changing, especially as, according to the M-I, after delisting "the facility would need to await the issuance of a new permit to operate after the facility is re-inspected and re-rated." The process, as described, could take a week or more depending on state workload and staff availability, during which time the facility for would be shut down.

After identifying 58 dairy plants and 56 Bulk Tank Units (BTU's) that could be impacted by this complicated process, NMPF wrote to FDA to question the validity of the M-I and the legal authority it was based upon. NMPF also reminded FDA of the challenging times the industry is facing, an argument for flexibility. Finally, NMPF reminded FDA of a recent interpretation by the Department of Justice that guidance documents, such as M-I's, should not be treated as creating legal rights or obligations.

FDA in its response agreed that the process needed to be streamlined and that the dairy industry should not suffer economic hardship due to a change of ownership. FDA has agreed to rescind the language. NMFP questioned and is informing FDA Milk Specialists, State Regulatory/Rating Agencies, State Rating Officers and dairy industry stakeholders to provide immediate clarification.
---
NMPF Submits Comments Supporting FMD Vaccine Production in the U.S.
October 02, 2020

NMPF submitted comments Sept. 14 supporting the petition to manufacture Foot and Mouth Disease (FMD) Vaccine in the United States as the next step in further protecting dairy herds from a damaging FMD outbreak. The petition calls for a vaccine manufactured from an attenuated, leaderless strain of the FMD virus, which would prevent the risk of a vaccine-induced outbreak from vaccine virus replication, shedding and transmission. NMPF states in the comments that "the safety of manufacturing an FMD vaccine in the U.S. is paramount to protect the health of the U.S. dairy industry."

NMPF has led advocacy for FMD preparedness. NMPF's Board of Directors in 2014 endorsed FMD preparedness priorities that included modernizing the FMD vaccine bank and developing the next generation FMD vaccines with production in the United States. As a result of 2018 Farm Bill funding, USDA announced in July an initial purchase of FMD vaccine antigen as a step in modernizing the FMD vaccine bank, making vaccine production the next step.

NMPF looks forward to continuing to work with USDA to further protect not only our own herds, but domestic and international confidence in purchasing U.S. dairy products. The full comments can be read here.
---
NMPF Asks Government to Buy U.S. Dairy to Alleviate Global Hunger
October 02, 2020

NMPF sent a letter to USDA and the U.S. Agency for International Development (USAID) on Sept. 23, asking the agencies to work together to purchase nonfat dry milk powder from U.S. farmers to donate to nations both lacking sufficient food supplies and without the ability to commercially meet those needs.

The letter is in-line with NMPF efforts to share U.S. dairy products worldwide. Milk powder is a high-quality protein source and a versatile dairy ingredient that can help fulfill key nutrient needs for healthy child development and adult wellness. NMPF has offered to help USDA and USAID to ensure that nonfat dry milk powder is quickly purchased and then efficiently donated to our international partners to meet these needs.
---
NMPF Offers Farmers Resources on Coronavirus Assistance, Natural Disasters
October 02, 2020

As part of its commitment to service during a challenging year for dairy farmers, NMPF in September created a CFAP 2 resource guide and launched a natural disaster resource page to help farmers respond to ongoing crises.

NMPF's CFAP 2 resource guide, distributed to members Sept. 21, helps farmers understand and apply for the latest round of government disaster assistance. The toolbox includes a breakdown of what the program includes for dairy, as well as links to relevant application resources. Dairy producers affected by market disruptions due to COVID-19 are likely eligible for direct support. USDA's Farm Service Agency (FSA) is accepting CFAP 2 applications now through Dec. 11.

That effort came on the heels of a new webpage launched Sept. 15 offering resources and information to help dairy farmers better prepare for and respond to natural disasters. The page includes information compiled from trusted sources on topics ranging from fire safety for livestock to on-farm hurricane preparation and the USDA's Disaster Assistance Discovery Tool. Because emergencies and disasters can occur at any time and without warning regardless of where a farm is located, NMPF is urging all dairy producers to consider developing or updating Emergency Action Plans on their farms.

"2020 has been difficult enough with the COVID-19 pandemic. But as with COVID-related disruptions, NMPF is here to help its members and the broader dairy community," said Jim Mulhern, president and CEO of NMPF.
---
NMPF Stands for Common Cheese Names and U.S. Dairy Jobs
October 02, 2020

NMPF continues to lead opposition to unjustified European Union (EU) attempts to ban U.S. dairy producers from using common terms for cheeses and limit market opportunities for U.S. dairy manufacturers and exporters, with increased traction on Capitol Hill.

A bipartisan coalition from the House of Representatives will soon begin circulating a letter to the U.S. Trade Representative (USTR) and U.S. Department of Agriculture (USDA) supporting American-made food and wine exports labeled with commonly used terms. Reps. Jim Costa (D-CA), Jodey Arrington (R-TX), Angie Craig (D-MN), Dusty Johnson (R-SD), Ron Kind (D-WI) and Mike Gallagher (R-WI) are seeking signatures for their letter that urges USTR and USDA to advance a consistent trade policy that prioritizes securing specific market access assurances for products that use common food terms, traditional terms, or the names of legitimate plant and grape varietals in all trade-related discussions.

NMPF applauded a similar letter sent by 61 senators this summer.

The USTR also made explicit note of the EU's anti-trade GI campaign in an op-ed in the Wall Street Journal in August, writing, "The EU uses its trade deals in many cases not to advance trade liberalization, but to force other countries to adopt thinly veiled protectionist measures like 'geographic indications,' which prohibit the use of common labeling terms for wine and food items produced outside the EU."

More information on how the EU's campaign would harm American farmers and processors alike can be found in a recent Hoard's Dairyman op-ed written by Jaime Castaneda, NMPF Senior Vice President for Policy Strategy and International Trade.

NMPF has also worked with the U.S. Dairy Export Council and the Consortium for Common Food Names to develop a one-page fact sheet showing what's at risk for U.S. dairy if the EU is left unchecked, making it clear that this is an issue to which everyone in dairy should pay attention to.
---
FARM Hosts Quick Conversations on Program Components
October 02, 2020

The FARM Program staff and industry experts will lead a series of quick, 30-minute conversations for producer audiences to learn more about FARM program components, expectations and resources. This series will be held weekly beginning on Wednesday, Nov. 4.

Feedback from the 20-farmer member FARM Farmer Advisory Council suggested that quick Q&As about the FARM program, no longer requiring a physical event, would be helpful to broaden awareness and answer frequently asked questions about the program.  Each conversation will be streamed live via Zoom and on the FARM program Facebook page. After the livestream, the recordings and supplementary materials will be stored on the FARM site here.

Participants will discuss four program areas of FARM, Animal Care, Antibiotic Stewardship, Environmental Stewardship and Workforce Development, as well as the farmer's role within the program. Most importantly, this is a key opportunity for farmers to get their questions about FARM answered directly from staff. For more information, please contact the FARM team at dairyfarm@nmpf.org.
---
CWT-Assisted Sales Contracts Top 78 million Pounds of Dairy-Product Exports
October 02, 2020

Cooperatives Working Together in September assisted member cooperatives in capturing 37 contracts to sell 1.7 million pounds of American-type cheeses, one million pounds of butter, 749,572 pounds of whole milk powder, and 875,235 pounds of cream cheese. The products will be going to customers in 11 countries in Asia, the Middle East, North Africa and Central and South America during the months of September 2020 through February 2021.

These contracts bring year's total CWT-assisted product sales contracts to 78.1 million pounds. That includes of 26 million pounds of cheese, 8 million pounds of butter, 36.2 million pounds of whole milk powder, 2 million pounds of anhydrous milkfat, and 5.9 million pounds of cream cheese. These transactions will move the equivalent of 784 million pounds of milk on a milkfat basis overseas.

Assisting CWT member cooperatives gain and maintain world market share through the Export Assistance program, in the long-term expands the demand for U.S. dairy products and the U.S. farm milk that produces them. This, in turn, positively impacts all U.S. dairy farmers by strengthening and maintaining the value of dairy products that directly impact their milk price.

The amounts of dairy products and related milk volumes reflect current contracts for delivery, not completed export volumes. CWT will pay export assistance to the bidders only when export and delivery of the product is verified by the submission of the required documentation.

All cooperatives and dairy farmers are encouraged to add their support to this important program. Membership forms are available at http://www.cwt.coop/membership.
---