Dairy Margin Coverage
May 16, 2019
The Dairy Margin Coverage program was developed as part of the 2018 Farm Bill with the assistance of NMPF as a response to the flaws of the previous Margin Protection Program, which didn't adequately assist farmers through multiple years of low prices beginning in 2015.
DMC, the successor to the MPP, became reality last December, when President Donald Trump signed the 2018 Farm Bill into law. DMC reforms include:
Affordable higher coverage levels that will permit all dairy producers to insure margins above $8.00 on their Tier 1 (first five million pounds) production history, the previous limit under the Margin Protection Program. The higher $9.50/cwt coverage will give producers a greater opportunity for assistance.
The feed cost formula has been improved to include dairy quality hay values, which better reflects the true cost of feeding dairy cows.
Affordable $5.00 coverage that lowers premium costs by roughly 88 percent. This aids larger producers, creating a baseline for meaningful catastrophic coverage at a reasonable cost without distorting the market signals needed to balance supply with demand.
Greater flexibility to participate in DMC, LGM and Dairy-RP, which helps producers of all sizes choose programs that best fit their needs.
Sign-up for the 2020 DMC began October 7, 2019. All dairy farmers who want 2020 coverage must visit their local USDA Service Center office to pay the annual administrative fee, which is $100 for the lowest level catastrophic coverage. Producers must visit their local office even if they locked in coverage for five years to take advantage of the 25% premium discount. USDA offers a decision tool to help in DMC planning. Enrollment runs through December 13.
NMPF is offering this site as a resource for producers, with additional materials giving farmers aid in making informed decisions that will help them survive tough times — and thrive in future years.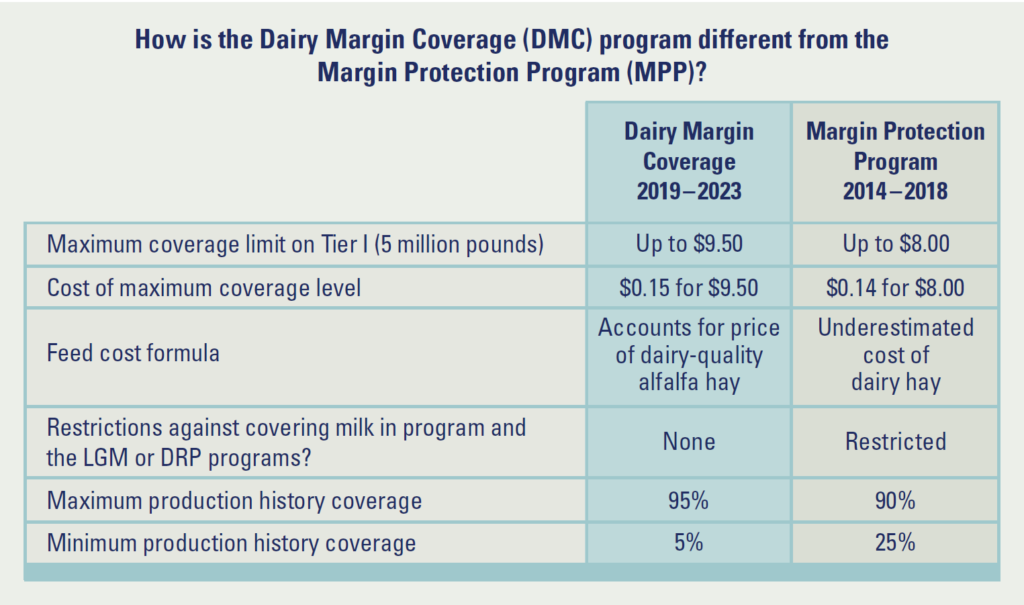 Download PDF