Federal Milk Marketing Order
Unfavorable economic conditions, chaotic pricing of fluid milk, and dealers who set their own prices in the early 20th century left farmers with low prices and disorderly markets. To return market power to producers, the federal government first established the Federal Milk Marketing Order (FMMO) system in the 1930s.
FMMOs establish provisions under which dairy processors buy fresh milk from dairy farmers who supply a marketing area, maintaining stable marketing relationships for all handlers and producers and organizing the complex process of marketing fresh milk. USDA oversees the FMMO program, which includes 11 milk marketing orders and applies to about 75 percent of total U.S. milk production. Federal orders establish minimum prices paid to farmers, ensure payments to farmers are accurate and timely, and provide market information.
Calls to re-examine the federal order system predate the coronavirus crisis of 2020-2021, but have intensified as the lessons of the pandemic have been learned. One example of these concerns is the dramatic disruption of normal pricing patters that resulted in record-level Producer Price Differentials (PPDs) from June through November 2020.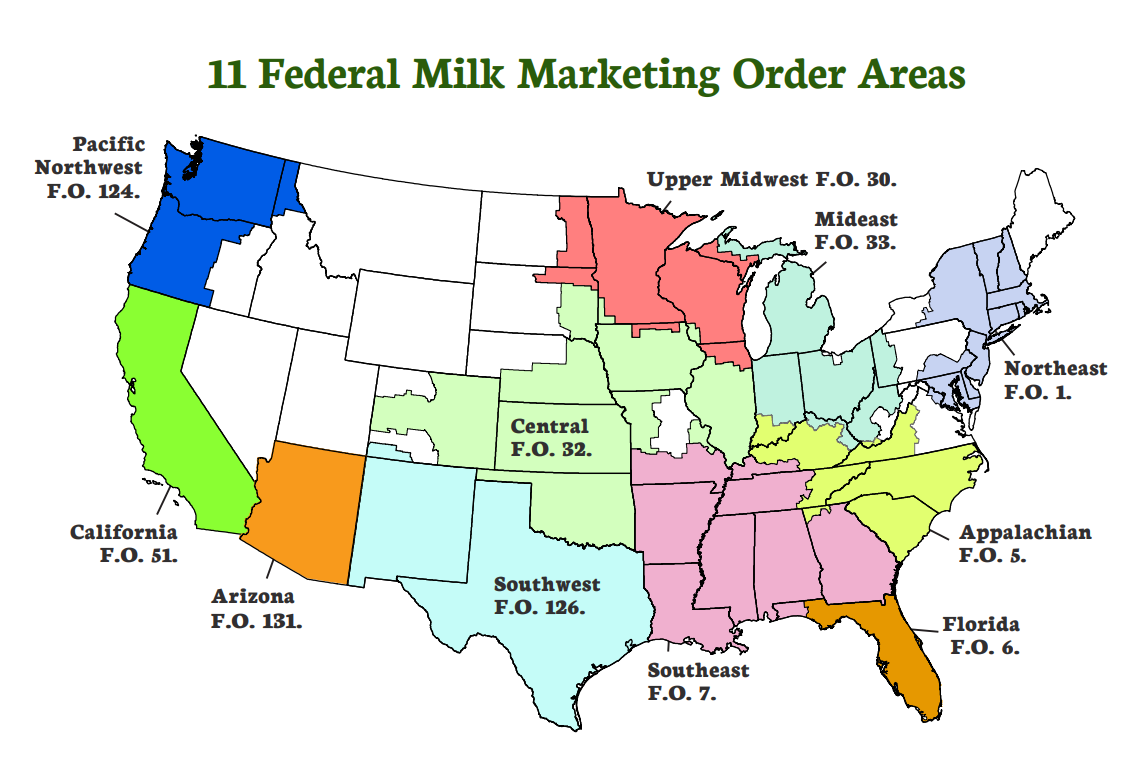 Our Position
NMPF supports the federal legislation that authorizes the FMMO system, as well as improvements to the order that increase clarity and producer understanding of milk pricing and ensure an orderly market and fair prices for dairy farmers.
NMPF also supports the ability of cooperatives to vote as a bloc on FMMO issues, supporting the goal of dairy cooperatives to effectively market milk for the highest possible financial return to its farmer-owners.
---
Key Points
FMMOs exist to promote orderly marketing conditions in fluid milk markets, supervise terms of trade that achieve more equality of bargaining between dairy farmers and milk processors, and assure that consumers have an adequate dairy supply.
FMMO regulations and area-specific provisions, including pooling requirements, are administered by a regional "Market Administrator." Areas not covered by a federal order are either unregulated or regulated by a state system.
Dairy farmers manage their cooperatives through Boards of Directors and have the ultimate say in establishing their cooperatives' policies. These policies are examined, reaffirmed, or modified according to the will of their farmer-owners. A cooperative's Board of Directors can decide to bloc vote on behalf of its members or instead opt for members to receive individual ballots to exercise as they wish.
Federal order pools normally provide a uniform price to all producers who supply milk for all products produced within an order's market. 2020's large-scale de-pooling disrupted this uniformity.
---
Resources