Federal Milk Marketing Order
Unfavorable economic conditions, chaotic fluid-milk pricing, and dealers who squeezed farmers on prices in the early 20th century left farmers with low prices and disorderly markets. To return market power to producers, the federal government established the Federal Milk Marketing Order (FMMO) system in the 1930s.
FMMOs establish provisions under which dairy processors buy fresh milk from dairy farmers who supply a marketing area, maintaining stable marketing relationships for all handlers and producers and organizing the complex process of marketing fresh milk. USDA oversees the FMMO program, which includes 11 milk marketing orders and applies to about 75 percent of total U.S. milk production. Federal orders establish minimum prices paid to farmers, ensure payments to farmers are accurate and timely, and provide market information.
The FMMO system saw its last comprehensive revision in 2000. Since then, the structure of the U.S. dairy industry has shifted significantly, from product preferences and plant costs to the composition of milk itself. Calls to re-examine the federal order system intensified as a result of the COVID-19 pandemic, strained the increasingly unwieldy system. After more than a year of in-depth analysis and examination of numerous FMMO issues by a dedicated team of technical experts from NMPF's member cooperatives, NMPF's Board of Directors unanimously approved a proposal to modernize the marketing-order system on March 7, 2023 and submitted it in final form on May 1. Click here for more information about NMPF's FMMO modernization efforts and updates from USDA's public hearing.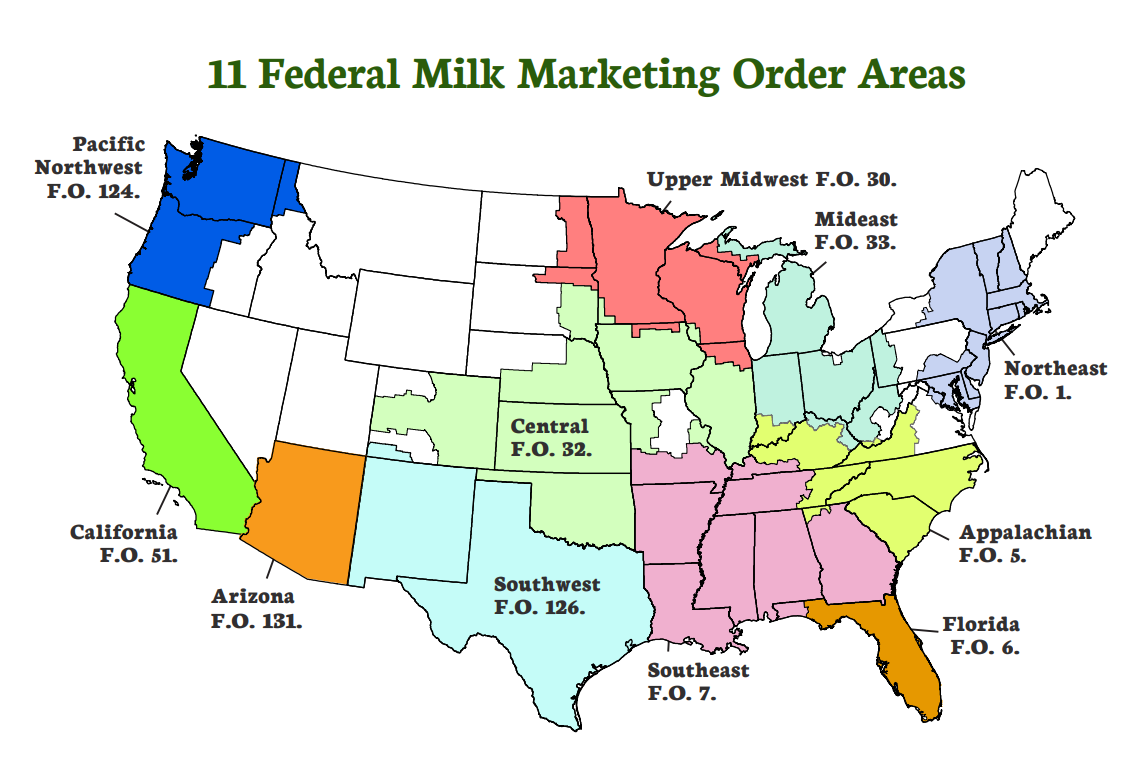 Our Position
NMPF supports the federal legislation that authorizes the FMMO system, as well as improvements that increase clarity and producer understanding of milk pricing and ensure an orderly market and fair prices for dairy farmers.
Proposed changes to the Federal Milk Marketing Order System include:
Returning to the "higher of" Class I mover;
Discontinuing the use of barrel cheese in the protein component price formula;
Extending the current 30-day reporting limit to 45 days on forward priced sales on nonfat dry milk and dry whey to capture more exports sales in the USDA product price reporting;
Updating milk component factors for protein, other solids and nonfat solids in the Class III and Class IV skim milk price formulas;
Developing a process to ensure make-allowances are reviewed more frequently through legislation directing USDA to conduct mandatory plant-cost studies every two years;
Updating dairy product manufacturing allowances contained in the USDA milk price formulas; and
Updating the Class I differential price system to reflect changes in the cost of delivering bulk milk to fluid processing plants.
NMPF also supports the ability of cooperatives to vote as a bloc on FMMO issues, supporting the goal of dairy cooperatives to effectively market milk for the highest possible financial return to its farmer-owners.
---
Key Points
FMMOs exist to promote orderly marketing conditions in fluid milk markets, supervise terms of trade that achieve more equality of bargaining between dairy farmers and milk processors, and assure that consumers have an adequate dairy supply.
The experience of the COVID pandemic brought into focus the need for a modernized FMMO system. A change to the fluid-milk pricing formula in the 2018 Farm Bill led to more than $750 million in lost revenues for dairy producers in the second half of 2020, a circumstance that can't be repeated.
The last major FMMO revamp occurred in 2000, meaning everything from milk component calculations to the so-called "make allowance" for cooperatives that process milk are overdue to be revisited.
---
More Information