Californian is New Chairman of the American Butter Institute Board
November 07, 2014

Irv Holmes, CEO of Challenge Dairy Products, Inc., in Dublin, California, is the new chairman of board of the American Butter Institute. He was elected at ABI's fall board meeting in Ft. Lauderdale in mid-October.
Holmes noted that butter has gained considerable favorable attention recently and pledged to continue the work of his predecessor, David Riemersma of Butterball Farms, in promoting and protecting the industry.
Also at the board meeting, ABI seated two new officers and welcomed one new board member. Dean Van Tuinen of Darigold was elected first vice president of ABI, and John Ellenberger of Land O'Lakes, Inc. was elected second vice president. Each will serve for two years. The new board member is Doug Glade of Dairy Farmers of America. Glade replaces past ABI President Mark Korsmeyer, who also represented DFA.
ABI is a trade association for manufacturers, processors and distributors of butter and butter products. Its 25 member companies market approximately 90 percent of all the butter manufactured in the United States.
---
DairyUS: Have a REAL® Dairy Thanksgiving
November 07, 2014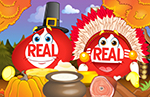 The REAL® Seal has posted a Thanksgiving-themed video on YouTube for November.
In the 30-second clip, DairyUS, the animated version of the REAL® Seal logo, advises: "While giving thanks this time of year, be especially thankful that we have REAL dairy products to help make the Thanksgiving feast extra tasty. Make sure you look for the REAL® Seal on all the butter, cheese and milk products that you buy."
The Thanksgiving video follows a Halloween-themed video for October. In it, DairyUS said, "When it's time for Halloween, the best treats have REAL® milk and other dairy ingredients in them. But be careful not to be tricked by dairy imitators who like to dress up in packages that make them look real…"
The videos were the seventh and eighth by the REAL® Seal in 11 months. All stress the importance of purchasing genuine dairy products over substitutes and imitators.
---
Meredith Joins NMPF from Animal Ag Alliance
November 07, 2014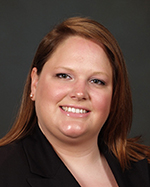 Emily Metz Meredith (pictured), vice president of communications and membership for the Animal Agriculture Alliance, will join NMPF later this month as vice president of animal care. She replaces Betsy Flores, who left for a position at the U.S. Department of Agriculture in mid-October.
Meredith will have primary responsibility for NMPF's animal care program, Farmers Assuring Responsible Management. "Emily is very well equipped to take the program forward, building support among producers while also educating processors, retailers, food service, media and others," said NMPF President and CEO Jim Mulhern. "We are very pleased to add her expertise to help address the important issue of animal care on behalf of our members."
---
Report Shows Widespread Adoption of FARM Program Practices
November 07, 2014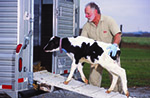 The latest FARM Program annual summary further demonstrates the widespread adoption on dairy farmers across the nation of standards and practices that assure high-quality animal care on dairy farms.
The summary, which can be downloaded from the FARM program website, quantifies the results of more than 12,000 farm evaluations conducted over three years. The data provide a baseline of the breadth of adoption of the program's animal are practices.
For example, the summary found nearly 95 percent of farms enrolled in the program train their employees to properly move animals that cannot walk, and more than 98 percent train employees to handle calves with a minimum of stress. Other findings included:
99 percent of farms observe animals daily to identify health issues for early treatment
93 percent develop protocols with veterinarians for dealing with common diseases, calving and animals with special needs
Jamie Jonker, NMPF's vice president of scientific and regulatory affairs, said the report shows that dairy farmers take their animal care responsibilities very seriously. "They're performing dozens of practices each day that increase the well-being of their animals," he said.
According to the report, participation in the FARM program last year increased to more than three-quarters of the nation's milk supply, up five percentage points from the previous year.
---
Cooperatives in FARM Program Must Enroll All Farms in Their Supply Chain
November 07, 2014

In a change designed to strengthen both consumer understanding and industrywide implementation of NMPF's dairy animal care program, each dairy marketing organization participating in the Farmers Assuring Responsible Management (FARM) program must now include all its farmer-suppliers in the on-farm evaluation program.
NMPF's board of directors voted unanimously last week to require full farm participation as it reviewed the structure of the National Dairy FARM Program.
Now in its fifth year, the program, also known as Farmers Assuring Responsible Management, focuses on farm management practices demonstrating a commitment to responsible animal care on farms.
Cooperatives and processors handling 80 percent of the nation's milk supply are implementing the program. But until now, not all farms in those organizations were required to be in the program. Under the new policy, cooperatives and processors must enroll all the farms that directly supply them with milk.
NMPF Board Chairman Randy Mooney said the change sends a clear message that the program must be universally implemented. "The FARM program has become the dairy industry animal care standard because of its integrity, rigor and authenticity," Mooney said. "This decision means each farm in a participating organization will be held to the same high standards, with no exceptions."
The NMPF board also reviewed new FARM program provisions that set up a clear process to investigate allegations of animal mistreatment. Farms in the program will be independently reviewed and may be temporarily suspended if allegations are substantiated. Once remedial actions are taken, the operation can be reinstated in the program.
NMPF President and CEO Jim Mulhern said this new policy will help farms improve their animal care practices. "We want the program to be inclusive and adaptive," Mulhern said, "and where we find problems, we want to improve the situation rather than find ways to exclude farms from the program."
---
NMPF Catalogues Key Trade Barriers for USTR
November 07, 2014
NMPF joined the U.S. Dairy Export Council last month in detailing for the office of the U.S. Trade Representative some of the key trade barriers affecting the domestic dairy industry. The organizations submitted 18 pages of comments as part of USTR's annual exercise of summarizing important trade barriers to U.S. exports.
The comments covered a range of issues, including Japanese and Canadian dairy tariffs, closed markets in Russia and India, regulatory challenges in China, and European Union efforts to erect nontariff barriers to U.S. cheese exports around the world. The organizations said EU efforts to restrict the use of common cheese names by non-EU producers "put at risk hard-won U.S. market access opportunities" and "must be vehemently rejected as the protectionist measures they are."
USTR's annual National Trade Estimate helps focus efforts to preserve and expand U.S. export opportunities.
---
CWT Helps Sell 16.7 Million Pounds of U.S. Dairy Products in October
November 07, 2014

In October, Cooperatives Working Together helped member cooperatives make 31 export sales of 6.8 million pounds of American-type cheese, 5.2 million pounds of butter and 4.7 million pounds of whole milk powder. The products will go to customers on six continents from October 2014 through April 2015.
The October CWT-assisted sales bring the year-to-date total to the equivalent of 2.3 billion pounds of milk on a milkfat basis. That is equal to the annual milk production of over 100,000 cows.
CWT is a voluntary, farmer-funded program that provides assistance to member cooperatives to maintain and expand world markets for U.S. dairy products made from milk produced by America's dairy farmers.
At the NMPF annual meeting in Texas, President and CEO Jim Mulhern credited CWT with helping to keep U.S. dairy product prices at historical highs amid a steep decline in dairy prices worldwide. "By moving additional quantities of product from the U.S. market into world markets," Mulhern said, "CWT, in conjunction with strong domestic sales, has kept domestic inventories low. That increased demand created through CWT has helped strengthen milk prices across the board."
---
Immigration Reform's Fate Unclear
November 07, 2014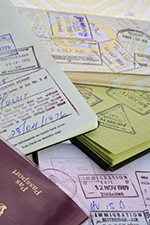 On the policy front, the Republican election left uncertain the prospects for congressional action on comprehensive immigration reform next year. NMPF and other farm organizations have pledged a major push on immigration in 2015. However, if any major reform legislation passes in the Republican-controlled Senate, it is likely to be somewhat different from the 2013 Senate bill, which was backed by NMPF. That bill included an historic agreement ensuring that dairy farmers could both maintain their current workers and have the workforce needed to meet future needs. NMPF will work to ensure that any immigration reform legislation considered by the House and Senate leadership reflects the major priorities of dairy farmers across the country.
Meanwhile, since the summer President Obama has indicated that, in the absence of Congressional action on the issue, he would take administrative action before the end of 2014 to address the status of undocumented immigrants. However, whatever action the White House may take administratively will not solve the workforce problems facing American agriculture. NMPF Chairman Randy Mooney said dairy farmers need to keep sending a strong message to Capitol Hill on the need for comprehensive reform. "Without a vocal expression from farmers, it will be easier for politicians to ignore (the issue). We can't afford to let that happen," he said.
In order to help quantify the importance of immigrant workers to dairy production, NMPF is working with Texas A&M University to conduct a survey of dairy farmers about their labor needs. This effort will update the 2009 survey NMPF conducted of the industry. To obtain a copy of the survey, please contact Jaime Castaneda or John Hollay by Nov. 16.
In other election news, voters in Colorado as well as in Oregon rejected measures that would have required labeling for foods made with genetically modified ingredients. The Colorado measure failed, 32 percent to 68 percent. In Oregon, the referendum failed 49 percent to 51 percent.
According to NMPF CEO Jim Mulhern the results demonstrate that when consumers have enough information on GMOs they understand that mandatory labeling is meaningless and unnecessary. "It is heartening to see reasoned judgment prevail," Mulhern said. "Extensive scientific research and billions of servings consumed by both humans and animals show that there are absolutely no health or safety issues with GM products that have been approved by government authorities. These defeats for the science-deniers will hopefully be a turning point that will enable us to move on to real issues of how to sustainably feed a growing world population."
---
In Election's Wake, Both Capitol Hill Ag Panels to See New Leadership
November 07, 2014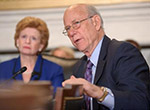 In the wake of major Republican gains in the mid-term elections on Tuesday, both the House and Senate agriculture committees will see new leadership.
With Republicans assuming control of the Senate in January, Senator Pat Roberts of Kansas (pictured with current Agriculture Committee Chair Debbie Stabenow) is likely to be the new chairman of the Senate panel. Roberts withstood a challenge from independent Greg Orman to win his fourth Senate term.
The current senior Republican on the committee, Thad Cochran of Mississippi, is expected to lead the Senate Appropriations committee, rather than serve as chairman of the farm panel. That would pave the way for Roberts to be the chairman. The current committee chair, Sen. Stabenow of Michigan, will become the panel's senior Democrat.
In the House, both Agriculture Committee Chairman Frank Lucas (R-OK) and senior Democrat Collin Peterson (D-MN) were reelected, but Lucas is term limited as chair of the Agriculture Committee. That paves the way for Rep. Mike Conaway (R-TX) to be the farm panel's new chairman. Peterson, who withstood his strongest challenge in years from a Minnesota state senator, will remain as senior agriculture committee Democrat.
---
NMPF Welcomes Four New Co-op Members
November 07, 2014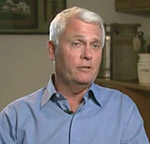 Also at the annual meeting, held at the Gaylord Texan outside Dallas, NMPF welcomed four new dairy cooperative members, two new board members and one new board officer.
The new cooperative members are Bongards' Creameries, Norwood, Minnesota; Cortland Bulk Milk Producers Cooperative, Cortland, New York; Mount Joy Farmers Cooperative Association, Mount Joy, Pennsylvania, and Oneida-Madison Milk Producers Cooperative Association, Sherrill, New York. These new members bring the number of NMPF-member cooperatives to 31.
The two new NMPF board members are Michael Doyle, president and CEO of Foremost Farms USA in Baraboo, Wisconsin, and Scot Meyer, board member of Ellsworth Cooperative Creamery, Ellsworth, Wisconsin. In addition, board member Keith Murfield (pictured), CEO of United Dairymen of Arizona, was elected NMPF secretary.
NMPF also recognized six outgoing board members for their service to the organization and presented the NMPF Political Action Committee Award to board member Dan Senestraro of Dairy Farmers of America.
The outgoing board members receiving certificates of appreciation were William Blalock, Cooperative Milk Producers Association; Albert Knegendorf, Ellsworth Cooperative Creamery; Dennis Donohue, FarmFirst Dairy Cooperative; David Newhouse, Farmers Cooperative Creamery; Dave Fuhrmann, Foremost Farms USA; and Donald DeJong, Select Milk Producers.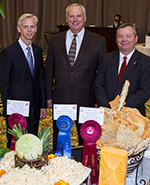 In other NMPF annual meeting news, a provolone made by Dairy Farmers of America in its Turlock, California, processing plant received the top award in the 2014 cheese competition, while Michelle Carter, communications specialist for Northwest Dairy Association/Darigold in Seattle, was named 2014 NMPF Communicator of the Year. Complete cheese contest results are on the NMPF website. In all, 12 NMPF cooperative members submitted 145 entries, totaling 2,150 pounds of cheese.
The incoming 2015 Young Cooperator council elected its leadership for the upcoming year. Brian and Carrie Preston, Michigan Milk Producers Association, were chosen to serve as the YC Chaircouple. Tommy and Anna Watkins, Southeast Milk, will serve as the Vice Chaircouple, and Donald and Bernadette Harwood, Upstate Niagara Cooperative, will be the Secretary Couple.
At the conclusion of the meeting, nearly 1,200 pounds of unused food was donated to the Tarrant Area Food Bank in Fort Worth. Included were cheese from the competition, milk, yogurt and ice cream. The food bank serves Tarrant and 12 neighboring counties on the west side of Dallas/Fort Worth.
---
With MPP in Place, NMPF Leaders Set Sights on Immigration, Trade & Other Issues
November 07, 2014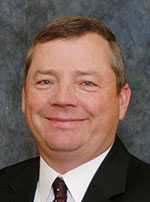 NMPF President Jim Mulhern and Board Chairman Randy Mooney (pictured) spelled out NMPF's goals for 2015, now that the new federal dairy program is up and running.
Top priorities for the organization will include immigration reform, opening more foreign markets to U.S. dairy products, addressing environmental issues and strengthening the industry's farm animal care program.
Mulhern said congressional inaction in immigration this year would not keep NMPF from pressing the fight for reform in 2015. "Our industry and our members must continue to beat the drum in Washington, and – more importantly – in states and congressional districts across the nation, that immigration reform must be dealt with, and finally resolved, in the coming year," he said. [See related story below about the elections and immigration reform.]
On exports, Mooney and Mulhern said the U.S. dairy industry is intent on being a major player in world markets from here on out. "World trade in dairy is today's reality and tomorrow's opportunity," said Mooney.
Mulhern said dairy farmers have a lot riding on trade negotiations involving both Europe and Asia. "Japan is a huge potential opportunity," he said. "We could export a lot more dairy products … if the U.S. government can achieve a breakthrough in negotiations and bring back a trade agreement providing meaningful increased market access there."
But both in Japan and Europe, Mulhern said, entrenched domestic dairy interests don't want more competition from the United States. "The European defense strategy includes an outrageous focus on clawing back, for their own protectionist use, the names of many common foods," he said. "These foods include many cheeses that we've been making for decades…"
Both leaders pointed to the important role of NMPF-managed Cooperatives Working Together in today's favorable dairy export picture. "The rise in exports in the past decade is due to a number of factors, but a big one is that we have, in our Cooperatives Working Together program, a very effective tool to help seal the deal in markets where we are competing with products from other countries," Mooney said.
This year alone, CWT, which is funded completely by farmers, has helped find markets for 92 million pounds of cheese, 53 million pounds of butter and 37 million pounds of whole milk power in 43 counties on six continents.
The complete text of the Mooney-Mulhern comments is on the NMPF website.
---
Sign Up Deadline for New Safety Net Pushed Back to December 5 Due to Holiday
November 07, 2014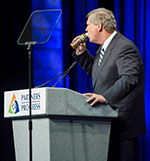 Friday, December 5, is the new deadline for signing up for the revamped federal dairy program, known as the Margin Protection Program, or MPP. The U.S. Department of Agriculture agreed to NMPF's request to extend the deadline because the previous cutoff was the day after Thanksgiving, when many Americans are preoccupied with the holiday.
USDA Secretary Tom Vilsack (pictured taking a sip of chocolate milk during his speech), announced the extension in a presentation at the NMPF annual meeting in Grapevine, Texas, October 29. "We want dairy producers to have enough time to make thoughtful and well-studied choices," Vilsack said. "Markets change and the Margin Protection Program can help protect dairy producers from those changes."
NMPF President and CEO Jim Mulhern joined Vilsack in urging dairy farmers to look closely at the details of the new program, which substitutes margin insurance for price supports. "Even if you only want barebones coverage next year, it will only cost you $100," Mulhern said. "For a relatively small investment, you can do a lot to protect the future of your farm."
NMPF has a variety of tools on its Future for Dairy website to help farmers make decisions on the program. Producers can sign up for the remainder of 2014, all of 2015, or both.
Also in his comments, Vilsack hinted that USDA is sympathetic to concerns that Margin Protection Program rules make it harder for older producers to pass farms on to their children. "USDA is committed to creating strong opportunities for the next generation of farmers and ranchers," Vilsack said. "If our current rules hinder intergenerational changes or if improvements are needed in these programs, we want to hear from dairy producers," he said.
Interested parties have until December 15 to comment on the interim rules for the program, which are available on the government's website for pending regulations. NMPF was instrumental in developing the new safety net program, which was included in the farm bill enacted early this year.
(Photo Credit Eric Priddy)
---