Sign Up Deadline for New Safety Net Pushed Back to December 5 Due to Holiday
November 7, 2014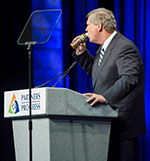 Friday, December 5, is the new deadline for signing up for the revamped federal dairy program, known as the Margin Protection Program, or MPP. The U.S. Department of Agriculture agreed to NMPF's request to extend the deadline because the previous cutoff was the day after Thanksgiving, when many Americans are preoccupied with the holiday.
USDA Secretary Tom Vilsack (pictured taking a sip of chocolate milk during his speech), announced the extension in a presentation at the NMPF annual meeting in Grapevine, Texas, October 29. "We want dairy producers to have enough time to make thoughtful and well-studied choices," Vilsack said. "Markets change and the Margin Protection Program can help protect dairy producers from those changes."
NMPF President and CEO Jim Mulhern joined Vilsack in urging dairy farmers to look closely at the details of the new program, which substitutes margin insurance for price supports. "Even if you only want barebones coverage next year, it will only cost you $100," Mulhern said. "For a relatively small investment, you can do a lot to protect the future of your farm."
NMPF has a variety of tools on its Future for Dairy website to help farmers make decisions on the program. Producers can sign up for the remainder of 2014, all of 2015, or both.
Also in his comments, Vilsack hinted that USDA is sympathetic to concerns that Margin Protection Program rules make it harder for older producers to pass farms on to their children. "USDA is committed to creating strong opportunities for the next generation of farmers and ranchers," Vilsack said. "If our current rules hinder intergenerational changes or if improvements are needed in these programs, we want to hear from dairy producers," he said.
Interested parties have until December 15 to comment on the interim rules for the program, which are available on the government's website for pending regulations. NMPF was instrumental in developing the new safety net program, which was included in the farm bill enacted early this year.
(Photo Credit Eric Priddy)