DairyUS: Have a REAL® Dairy Thanksgiving
November 7, 2014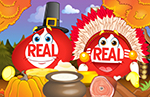 The REAL® Seal has posted a Thanksgiving-themed video on YouTube for November.
In the 30-second clip, DairyUS, the animated version of the REAL® Seal logo, advises: "While giving thanks this time of year, be especially thankful that we have REAL dairy products to help make the Thanksgiving feast extra tasty. Make sure you look for the REAL® Seal on all the butter, cheese and milk products that you buy."
The Thanksgiving video follows a Halloween-themed video for October. In it, DairyUS said, "When it's time for Halloween, the best treats have REAL® milk and other dairy ingredients in them. But be careful not to be tricked by dairy imitators who like to dress up in packages that make them look real…"
The videos were the seventh and eighth by the REAL® Seal in 11 months. All stress the importance of purchasing genuine dairy products over substitutes and imitators.