Immigration Reform's Fate Unclear
November 7, 2014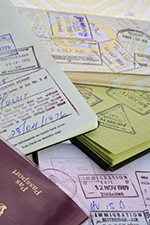 On the policy front, the Republican election left uncertain the prospects for congressional action on comprehensive immigration reform next year. NMPF and other farm organizations have pledged a major push on immigration in 2015. However, if any major reform legislation passes in the Republican-controlled Senate, it is likely to be somewhat different from the 2013 Senate bill, which was backed by NMPF. That bill included an historic agreement ensuring that dairy farmers could both maintain their current workers and have the workforce needed to meet future needs. NMPF will work to ensure that any immigration reform legislation considered by the House and Senate leadership reflects the major priorities of dairy farmers across the country.
Meanwhile, since the summer President Obama has indicated that, in the absence of Congressional action on the issue, he would take administrative action before the end of 2014 to address the status of undocumented immigrants. However, whatever action the White House may take administratively will not solve the workforce problems facing American agriculture. NMPF Chairman Randy Mooney said dairy farmers need to keep sending a strong message to Capitol Hill on the need for comprehensive reform. "Without a vocal expression from farmers, it will be easier for politicians to ignore (the issue). We can't afford to let that happen," he said.
In order to help quantify the importance of immigrant workers to dairy production, NMPF is working with Texas A&M University to conduct a survey of dairy farmers about their labor needs. This effort will update the 2009 survey NMPF conducted of the industry. To obtain a copy of the survey, please contact Jaime Castaneda or John Hollay by Nov. 16.
In other election news, voters in Colorado as well as in Oregon rejected measures that would have required labeling for foods made with genetically modified ingredients. The Colorado measure failed, 32 percent to 68 percent. In Oregon, the referendum failed 49 percent to 51 percent.
According to NMPF CEO Jim Mulhern the results demonstrate that when consumers have enough information on GMOs they understand that mandatory labeling is meaningless and unnecessary. "It is heartening to see reasoned judgment prevail," Mulhern said. "Extensive scientific research and billions of servings consumed by both humans and animals show that there are absolutely no health or safety issues with GM products that have been approved by government authorities. These defeats for the science-deniers will hopefully be a turning point that will enable us to move on to real issues of how to sustainably feed a growing world population."