Report Shows Widespread Adoption of FARM Program Practices
November 7, 2014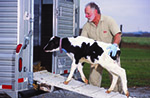 The latest FARM Program annual summary further demonstrates the widespread adoption on dairy farmers across the nation of standards and practices that assure high-quality animal care on dairy farms.
The summary, which can be downloaded from the FARM program website, quantifies the results of more than 12,000 farm evaluations conducted over three years. The data provide a baseline of the breadth of adoption of the program's animal are practices.
For example, the summary found nearly 95 percent of farms enrolled in the program train their employees to properly move animals that cannot walk, and more than 98 percent train employees to handle calves with a minimum of stress. Other findings included:
99 percent of farms observe animals daily to identify health issues for early treatment
93 percent develop protocols with veterinarians for dealing with common diseases, calving and animals with special needs
Jamie Jonker, NMPF's vice president of scientific and regulatory affairs, said the report shows that dairy farmers take their animal care responsibilities very seriously. "They're performing dozens of practices each day that increase the well-being of their animals," he said.
According to the report, participation in the FARM program last year increased to more than three-quarters of the nation's milk supply, up five percentage points from the previous year.