With MPP in Place, NMPF Leaders Set Sights on Immigration, Trade & Other Issues
November 7, 2014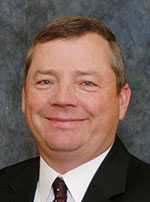 NMPF President Jim Mulhern and Board Chairman Randy Mooney (pictured) spelled out NMPF's goals for 2015, now that the new federal dairy program is up and running.
Top priorities for the organization will include immigration reform, opening more foreign markets to U.S. dairy products, addressing environmental issues and strengthening the industry's farm animal care program.
Mulhern said congressional inaction in immigration this year would not keep NMPF from pressing the fight for reform in 2015. "Our industry and our members must continue to beat the drum in Washington, and – more importantly – in states and congressional districts across the nation, that immigration reform must be dealt with, and finally resolved, in the coming year," he said. [See related story below about the elections and immigration reform.]
On exports, Mooney and Mulhern said the U.S. dairy industry is intent on being a major player in world markets from here on out. "World trade in dairy is today's reality and tomorrow's opportunity," said Mooney.
Mulhern said dairy farmers have a lot riding on trade negotiations involving both Europe and Asia. "Japan is a huge potential opportunity," he said. "We could export a lot more dairy products … if the U.S. government can achieve a breakthrough in negotiations and bring back a trade agreement providing meaningful increased market access there."
But both in Japan and Europe, Mulhern said, entrenched domestic dairy interests don't want more competition from the United States. "The European defense strategy includes an outrageous focus on clawing back, for their own protectionist use, the names of many common foods," he said. "These foods include many cheeses that we've been making for decades…"
Both leaders pointed to the important role of NMPF-managed Cooperatives Working Together in today's favorable dairy export picture. "The rise in exports in the past decade is due to a number of factors, but a big one is that we have, in our Cooperatives Working Together program, a very effective tool to help seal the deal in markets where we are competing with products from other countries," Mooney said.
This year alone, CWT, which is funded completely by farmers, has helped find markets for 92 million pounds of cheese, 53 million pounds of butter and 37 million pounds of whole milk power in 43 counties on six continents.
The complete text of the Mooney-Mulhern comments is on the NMPF website.