NMPF Welcomes Four New Co-op Members
November 7, 2014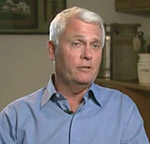 Also at the annual meeting, held at the Gaylord Texan outside Dallas, NMPF welcomed four new dairy cooperative members, two new board members and one new board officer.
The new cooperative members are Bongards' Creameries, Norwood, Minnesota; Cortland Bulk Milk Producers Cooperative, Cortland, New York; Mount Joy Farmers Cooperative Association, Mount Joy, Pennsylvania, and Oneida-Madison Milk Producers Cooperative Association, Sherrill, New York. These new members bring the number of NMPF-member cooperatives to 31.
The two new NMPF board members are Michael Doyle, president and CEO of Foremost Farms USA in Baraboo, Wisconsin, and Scot Meyer, board member of Ellsworth Cooperative Creamery, Ellsworth, Wisconsin. In addition, board member Keith Murfield (pictured), CEO of United Dairymen of Arizona, was elected NMPF secretary.
NMPF also recognized six outgoing board members for their service to the organization and presented the NMPF Political Action Committee Award to board member Dan Senestraro of Dairy Farmers of America.
The outgoing board members receiving certificates of appreciation were William Blalock, Cooperative Milk Producers Association; Albert Knegendorf, Ellsworth Cooperative Creamery; Dennis Donohue, FarmFirst Dairy Cooperative; David Newhouse, Farmers Cooperative Creamery; Dave Fuhrmann, Foremost Farms USA; and Donald DeJong, Select Milk Producers.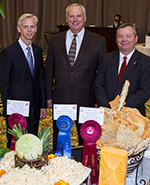 In other NMPF annual meeting news, a provolone made by Dairy Farmers of America in its Turlock, California, processing plant received the top award in the 2014 cheese competition, while Michelle Carter, communications specialist for Northwest Dairy Association/Darigold in Seattle, was named 2014 NMPF Communicator of the Year. Complete cheese contest results are on the NMPF website. In all, 12 NMPF cooperative members submitted 145 entries, totaling 2,150 pounds of cheese.
The incoming 2015 Young Cooperator council elected its leadership for the upcoming year. Brian and Carrie Preston, Michigan Milk Producers Association, were chosen to serve as the YC Chaircouple. Tommy and Anna Watkins, Southeast Milk, will serve as the Vice Chaircouple, and Donald and Bernadette Harwood, Upstate Niagara Cooperative, will be the Secretary Couple.
At the conclusion of the meeting, nearly 1,200 pounds of unused food was donated to the Tarrant Area Food Bank in Fort Worth. Included were cheese from the competition, milk, yogurt and ice cream. The food bank serves Tarrant and 12 neighboring counties on the west side of Dallas/Fort Worth.