In Election's Wake, Both Capitol Hill Ag Panels to See New Leadership
November 7, 2014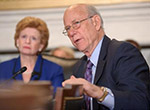 In the wake of major Republican gains in the mid-term elections on Tuesday, both the House and Senate agriculture committees will see new leadership.
With Republicans assuming control of the Senate in January, Senator Pat Roberts of Kansas (pictured with current Agriculture Committee Chair Debbie Stabenow) is likely to be the new chairman of the Senate panel. Roberts withstood a challenge from independent Greg Orman to win his fourth Senate term.
The current senior Republican on the committee, Thad Cochran of Mississippi, is expected to lead the Senate Appropriations committee, rather than serve as chairman of the farm panel. That would pave the way for Roberts to be the chairman. The current committee chair, Sen. Stabenow of Michigan, will become the panel's senior Democrat.
In the House, both Agriculture Committee Chairman Frank Lucas (R-OK) and senior Democrat Collin Peterson (D-MN) were reelected, but Lucas is term limited as chair of the Agriculture Committee. That paves the way for Rep. Mike Conaway (R-TX) to be the farm panel's new chairman. Peterson, who withstood his strongest challenge in years from a Minnesota state senator, will remain as senior agriculture committee Democrat.