USDA Unveils Aid to Producers, Food Box Buys as Congress Prepares Next Round
June 02, 2020

President Donald Trump and Agriculture Secretary Sonny Perdue announced May 19th the details of the Coronavirus Food Assistance Program, which will provide $16 billion in direct payments to producers including dairy farmers. NMPF voiced its appreciation for dairy assistance.

"We welcome this federal dairy assistance, which is critically needed as the nation's dairy farmers face an unprecedented market collapse," said Jim Mulhern, president and CEO of NMPF, the largest U.S. dairy-farmer organization. "USDA's plan will provide relief to many farmers, and we appreciate the department's adjustments to payment limits, an issue which we raised prior to the department finalizing this package."

Still, even with this badly needed support, additional aid will be essential to reflect the full losses that dairy farmers – who with projected losses topping $8 billion are among the hardest-hit — and other agricultural sectors have faced from the coronavirus crisis. NMPF will continue to work with administration officials and members of Congress to achieve adequate aid for all dairy producers.

Details on the assistance for dairy:

CFAP will calculate a single payment derived from two funding formulas intended to calculate losses caused by the coronavirus in 2020. The first, and larger, component of the assistance is calculated from a producer's certification of milk production for the first quarter of calendar year 2020 multiplied by $4.71 per hundredweight. The second component is based on a 1.014% increase in that first quarter production, multiplied by $1.47 per hundredweight. These two payment components are equivalent to a single payment equal to first quarter production multiplied by $6.20 per hundredweight.

USDA will make an initial payment of 80 percent of an eligible participant's total benefit. The remaining portion of a farmer's payment will be paid later as funds remain available.

CFAP payments are subject to a per-person and legal entity payment limitation of $250,000, a significant improvement over an earlier $125,000 limit that NMPF fought hard to change. This limitation applies to the total amount of CFAP payments made with respect to all eligible commodities. However, some entities may be eligible to receive up to $750,000 in payments depending on their incorporation and number of shareholders that contribute substantial labor or management to the operation of the entity.

Food Box Boosts Dairy

The direct assistance to farmers follows USDA's acceptance of an initial round of contracts to buy $317 million in dairy products as part of its Farmers to Families Food Box Program, which is bolstering both milk prices and dairy supply chains.

Mulhern applauded USDA's planned purchases of milk and dairy products for distribution through food banks and other non-profit organizations. "All that USDA can do to buy and quickly distribute dairy products to those in need will immediately help lift depressed markets," he said.

In addition to the White House and USDA, NMPF thanked the many members of Congress who have urged USDA to provide robust assistance to dairy and will be essential to achieving additional assistance. "A strong bipartisan, bicameral, nationwide push from members of Congress will be necessary to enact the significant dairy aid package needed for farmers to survive," Mulhern said. "We thank our champions in Congress for their tireless advocacy and hope more will join as we work together to preserve dairy farms and support the U.S. economy."

The Next Round

Work is already beginning in Congress on the next round of relief legislation. The HEROES Act, passed by the House of Representatives last week, includes important provisions to provide relief to dairy producers, and the Senate is slated to begin work on a measure in the coming weeks.

The HEROES Act includes multiple provisions to provide additional direct relief to dairy farmers based on the losses they face this year. The bill also includes NMPF-advocated provisions to strengthen opportunities for milk and dairy product donations to help farmers and consumers. Finally, the package provides important nutrition assistance to the millions of American families and households who are facing food insecurity during this difficult time.

NMPF looks forward to continuing to work with Congress and the Trump Administration to provide important relief to all dairy farmers as this process continues.
---
Dairy Margins Plunge in April, With Major Positive Swing Expected Later
June 02, 2020

The Dairy Margin Coverage (DMC) program margin for April was $6.03 per cwt., a drop of $3.13 per cwt. from March. A $3.60 per cwt. lower milk price, coupled with a $0.47 per cwt. lower feed cost calculation, mostly due to lower corn and soybean meal prices, produced the drop. The April margin will generate a payment for that month to all producers currently enrolled in the program for margin coverage levels from $6.50 per cwt. up through $9.50 per cwt.

The steep drop in the April margin has been long anticipated by the dairy futures, which currently indicate another drop to around $5 per cwt. in May. However, as bad as this year's second quarter will be for the nation's struggling dairy farmers, the recent futures are continuing to show a considerably brighter light at the end of the current very dark pandemic tunnel. As recently as the beginning of May, the outlook was for a very slow and painful recovery for margins throughout the remainder of 2020, with June being as bad as May and the margins remaining below $9.50 per cwt. through the end of the year. But just a month later, the outlook now shows the June margin recovering to around $8.50 per cwt. and the margins from July through December reasonably likely to remain above $9.50 per cwt. The May 28-based forecast by USDA's DMC Decision Tool is shown in the chart below.

The DMC information page on NMPF's website offers a variety of educational resources to help farmers make better use of the program. NMPF also posted a new video explaining how farmers can benefit from the DMC.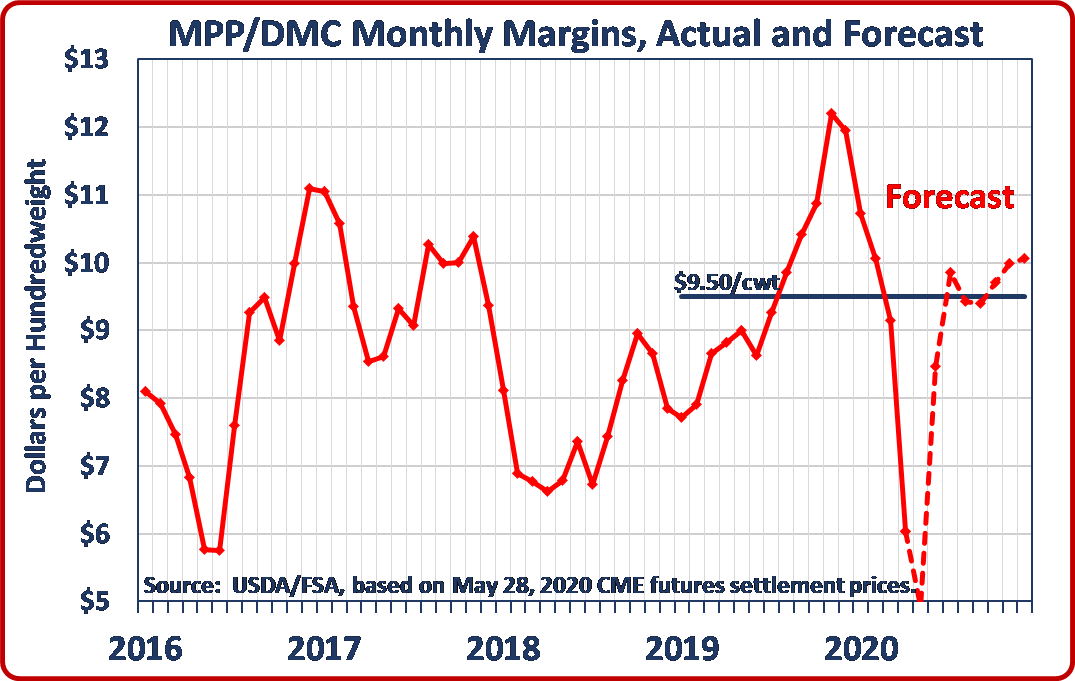 ---
International Dairy Coalition Warns European Union Against Market-Distorting Tactics
June 02, 2020

NMPF joined with the U.S. Dairy Export Council (USDEC) in May to spearhead a joint message from farmer organizations and dairy processors throughout the Americas warning the European Union against prolonging already challenging market conditions by repeating the inventory-building and extended market-price suppression it engaged in just a few short years ago.

These market-distorting practices in the past have caused significant harm to the U.S. dairy industry as well as the broader global dairy market.

EU interventions in 2016-17 led to it holding as much as the equivalent of 16 percent of the global skim milk powder (SMP) market in government storage. It then released the product on the world market over the next two years, unfairly harming the global dairy industry by undercutting prices.

This time, with the EU poised to begin government-financed intervention purchases of SMP and butter, dairy organizations from Argentina, Belize, Brazil, Chile, Costa Rica, Ecuador, El Salvador, Guatemala, Honduras, Mexico, Nicaragua, Panama, Paraguay, Uruguay and the United States issued a press release urging the EU to immediately change course and "act now to put a long-term plan into place regarding how to handle its government-incentivized stockpiling given that the EU has a demonstrated history of dumping intervention purchases in a way that disrupts the world dairy market."

Exporting large quantities of government-purchased SMP and butter at below-market rates onto the world market would artificially distort prices for an extended period and displace commercial competition. NMPF and the dairy coalition instead are urging the EU to adopt measures that further spur consumption within the EU and encourage its producers to implement appropriate production practices to survive during this difficult time.

"Farmers and dairy processors in our countries and many others around the globe are already in the fight of their lives, working hard every day to help keep the world well-nourished through this crisis," the dairy organizations said. Without an EU commitment to avoid distorting global markets, "the more farmers and processors outside the EU could be forced to close their doors."
---
NMPF Leads Efforts to Share U.S. Dairy With Those in Need
June 02, 2020

With reliable access to food jeopardized in much of the world due to COVID-19, NMPF is working to ensure dairy products with key nutrients necessary for child development and adult health are provided to those who need it most.

The presidents and CEOs of the nation's leading dairy organizations – NMPF, the U.S. Dairy Export Council and the International Dairy Foods Association – sent a letter May 18 urging Agriculture Secretary Sonny Perdue to use all tools at his disposal to "ensure high-quality, nutritious U.S. dairy products are made available to our international neighbors in need."

Dairy farmers are facing some of the steepest losses of all major U.S. agricultural producers, with losses potentially reaching $8.2 billion, based on a comparison of current USDA projections with pre-crisis estimates. U.S. dairy distribution as international food aid would provide dairy products to those who badly need it while providing an outlet for domestic farm goods that have been displaced in the marketplace by the COVID-19 crisis.
---
NMPF Adds Farmer Resources as Web Traffic Triples
June 02, 2020

The National Milk Producers Federation's virtual home, nmpf.org, continued to evolve to meet the member challenges of the coronavirus crisis, as web traffic sustained gains that began in March and added new features.

Traffic from mid-March through mid-May was nearly triple that of the previous year, as the site's dedicated coronavirus resource page gained nearly as many page views as the NMPF home page, according to Google analytics data. Also, the site saw its three most-visited pages of the year during that period, with a May 4 release giving details on how dairy farmers could sign up for a federal small-business loan program the most-viewed NMPF news release ever.

NMPF continued to keep members updated on the latest federal policy developments through its coronavirus toolbox releases. And on June 1, World Milk Day, nmpf.org unveiled a new website section devoted to original content sharing dairy's story, featuring an expanded Farmer Focus section to spotlight members, a relaunched Dairy Defined series of essays and podcasts, and NMPF President and CEO Jim Mulhern's CEO's Corner column.
---
FARM Program Evaluator Conference Goes Virtual
June 02, 2020

The Fourth annual FARM Evaluator Conference will go virtual this year, unfolding in two sessions on July 21st and 22nd.

The FARM team is excited to provide this opportunity, which will allow more evaluators to participate from across the country. Focused over the years on professional development and networking, this year's conference will include NMPF Communications Team members, Alan Bjerga and Theresa Sweeney-Murphy, to lead the group in media training.

Additionally, a panel featuring the veterinarian community, extension and beef industries will share their success in broad producer and stakeholder engagement related to the FARM Program.  Other topics will include creating a positive on-farm culture, updates on the dairy industry's sustainability initiatives and key areas that continue to give evaluators valuable expertise to share with their producers.

Cooperative management and staff that are not FARM evaluators who are interested in attending can email dairyfarm@nmpf.org to register for the event.
---
CWT-Assisted Export Dairy Sales in May Nearly Eight Million Pounds
June 02, 2020

The 40 contracts CWT member cooperatives secured in May added 5.1 million pounds of American-type cheeses, 1.4 million pounds of butter, 456,357 pounds of cream cheese, and 1 million pounds of whole milk powder to total CWT-assisted sales in 2020 This brings the total milk equivalent for the year to 532 million pounds on a milkfat basis. These products will go customers in Asia, Europe, and the Middle East, and will be shipped May through September.

CWT-assisted 2020 dairy product sales contracts total 20.8 million pounds of cheese, 6.2 million pounds of butter, 2 million pounds of anhydrous milkfat (AMF), 2.9 million pounds of cream cheese and 16.8 million pounds of whole milk powder. All this product is scheduled to ship in the first nine month of 2020.

Exporting dairy products is critical during these challenging times to the viability of dairy farmers and their cooperatives across the country.  Whether or not a cooperative is actively engaged in exporting cheese, butter, anhydrous milkfat, cream cheese, pasteurized process cheese, or whole milk powder, the moving products into world markets is essential. CWT provides a means to move domestic dairy products to overseas markets by helping to overcome U.S. dairy's trade disadvantages.

The amounts of dairy products and related milk volumes reflect current contracts for delivery, not completed export volumes. CWT will pay export assistance to the bidders only when export and delivery of the product is verified by the submission of the required documentation.

All cooperatives and dairy farmers are encouraged to add their support to this important program. Membership forms are available at http://www.cwt.coop/membership.
---