NMPF Strikes Bipartisan Tone as Election Results Become Clear
December 01, 2020

NMPF congratulated President-elect Joe Biden and members of the incoming 117th Congress as election results became clear in November, pledging to work with both political parties to craft solutions to dairy and agriculture's needs.

"Congratulations to President-elect Biden and the incoming members of the 117th Congress, who will have a lot of work to do in this country, from legislating to building common ground," said NMPF President and CEO Jim Mulhern in a Nov. 9 statement. "Dairy is ready to do its part and work with the administration and Congress to face difficult problems successfully, in the bipartisan spirit we have always practiced and believed in."

NMPF that same day elaborated its commitment to cooperation in a Dairy Defined column that acknowledged political realities while pledging to be part of their solution. "Looking at the political landscape that's coming into focus after the 2020 elections – the most bitter and viciously fought in anyone's memory — it's safe to say that for at least the next two years, bipartisanship isn't everything. It's the only thing, as hard as that may be for some to accept at this moment," the column said.

NMPF followed up on social media with a series of tweets congratulating dairy champions who were re-relected to Congress, keeping dairy at the front of attention in Congress as lawmakers consider coronavirus-related stimulus legislation and other agriculture-related programs.
---
October DMC Margins Above Trigger; Declines Expected in 2021
December 01, 2020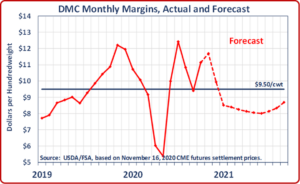 The monthly margin for October under the Dairy Margin Coverage (DMC) program increased by $1.93 per cwt from September's margin, to $11.13 per cwt, meaning no payments to farmers for milk produced that month. Still, forecast margin declines made a compelling case for signup for the program in 2021, due by Dec. 11.
Both the milk-price and the feed-cost components of the margin formula increased in October; the milk price increase during the month, $2.30 per cwt, far outpaced the $0.57 per cwt higher feed cost. For the second month in a row, both the corn and soybean meal prices were higher by appreciable amounts in October.
As the DMC 2021 deadline approaches, futures markets continue to indicate that margins will drop below $9.50 per cwt early next year and remain well below that level through at least next summer. As this year proved, making the decision to sign up for the program based on the market outlook near the end of the enrollment period can be very misleading, and that signing up should be the default decision in any case. But for next year, the outlook further reinforces that indication, erasing any residual uncertainty about participating next year at $9.50 per cwt for the first five million pounds of production history.
The DMC information page on NMPF's website offers a variety of educational resources to help farmers make better use of the program. NMPF also is offering dairy farmers, cooperative members and state dairy associations a free webinar at 1:30 p.m. ET on Wednesday, Dec. 2, to help them develop effective risk management plans. Participants will be able to ask questions about the year ahead and learn more about how farmers can manage their risk through expected turbulence.
---
NMPF Issues Summary of Dairy Trade Barriers for Incoming Officials
December 01, 2020

NMPF and the U.S. Dairy Export Council submitted detailed comments on Oct. 29 to the U.S. Trade Representative (USTR) in response to its annual call for input to inform its National Trade Estimate Report on Foreign Trade Barriers. The organizations also prepared an Executive Summary to inform and guide the work of the incoming Biden Administration and other key policymakers over the coming year.

The full comments outline the challenges and opportunities facing U.S. dairy exports in more than 30 foreign markets. These challenges include high tariffs, retaliatory duties, geographical indications, import licensing, and unscientific health requirements to keep U.S. goods at bay.

Expanding opportunities for U.S. dairy exports has become extremely important for the industry, as growing overseas sales is essential to supporting domestic dairy farmers, cooperatives and a healthy rural economy. The comments and summary are one part of how NMPF and USDEC are working to reduce trade barriers that hamper exports.

"Our comments to the USTR provide a road map for dozens of opportunities to create a more level and consistent global playing field for the U.S. dairy sector," said Jim Mulhern, president and CEO of NMPF.
---
NMPF Highlights Long-Term Issues as EU Escalates Trade Dispute
December 01, 2020

NMPF was quick to respond to the European Union's (EU) escalation of a dispute over its World Trade Organization (WTO)-incompliant aircraft subsidies last month by imposing retaliatory tariffs on U.S. agriculture exports, including cheese.

NMPF President and CEO Jim Mulhern swiftly issued a statement that took Europe to task for failing to come into compliance and highlighted the important role that U.S. retaliatory tariffs against EU dairy products continue to play in bringing Europe to the table.

"One of the most egregious of [Europe's unjustified trade] tactics is the EU's misuse of geographical indications (GIs) to ban the U.S. from selling cheeses with common names, such as asiago, feta or parmesan," Mulhern said. "We commend USTR's continued maintenance of GI cheeses on the WTO-authorized list of tariff retaliation as these tariffs help to temporarily level the playing field for U.S. producers."

NMPF also signed on to a coalition letter sent to USTR, organized by Farmers for Free Trade and the Distilled Spirits Council of the United States, and worked with USDEC to help shape the letter's messaging to emphasize the long-term issues that have hindered U.S. exports to the EU. The letter urged USTR to uproot the "unfounded EU non-tariff barriers that impede the American food and agriculture sector's ability to fully realize the potential opportunities in the EU." EU trade barriers have generated a gaping dairy trade deficit with the EU of roughly $1.5B.
---
NMPF's Jonker Named Chair of Science and Program Coordination Committee
December 01, 2020

Jamie Jonker, NMPF's Vice President of Sustainability and Scientific Affairs, was elected Chair of the International Dairy Federation's (IDF) Science and Program Coordination Committee Nov. 2 during IDF's annual meeting. This position also serves on the IDF Board and is the second-highest elected leadership position within IDF.

In this role, Jonker will help lead overall management of the more than 150 scientific and technical projects currently being conducted by IDF experts in food safety to animal welfare, economics to sustainability, and everything in between. This role also will help align U.S. dairy practices with those in other nations.

IDF is the leading source of scientific and technical expertise for all stakeholders of the dairy chain. Since 1903, IDF has provided a mechanism for the dairy sector to reach global consensus on how to help feed the world with safe and sustainable dairy products. A recognized international authority in the development of science-based standards for the dairy sector, IDF has an important role to play in ensuring the right policies, standards, practices and regulations are in place to ensure the world's dairy products are safe and sustainable.

In his current role, Jamie has general responsibilities in sustainability and scientific affairs, including animal health and welfare, animal biotechnology, dairy farm biosecurity, dairy farm air and water quality, dairy farm sustainability, and technical service issues.

Dr. Jonker is active representing the Federation on numerous national and international committees, including the U.S. Animal Health Association, the International Dairy Federation, the World Animal Health Organization, and Codex Alimentarius.  In 2019, he was appointed to the USDA Secretary's Advisory Committee on Animal Health. Prior to joining NMPF, his career included 6 years of experience in agricultural policy including service at the National Academy of Sciences, the EPA, and the U.S. House of Representatives Committee on Agriculture.
---
Environmental Stewardship Prep Guide among new FARM resources
December 01, 2020

The National Farmers Assuring Responsible Management (FARM) program released Version 2 of the Environmental Stewardship (ES) Evaluation Prep Guide on Nov. 6 which provides necessary information about the evaluation process and communicates program expectations to FARM ES participants.

FARM has also developed additional new and useful materials across all program areas including the Dairy Cattle Euthanasia Decision Tree which helps farmers and cow caregivers in making the difficult, yet best decision, to ensuring end of life welfare for the animal.   that difficult decision.

In FARM Workforce Development, the first iteration of the FARM Workforce Development evaluation is now available for use in the Evaluations Application. Similar to other program areas, this evaluation collects information to demonstrate the industry's commitment to best practices around on-farm human resources and safety practices.

Contact dairyfarm@nmpf.org with questions about accessing the evaluation or enrolling in the Workforce Development Program area.

FARM staff  have also hosted the first two sessions of Quick Convos – 30- minute informational webinars for attendees to ask questions and learn more about FARM. The Program Overview and the session on the Farmer Role Within the Program were well-attended and the recordings are available on Facebook, YouTube, and the FARM website.

Two more sessions will take place in December with specific focus on Animal Care (Dec. 2) and Environmental Stewardship (Dec. 16). Registration is free and available here.
---
CWT Assisted Member November Sales Top 16 million Pounds of Product
December 01, 2020

In a month shortened by the Thanksgiving holiday, CWT assisted member cooperatives in securing sales contracts to send 6.0 million pounds of American-type cheese, 3.1 million pounds of butter, 789,255 pounds of anhydrous milkfat, 6.0 million pounds of whole milk powder, and 643,750 pounds of cream cheese to customers in Asia, the Middle East, North Africa, Central and South America, and Oceania. The products will be shipped during the months of November 2020 through May 2021.

Member cooperatives' sales activities through November bring the year-to-date CWT-assisted export sales contracts to 32.5 million pounds of American-type cheeses, 12.5 million pounds of butter (82% milkfat), 48.7 million pounds of whole milk powder, 2.8 million pounds of anhydrous milkfat, and 6.6 million pounds of cream cheese. The milk equivalent of these sales is 1.1 billion pounds on a milkfat basis.

Assisting CWT member cooperatives gain and maintain world market share through the Export Assistance program positively impacts all U.S. dairy farmers by strengthening and maintaining the value of dairy products that directly impact their milk price. It does this by expanding the demand for U.S. dairy products beyond the domestic market thereby increasing the total demand for U.S. farm milk.

The amounts of dairy products and related milk volumes reflect current contracts for delivery, not completed export volumes. CWT will pay export assistance to the bidders only when export and delivery of the product is verified by the submission of the required documentation.

All cooperatives and all dairy farmers benefit from CWT's activities and should add their support to this important program in 2021 and beyond. Membership forms for 2021-2024 are available at http://www.cwt.coop/membership.
---