NMPF Pushes CFAP Forward as Coronavirus Stimulus Talks Stall
September 02, 2020

With talks on a new round of federal stimulus to deal with the economic effects of this year's coronavirus pandemic stalled, NMPF is urging USDA to make the best use of the funds it already has while continuing to prod Congress toward further funding.

NMPF joined 27 other agricultural organizations on a letter Aug. 7 urging Agriculture Secretary Sonny Perdue to extend the Coronavirus Food Assistance Program's (CFAP) August 28 sign-up deadline and to exercise additional flexibility in payments to producers.  NMPF included language in the letter urging USDA to take a fairer approach to CFAP's direct attribution rules and to the treatment of farms held in trust as corporations, to maximize benefits to dairy farmers of all sizes. NMPF also added language to the letter urging reconsideration of the CFAP payment limitation as a path forward is contemplated for spending the additional $14 billion provided to the Commodity Credit Corporation.

USDA responded to the letter with an extension of the CFAP sign-up deadline to Friday, September 11.

When Congress adjourned for its annual August recess, negotiations between Republicans and Democrats over a fifth round of coronavirus relief had stalled, with House Speaker Nancy Pelosi (D-CA) and Senate Democratic Leader Chuck Schumer (D-NY) meeting frequently with White House Chief of Staff Mark Meadows and Treasury Secretary Steven Mnuchin in attempts to reach a bipartisan agreement on another relief package.

The two parties' respective opening offers were the House-passed HEROES Act and the Senate Republicans' HEALS proposal.  Issues ranging from unemployment benefits to state and local aid have dogged negotiations, but agriculture is unlikely to be a major stumbling block to reaching a deal. NMPF will continue to advocate for equitable dairy disaster assistance to producers of all sizes and for enhanced milk donation opportunities and robust government purchases of dairy items.

NMPF will continue to work closely with the Department and its allies in Congress to secure better treatment for producers under existing and subsequent rounds of coronavirus-related assistance to producers.
---
Congress Takes Bipartisan Stand Supporting USMCA Enforcement at NMPF Urging
September 02, 2020

The United States-Mexico-Canada Agreement (USMCA) is poised to bring tangible benefits to America's dairy farmers and cooperatives, but only if its dairy-related provisions are fairly implemented and fully enforced.

A broad, bipartisan coalition of lawmakers in August asked the U.S. government to ensure that Canada and Mexico uphold their trade obligations. Two letters were sent by lawmakers in the House and Senate.

The August 13 House letter was signed by a broad bipartisan coalition of 104 lawmakers, led by Representatives Ron Kind (D-WI), Tom Reed (R-NY), Collin Peterson (D-MN), Glenn "GT" Thompson (R -PA), Anthony Brindisi (D-NY), Russ Fulcher (R-ID), Xochitl Torres Small (D-NM), and Anthony Gonzalez (R-OH).

Senators Tina Smith (D-MN) and Mike Crapo (R-ID) spearheaded a second letter signed by a bipartisan group of 25 Senators on August 25, writing that "It is imperative that Canada and Mexico deliver upon their agreed upon commitments related to dairy products."

"USMCA is a modernized trade deal that represents new opportunities for our farmers and processors after years of rural recession and the new challenges presented by the current crisis. We must utilize USMCA's enforcement mechanisms to bring home its hard-fought wins for America's dairy farmers," said Jim Mulhern, president and CEO of NMPF, following the House letter.

Specific provisions of concern to U.S. dairy highlighted in each letter include Canada's administration of its dairy TRQs, the full and transparent elimination of Classes 6 and 7 and related dairy pricing program disciplines, and the enforcement of side-letter agreements with Mexico that protect market access for U.S. common names cheeses.
---
NMPF Provides Oral, Written Comments to USDA, HHS on Dairy's Importance in Diet
September 02, 2020

The Dietary Guidelines for Americans Committee's scientific report reaffirms dairy's important role in a healthy diet, but government officials need to take into account evolving science that shows the benefits of dairy fats when it releases its final report, said Miquela Hanselman, NMPF's manager for regulatory affairs, during a virtual meeting of the U.S. Department of Agriculture and the Department of Health and Human Services discussing the report August 11.

"The committee, correctly in our view, maintained dairy as its own group and did not allow the inclusion of any plant-based beverages or foods other than fortified soy beverage," Hanselman said.

The committee also acknowledged dairy's unique and important nutritional package and included it in food recommendations developed for children ages 6-24 months, the first time the panel gave that age group a specific focus. Still, the committee's work is unfinished, Hanselman said. While pleased with most of the committee's work, NMPF was disappointed that the committee didn't include newer science on dairy fats that would better place full-fat dairy products within the healthy eating patterns the committee identified.

In addition to submitting both written and oral comments to USDA and HHS, NMPF also created a Call-to-Action, rallying 186 dairy advocates to reaffirm dairy's positive role in the diet and ensuring that dairy's specific concerns provide a distinct flavor to the full buffet of comments government officials will review as they craft the final 2020 Dietary Guidelines for Americans. That document is expected to be released later this year.
---
Dairy Economy Roller Coaster Continuing Through Summer
September 02, 2020

The monthly margin under the Dairy Margin Coverage (DMC) program for July was $12.41 per cwt. This was an increase of $2.42 per cwt. from the June margin. The milk price increased by $2.40 per cwt., from $18.10 per cwt. in June to $20.50 per cwt. in July. The feed cost calculation for July was just $0.02 per cwt. lower than in June.

Since March, the milk price has been by far the most volatile component of the DMC margin, showing month-to month changes, either down or up, that have averaged $2.83 per cwt. By contrast, the monthly changes in the feed cost component have averaged just $0.19 per cwt., and have been all declines, during that same period. Even the individual items in the feed cost formula have been relatively stable, with monthly price changes since March averaging, on a per hundredweight of milk basis, $0.15 for corn, $0.05 for soybean meal, $0.04 for all alfalfa, and $0.06 for dairy-quality alfalfa.

The pandemic is not yet through gyrating the milk price. Current dairy futures anticipatie a drop of well over $3 per hundredweight in the U.S. average all-milk price during the two months from July to September. The milk price outlook for the fall months has weakened in recent weeks as the second wave of Covid-19 infections continues, darkening the outlook for dairy use in food service and schools, and doing the same for the overall economic outlook. The current delay by Congress in agreeing to another pandemic relief package has added to this uncertainty as well.

The USDA-sponsored DMC Decision Tool is currently anticipating a drop in the margin of $3.30 per cwt. from July to September, with small payments for $9.50 per cwt. coverage occurring in both September and October, as shown in the chart below.

The DMC information page on NMPF's website offers a variety of educational resources to help farmers make better use of the program.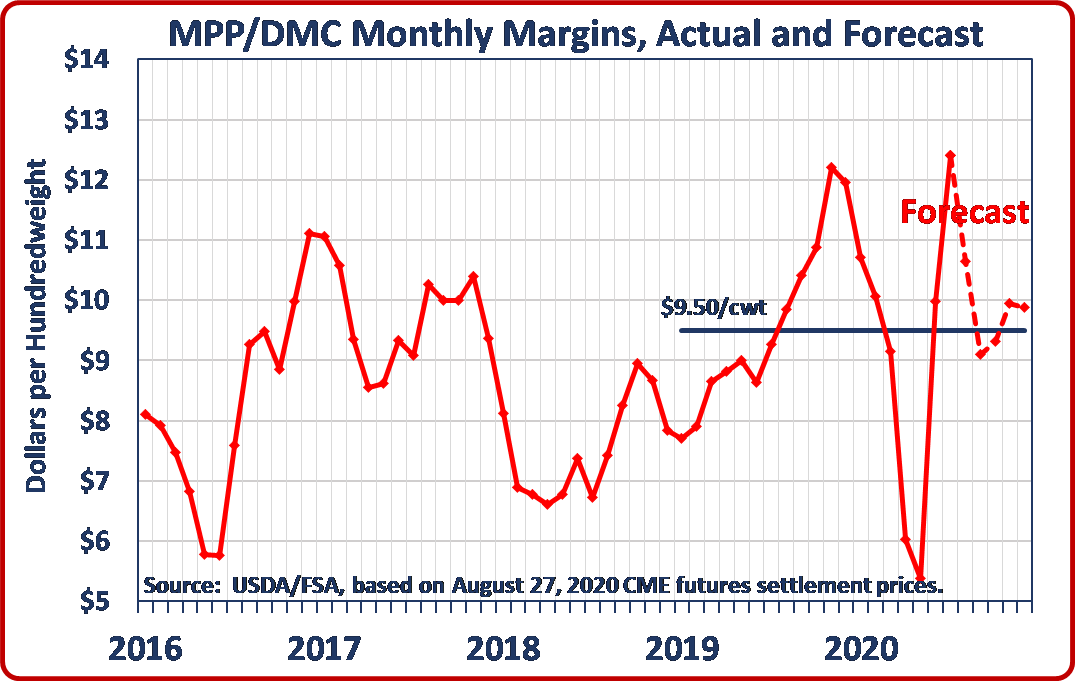 ---
FARM Program Recognized Again for International Quality Certification
September 02, 2020

The USDA Agricultural Marketing Service once again approved the FARM Animal Care Program's animal welfare standards, determining that the program's 4th version meets the requirements of the International Organization for Standardization (ISO) Technical Specification. FARM was the first animal-care program in the world to have its updated standards verified through this process.

"The ISO certification for the FARM Program demonstrates its importance and validates our industry's commitment to animal care not only domestically but also in the world market," said Jim Mulhern, president and CEO of the National Milk Producers Federation, which administers the FARM program.

The assessment to the ISO standard determines whether animal welfare programs meet international standards for animal care as set by an independent standards-setting organization. FARM was evaluated to ensure that the standards in Version 4.0 of its Animal Care program meet the highest quality in species-specific welfare practices.

The USDA verification signifies to FARM Program participants that its standards are among the best in the world. It also signals to consumers they can have confidence their dairy products were produced in accordance with the highest level of science-based animal care.

FARM was the first livestock program in the world recognized for the technical specification in 2018. It repeated the USDA verification process to provide an additional level of assurance for the improvements made to the program in its fourth iteration.
---
NMPF Co-Hosts AgTalks Virtual Town Hall
September 02, 2020

The critical role that U.S. dairy exports play in Wisconsin's economy and beyond took center stage at a virtual town hall Sept. 1 co-hosted by the National Milk Producers Federation (NMPF) and the U.S. Dairy Export Council and organized by Farmers for Free Trade, a coalition of pro-trade farm organizations, as part of an ongoing "AgTalks" series generating discussion of important issues on agriculture and trade.

The event featured NMPF president and CEO Jim Mulhern and panelists from across all aspects of Wisconsin's dairy supply chain, including and Jeff Lyon CEO of NMPF member cooperative FarmFirst. Panelists discussed how expanding dairy trade opportunities brings tangible benefits to America's dairy farmers, processors, exporters and rural communities.

"America's dairy farmers help produce high-quality dairy products that are renowned around the world. These exports drive economic growth here at home and create new jobs in rural communities that have borne the brunt of years of recession. . We cannot accept unjust trade barriers that limit our export dairy market access." The dairy industry in Wisconsin, and across the country, is counting on the U.S. government to help open new doors and strengthen our international supply chains through a robust and forward-leaning trade policy," said Mulhern.

Other featured guests included moderator Tom Vilsack, president and CEO of the U.S. Dairy Export Council; Jeff Schwager, President of Sartori Cheese; Chad Vincent, CEO of Dairy Farmers of Wisconsin; and Randy Romanski, Wisconsin Secretary of Agriculture.

For those who were unable to attend the Wisconsin AgTalks Town Hall, a recording of the event can be found here.
---
NMPF Submits Joint Comments to Ultrafiltered Milk Docket
September 02, 2020

NMPF and IDFA submitted joint comments Aug. 13 to the re-opened docket on permitting the use of ultrafiltered milk in cheese, saying that the practice should be allowed. This docket, originally opened in 2006, has been dormant for the past 14 years, but was revived   to receive information and further comment on current industry practices regarding the use of fluid UF milk and fluid UF nonfat milk in the manufacture of standardized cheeses and related cheese products, and the declaration of fluid UF milk and fluid UF nonfat milk when used as ingredients in standardized cheeses and related cheese products.

"Our position is based on the simple fact – which FDA has already recognized in proposing to allow for the use of UF milk in standardized cheese – that the use of ultrafiltration in the cheesemaking process "has no material effect on the final cheese process," NMPF and IDFA stated in their comments. The comments go on to touch on three main points:
Liquid Ultrafiltered and liquid microfiltered milk should be permitted in making standardized cheeses;
Ultrafitered and microfiltered milk should just be labeled as "milk" on the ingredient statement; and
The ultrafiltered and microfiltered milk may be made in the same plant or brought in from another dairy plant in liquid form only.
The use of ultrafiltered milk has many benefits in cheese processing. It creates an efficient way to get milk to cheese plants that are a large distance apart. Transportation of UF milk is often more cost-efficient, because unnecessary water is removed through filtration before shipment. Finally, it reduces the environmental impact of cheese making by shipping more milk in fewer loads.
NMPF urges FDA to re-evaluate its temporary  enforcement discretion position on ingredient labeling of ultrafiltered milk and make it permanent and expand the proposal to include microfiltered milk in cheesemaking.
---
NMPF "Take Action" Page Spotlights Grassroots Advocacy Opportunities
September 02, 2020

Building on the robust support that NMPF received for its most recent grassroots advocacy campaign to comment on the Dietary Guidelines Advisory Committee's Scientific Report, the organization's website has added a permanent feature offering advocates a one-stop-shop for current advocacy efforts. Dairy advocates also have the option to sign up to receive alerts and stay informed on how they can influence federal policies crucial to U.S. dairy farmers and their cooperatives.

NMPF's new "Take Action" page represents an evolution in grassroots advocacy that takes advantage of  the increased opportunities industry advocates have to directly connect to federal officials and to organize on behalf of important issues. The central role federal policies play in the dairy economy, from farmer assistance and nutrition guidelines to international trade rules, makes it increasingly important for dairy farmers and their allies to speak up and make their voices heard.

The new page makes available tools dairy advocates can use to send an email, make a call and use social media to engage with lawmakers in a centralized, user-friendly format. Current advocacy opportunities include writing a letter to urge congressional leaders to prioritize dairy in upcoming disaster assistance and sharing stories about how agriculture labor reform inaction impacts dairy farms and communities.
---
NMPF Supports USDA Animal-Disease Efforts, Recommends Improvements
September 02, 2020

NMPF submitted comments to USDA Animal and Plant Health Inspection Service (APHIS) Aug. 21 supporting enhancements to the National List of Reportable Animal Diseases.  These proposed changes will streamline state and federal cooperative animal disease detection, response, and control efforts.

In addition to supporting the proposed enhancements to the National List of Reportable Animal Diseases, NMPF comments included detailed suggestions to provide additional clarity including:
Clarity to ensure protection to individual privacy and confidential business information while collecting and reporting critical epidemiological information;
Including the reporting of notifiable diseases in wildlife;
Clarity on enforcement authority; and
Recommendations to improve definitions for reporting requirements including "emergency," "emerging," "regulated," and "immediate reporting."
NMPF also encouraged USDA-APHIS to rapidly develop a single portal for both federal and state personnel to receive notifiable disease reports simultaneously, which would minimize paperwork for accredited veterinarians and laboratories. Dual reporting requirements would be made much less burdensome for the states, diagnostic laboratories, and other animal health professionals with such a new information technology system.
Zoonotic and foreign animal diseases remain an ever-present risk to U.S. dairy farmers and their animals, and domestic and international confidence in purchasing U.S. dairy products is intimately tied to the health of the U.S. dairy herd. A foreign animal disease incursion would disrupt the nation's ability to maintain or expand exports of US dairy products valued at $6.02 billion, or 14.5 percent of production, in 2019.
---
FARM Events Include Recertification, Virtual Field Day
September 02, 2020

The National Dairy FARM Program hosted training and recertification for evaluators and trainers in August and also interacted with stakeholders at a virtual field day, creatively continuing its mission of farmer service online.

The training took place on August 17-19 over four virtual sessions. The agenda began with a trainer session covering best practices, key training competencies and facilitation guidance, then moved on to the four evaluator segments: the FARM program itself, how best to communicate while administering an evaluation, a technical review, and animal observation calibration practice. Participants then reviewed material and took the final exam required for recertification. The virtual recertification gave FARM trainers and evaluators a comprehensive learning experience and an opportunity to stay current on their evaluator status.

FARM also participated as an exhibitor in the inaugural virtual Farm Journal Field Days, Aug. 25-27. Farmers viewed and interacted with on-screen trade show "booths" and interacted with sponsor organizations on the online platform. Visitors to the FARM booth watched videos, learned about program areas and asked FARM staff questions.

The event featured keynote speakers Eric Snodgrass, Principal Atmospheric Scientist for Nutrien Ag Solutions; David Kohl, Professor Emeritus of Agricultural Finance and Small Business Management and Entrepreneurship in the Department of Agricultural and Applied Economics at Virginia Tech; and Gian Paul Gonzalez, Motivational Speaker, Founder and Director of Hope + Future Foundation.
---
NMPF Submits comments to USDA Ag Innovation Agenda
September 02, 2020

NMPF submitted comments to USDA's Agriculture Innovation Agenda Aug. 1, highlighting the U.S. dairy industry's sustainability goals and the need for technology and innovation to help us get there.

The agenda was seeking comments in four innovation areas identified in the 2019 National Academies of Sciences, Engineering and Medicine Report. Topics identified in which research and innovation would be the most helpful for the dairy industry include economic and environmental sustainability; producing more competitive dairy products; and increasing job availability.

The comments supported and aligned with comments from Newtrient and DMI to support the 2050 Sustainability Goals and Net Zero Initiative.

"One of the greatest opportunities that exists for dairy farmers is their ability to provide real solutions to many of today's biggest environmental challenges like carbon emissions, soil health, water quality, and water quantity," the comments state.

These comments are a part of NMPF's work for the Net Zero Initiative, which aims to reach carbon neutrality across the entire U.S. dairy industry by 2050.
---
CWT Assisted Dairy Product Export Sales Reach 8.9 Million Pounds in August
September 02, 2020

Cooperatives Working Together in August assisted member cooperatives in securing 48 contracts to sell 2.4 million pounds of American-type cheeses, 645,955 pounds of butter (82%), 518,086 pounds of anhydrous milkfat, 4.7 million pounds of whole milk powder, and 641,545 pounds of cream cheese. The product is going to customers in 16 countries in Asia, Central America, the Middle East, Oceania, and South America. The product will be shipped during the months of August 2020 through February 2021.

These contracts bring the 2020 total of the CWT-assisted product sales contracts to 74.255 million pounds of cheese, 6.934 million pounds of butter, 1.982 million pounds of anhydrous milkfat, 5.023 million pounds of cream cheese and 36.019 million pounds of whole milk powder. These transactions bring the total milk equivalent CWT will assist member cooperatives moving overseas to 736.3 million pounds of milk on a milkfat basis overseas.

Exporting dairy products is critical during these challenging times to the viability of dairy farmers and their cooperatives across the country. Whether or not a cooperative is actively engaged in exporting cheese, butter, anhydrous milkfat, cream cheese, pasteurized process cheese, or whole milk powder, the moving products into world markets is essential. CWT provides a means to move domestic dairy products to overseas markets by helping to overcome U.S. dairy's trade disadvantages.

The amounts of dairy products and related milk volumes reflect current contracts for delivery, not completed export volumes. CWT will pay export assistance to the bidders only when export and delivery of the product is verified by the submission of the required documentation.

All cooperatives and dairy farmers are encouraged to add their support to this important program. Membership forms are available at http://www.cwt.coop/membership.
---