NMPF Criticizes USDA Trade Relief Package as Insufficient for Dairy Farmers
September 10, 2018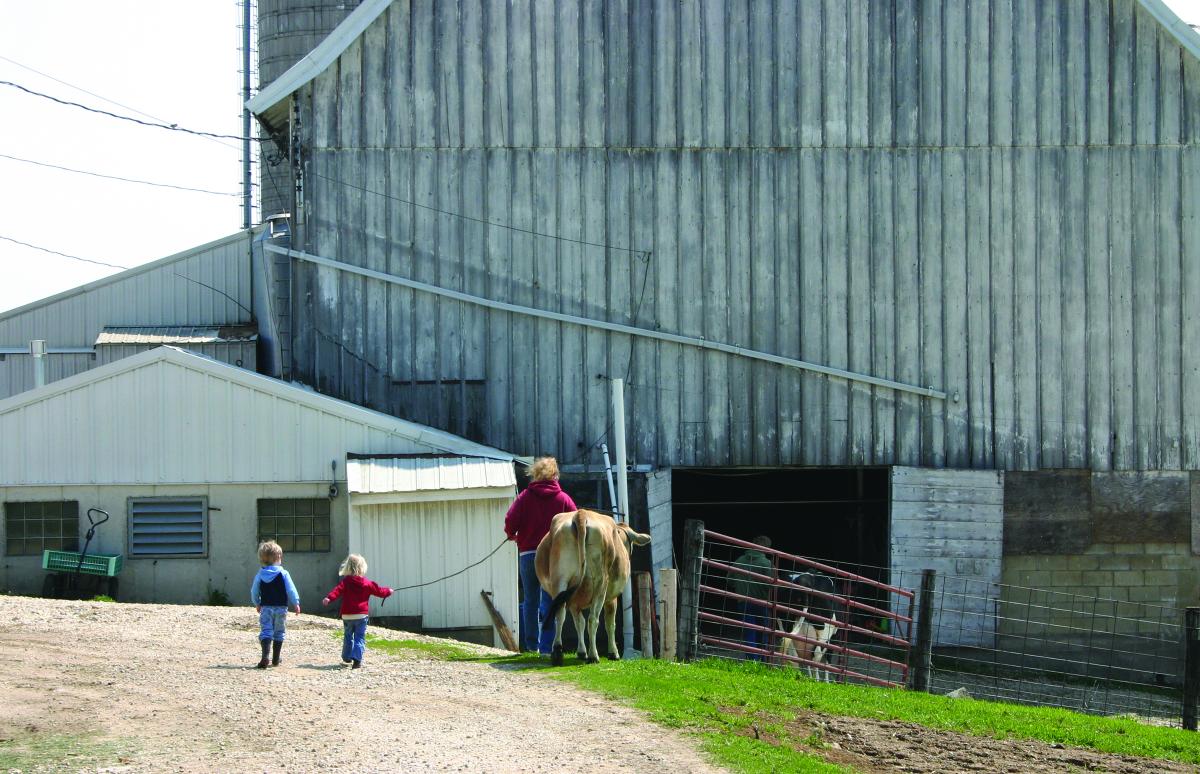 Dairy farmers can now sign up for their share of the multi-billion-dollar trade assistance package developed by the U.S. Department of Agriculture (USDA), although the amount available in direct payments – just $127 million, or 12 cents per hundredweight on half of a farm's annual production – falls far short of what NMPF had asked USDA to allocate.
Last month, USDA released details of the financial aid package intended to compensate farmers for depressed commodity prices created by the retaliatory tariffs imposed this summer by Mexico, China and other nations against U.S. farm exports.  The overall package includes direct payments, trade promotion assistance, and government purchasing programs for a variety of farm products.
Unfortunately, the USDA compensation "falls far short of addressing the losses dairy producers are experiencing due to trade retaliation resulting from the Trump Administration's imposition of steel and aluminum tariffs," said Jim Mulhern, NMPF president and CEO. "Although there may be a second direct aid package at the end of the year, dairy producers are greatly disappointed that the farmer aid portion of today's trade relief package does not adequately address the harm done to dairy."
The application for the USDA's Market Facilitation Program, which can be found here, is one-page document that USDA estimates will take 30 minutes to complete. Dairy farms must have been in operation on June 1, 2018, to participate.
Dairy payments will be calculated based on 50 percent of a farm's milk production history established through the Margin Protection Program.  If a farm hasn't used the MPP, it must provide milk production records to the local county FSA office. The decision to offer payments on the other 50 percent of production will be made later this year. Details on the food product purchase and trade promotion programs are not yet available, other than that dairy purchases will be $85 million of the $1.2 billion in total acquisitions.
Although the U.S. government announced a tentative agreement with Mexico in August, on the same day as the release of the MFP details, tariffs against U.S. exports remain in place. Dairy farm income will fall $1.5 billion this year if retaliatory Mexican and Chinese tariffs on U.S. dairy exports continue, according to a study released by Informa Agribusiness Consulting on Aug. 28. That figure will grow to $16.6 billion by 2023 unless the higher tariffs are rolled back.
NMPF is regularly communicating with government officials about dairy's reliance on trade – which now represents 15 percent of domestic production – as well as the need to be adequately compensated for losses considering the unique position dairy is in. NMPF is urging government officials to restore normal trading conditions with Mexico, negotiate a resolution with China to the tariff stand-off, and aggressively seek new opportunities to expand exports.
"Dairy farmers are particularly vulnerable to downward price swings because, unlike crop farmers who harvest once a season, dairy producers harvest and market their product daily," Mulhern explained. "If farmer incomes continue to suffer as projected, we will lose more farms."
---
NAFTA 2.0 Agreement Nears the Finish Line
September 10, 2018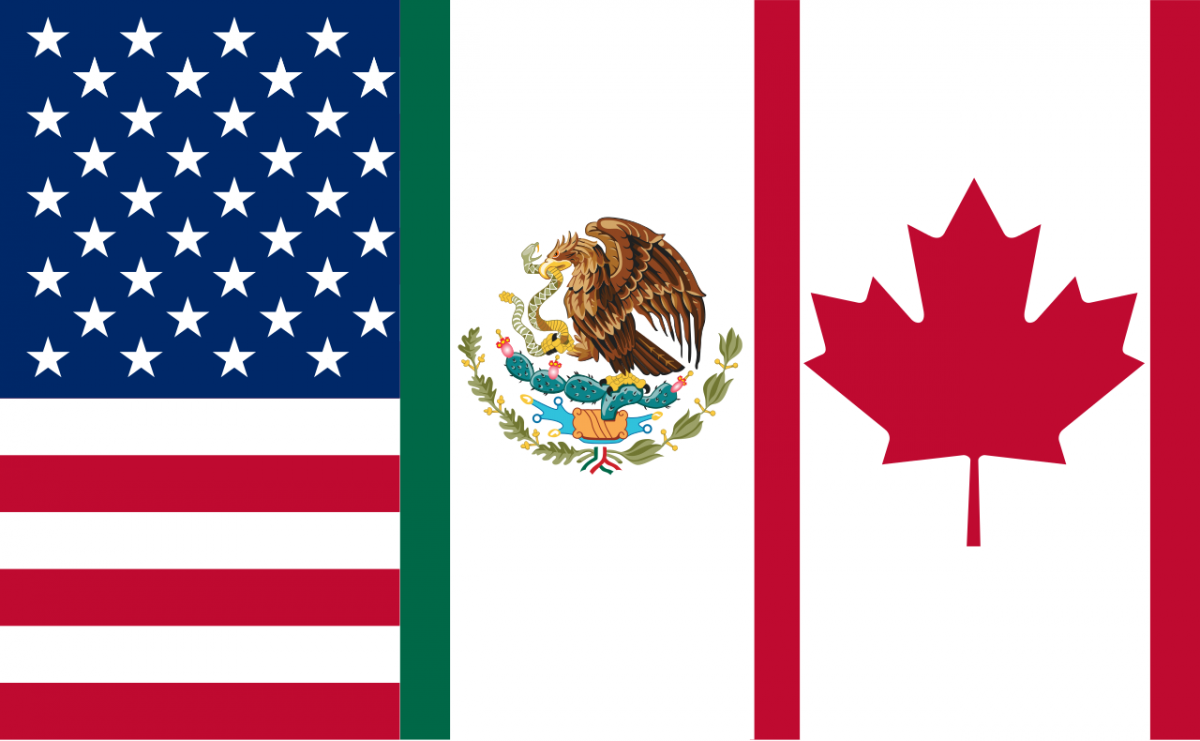 The Trump Administration made major strides in recent weeks to finalize negotiations over a new North American Free Trade Agreement (NAFTA), but the biggest issue for America's dairy farmers – whether they will earn more market access to Canada – remains unresolved in early September.  This high-stakes, high-visibility challenge is the key area where NMPF is heavily engaged this month on achieving a positive outcome for its members.
The White House in late August touted an agreement in principle with Mexico, although there are few public details about what the U.S.-Mexico portion of the new NAFTA includes. For instance, the U.S. announced that tariffs with Mexico on agricultural products will remain at zero; however, U.S. Trade Ambassador Robert Lighthizer indicated last month that the U.S. tariffs against Mexico metal imports remain in place, as do the retaliatory Mexican tariffs against U.S. dairy exports.  The U.S. dairy industry needs to see genuine duty-free trade restored with Mexico in order to safeguard market share to its top export customer.
Another critical issue is the extent to which the agreement with Mexico will prevent the European Union from monopolizing common cheese names sold in Mexico, which is what the E.U. is attempting to do in its separate free trade agreement with Mexico.  Given the importance of the Mexican dairy market to the U.S. industry – with $1.3 billion in sales last year alone, including $400 million in cheese exports – obtaining a positive outcome is a must.
After the Mexican accord was announced, the focus turned to completing an updated agreement with Canada. U.S. and Canadian negotiators will resume talks this week on the remaining issues in need of resolution, and dairy trade remains high atop that list, thanks to NMPF's insistence that any free trade agreement with Canada must support increased market access. President Trump and his top advisors have been adamant in recent weeks that no agreement with Canada will be forthcoming if dairy issues are not successfully dealt with.
NMPF has insisted that Canada tear down duties that reach as high as 300 percent on dairy imports, and allow the U.S. dairy sector access to the type of deep and broad export opportunities in Canada that other U.S. agricultural commodities have long enjoyed.  At the same time, the revised NAFTA pact must eliminate the new Canadian Class 7 pricing system, which was designed to dispose of excess Canadian dairy products on world markets and to discourage the import of new U.S. dairy products that were not subjected to Canadian tariffs.
Completion of NAFTA, and with it, a resumption of trade and a cessation of tariffs, will help ease financial pressures on dairy farmers and allow the U.S. to push ahead with pursuing new trade agreements that can expand dairy exports.
---
Farm Bill Due as Congress Returns for Busy September
September 10, 2018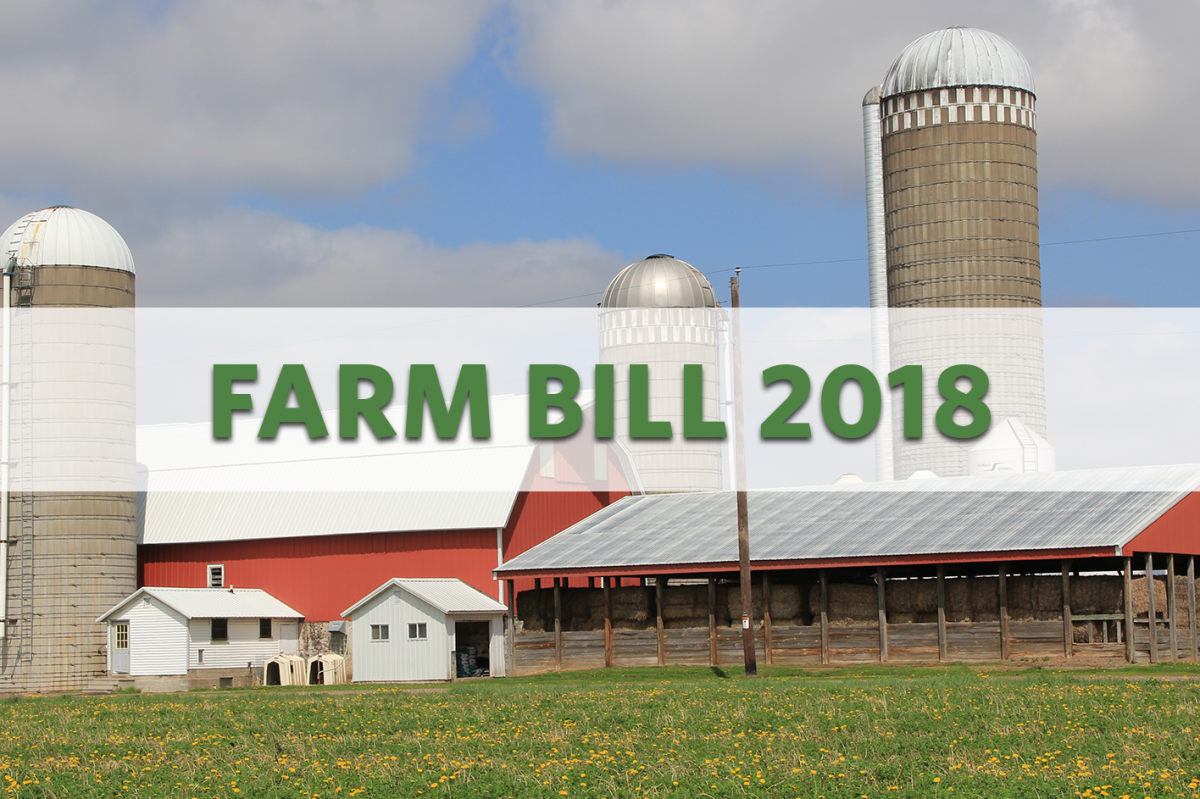 The Senate and the U.S. House of Representatives have returned to Capitol Hill from their August recess to tackle several pressing matters before adjourning again for the fall campaign season.
Funding for government agencies is set to expire when the fiscal year ends on Sept. 30.  To avoid a government shutdown, Congress must pass a continuing budget resolution to extend current spending levels into the expected post-election lame duck session of Congress. However, the two chambers may complete work in the coming weeks on several appropriations measures for the 2019 fiscal year, lessening their workload after the November election.
September is a critical period for finalizing work on the 2018 Farm Bill, as the current five-year bill expires on Sept. 30. The joint House-Senate conference committee held its first official public meeting on Wednesday, Sept. 5, and leaders from both the House and Senate Agriculture Committee began meeting informally during last month's summer recess, underscoring the urgency of the situation. NMPF has worked closely with Congress during the process, and is pleased that both the House and Senate dairy titles embody NMPF-backed dairy policy reforms.
Congress may also hold a vote on immigration legislation in September. NMPF has worked with House Judiciary Committee Chairman Bob Goodlatte (R-VA), House Agriculture Committee Chairman Mike Conaway (R-TX) and Ranking Member Collin Peterson (D-MN), as well as Rep. Dan Newhouse (R-WA), to advance the AG and Legal Workforce Act (H.R. 6417). This measure would create a new H-2C guest worker program for agricultural workers – including year-round dairy workers – coupled with new enforcement measures including E-Verify.  This legislation was introduced before the August recess, and NMPF has been working to build support for action on the measure in Congress yet this year.
---
MPP Forecast: September 2018
September 10, 2018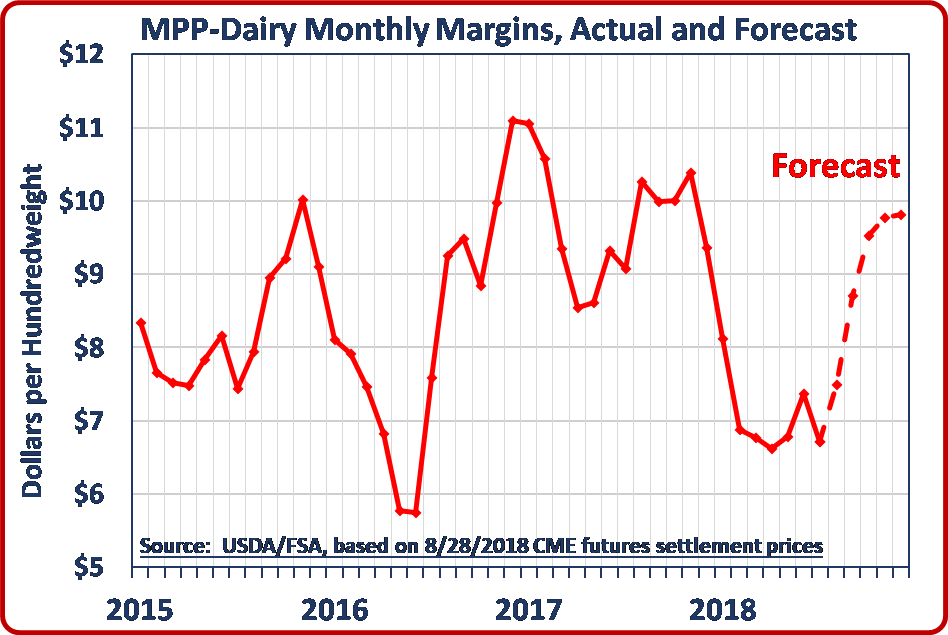 The July monthly margin under the Margin Protection Program (MPP) was $6.72/cwt., $0.65/cwt. lower than the June margin, owing mostly to lower milk prices. The July all-milk price was $15.40/cwt., $0.90 lower than in June, as the full effect of the retaliatory tariffs imposed by Mexico and China on various U.S. dairy imports rippled through U.S. domestic markets. The July MPP feed cost formula was $0.25/cwt. lower than the month before. Most of the drop in the monthly feed cost was split evenly between lower corn and lower soybean meal prices, when calculated on a per-hundredweight-of-milk basis.
Dairy farmers who signed up for $8.00 margin coverage at the lower, Tier 1 premium cost will receive a net return of $0.43/cwt. – after payment of premiums and sequestration reduction of payments – on their covered milk production for all of 2018, based on USDA's MPP Decision Tool forecast calculated using the Aug. 28 CME dairy and grain futures settlement prices, shown in the graph.
USDA's MPP margin forecasts can be accessed online. NMPF's Future for Dairy website offers a variety of educational resources to help farmers make better use of the program.
---
CWT-Assisted 2018 Sales Top 1 Billion Pounds of Milk
September 10, 2018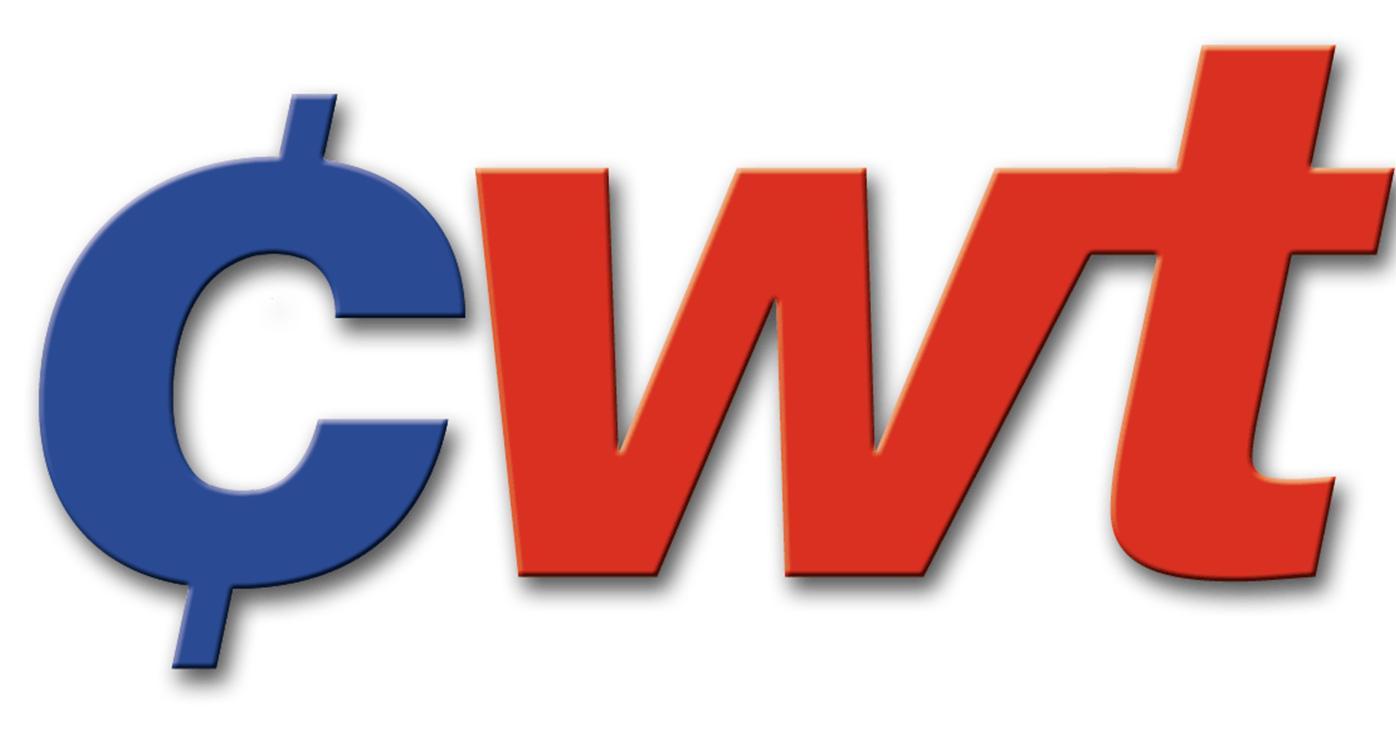 In a major milestone for the farmer-managed export assistance program, Cooperatives Working Together (CWT) has helped its member dairy cooperatives export over 1 billion pounds worth of milk so far in 2018. That sum represents 50 percent of the overall rise in U.S. milk production through August of this year.
"This is a huge milestone, not just for the members of CWT, but also for the wider U.S. dairy industry," said Jim Mulhern, president and CEO of NMPF. "CWT's success at ensuring nutritious dairy products reach customers all over the world demonstrates the importance of dairy cooperatives coming together to build a better economic future for our dairy community."
Founded in 2002, CWT is a voluntary membership program funded by contributions from NMPF's member cooperatives and more than 100 individual farmers. The funds raised from the CWT membership fee of $0.04/cwt. help maintain U.S. exports in an increasingly competitive world market.
Mulhern noted that "with milk production rising around the world, as well as in the United States, CWT helps maintain and build market share for our products as we tap into growing consumer demand across the globe for made-in-America dairy products."
In August, CWT helped its member cooperatives to secure 48 contracts to sell 3.229 million pounds of American-type cheeses, 877,440 pounds of butter and 14.76 million pounds of whole milk powder to customers in Asia, Central America, the Middle East, North Africa, Oceania and South America. The product will be shipped to buyers in 11 countries in four regions of the world during the months of August 2018 through March 2019.
These contracts bring the 2018 total of CWT-assisted product sales to 46.68 million pounds of cheese, 12.96 million pounds of butter, and 41.44 million pounds of whole milk powder. These transactions will help CWT's members sell a total of 1.043 billion pounds of milk, on a milkfat basis.
Assisting CWT member cooperatives gain and maintain world market share through the Export Assistance program expands the long-term demand for U.S. dairy products and the U.S. farm milk that produces them. This, in turn, positively impacts all U.S. dairy farmers by strengthening and maintaining the value of dairy products that directly impact their milk price.
The amounts of dairy products and related milk volumes reflect current contracts for delivery, not completed export volumes. CWT will pay export assistance to the bidders only when export and delivery of the product is verified by the submission of the required documentation.
All cooperatives and dairy farmers are encouraged to add their support to this important program. Membership forms are available online.
---
2015 WOTUS Rule Partially Back in Effect After District Court Decision
September 10, 2018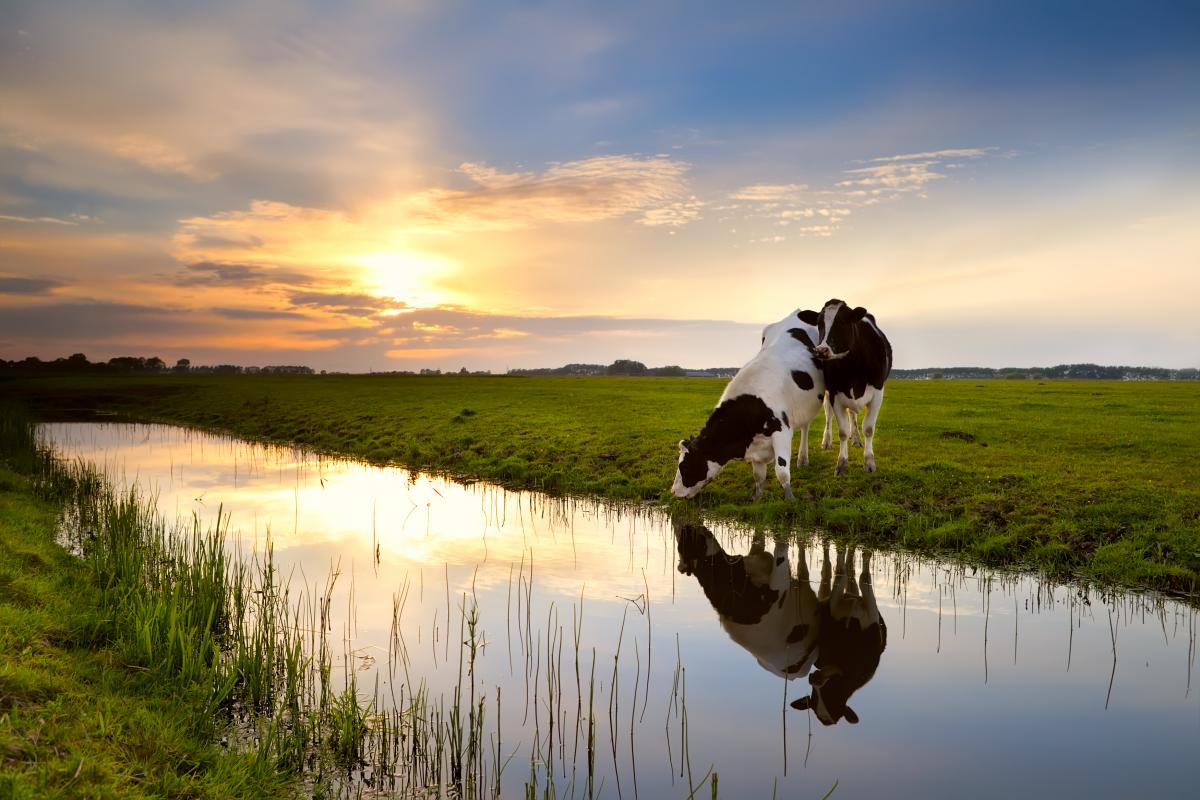 In mid-August, a new ruling issued by a U.S. District Judge in South Carolina revived the flawed 2015 Waters of the United States (WOTUS) regulation for some states – though the rule does not apply in other states where court actions have stayed its implementation. This most recent legal turn comes just after NMPF submitted comments to the U.S. Environmental Protection Agency (EPA) that said the 2015 rule must be permanently rescinded and the prior version of the regulation re-codified to provide better clarity for dairy farmers.
On Aug. 16, Judge David Norton for the District of South Carolina ruled that the Trump Administration failed to seek public comment on both the WOTUS Applicability Rule and the implications of delaying the 2015 regulation by two years. The Applicability Rule was put into effect to extend the effective date of the 2015 rule until Feb. 6, 2020, allowing EPA time to repeal and replace it after the Supreme Court determined the U.S. Court of Appeals did not have jurisdiction over the rule.
The South Carolina judge enjoined the Applicability Rule, also referred to as a "Suspension Rule," nationwide. Norton's ruling puts the 2015 policy back into effect in the following states: California, Connecticut, Delaware, Florida, Hawaii, Illinois, Iowa, Louisiana, Maine, Maryland, Massachusetts, Michigan, Minnesota, New Hampshire, New Jersey, New York, Ohio, Oklahoma, Oregon, Pennsylvania, Rhode Island, Tennessee, Texas, Vermont, Virginia and Washington. There are still injunctions that stay the 2015 rule in the 24 other states.
The South Carolina court ruling does not impact the repeal process of the 2015 rule, though it could still take time to complete, as the comment period on the repeal closed on Aug. 13. In addition to its own comments, NMPF joined with other farm groups in filing extensive legal and technical comments describing everything that was flawed in the 2015 rule.
In its comments, NMPF said the definitions of the WOTUS rule need to be applied in ways that are consistent with recent Supreme Court decisions and long-standing farming practices. Re-codifying the regulations that existed before the 2015 rule will provide continuity and certainty for dairy farmers, other regulated entities, states governments, agency staff, and the public, the comments said.
The South Carolina decision is being appealed and the Department of Justice (DOJ) has requested that the South Carolina court agree to stay its decision by Sept. 4, 2018. There is also a possibility that the 2015 WOTUS rule will be stayed nationwide by a court in Texas that is also considering legal challenges to WOTUS. Though agricultural groups had asked for a nationwide stay previously, the DOJ opposed it and reversed its opposition.
---
FARM Releases New Materials Related to Workforce Development
September 10, 2018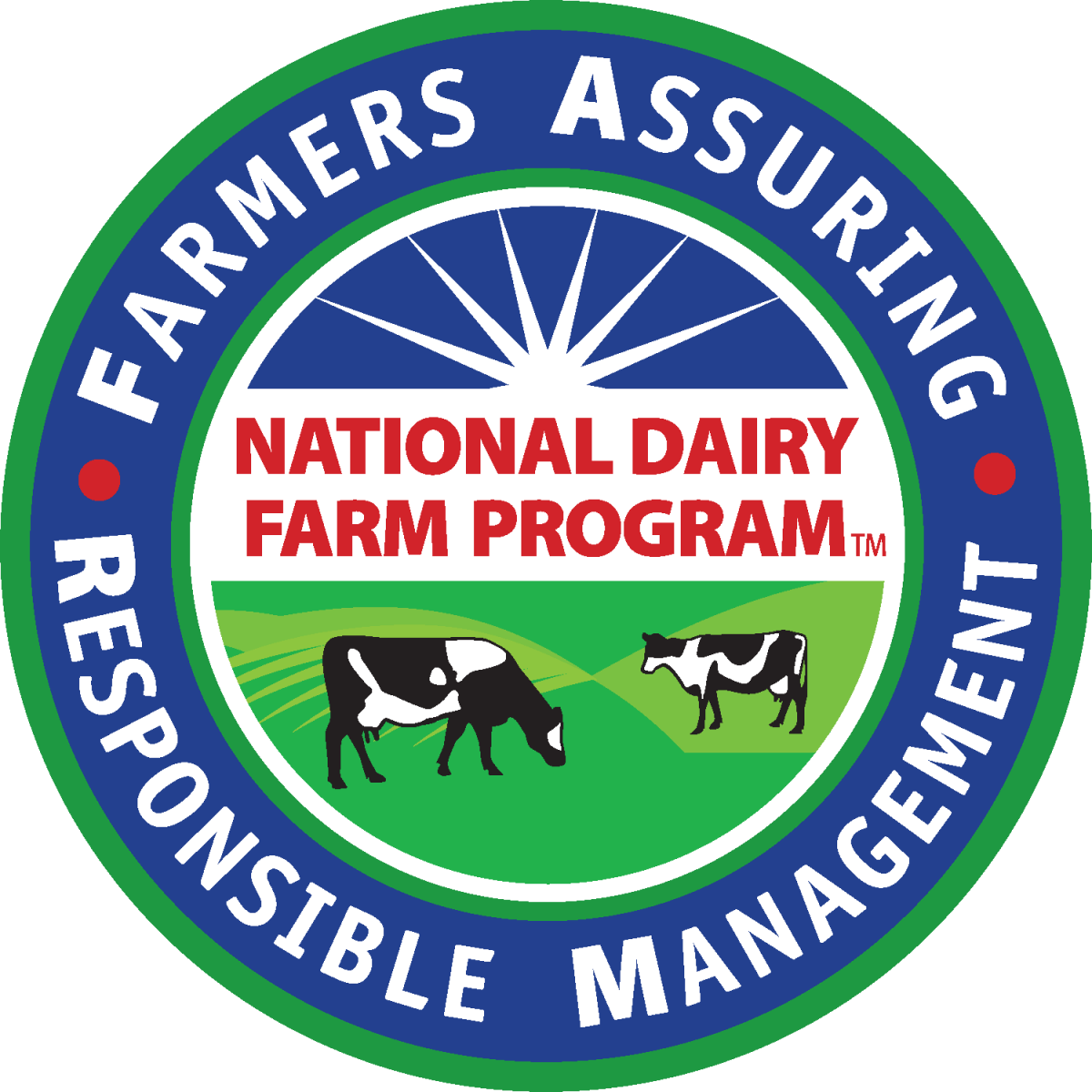 The FARM Program has created helpful new human resources materials as part of its Workforce Development initiative. The aim of this project is to provide U.S. dairy farm owners and managers with guidance and best management practices around human resources (hiring, training, and supervision), as well as worker health and safety.
The Guide for Managing Employee Housing covers legal considerations and management recommendations to promote safe, clean and comfortable living spaces for dairy farm workers. FARM Program staff have been working on federal and state legal fact sheets that summarize federal laws and regulations on a variety of human resource issues for dairy farms.
This suite of educational materials will help farmer owners who want basic human resources tools and safety practices for employees, thus enabling them to increase worker engagement, reduce employee turnover and manage liabilities from the safety risks of dairy farming.
---
SEPT. 27 – Statement on FDA Request for Comments on Dairy Food Labeling
September 27, 2018

From NMPF President and CEO Jim Mulhern

ARLINGTON, VA – "We welcome the public comment request announced today by the U.S. Food and Drug Administration (FDA) that we hope will finally curtail the misleading labeling practices of plant-based foods imitating real dairy products. NMPF will provide additional perspective explaining why the agency must enforce its own labeling regulations and limit the use of standardized dairy terms to products that come from an animal.

"We are pleased that after years of engagement with FDA, the agency is finally addressing our concerns about how these plant-based products are inappropriately marketed to consumers. In fact, the docket recognizes many of the same issues we've brought to light over the last four decades: that plant-based products are packaged, merchandized and sold in the same way as real dairy foods, yet provide fewer nutrients and therefore cannot be considered suitable substitutes.

"However, our comments will further emphasize that at its heart, our concern over accurate labeling is a concern not just about nutritional equivalence and the implications for public health. A food identified by a standard of identity is so much more than just a collection of nutrients. A standardized dairy food, like milk, yogurt or butter, is defined by its inherent characteristics including how and where it is sourced, and its sensory attributes and performance properties. Quite simply, just adding plant protein, calcium and a few other ingredients to water does not make it milk.

"We appreciate Commissioner Gottlieb's efforts to evaluate current food labeling practices and how they can impact public health. But, as important as that is, we also believe FDA's efforts must go a step further. We will remain engaged throughout this and future processes to keep a spotlight on this critical issue."

###

The National Milk Producers Federation (NMPF), based in Arlington, VA, develops and carries out policies that advance the well-being of dairy producers and the cooperatives they own. The members of NMPF's cooperatives produce the majority of the U.S. milk supply, making NMPF the voice of dairy producers on Capitol Hill and with government agencies. For more on NMPF's activities, visit our website at www.nmpf.org.
---