Key Dairy Wins in COVID-19 Legislation Bear NMPF Fingerprints
January 05, 2021

Dairy farmers secured significant gains in 2020's final major piece of legislation – a long-awaited COVID-19 stimulus and government funding bill that bore NMPF's fingerprints.

The additional assistance to the dairy economy came on top of more than $5 billion in funds already secured for milk producers in large part because of the close work of NMPF and its member cooperatives with lawmakers.
"With difficult months of the pandemic still ahead, it was crucial for lawmakers to come to a bipartisan agreement that helps farmers do what they do best: feed families," said Jim Mulhern, NMPF president and CEO, in a statement released after congressional passage. "To do this, they need financial stability and ways to connect to families in need. We thank Congress for its leadership, and we look forward to working with USDA in implementing this legislation. Importantly, this package includes nearly $1 billion in targeted support to help dairy producers continue to feed families throughout these difficult times."
Highlights of the package include:
A Dairy Donation Program – $400 million for a new NMPF-backed Dairy Donation Program open to all producers to help dairy stakeholders and non-profits work together to provide dairy products to food-insecure households and minimize food waste. NMPF is grateful to Sen. Debbie Stabenow (D-MI) and Rep. Collin Peterson (D-MN) for their leadership in securing this and other dairy provisions in the package.
Flexibility on payment limits – Dedicated funding to allow USDA to provide additional compensation to producers who were unable to receive the full support they needed under the Coronavirus Food Assistance Program on account of payment limitations. NMPF thanks Rep. Mike Conaway (R-TX) for advocating for this provision, as well as the many members who have sought flexibility on this front all year long including Sens. Jerry Moran (R-KS) and Dianne Feinstein (D-CA) and Rep. Jim Costa (D-CA).
Supplemental DMC payments – Supplemental Dairy Margin Coverage payments for farms that have increased their DMC production history since 2014. These payments will be based on the difference between the farm's 2019 actual production and its DMC production history. While the provision is targeted to smaller operations, it will enhance the farm bill baseline for all dairy farmers as it runs concurrently with DMC up to 2023.
Paycheck Protection Program improvements – The bipartisan, NMPF-backed Paycheck Protection for Producers Act was included in the bill. The initiative would make the Paycheck Protection Program work better for sole-proprietor, independent contractor, and self-employed dairy farmers by allowing them to use their 2019 gross income to determine their PPP loan amounts. NMPF commends Sens. John Thune (R-SD) and Tammy Baldwin (D-WI) and Reps. Ron Kind (D-WI), Glenn 'GT' Thompson (R-PA), Anthony Brindisi (D-NY), and John Joyce (R-PA) for their work on this measure.
Dairy producers will also be eligible for support in the $11 billion agricultural disaster assistance package Congress has included in the legislation, with additional details expected in coming days. Of note, at least $1.5 billion of this package is dedicated to additional product purchases. USDA has announced a fifth round of the Farmers to Families Food Box program using this funding. NMPF will be working closely with USDA and Congress on implementation of this package as well as on subsequent rounds of relief.
---
Dietary Guidelines Reaffirm Dairy's Nutritional Benefits; Fats Review Urged
January 05, 2021

NMPF praised USDA and HHS for its work on the 2020-2025 Dietary Guidelines for Americans (DGA) released last week, which reaffirmed dairy's central role in diet as a provider of essential nutrients that are often under-consumed in American diets.

NMPF also pledged to continue efforts to broaden consideration of the latest science on dairy fats in the next examination of the federal guidelines, which are released twice each decade.
"USDA and HHS deserve praise for once again recognizing just how vital dairy is to the nation's health and well-being," said Jim Mulhern, president and CEO of NMPF. "We encourage them to affirm that role even more clearly in the next iteration of the Dietary Guidelines, to reflect the positive contribution of dairy fats in diets that's increasingly recognized in a growing body of evidence."
The guidelines culminate nearly two years of work that began in 2019 with the selection of the Scientific Advisory Committee, which drafts recommendations for the U.S. Department of Agriculture and the Department of Health and Human Services.
The latest update to the guidelines restates dairy's importance to diet. Highlights include:
A recommendation of three servings of dairy in the Healthy U.S. Eating pattern and Healthy Vegetarian Eating patterns, in keeping with past guidelines
Dairy's continued recognition as a distinct food group
A recognition that Americans aren't consuming enough dairy to meet their nutritional needs
Dairy's reaffirmation as a source of four nutrients of public health concern, including potassium, calcium, and vitamin D, as well as iodine for pregnant women.
A recommendation of milk, yogurt, and cheese in the first-ever healthy eating patterns geared toward infants and toddlers ages birth to 24 months
"The panel's recognition that dairy is a key source of 'nutrients of concern' in U.S. diets is especially important," Mulhern said. "During a time of food insecurity and concerns about proper nutrition among Americans, dairy is a readily accessible solution to clearly identified public-health challenges. Dairy farmers work hard to be part of that solution, and the panel's recognition of the nutritional importance of dairy is greatly appreciated."
The Dietary Guidelines for Americans have significant implications for numerous government policy areas, including guiding the types of milk served in school meal programs and setting the parameters for how nutrition programs are implemented and developed.
---
November DMC Margin Above Assistance Threshold; 2021 Payments Expected
January 05, 2021

The monthly margin for November under the Dairy Margin Coverage (DMC) program was $11.87 per cwt, the second-highest monthly margin of 2020. Margins are still expected to fall in 2021, with levels that trigger federal assistance payments for much of the year.

The November U.S. average all-milk price was $21.30 per cwt, the highest of all 2020 monthly milk prices, but that month's DMC feed-cost calculation was $9.43 per cwt of milk, also the year's highest. The highest margin in 2020 – and the highest since November 2014 – was $12.41 per cwt in July, when the all-milk price was $20.20 per cwt, but the feed cost was just $8.09 per cwt.

High margins and prices are expected to be distant memories for the foreseeable future, according to current dairy futures. Milk prices are not anticipated to rise much above $18.00 per cwt, with DMC margins projected to remain well below $9.50 per cwt, at least through next summer. Growth in dairy cow numbers and milk production are accelerating. Meanwhile, the COVID-19 pandemic is expected to keep food service use of dairy depressed for some time, and the outlook for continued USDA food purchases does not currently appear able to be fully adequate to bridge this growing gap between milk and supply and demand.

The cost side is also expected to be challenging: Increased prices of corn and soybean meal are projected to boost the DMC feed cost calculation well above $10.00 per cwt during this same forecast horizon.

The DMC information page on NMPF's website offers educational resources to help farmers better use the program.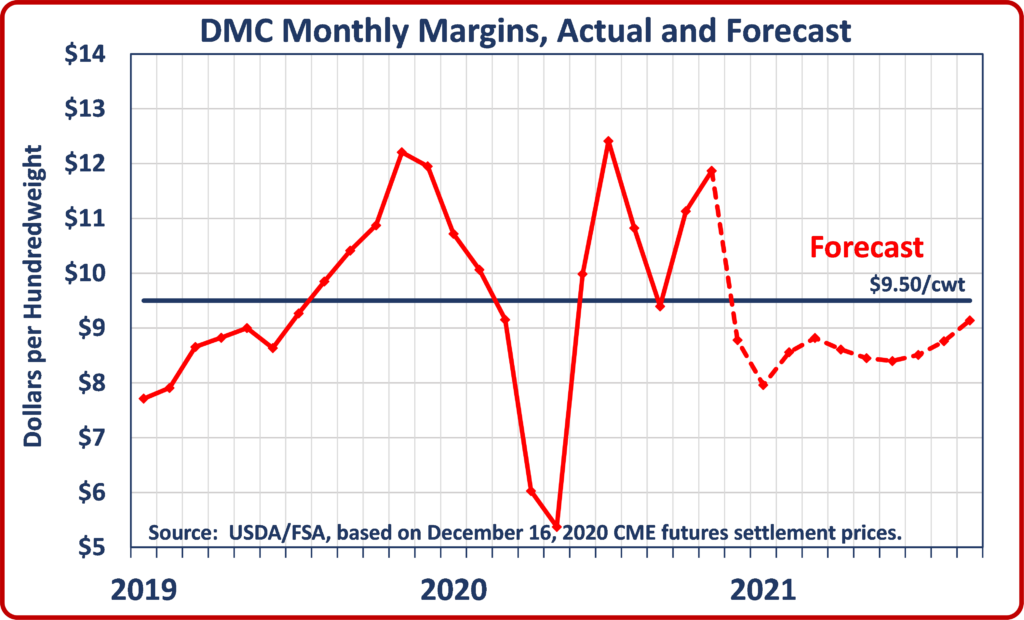 ---
NMPF Sets Stage for a Successful 2021 in Trade
January 05, 2021

NMPF is poised for further gains in 2021 after working hard to advance dairy's trade priorities in 2020, delivering critical wins for America's dairy farmers and farmer-owned cooperatives.

NMPF's Jaime Castaneda, Senior Vice President of Policy Strategy and International Trade, wrote an op-ed for Hoard's Dairyman detailing a few of the many ways NMPF worked closely with the U.S. Dairy Export Council to help to dismantle tariff and nontariff barriers and expand market access for dairy exports in 2020.

Examples included:
Pushed for successful implementation of the US-China Phase 1 deal's dairy nontariff relief provisions, including removal of the dairy facility inspection requirement and more timely updates of China's list of authorized U.S. exporters;
Marshaled robust support from 170 members of Congress demanding that the U.S. take a stronger approach to preserve U.S. rights to use common food names and safeguard U.S. market access abroad;
Secured tariff cuts from Vietnam and China to the benefit of U.S. dairy exporters; and
Fended off multiple regulatory and policy pressures in Mexico that threated access to our largest export market, and much more.
Each of these accomplishments has helped set the stage to bring home even greater benefits in the coming year. To achieve this, NMPF is working with the U.S. Dairy Export Council (USDEC) to ensure that the industry is well-positioned to swiftly execute on key issues as a new Congress and a new administration takes office in 2021.
Key goals include:
Robust enforcement regarding the implementation of USMCA dairy commitments by Canada and Mexico;
Pursuit of new trade agreements with sizable net dairy-importing nations; and
Strong action to address the use of nontariff trade barriers to hamper U.S. dairy exports' opportunities.
As part of this important effort to secure new advances in trade policy, NMPF joined with Farmers for Free Trade to issue a report based on the AgTalks series NMPF helped sponsor and participated in earlier this year. The Farmers for Free Trade report includes an assessment on the state of American agriculture as well as policy analysis and recommendations.
Finally NMPF soon will launch a joint initiative with USDEC to equip dairy farmers and industry staff with the tools necessary to articulate dairy trade issues to policymakers and the media as the need arises.
---
USMCA Enforcement Stays at Top of USTR's Agenda with NMPF Help
January 05, 2021

After sustained engagement from NMPF and USDEC to bring the U.S. Trade Representative's attention to Canada's administration of its Tariff Rate Quota (TRQ) obligations under USMCA, USTR announced Dec. 9 it will initiate official consultations with Canada.
"Enforcement has been one of the top priorities of our industry since the final agreement was announced, and we've worked diligently to ensure that it remains one of USTR's top priorities, as well," said Jim Mulhern, president and CEO of NMPF, in a statement the day of the announcement. "Only when Canada is held fully accountable to its trade commitments will America's dairy farmers be able to realize the full benefit of the provisions that the U.S. government worked so hard to secure."
The USTR decision came after months of groundwork by NMPF and USDEC. Even prior to USMCA's entrance into force, the two organizations called attention to the fact that Canada's TRQ allocations undermined the intent of USCMA's dairy provisions. The concerns of the organizations were shared with Congress, then echoed by a broad bipartisan coalition of members of Congress in two letters from the House and the Senate.
NMPF will continue to work with both trade officials and Congress to monitor Canada's compliance with USMCA, as further enforcement may be necessary to effectively address Canada's unfair dairy policies.
---
NMPF Awarded USDA Grant to Advance On-farm Biosecurity Through FARM
January 05, 2021

NMPF was awarded funding last month from USDA Animal and Plant Health Inspection Service (APHIS) to develop and improve biosecurity on U.S. dairy farms.

NMPF will use the grant to implement and coordinate the Secure Milk Supply plan and develop a biosecurity program area through the National Dairy FARM Program (FARM). The FARM Animal Care program places an emphasis on biosecurity as a key element of dairy herd health and the grant funding will allow for further prioritization.
"The dairy industry has partnered with USDA for more than a decade on the Secure Milk Supply Plan. With this new funding, we are eager to continue and expand our work on biosecurity through integration with FARM," said Jim Mulhern, president and CEO of NMPF. "We applaud USDA's work to enhance the prevention, preparedness, detection, and response to animal diseases that threaten the viability of U.S. dairy farms."
The grant is funded by the 2018 Farm Bill as part of an overall strategy to help prevent animal pests and diseases from entering the U.S. and reduce the spread and impact of potential disease incursions through advance planning and preparedness.
---
New NMPF Webpage Emphasizes Cooperatives' Value
January 05, 2021

NMPF unveiled a new "About Cooperatives" webpage Dec. 14 as part of an ongoing effort to emphasize the value of milk marketing cooperatives and their value to dairy farmers. The page includes a summary about dairy cooperatives and how they benefit farmers as well as their history. It will also serve as a clearinghouse for cooperative and membership-related news.

Cooperatives proved their value both to their members and to those they serve in 2020 in numerous ways, with NMPF spotlighting how cooperatives stepped up on behalf of their members and communities in response to the unprecedented challenges brought on by the coronavirus crisis.
---
Low-Fat Flavored Milk Advocated Via Joint Comments, NMPF-Led Letter
January 05, 2021

NMPF submitted joint comments Dec. 23 with the International Dairy Foods Association and led an industry letter finalized Dec. 28, including member cooperatives and state dairy associations, urging USDA to finalize its proposed rule allowing low-fat flavored milk to be served in schools.

This proposed rule, which would restore not only milk provisions but also grant wider flexibilities for sodium and whole grain, comes after the original 2018 rule was overturned by a Maryland district court earlier this year on a procedural error. The 2018 rule made low-fat flavored milk available in the school lunch program.

Dairy organizations have pushed for greater flexibility on low-fat flavored milk since a 2012 school meals rule only allowed for fat-free flavored milk to be served in schools, causing a plunge in milk consumption. The proposed rule would give the nation's schools more options while maintaining high nutrition standards.

"We agree that the flexibilities proposed by USDA, particularly those related to milk and sodium, would continue to allow schools to provide healthy and appealing meals and beverages to students, while maintaining the key nutritional requirements of the Child Nutrition Programs," NMPF and IDFA state in their joint comments.
---
FARM Continuing Quick Convos Series
January 05, 2021

The National Dairy FARM Program will host a "Quick Convo" Jan. 6 on the Antibiotic Stewardship program area. This series of online informational sessions began in November and feature FARM staff and industry stakeholders discussing program expectations and available resources in a quick, 30-minute conversation. Workforce Development will also be featured on Jan. 16.

Streamed on Zoom and Facebook Live, these sessions offer farmers and others in the value chain a chance to engage and ask questions about FARM. Registration, recordings of the previous conversations, supplementary material, and the full schedule of topics are available on the FARM Quick Convos webpage.
---
CWT Assisted December Sales Raise 2020 Exports to 1.1 Billion Pounds
January 05, 2021

December's CWT-assisted member sales of 13.9 million pounds of cheese, butter, whole milk powder and cream cheese raised the 2020 export sales to 35.7 million pounds of America-type cheeses, 14.8 million pounds of butter, 55.4 million pounds of whole milk powder, 2.8 million pounds of anhydrous milkfat and 7.3 million pounds of cream cheese.

An estimated 113 million pounds of CWT-assisted dairy products have been shipped out of the U.S. and into overseas markets in 2020. The milkfat equivalent of 1.105 billion pounds of milk have left U.S. shores for markets in 30 countries.

CWT in December assisted member cooperatives in securing 55 sales contracts for 3.2 million pounds of American-type cheeses, 2.3 million pounds of butter, 6.7 million pounds of whole milk powder, and 723,116 pounds of cream cheese. The products will be shipped during the months of December 2020 through May 2021. These sales raised the milk equivalent 2020 sales contracts total to 1.2 billion pounds of milk.

Assisting CWT member cooperatives gain and maintain world market share through the Export Assistance program positively impacts all U.S. dairy farmers by strengthening and maintaining the value of dairy products that directly impact their milk price. It does this by expanding the demand for U.S. dairy products beyond the domestic market thereby increasing the total demand for U.S. farm milk.

The amounts of dairy products and related milk volumes reflect current contracts for delivery, not completed export volumes. CWT will pay export assistance to the bidders only when export and delivery of the product is verified by the submission of the required documentation.

All cooperatives and all dairy farmers benefit from CWT's activities and should add their support to this important program in 2021 and beyond. Membership forms for 2021-2023 are available at http://www.cwt.coop/membership.
---