NMPF Backs Congressional Actions Prompting FDA to Enforce Milk Labeling Standards
January 09, 2017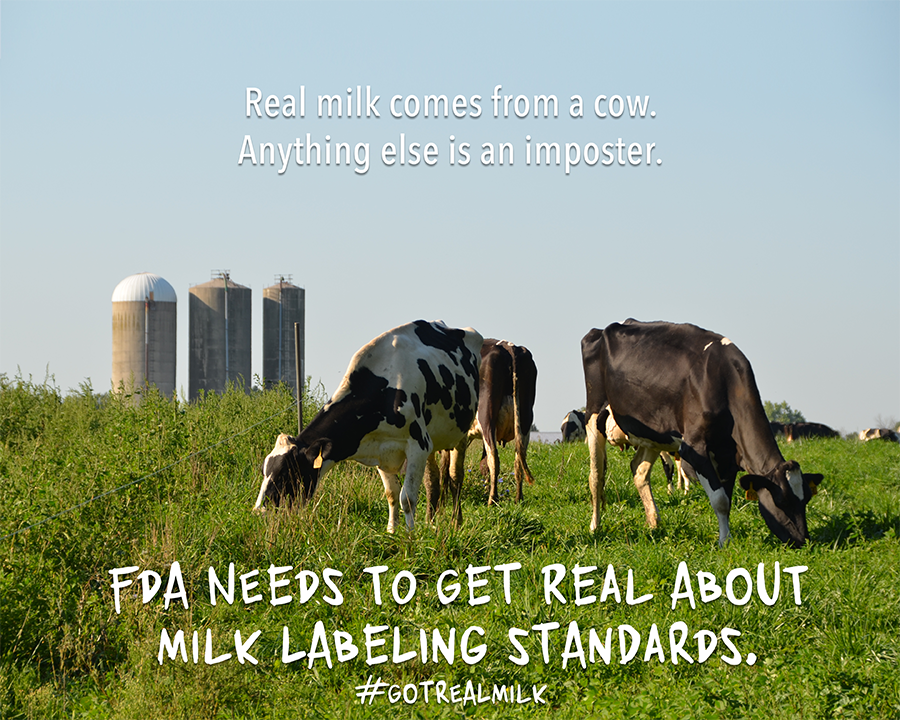 Key leaders in both the House and Senate have chastised the Food and Drug Administration in the past month for failing to enforce existing food standards that specify products labeled as "milk" have to come from a dairy animal – adding new momentum to NMPF's longstanding campaign to encourage the FDA to enforce its own regulations.
On Jan. 12, Sen. Tammy Baldwin (D-WI) introduced her DAIRY PRIDE Act, which would protect the integrity of food standards by prompting FDA to enforce labeling requirements for dairy. The measure would require FDA to issue a guidance for nationwide enforcement of such requirements within 90 days, and mandate that FDA report to Congress two years after the bill's enactment to hold the agency accountable.
NMPF President and CEO Jim Mulhern welcomed Baldwin's legislative approach, adding that "For too long, the FDA has turned a blind eye to the misbranding of imitation dairy products, despite the decades-old federal law that milk comes from animals, not vegetables or nuts."
Baldwin's bill comes roughly a month after House leaders Reps. Mike Simpson (R-ID) and Peter Welch (D-VT), and a bipartisan coalition of 30 other cosigners, sent a letter to FDA asking the agency to more aggressively police the improper use of dairy terms for alternative products. Plant-based foods and beverages "are misleading to consumers, harmful to the dairy industry, and a violation of milk's standard of identity," the congressional letter said.
Both NMPF and the International Dairy Foods Association (IDFA) said the letter will help raise the profile of the issue, as it also mentioned other violations of standards of identity for products such as yogurt, cheese and ice cream that are copied by plant-based sources.
NMPF believes action is needed to defend the integrity of federal food labeling standards and prevent the misbranding of dairy imitators. FDA regulations define milk as a product of a cow, with a similar stipulation for yogurt and cheese.
"Milk should be milk," said Mulhern, "rather than an industrial-produced, artificially whitened, watery beverage formed with nut or grain pastes and some flavoring and emulsifiers." He said many popular vegetable imitators such as rice and almond beverages have little protein and widely-varying amounts of vitamins and minerals.
That lack of enforcement in the U.S. market stands in sharp contrast to how the matter is handled in similar nations. While the term "almondmilk" is seen on products sold in the U.S., it is prohibited on the same brand of almond beverage sold in Canada and the United Kingdom.
---
MPP Forecast – January
January 09, 2017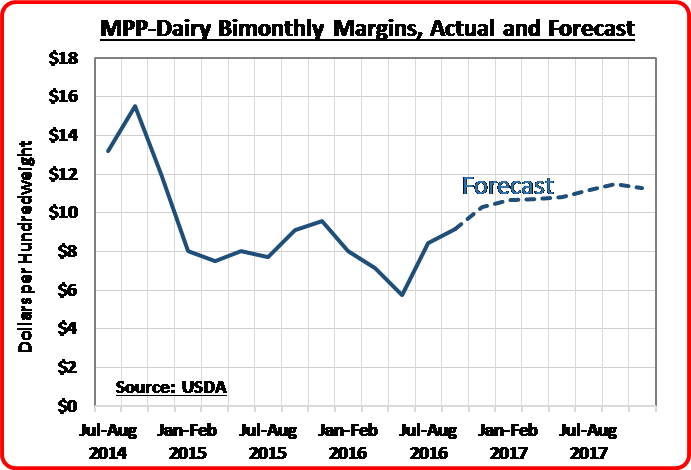 The U.S. Department of Agriculture's National Agricultural Statistics Service (USDA-NASS) last week reported the November U.S. average all-milk price at $17.60 per hundredweight, a dollar higher than October's all-milk price. The price jump was a bit stronger than expected, based on the November federal order class prices announced earlier in December.
USDA-NASS last week also reported feed prices for November. The announcements will result in a November monthly Margin Protection Program (MPP) feed cost of $7.62 per hundredweight, 14 cents less than the October monthly MPP feed cost and the fifth-straight drop in the MPP monthly feed cost since June. The monthly MPP margin for November will be $9.98 per hundredweight.
USDA's current forecast, based on the Dec. 30 CME futures settlements, projects that the MPP margin will remain well above $10.00 per hundredweight through the first half of 2017 and above $11.00 per hundredweight during the second half. USDA's MPP margin forecasts are updated daily online.
NMPF's Future for Dairy website also offers a variety of educational resources to help farmers select the desired coverage level.
---
CWT-Assisted Export Sales Contracts Total 7.8 Million Pounds in December
January 09, 2017

Cooperatives Working Together assisted member cooperatives in winning 48 contracts to export 4.75 million pounds of American-type cheeses and 3.03 million pounds of butter in the holiday-shortened month of December. The products will go to customers in Asia, Central America, the Middle East, North Africa, and Oceania, and will be shipped from December 2016 through March 2017.
The contracts captured in December raise the 2016 CWT-assisted sales totals to 50.32 million pounds of American-type cheese, 12.13 million pounds of butter (82% milkfat) and 21.32 million pounds of whole milk powder destined for customers in 23 countries on five continents. The sales are the equivalent of 892.91 million pounds of milk on a milkfat basis. Totals are adjusted for cancellations received during the month.
Assisting CWT member cooperatives gain and maintain world market share through the Export Assistance program expands the long-term demand for U.S. dairy products and the U.S. farm milk that produces them. This increases demand which positively impacts all U.S. dairy farmers by strengthening and maintaining the value of dairy products that directly impact their milk price.
The amounts of dairy products and related milk volumes reflect current contracts for delivery, not completed export volumes. CWT will pay export assistance to the bidders only when export and delivery of the product is verified by the submission of the required documentation.
All cooperatives and dairy farmers are encouraged to add their support to this important program. Membership forms are available online.
---
FARM Version 3.0 Launched Jan. 1
January 10, 2017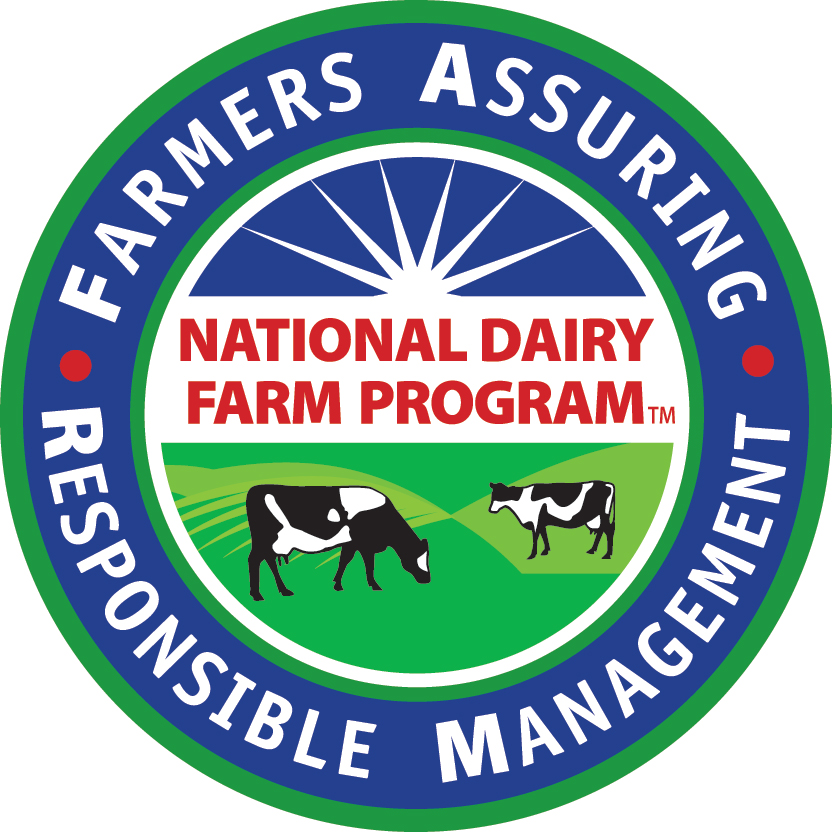 The new FARM Animal Care Version 3.0 went into effect on Jan. 1, 2017. This latest version of FARM includes new documents and guidelines to update and strengthen the program, which now enjoys the support of companies marketing 98% of the nation's milk supply. These requirements include a signed Veterinary-Client-Patient Relationship (VCPR) form, a signed Dairy Cattle Care and Ethics agreement, FARM training in basic stockmanship by all employees, and the phaseout of tail docking.
Revisions to the FARM Program occur every three years and are based on input from farmers, veterinarians and others involved in the FARM Program's Technical Writing Group, NMPF's Animal Health and Wellbeing Committee, and recommendations received through a public comment period. The revision process began in May 2015. The NMPF Board of Directors approved the changes at its board meeting last March.
FARM Animal Care is one silo within the broader National Dairy Farmers Assuring Responsible Management (FARM) Program, alongside the Antibiotic Resistance and the new Environmental Stewardship components. A complete summary of the Version 3.0 updates can be found on the FARM website.
---
National Dairy FARM Program to Launch Environmental Stewardship Module in February
January 10, 2017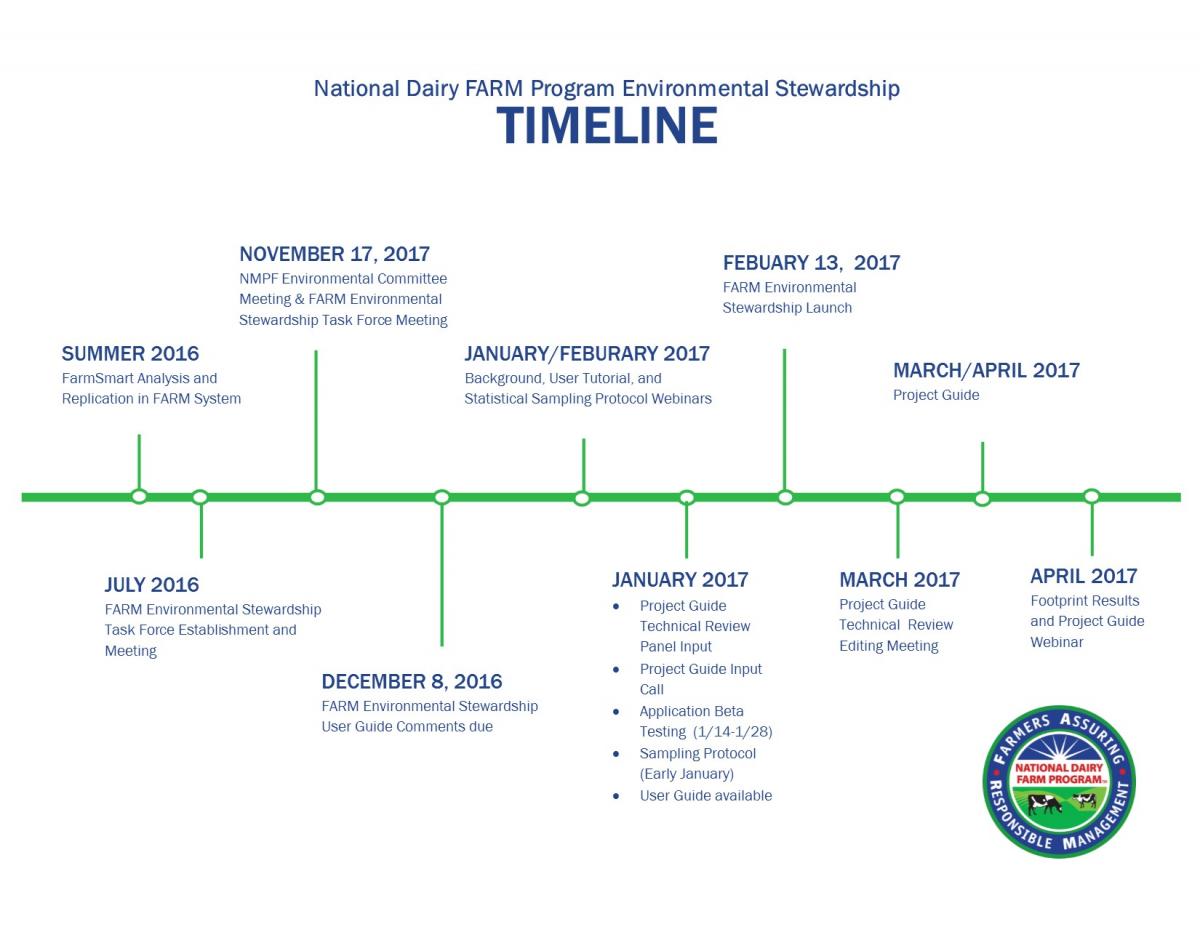 The new FARM Environmental Stewardship module will be available to interested cooperatives and proprietary processors starting Feb. 13. FARM Environmental Stewardship is the third silo of the FARM Program's structure, joining the existing animal care and antibiotic use modules within the overall FARM Program.
The existing FARM Program database will have an option for those wishing to opt in to the FARM Environmental Stewardship component, which can be done using a designated "Participant" account.
FARM Environmental Stewardship is based on the Farm Smart calculator: a greenhouse gas, fuel and energy baseline tool that calculates a farm's footprint per unit of milk produced. As farmers upgrade their technology and produce milk more efficiently, FARM Environmental Stewardship will be able to capture these gains and provide data to milk marketers so they can then promote this positive story to dairy customers.
In preparation for the release of the FARM Environmental Stewardship module, the FARM Program is hosting several webinars, including a session on the science behind FARM Environmental Stewardship, one on Database and Data Entry App Training, and another on best management practices (BMPs). The BMP session will come after the release of the Project Guide in April, which will spotlight ways in which a farm can lower its footprint and, in many cases, improve its economic efficiency.
FARM Environmental Stewardship will pilot-test the app in January, when it will also release the FARM Environmental Stewardship User Guide, in conjunction with the upcoming training webinar. Be sure to check the FARM Environmental Stewardship section of the FARM Program website for new materials. Please contact Ryan Bennett (rbennett@nmpf.org) with any additional questions.
---
NMPF Scholarship Program Now Accepting Applications for 2017-2018
January 10, 2017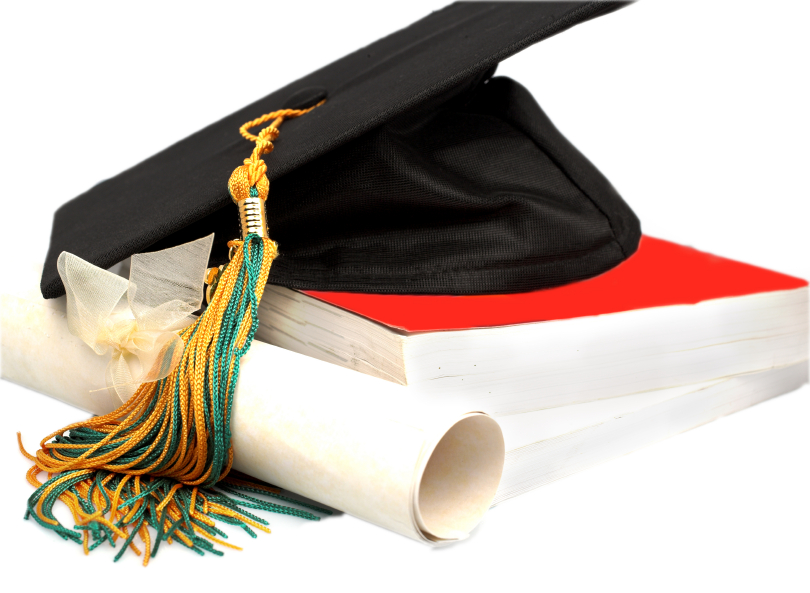 The National Milk Producers Federation is now accepting applications for its National Dairy Leadership Scholarship Program for academic year 2017-2018. Applications must be received no later than April 7, 2017.
Each year, NMPF awards scholarships to outstanding graduate students (enrolled in master's or Ph.D. programs) who are actively pursuing dairy-related fields of research that are of immediate interest to NMPF member cooperatives and the U.S. dairy industry at large.
Graduate students pursuing research of direct benefit to milk marketing cooperatives and dairy producers are encouraged to submit an application. Applicants do not need to be members of NMPF cooperatives to qualify. The top scholarship applicant will be awarded the Hintz Memorial Scholarship, which was created in 2005 in honor of the late Cass-Clay Creamery Board Chairman Murray Hintz.
Recommended fields of study include, but are not limited to, Agriculture Communications and Journalism; Animal Health; Animal and/or Human Nutrition; Bovine Genetics; Dairy Products Processing; Dairy Science; Economics; Environmental Science; Food Science; Food Safety; Herd Management; and Marketing and Price Analysis.
For an application or more information, please visit the NMPF Scholarship page or call the NMPF office at 703-243-6111.
---
NMPF Among Farm Groups Touting Benefits of Trade to President-Elect Trump
January 11, 2017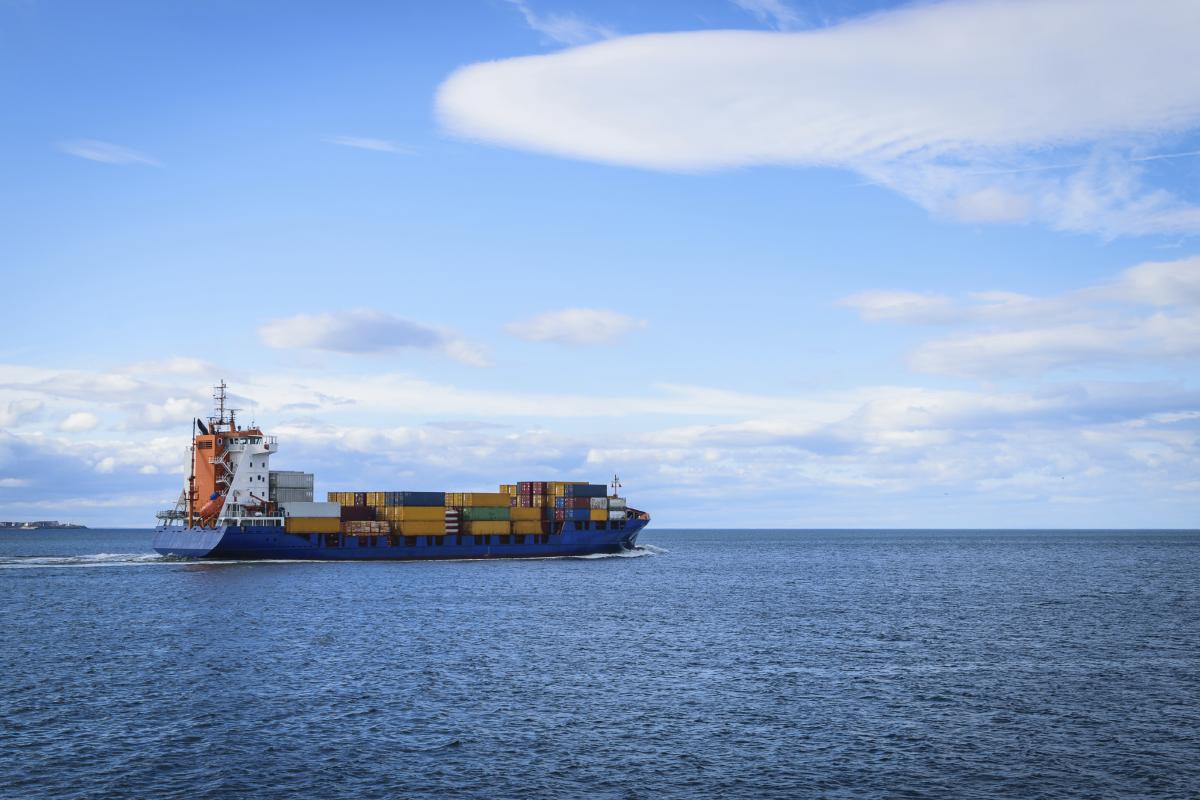 NMPF, together with more than a dozen other farm organizations, kicked off the new year with a joint letter sent last Friday to President-elect Donald Trump and Vice President-elect Mike Pence, highlighting the importance of trade to America's farmers and ranchers.
National Milk and organizations representing a broad cross-section of agriculture noted that "securing positive benefits for American farmers, ranchers, and workers in trade will be a priority in your Administration. This includes enforcing existing agreements so that other countries abide by their commitments, as well as expanding market access for U.S. producers through new agreements. Disrupting U.S. agricultural exports would have devastating consequences for our farmers and the many American processing and transportation industries and workers supported by these exports."
The Jan. 6 joint letter followed NMPF's own letter to the Trump transition team last month, in which National Milk said past trade agreements have had largely had positive impacts for the U.S. dairy sector, even as the U.S. government "can do a better job of holding our trading partners accountable, so that we grow dairy sales and employment even further."
NMPF President and CEO Jim Mulhern noted that farm groups must continue to emphasize that "the health of U.S. agriculture depends on our ability to sell our products outside of the United States. The growth of America's dairy sector is directly tied to our ability to export. We have a positive trade balance in agriculture, and don't want to see those hard-earned export markets eroded."
Mulhern said the U.S. dairy sector exports 14 percent of its milk production, "which last year was worth over $5 billion, in the process generating more than 120,000 jobs in dairy farming, manufacturing and related sectors. Any disruption in exports of dairy and other food products would have devastating consequences for our farmers, and the many American processing and transportation industries and workers supported by these exports."
NMPF is working with numerous agricultural organizations to elevate the importance of upholding existing U.S. trade agreements, including stricter enforcement of trading partners' commitments to the United States, and pursuing expanded opportunities for American agricultural exports through beneficial new trade agreements.
---
NMPF Welcomes Opportunity to Work on Policy with New U.S. Trade Representative
January 11, 2017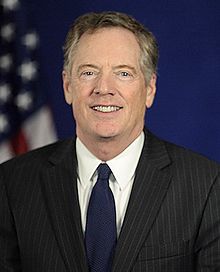 Veteran trade negotiator Robert Lighthizer was named Jan. 3 by President-elect Donald Trump as the next U.S. Trade Representative, which NMPF welcomed because of Lighthizer's understanding of both global trade rules and the importance of balanced trade agreements to the U.S. agriculture sector.
NMPF President and CEO Jim Mulhern noted that Lighthizer's previous experiences as Deputy USTR, Chief of Staff for the Senate Finance Committee, and his direct private sector engagement in enforcing trade rules on behalf of his clients "will serve him well in forging a path forward on trade policy that will benefit this country."
"A focus on preserving and growing what is working well, while cracking down further on what is not, will help to expand global markets for U.S. dairy farmers and the companies that turn their milk into nutritious dairy products shipped all over the world. Given that every $1 billion in U.S. dairy exports translates into over 23,000 jobs in the dairy sector and related industries, expanding dairy sales abroad is a strong job-creation strategy," NMPF noted in reaction to the Lighthizer announcement.
---
NMPF Continues Challenge to Discriminatory Canadian Dairy Policies
January 11, 2017

Working in concert with members of Congress and state officials, NMPF continues to battle Canadian efforts to both push U.S. dairy imports out of that market, and give Canada an unfair export advantage for its dairy products in global markets.
Throughout 2016, NMPF made the case in Washington and in key dairy states that Canada's two-pronged approach to revising its dairy pricing policy is expressly intended to thwart U.S. trade. First, the provincial Ontario government is providing incentives to Canadian processors to encourage their use of only domestic dairy ingredients, in lieu of imported U.S. ultrafiltered milk. This effort is aimed at slashing the sales of dairy ingredients across the border, which have become a key U.S. export in the past five years. Making matters worse, the provincial pricing strategy may become a national system in Canada in the near future.
As part of this new attempt to prevent imports, Canada is also planning to use its revamped pricing policies to offload large new quantities of milk solids onto global markets, thereby violating Canada's export subsidy commitments and turning a bilateral trade problem into a global challenge for the U.S. dairy industry. This product-dumping strategy will apply to the manufacture of skim and whole milk powders, milk protein concentrates, and ultrafiltered milk. The Canadian measures pending adoption are intended to incentivize the use of Canadian ingredients in place of similar dairy ingredients from the United States, European Union and Oceania, while disposing of excess milk solids in other international markets the United States relies upon.
This week, NMPF raised the issue with President-elect Trump and his team of trade policy appointees, urging the incoming administration to treat the Canadian situation as an urgent matter. In its Jan. 11 letter, sent jointly with the International Dairy Foods Association, U.S. Dairy Export Council and the National Association of State Departments of Agriculture, the associations noted that "Canada's flouting of its trade obligations is unacceptable. It is clear that these policies were implemented to intentionally block imports from the United States and are therefore in direct violation of Canada's trade commitments." National Milk said the Canadian dairy issue should be reviewed as part of the Trump Administration's careful scrutiny of potential abuses of free trade agreements such as NAFTA.
NMPF, which first elevated the profile of the trade dispute, continues to coordinate closely with state and congressional lawmakers, as reflected in recent public comments reiterating the harm of the Canadian approach to America's dairy farmers. Last month, Gov. Scott Walker (R-WI) added to his earlier statements on the topic by mentioning his concerns on Canadian dairy trade protectionism in a Dec. 20 letter to President-elect Trump. Walker indicated that the effort to restrict U.S. milk exports may be a violation of Canada's trade commitments.
Also in December, Sen. Charles Schumer (D-NY) reinforced his long-standing criticism of Canada's actions in a meeting with Canada's Consul and Ambassador, strongly urging Canadian authorities to reverse plans to implement protectionist trade policies.
According to NMPF President and CEO Jim Mulhern, National Milk "has developed a strategy, working with industry and state and federal officials, to reject Canada's actions, and prevent the damage that would result through the adoption of its new pricing system. We also want to address the fragile trade relationship that existing Canadian policies have already harmed." Mulhern said that if Canada stays on its current path, "we will propose retaliation against such a clear-cut violation of the market access they're agreed to in the past."
---