NMPF Welcomes Opportunity to Work on Policy with New U.S. Trade Representative
January 11, 2017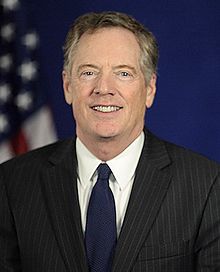 Veteran trade negotiator Robert Lighthizer was named Jan. 3 by President-elect Donald Trump as the next U.S. Trade Representative, which NMPF welcomed because of Lighthizer's understanding of both global trade rules and the importance of balanced trade agreements to the U.S. agriculture sector.
NMPF President and CEO Jim Mulhern noted that Lighthizer's previous experiences as Deputy USTR, Chief of Staff for the Senate Finance Committee, and his direct private sector engagement in enforcing trade rules on behalf of his clients "will serve him well in forging a path forward on trade policy that will benefit this country."
"A focus on preserving and growing what is working well, while cracking down further on what is not, will help to expand global markets for U.S. dairy farmers and the companies that turn their milk into nutritious dairy products shipped all over the world. Given that every $1 billion in U.S. dairy exports translates into over 23,000 jobs in the dairy sector and related industries, expanding dairy sales abroad is a strong job-creation strategy," NMPF noted in reaction to the Lighthizer announcement.