NMPF Board Member Passes Away Over the Holidays
January 10, 2014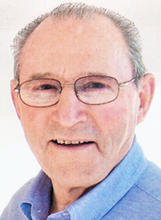 Long-time NMPF board member Bill Dropik, 75, passed away December 24th at his home in Nelson, MN. In addition to representing First District Association on the NMPF Board of Directors for eight years, Dropik was active in the Minnesota Milk Producers Association and the Dairy Leaders Roundtable. He farmed in central Minnesota for 50 years, and was still actively involved in his family dairy operation until his death. He is survived by his wife of 55 years Helen, eight children, 22 grandchildren, and 19 great-grandchildren.
---
NMPF Staff Changes to Augment Efforts on Dairy Industry Issues in 2014
January 10, 2014

As the organization prepared for another active year in 2014, NMPF announced staffing changes to help achieve the best possible results over the next year.

In addition to Jim Mulhern taking over as the President & CEO, and Brenda Rowe joining the staff as Mulhern's executive assistant, Beth Briczinski was promoted to Vice President, Dairy Foods & Nutrition. Also receiving a promotion was Betsy Flores, who now holds the title of Vice President, Animal Care. In addition, Jamie Jonker is now the Vice President of Sustainability & Scientific Affairs.
---
FDA Creates List of Companies Shipping Dairy Products to China
January 10, 2014

The Food and Drug Administration announced Jan. 7 that it will be establishing a list of U.S. dairy companies interested in exporting to China. This is being done to help comply with new Chinese government regulations relating to the importation of dairy products into China.

Any company that is currently exporting dairy products to China, or intending to export dairy products to China in the future (either directly or via a trading company), is strongly encouraged to follow the guidelines in the FDA notification about being placed on the list. China has advised FDA that products from companies not included on the list could be blocked from import. FDA plans to update the list quarterly going forward, with the first submission to China being made no later than April 30, 2014.

FDA's announcement did not include a deadline by which companies must register. Therefore, NMPF encourages companies to initiate the registration process without delay and complete it no later than March 31st in order to avoid complications. The FDA registration guidance document can be found online.

Those with questions can contact Shawna Morris.
---
Dairy Groups Welcome Introduction of TPA
January 10, 2014

NMPF and the U.S. Dairy Export Council (USDEC) have welcomed the introduction this week in Congress of the Trade Priorities Act (TPA) of 2014 by Sens. Max Baucus and Orrin Hatch, and Rep. Dave Camp. The bipartisan legislation sets forth key negotiating objectives for the Administration, and outlines engagement requirements providing for an enhanced role for Congress in trade negotiation consultations.

The TPA-2014 legislation contains several elements of importance to the U.S. dairy industry, including:
Prioritization of tariff reduction for U.S. products that face significantly higher foreign tariffs or subsidy regimes by major producing countries, both of which are global challenges for U.S. dairy exports;
The pursuit of strong and enforceable rules on sanitary and phytosanitary (SPS) measures;
Direction urging the Administration to eliminate and prevent the undermining of market access for U.S. products through improper use of geographical indications; and,
A specific negotiating focus on goods subject to U.S. tariff rate quotas, as is the case for most dairy products.
"This legislation recognizes the importance of clearly identifying the goals and priorities that are most vital to the successful negotiation of balanced trade agreements," said Jim Mulhern, president and CEO of NMPF.
Both organizations stressed that TPA's role is to lay the ground work for Congressional consideration of trade agreements, but it is by no means an automatic stamp of approval on any agreement currently underway. The details of each final trade deal and the degree to which it meets the dairy industry's key priority for that negotiation will determine whether or not that agreement is one that merits support.
---
Negotiations Continue on U.S. Trade Agreements
January 10, 2014

December was an intensive month for trade negotiations of importance to U.S. dairy farmers. Heated negotiations in both the Trans-Pacific Partnership (TPP) and the Transatlantic Trade and Investment Partnership (TTIP) dominated last month.

In early December, NMPF staff traveled to Singapore for a TPP Ministerial meeting at which the 12 TPP countries sought to make significant progress on many of the issues that remain unresolved in the negotiations. Market access was one notable topic of focus – particularly as it relates to Japan and Canada. NMPF joined with several other U.S. agricultural organizations in sending two letters to the Obama Administration about the critical importance of securing access into Japan and Canada. The letters are available here and here.

Also last month, the U.S. and European Union (EU) officials continued to negotiate TTIP provisions. NMPF gave a presentation at the stakeholder session focused on the core parameters dairy farmers need to see in this agreement in order to address the $1 billion dairy trade deficit the U.S. would like to close with members of the EU.

Staff stressed that this imbalance is the result of overly-restrictive EU rules that impose unscientific and onerous requirements on imports from the U.S., as well as other barriers to trade such as banning the use of many common product names. The EU has made clear that one of its key goals for TTIP is to extend these product naming barriers to the U.S. market as well. NMPF is vehemently opposed to any such restrictions on the names U.S. companies can use – whether in the U.S. market, overseas, or in the EU itself.
---
American Butter Institute Takes New Direction in 2014
January 10, 2014

The American Butter Institute (ABI), managed by NMPF, has unveiled a new logo for the association, one of the many recent changes at the 106-year-old organization.
"As a result of the changes made through our strategic planning process, it was determined that ABI needed to revitalize and revamp its logo to bring it more into the 21st century. The ABI board voted on the new logo at its October meeting, and we are launching it this week," said Anuja Miner, the Executive Director of ABI.
In addition to approving a new logo, the ABI Board last autumn named Miner the organization's Executive Director. She takes over as the chief ABI staff person from Jerry Kozak, who has retired from the dairy industry after running ABI for the previous 22 years.
ABI also reported this week that U.S. butter consumption in 2013 reached its highest level in 40 years. Miner attributed the increase in part to a shift in consumer preferences away from highly processed foods, artificial ingredients, and trans fats derived from partially hydrogenated vegetable oils. Recently, the U.S. Food and Drug Administration began the process of banning trans fats from the American food supply.
"Margarine and other spreads are no longer viewed as healthier alternatives," she noted, as consumers are demanding more pure and natural products. Since 2002, Americans increased their butter intake by 25 percent. In 2012, per capita consumption reached 5.6 pounds a year, up from a low point of 4.1 pounds in 1997.
---
NMPF Ties in National Football League Playoffs with REAL® Seal Efforts
January 10, 2014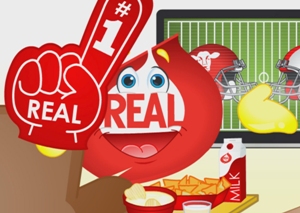 Just in time for the playoffs, NMPF is out with a video reminding the public that "real dairy products and football are a great team." The 26-second YouTube video features DairyUS, the newly created, animated version of the REAL® Seal logo. The video highlights the fact that nachos, dips, and pizza—all made with real cheese—are a great complement to watching football.
NMPF took over management of the REAL® Seal in 2012 and has been promoting the seal heavily on the internet and in social media in recent months. In February, these efforts will focus on Valentine's Day, and in March they will leverage March Madness and St. Patrick's Day.
---
2013 CWT's Biggest-Ever Export Year
January 10, 2014

Cooperatives Working Together (CWT) had its biggest year in 2013, with American-type cheese export sales topping 127 million pounds, and butter exports approaching 90 million pounds. The product is going to 40 countries on six continents.

CWT-assisted cheese sales rose 5.4 million pounds (4.4%) over 2012's level, to 127.9 million pounds. The primary type of cheese sold was cheddar at 76%; however, the percentage of export sales that was Gouda reached 5% in 2013, up from just 2% in 2012. Monterey Jack exports through CWT reached 19% last year, up from 13% in 2012.

The majority of cheese sales were in Asia, with Japan the largest buyer. North Africa accounted for 25% of sales, with the lion's share being sold in Egypt. Sales to countries in the Middle East accounted for 12% of sales.

CWT-assisted butter sales (at 82% fat content) reached 97.2 million pounds in 2013, up 16.1 million pounds (22%) from the sales level reached in 2012. The Middle East bought 53% of the 2013 CWT-assisted butter sales, with Saudi Arabia accounting for 40% of the sales in the Middle East, followed by Iran at 21%.

Through October of 2013, shipments of CWT-assisted sales represented 19% of total U.S. cheese exports, and 82% of all American-type cheese exports. For butter, the 80.5 million pounds of shipments sold with CWT export assistance is equal to 57% of all butter exported in the first 10 months of 2013.

Thanks to the continuing investment of the dairy farmer members of 38 cooperatives in 2014 and 2015, CWT will be able to provide export assistance when needed to cooperative members that are expanding the market for U.S. American-type cheeses, butter and whole milk powder in key foreign markets.
---
Immigration Reform Returns to Center Stage as Congress Returns from Recess
January 10, 2014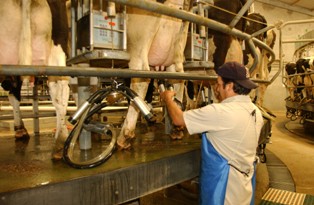 Immigration reform also will be in the spotlight as Congress returns for the second session of the 113th Congress. After numerous bills, including an agriculture-specific bill, stalled in the House at the end of 2013, prospects for action in 2014 received a strong boost when House Speaker John Boehner began signaling supporters of immigration reform that he would push for action on legislation this year. While the timing of that process remains unclear, the signals sent by Speaker Boehner are a marked improvement from even a few months ago.
Unlike the Senate, which passed a comprehensive reform measure, the House will pursue a piecemeal approach centered on a series of bills passed last year by the House Judiciary Committee. One of those measures, the Agriculture Guestworker Act (H. R. 1773), was created specifically to deal with the challenges of using immigrant labor in the agricultural sector. While this legislation includes important reforms that would benefit agriculture – and specifically dairy farms – improvements will be needed to ensure that this measure fully addresses the number one concern for the dairy industry: maintaining farmers' current workforce.
NMPF has been deeply engaged in efforts to revise our nation's immigration system through its work with the Agriculture Workforce Coalition (AWC), a coalition of more than 70 agriculture organizations dedicated to reforming our nation's immigration laws for the benefit of producers and growers. NMPF will continue to work with the AWC and members of Congress to ensure that any legislation that is passed by the House fully addresses the needs of dairy farmers.
---
Farm Bill Negotiations Still Continuing As 2014 Begins
January 10, 2014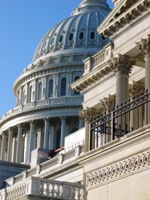 Congress is still wrangling over the contents of a new farm bill proposal, and the timing of final passage of the legislation is likely to slip later into January as NMPF and other supporters of the Dairy Security Act fight to keep that policy measure in the final bill.
A House-Senate conference committee was expected to formally unveil the details of a compromise farm bill this past week, but disputes over dairy policy, payment limitations, catfish inspections, and state egg production standards all combined to slow the process down. Reports are that the long-standing dispute over food stamps will be settled by adjusting eligibility requirements that will reduce program spending approximately $9 billion over 10 years – less than the House's suggested cut of $40 billion, but higher than the Senate's proposed cut of $4 billion.
The farm bill conference's four leaders had agreed to include in the final bill the dairy proposal that both the House and Senate agriculture committees approved last year. That proposal – essentially, the Dairy Security Act backed by NMPF – establishes a new safety net for dairy farmers containing a margin insurance program, combined with a market stabilization mechanism to protect both farmers and taxpayers. However, House Speaker John Boehner has reiterated his concerns about market stabilization, clouding the prospects of the farm bill package.
"The stabilization program is designed to both reduce the duration of low margin conditions, and reduce costs," said NMPF President and CEO Jim Mulhern. "Without it, margin insurance alone could be a budget-buster – and a program Congress should reject. We firmly believe that the contents of the dairy title should be based on what is the best policy for the future, not on desperate threats and last-minute politics."
NMPF last month circulated a Congressional Research Service analysis of the competing House and Senate dairy plans, which showed the Senate language, with the market stabilization component, will cost $100 million less over 10 years than the House program.
Until a final bill is approved, many farm programs, including the dairy program, are technically operating under farm laws dating to 1949 and 1938. But Agriculture Secretary Tom Vilsack said in December there would be no immediate impact, since he will delay efforts to draft the rules putting the 65-year-old law into effect, as long as it appears a new farm bill is imminent. However, as high-level farm bill negotiations continue, the specter of a return to permanent law remains on the horizon.
Mulhern noted that concerns about the market stabilization program ought to be put into perspective by the potential impact of much, much higher levels of government intervention in the market, due to a return to 1949 levels of parity pricing, "which could nearly double consumer milk prices. That prospect should be a really big concern to everyone. That's the issue at stake in what happens next," he said.
---