President Signs USMCA Agreement in Key Dairy Win
February 04, 2020

President Trump signed the landmark USMCA trade agreement Jan. 29, following Senate approval earlier in the month and Mexico's passage last year. With Canada expected to secure passage by the end of March, NMPF's focus is shifting to the work the U.S. government must do to oversee Canada and Mexico's implementation plans.

"Under President Trump's leadership, USTR and USDA negotiated an agreement that will deliver a more certain future for our dairy farmers and rural economy," said Jim Mulhern, president and CEO of NMPF. "The U.S. must now remain diligent and proactively work with Canada and Mexico to implement USMCA in both letter and spirit. Full compliance is essential to achieving more fair trade with Canada and protecting American-made cheeses in Mexico."

Dairy has been recognized as the biggest agricultural beneficiary of USMCA. NMPF and the U.S. Dairy Export Council (USDEC) put together a summary document providing an overview of its advances on nontariff barriers; USDEC's Export Guide provides an excellent summary of the agreement's tariff-related market access provisions.

NMPF is encouraging dairy cooperatives to use this information to take full advantage of USMCA dairy provision. Member reports regarding on-the-ground USMCA implementation also will help trade officials ensure both nations adhere to their trade commitments and do it as swiftly as possible.

Members of NMPF's board of directors were invited to the USMCA trade agreement signing ceremony at the White House, highlighting the important role America's dairy farmers and cooperatives played in ensuring its passage.  NMPF Board members Dave Scheevel (Chairman of Foremost Farms), Steve Schlangen (Chairman of AMPI) and Dave Kyle (First Vice Chair of Foremost Farms) were among the delegation of farmers at the signing on the White House lawn.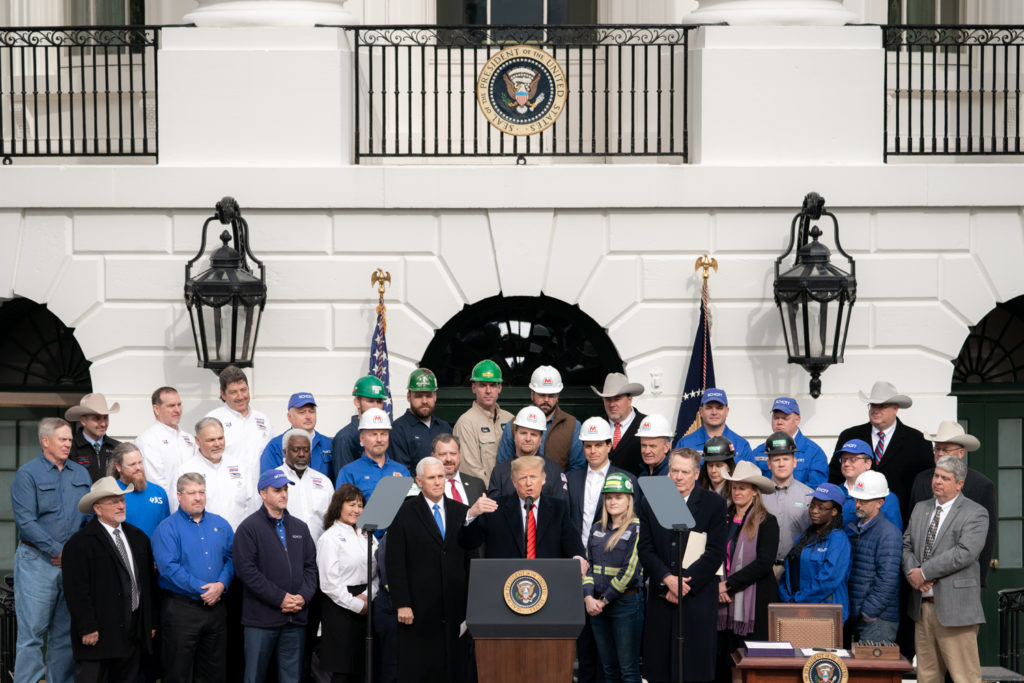 Official White House Photo by D. Myles Cullen
---
Congress Needs To Pass DAIRY PRIDE for Consumers, NMPF's Balmer Says
February 04, 2020

Congress needs to pass the DAIRY PRIDE Act soon to ensure FDA does its job by making sure consumers have accurate information for informed decisions about what to feed themselves and their families, National Milk Producers Federation Executive Vice President Tom Balmer told a congressional subcommittee in a Jan. 29 hearing.

Allowing non-dairy products to use dairy terms to promote goods with wildly different nutritional values has undermined public health and directly flouts the FDA's own rules, Balmer said at a hearing on "Improving Safety and Transparency in America's Food and Drugs" before the House Energy & Commerce Committee's Subcommittee on Health. Proper labeling benefits consumers by drawing clear distinctions among products, encouraging better-informed choices, he said.

"Plant-based industrial food processors typically go to great lengths to try to replicate real milk by grinding seeds, nuts or grains into a powder, adding water, whiteners, sweeteners, stabilizers and emulsifiers, possibly blending in some vitamins and minerals, and then marketing the resulting concoction using dairy terms," Balmer said. "By calling these products 'milk' they are clearly seeking to trade on the health halo of real milk. Yet these imitators engage in misleading marketing because their products don't have the same consistent nutritional offerings as real milk."

Federal regulations clearly state that a product labeled as "milk" comes from a cow or certain other lactating animals, and that other dairy products are likewise made from animal milk. FDA has not been enforcing these regulations.

The DAIRY PRIDE Act, introduced by Representatives Peter Welch (D-VT) and Mike Simpson (R-ID) in the House and Senators Tammy Baldwin (D-WI) and Jim Risch (R-ID) in the Senate, would designate foods that make an inaccurate claim about milk contents as "misbranded" and subject to enforcement of labeling rules. It would require FDA to issue guidance for nationwide enforcement of mislabeled imitation dairy products within 90 days of its passage and require FDA to report to Congress two years after enactment to hold the agency accountable in its enforcement.

The legislation would force FDA to act against plant-based imitators of milk, cheese, butter and other products that flout FDA rules.

Newly confirmed FDA Commissioner Stephen Hahn has voiced his support for "clear, transparent, and understandable labeling for the American people." Still, given the agency's inability to follow up on earlier pledges to act, NMPF is calling for DAIRY PRIDE's passage as a vehicle to require FDA action.
---
Dairy Margins Remain Well Above DMC Trigger on Prices
February 04, 2020

The margin for December 2019 under the Dairy Margin Coverage program was $11.95 per cwt., $0.26 per cwt. lower than the November DMC margin, with falling milk prices more than offsetting a drop in feed costs. The margin remains well above the trigger necessary for DMC assistance.

From November to December, the all-milk price dropped by $0.30 per cwt., to $20.70 per cet., and the DMC feed cost calculation was $0.04 lower. USDA's DMC Decision Tool projected at the end of January that the DMC margin would fall sharply for that month and remain well below its late 2019 values through this spring, the slowly rise to just above $11.00 per cwt. by the fourth quarter of 2020. This drop would be mainly generated by a drop in milk prices. Other forecasts also point to a milk-price decline at the beginning of 2020, but not as steep as the USDA Tool projected. The USDA DMC Tool does not currently indicate that the DMC margin would drop below $10.00 per cwt. anytime during 2020, thus staying above the trigger level of $9.50/cwt. and generating no payments this year.

As of Jan. 27, USDA reported that 12,989 dairy operations, or 47.64 percent of operations with production histories, had enrolled in the 2020 DMC program. Many of these enrollees are operations that signed up for 5-year coverage last year. Enrolling in the DMC program at the generous coverage and affordable premiums available will always be a highly recommended risk-management option for dairy farmers.

The DMC information page on NMPF's website offers a variety of educational resources to help farmers make better use of the program. NMPF also posted a new video explaining how farmers can benefit from the DMC.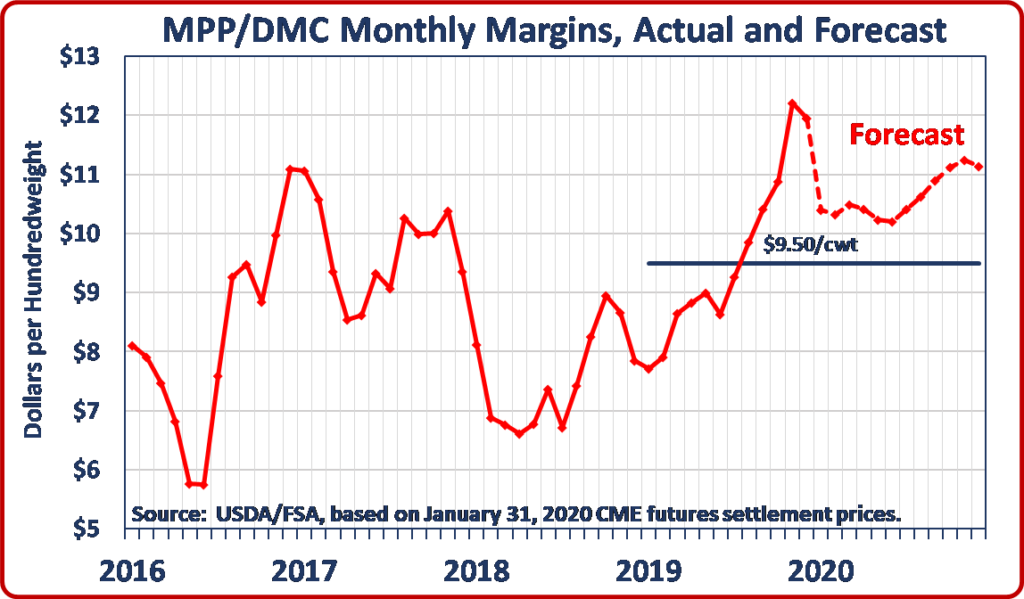 ---
NMPF Submits Comments to Zero-Day Withdrawal Antibiotic Docket
February 04, 2020

NMPF highlighted the United States dairy industry's commitment to antimicrobial stewardship, citing a large reduction in milk residues and closer relationships with veterinarians in comments submitted Jan. 6 to a docket opened by the Food and Drug Administration requesting information on zero-day withdrawal antibiotic usage.

The docket requested information regarding current milking frequencies and how zero-day withdrawal antibiotics are interpreted by U.S. dairy farmers. The industry participated in the Antimicrobial Resistance Challenge and has made the veterinary-client-patient-relationship a cornerstone of the National Dairy FARM Program, emphasizing the dedication of dairy farmers to the judicious use of antibiotics, which has led to lower detection of antibiotic residues in milk tankers. For example, in 1996, 0.104 percent of bulk milk pick-up tankers tested positive for a drug residue. By 2019, that rate had fallen more than 90 percent, to just 0.009 percent of bulk milk pick-up tankers.

NMPF answered two questions asked by FDA:
What milking frequencies do United States commercial dairy operations commonly use (e.g., two times per day, three times per day, greater than three times per day)? To what extent is each milking frequency used nationally, regionally, or within a particular sector (e.g., 25 percent of dairies nationally, 30 percent of dairies in the Midwest, 50 percent of dairies serviced by a veterinary practice, etc.)?
How do end users of new animal drugs interpret labeling that has a "zero-day withdrawal period" or "zero-day milk discard time," or that states "no withdrawal period or milk discard time is required"?"
NMPF analyzed FARM data and conducted a survey in that received more than 100 responses to answer the questions. NMPF pointed out that FDA's request may have reached only a small set of dairy farmers, making it important to use several data sources.  The U.S. dairy industry is committed to producing the highest quality, safe, abundant and affordable milk and dairy beef.
NMPF supports FDA-CVM periodically consulting with the dairy industry to ensure that the data packages generated to support the safety and effectiveness of veterinary medicinal products reflect current industry practices.
---
NMPF Files Comments to Conservation Stewardship Program Docket
February 04, 2020

NMPF filed comments Jan. 10 to a USDA docket on its Conservation Stewardship Program, emphasizing that while this program helps dairy farmers, the department's National Resources Conservation Service (NRCS) needs to work with the dairy industry to embrace new technology and approaches to conservation.

Dairy farmers have a history of using conservation programs, including CSP, despite outdated statutory restrictions related to animal waste storage or treatment facilities and waste transport or transfer devices for animal feeding operations. New technology and innovation in manure, feed, and silage management offer new opportunities to improve air, water and soil quality, with the help of the Conservation Stewardship program.

As the U.S. dairy industry considers plans to reach net-zero carbon emissions by 2050, programs like CSP will be essential to lower the cost of effective new technologies for farmers. "U.S. dairy producers are looking to be global leaders who are economically viable and environmentally sustainable while providing the highest-quality animal care," NMPF wrote in its comments.

CSP was developed to encourage producers to address priority resource concerns and conserve the quality and condition of the natural resources available by pursuing or building upon conservation practices already in place at their business. CSP provides financial and technical assistance to eligible producers to conserve soil, water, air and other related natural resources. The program was updated in the 2018 Farm Bill, potentially expanding the enhancements it covers for dairy farmers. Our comments can be found  here.
---
NMPF Engages on Multiple Trade Fronts with USTR Submissions
February 04, 2020

While USMCA, China and Japan have dominated trade conversations, NMPF has remained active on multiple other trade-policy fronts affecting dairy exports, including several sets of comments on issues critical to the U.S. dairy industry pending before the U.S. Trade Representative.

NMPF submitted comments to USTR on Dec. 30, as France considers a Digital Services Tax, regarding proposed retaliatory tariffs to ensure that a final list of duties imposed as retaliation against France's tax includes high-value dairy tariff lines. France is currently pausing its pursuit of the tax. In conjunction with that filing, Dr. Peter Vitaliano, NMPF's Vice President for Economic Policy and Market Research, testified before USTR on Jan. 7, explaining how France's unjust trade barriers on dairy products have unduly restricted U.S. dairy exports.

One of the most egregious of these trade barriers is the European Union (EU)'s aggressive use of geographical indications (GIs) to prohibit U.S. exports of common name cheeses. France strongly supports the EU's stance on GIs and has used these restrictions to erect de facto trade barriers on U.S. imports. Examples of French GIs include common cheese terms such as muenster, gruyere, and neufchatel.

NMPF also submitted comments to USTR on Jan. 13 regarding the retaliatory tariffs issued in response to the EU's ongoing lack of compliance with the World Trade Organization ruling on European Airbus subsidies. NMPF urged USTR to retain all dairy tariff lines and increase ad valorem duties to 100 percent on certain tariff lines.

As USTR evaluates candidates for heightened tariff levels, NMPF strongly recommends it place a high priority on tariff lines under which common name cheeses are categorized, as well as tariff lines for butter imports because of its significant commercial value to the EU.

Indonesia in sight

NMPF and the U.S. Dairy Export Council also submitted comments on Jan. 17 to USTR on Indonesia's adherence to its market access commitments under a special duty-free trade arrangement called the Generalized System of Preferences (GSP). NMPF staff also testified on Jan. 31 at a USTR-led hearing on the issue.

Indonesia is a top-10 export market for U.S. dairy products and a valuable trading partner. Still, Indonesia's Ministry of Agriculture has raised regulatory barriers that have blocked the registration of new U.S. dairy facilities and hindered U.S. dairy exports from companies seeking to expand their ability to ship to this key market. NMPF and USDEC have asked USTR to continue its review of Indonesia's GSP commitments in hopes that a constructive solution can be found quickly.
---
NMPF Accepting Applications for 2020 Scholarship Program
February 04, 2020

The National Milk Producers Federation is now accepting applications for its National Dairy Leadership Scholarship Program for academic year 2020-2021.

Each year, NMPF awards scholarships to outstanding graduate students (enrolled in Master's or Ph.D. programs) actively pursuing dairy-related fields of research of immediate interest to NMPF member cooperatives and the broader dairy industry.

Graduate students pursuing research of direct benefit to milk marketing cooperatives and dairy producers are encouraged to apply. Applicants do not need to be members of NMPF cooperatives. The top scholarship applicant will be awarded the Hintz Memorial Scholarship, created in 2005 in honor of the late Cass-Clay Creamery Board Chairman Murray Hintz, who was instrumental in establishing NMPF's scholarship program.

Recommended fields of study include but are not limited to Agriculture Communications and Journalism, Animal Health, Animal and/or Human Nutrition, Bovine Genetics, Dairy Products Processing, Dairy Science, Economics, Environmental Science, Food Science, Food Safety, Herd Management, and Marketing and Price Analysis.

Applications must be received no later than Friday, April 3. For an application or more information, please visit the NMPF website or email scholarship@nmpf.org.
---
CWT Assists Member Export Sales of Three Million Pounds in January
February 04, 2020

CWT assisted member cooperatives in securing 32 contracts resulting in sales of 1.3 million pounds of American-type cheeses, 328,489 pounds of butter, 661,387 pounds of whole milk powder and 644,852 pounds of cream cheese. The product is going to 25 customers in Asia, Central America, the Middle East, Oceania and South America. The product will be shipped during the months of January through April 2020.

These transactions will move the equivalent of 29.4 million pounds of milk on a milkfat basis overseas. This is in addition to the milk equivalent 110 million pounds of products CWT assisted members to sell in 2019 that will be shipped in 2020.

Assisting CWT member cooperatives to gain and maintain world market share through the Export Assistance program, in the long-term expands the demand for U.S. dairy products and the U.S. farm milk that produces them. This, in turn, positively impacts all U.S. dairy farmers by strengthening and maintaining the value of dairy products that directly impact their milk price.

The amounts of dairy products and related milk volumes reflect current contracts for delivery, not completed export volumes. CWT will pay export assistance to the bidders only when export and delivery of the product is verified by the submission of the required documentation.

All cooperatives and dairy farmers are encouraged to add their support to this important program. Membership forms are available at http://www.cwt.coop/membership.
---