Mooney, Mulhern, Staff Presentations Highlight Virtual Annual Meeting
November 02, 2020

NMPF Chairman Randy Monday and President and CEO Jim Mulhern praised the resilience of the dairy producer community this year in comments at NMPF's first-ever virtual joint annual meeting Oct. 27-28. NMPF joined with the National Dairy Promotion and Research Board and the United Dairy Industry Association in coordinating a two-day, online review of industry achievements this year.

The extreme disruptions and financial upheaval caused by the COVID-19 pandemic have created real struggles for dairy producers – and the industry has responded by collaborating to protect the financial health of dairy farmers and cooperatives, said Mooney to delegates gathered online Oct. 26, the day before the main programming began, in one of several events associated with the meeting that were spread over a two-week period to meet the busy schedules of participants and attendees. More than 1,000 people registered for the two-day session, offered free of charge to participants.

"We haven't landed safely yet, but there's plenty of reason to believe that we as an organization and an industry have risen to the biggest challenges of our lifetimes, and that we'll be able to look back with pride on our response to the pandemic," Mooney said.

Mulhern discussed how NMPF, working with its cooperative members and other dairy organizations, have risen to the challenges of 2020 in his remarks at the Oct. 27 NMPF Town Hall meeting.

"We've already proven a lot – to ourselves, and to the nation," Mulhern said, noting progress in federal legislation that has assisted dairy farmers and the continued strength of the industry in areas such as trade throughout this year's COVID-19 crisis. "We will get through this, and we're stronger now than before.

Mulhern's remarks were followed by a presentation on the year and challenges ahead from senior NMPF staff, supplemented by more detailed pre-taped Town Hall digests of key NMPF issue areas, including the following videos:

All of the meeting's content was recorded and will be posted at the meeting web portal Nov. 4.  Along with the public events, NMPF held governance meetings throughout the month to complete organization business. Three new directors were elected to the Board last Monday by NMPF's Delegates, including Pete Kappelman and Dan Siemers of Land O'Lakes, and Gib Martin of Mt. Joy Farmers Cooperative.  Beth Ford and Nic Schoenberger of Land O'Lakes left the Board, as did Dennis Tonak of Midwest Dairymens Company. The annual Young Cooperators gathering, held in conjunction with the annual meeting, took place Oct. 29-30. And of course, NMPF held its annual cheese contest – unique this year as it was what's believed to be the first virtual competition held nationwide. Results here.

Sponsors supporting the meeting included CoBank; Farm Credit; Boehringer-Ingelheim; Elanco; Leprino Foods; Phibro Animal Health; Nelson-Jameson; Cheese Market News; and Cornerstone.
---
Young Cooperators Convene Virtually to Kick Off Program's 70th Year
November 02, 2020

The National Young Cooperators (YC) program kicked of its 2020-2021 program year Oct. 29-30 with its first-ever virtual Leadership & Development Program. 137 attendees from 14 cooperatives and 30 states participated in the two-day virtual event.

Representatives from ten NMPF member cooperatives took part as speakers and panelists during the program. Offerings included:
A panel of industry leaders discussing the value of cooperative membership, challenges co-ops face, and how they're innovating to meet member and marketplace needs;
A deep dive into factors that influence financially resilient dairy farms;
A panel of dairy farmers discussing how they manage their businesses for success; and
A conversation about planning for and coping with stress on the farm.
Now in its 70th year, the National YC Program was created to provide up-and-coming leaders in the dairy industry with a better understanding of issues facing farmers and milk marketing cooperatives. The program's goal is simple: to educate and build leadership abilities in the next generation of dairy farmers. The two-day Leadership and Development event was sponsored by Farm Credit.
Between now and the program's capstone Dairy Policy and Legislative Forum in June, the National YC Program will be offering monthly, 45-minute virtual events alternating between webinars covering a variety of dairy policy topics, virtual farm tours and industry leader panels. Employees and owners of dairy farms that are members of an NMPF member cooperative and under the age of 45, as well as co-op staff, are invited to participate.
---
2020 NMPF "Virtual" Cheese Contest Results are in
November 02, 2020

The 2020 NMPF "virtual" cheese contest provided once again, the opportunity for NMPF's cooperatives to highlight their tremendous cheeses. While the contest looked different due to NMPF's first-ever virtual annual meeting, the contest still received nearly 190 entries of delicious cheese and cottage cheese – a tale of resilience spotlighted in an NMPF Dairy Defined podcast Nov. 3.

The 2020 NMPF Chairman's Award winner for the best cheese in the contest was the Aged Asiaigo entered by Associated Milk Producers Incorporated from cooperative's plant in Hoven, South Dakota. The 2020 NMPF Chairman's Reserve Award winner for the second best cheese in the contest was the Smoked Gouda entered by Select Milk Producers Incorporated from the cooperative's plant in Monticello, Wisconsin.

The contest wouldn't have been possible without help from the cheese judges- Allison Reynolds with USDA, Tim Meyers with the College of DuPage and Gina Mode and Marianne Smukowski with the University of Wisconsin-Madison. NMPF thanks the cooperatives for their continued participation and support for the contest, especially in a year when things looked slightly different. The full list of winners can be found below:
---
DMC Yields Payment for September; NMPF- Backed Alfalfa Formula Crucial
November 02, 2020

The monthly Dairy Margin Coverage (DMC) program milk price-feed cost margin for September was $9.40/cwt, which will result in payments of ten cents per hundredweight to producers who have DMC coverage at the $9.50/cwt level this year.

The September margin was $1.43/cwt lower than the August margin, resulting from a $0.90/cwt lower milk price and a $0.53/cwt higher feed cost. The September feed-cost increase, which followed mostly small but steady declines every month since March, was the largest one-month increase in the DMC feed cost since May 2016.

Higher corn and soybean meal costs helped drive the lower margins; meanwhile, a premium for high-quality alfalfa used in dairy, which NMPF in 2019 successfully advocated for inclusion in the DMC formula, contributed 14 cents more to the feed-cost calculation than would have been included under the previous Margin Protection Program, which didn't account for high-quality alfalfa. That amount covers the entirety of the actual assistance producers will receive for September, making the advocacy win on alfalfa feed a key reason behind the payment.

The USDA-sponsored DMC Decision Tool is currently anticipating the DMC margin will rebound above the $9.50/cwt level during the remaining months of 2020 and through January next year, but then fall back below this level through at least next August.

Signup for the DMC program for 2021 coverage began October 12 and will run through December 11, 2020. Enrolling in the program for next year at the $9.50/cwt level for the first 5 million pounds of production history is strongly recommended for those operations not already signed up under the previous multi-year enrollment option.

The DMC information page on NMPF's website offers a variety of educational resources to help farmers make better use of the program.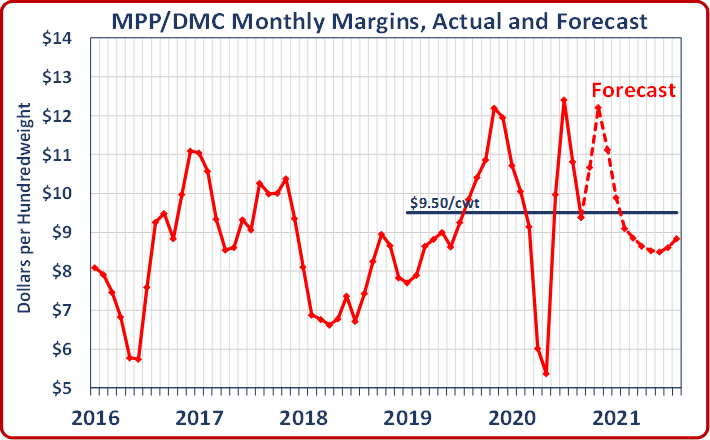 ---
House Sends Bipartisan Message Calling for Consideration of Dairy Fat Science in DGAs
November 02, 2020

Congressmen Anthony Brindisi (D-NY) and Glenn "GT" Thompson (R-PA) led a bipartisan coalition of 55 members of the House of Representatives to the Secretaries of USDA and the Department of Health and Human Services (HHS) Oct. 9, urging the agencies to consider the most recent nutrition science and health research on the effects of dairy fat when finalizing the 2020 Dietary Guidelines for Americans (DGAs).

The DGAs are updated every five years after a review process that includes the Dietary Guidelines Advisory Committee (DGAC) written recommendations and advisory report and multiple opportunities for both public and stakeholder input. Recent science indicating beneficial or neutral effects of dairy fat is again missing from the studies the DGAC considered when making its recommendations to USDA and HHS earlier this year, as it was from the 2015 DGAC report.

"As clearly demonstrated by its recommendations, the DGAC identified the importance of dairy foods for good diets and health," the group said in its letter. "However, we were surprised to see that the committee did not appear to thoroughly consider several recent scientific studies and analyses that show benefits of dairy foods at all fat levels – not just low-fat or fat-free varieties." The group then urged the USDA and HHS secretaries to "review studies that have demonstrated beneficial or neutral effects of dairy foods at all fat levels" when drafting the 2020 DGAs, noting again the Advisory Committee's own finding that "[a] major part of encouraging healthier diets is to increase Americans' dairy consumption."

NMPF applauded Reps. Brindisi, Thompson, and the other members for calling for the inclusion of the most recent science on dairy fat. "Since the guidelines are only updated once every five years, it's critical that they reflect the most updated nutrition science," said NMPF President and CEO Jim Mulhern.

NMPF has actively participated in every step of the 2020 DGA review process. NMPF's advocacy for fair treatment and consideration of the most up-to-date dairy scientific studies in the 2020 review includes submitting multiple rounds of written comments to USDA and HHS, delivering oral comments at DGAC public meetings, engaging directly with key department staff, and providing ways for dairy farmers and others to make their voices heard through NMPF's Call to Action resource. It also collaborated with the International Dairy Foods Association on a video featuring NMPF member cooperative farmers explaining why they want dietary guidelines to reflect the latest science on fats. That video was shown directly to the White House and USDA on Oct. 30.

USDA and HHS are in the final stages of drafting the 2020 DGAs, which should be issued later this year or in early 2021. The guidelines have significant implications for numerous government policy areas, including guiding the types of milk allowed in school meal programs and setting the parameters for how nutrition programs are implemented and developed.
---
Re-Launched "Farmer Focus" Tells Dairy's Story from Those Who Know It Best
November 02, 2020

NMPF re-launched its "Farmer Focus" series spotlighting the hard-working dairy farmers who nourish the world, telling their stories in their own words and highlighting the contributions dairy makes to the economy, the environment and rural communities. The first installment features Brian Hardy, a dairy farmer near Corinne, Utah whose dairy is a true family affair.

"My oldest son dairies with me, and I appreciate that relationship," says Hardy, a member of the Dairy Farmers of America cooperative, in Farmer Focus. "Our kids are all close to us and have ties to agriculture in one way or the other. The dairy business has been great to us."

Farmer Focus is the flagship of NMPF's "Sharing Our Story" initiative, which also includes its Dairy Defined thought-leadership series and CEO's Corner, a monthly thought leadership column from NMPF President and CEO Jim Mulhern.
---
NMPF Efforts Yield New USDA-FDA Partnership to Benefit Dairy Exports
November 02, 2020

USDA and Food and Drug Administration (FDA) signed a Memorandum of Understanding (MOU) to establish an interagency process to further support exports of U.S. dairy products. The MOU clearly defines the roles and responsibilities within each agency and leverages each agency's individual expertise to give the U.S. dairy industry an improved platform to capitalize on new opportunities and smoothly facilitate foreign sales.

As U.S. dairy exports have risen, so have thr challenges U.S. products face in overseas markets. NMPF and the U.S. Dairy Export Council (USDEC) encouraged USDA and FDA to establish a modernized and streamlined relationship in order to strengthen interagency collaboration, better engage dairy industry experts and bolster communication to more effectively address foreign barriers.

NMPF and USDEC helped both with initiating the process that ultimately resulted in the MOU, which was signed Oct. 1, and in driving it forward through meetings with government officials, letters and official comments.

"This new partnership ensures that the staff at USDA and FDA are working together in the most efficient way possible to lower barriers for our farmer's dairy exports. Increasing U.S. dairy exports will strengthen the health of our farmers and rural communities, which is more important than ever as America's dairy industry faces new and unprecedented challenges," said Jim Mulhern, president and CEO of NMPF.

NMPF is encouraged by this new MOU, as continued collaboration between the U.S. dairy industry and key U.S. government agencies is necessary to advance the interests of America's dairy farmers and farmer-owned cooperatives.
---
New Resources to Defend Common Cheese Terms
November 02, 2020

NMPF has worked with USDEC and the Consortium for Common Food Names to make significant advancements in the fight to defend the rights of the U.S. dairy industry to use common cheese terms such as parmesan, asiago or feta. This effort's cornerstone has been urging the U.S. government to make safeguarding common food and wine terms a core policy objective in all current and future trade negotiations.

On the heels of a bipartisan group of 61 senators that sent a letter in July to the U.S. Trade Representative and U.S. Department of Agriculture urging them to enhance protections for American-made food and wine exports, a group of House members, led by Reps. Jim Costa (D-CA), Jodey Arrington (R-TX), Angie Craig (D-MN), Dusty Johnson (R-SD), Ron Kind (D-WI), Mike Gallagher (R-WI), Jimmy Panetta (D-CA) and Mike Kelly (R-PA), have led a similar effort yielding support from a total of 111 House members.

The safeguard of common food names against misuse of geographical indications (GIs) is a critical issue for the U.S. dairy industry because U.S. dairy jobs are in danger if Europe's destructive campaign to close foreign markets to U.S. cheese is not stopped. NMPF worked with USDEC to develop a one-page fact sheet and video showing what is at risk for U.S. dairy and making it clear the issue affects the entire industry. These new resources aim to increase awareness of this critical trade issue as NMPF and its allies ensure that U.S. cheese exports to foreign markets are not blocked.
---
NMPF Supports USDA Efforts to Modernize Animal ID and Disease Traceability Requirements
November 02, 2020

NMPF submitted comments Oct. 6 supporting the USDA's Animal and Plant Health Inspection Service (APHIS) proposal on the Use of Radio Frequency Identification (RFID) Tags as Official Identification in Cattle and Bison. APHIS has proposed to require the use of official 840-RFID tags for all dairy cattle involved in interstate commerce starting Jan. 1, 2023.

"We commend USDA-APHIS for taking this next step in moving animal identification forward, with the use of RFID tags for official animal identification for dairy cattle," said Jim Mulhern, president and CEO of NMPF. "A national animal identification system can provide immediate access to relevant information in an animal disease or food safety crisis that could endanger the entire dairy chain, while protecting farmers' privacy."

The U.S. dairy industry has long advocated modernizing animal ID and disease traceability systems. Farmer organizations including NMPF, the American Jersey Cattle Association, Holstein Association USA, Inc., National Association of Animal Breeders, National Dairy Herd Information Association and Dairy Calf and Heifer Association formed a group called IDairy to collectively advance official mandatory animal identification to aid disease traceability.

IDairy in received a USDA-APHIS cooperative agreement on premise registration and animal ID education that propelled the use of RFID tags in the U.S. dairy industry. Since 2009, the National Dairy FARM Program: Farmers Assuring Responsible Management (FARM) Program has also recommend use of official 840-RFID tags for all dairy cattle.

Animal ID and disease traceability needs may be different for other livestock sectors, so NMPF encouraged APHIS to carefully consider comments from those other livestock industries when finalizing requirements and implementation timelines.
---
FARM Program to Host "Quick Convo" Informational Sessions
November 02, 2020

The National Farmers Assuring Responsible Management (FARM) Program will host a series of "Quick Convos" online informational sessions beginning Nov. 4 featuring FARM staff and industry stakeholders discussing program components, expectations, and available resources.

"These conversations will be an opportunity for farmers to really engage," said Emily Yeiser Stepp, vice president for the FARM Program at the National Milk Producers Federation, which administers FARM. "Our staff can answer whatever questions the participants might have about program standards and expectations."

Each 30-minute, livestreamed segment will be hosted on Zoom and streamed via Facebook. Registration, recordings of the conversations, supplementary material, and the full schedule of topics are available on the FARM Quick Convos webpage.
---
FARM Supports Net Zero Initiative on National Farmers Day
November 02, 2020

The dairy industry celebrated National Farmers Day with the Oct. 12 announcement of the 2050 Environmental Stewardship Goals and the Net Zero Initiative goals, developed by a coalition of dairy industry stakeholders including NMPF and FARM and seek to position U.S. dairy as an environmental solution, are as follows:

According to a life cycle assessment for fluid milk commissioned in 2007, U.S. dairy contributes only 2% of all U.S. greenhouse gas emissions. Coupled with a rigorous and third-party reviewed materiality assessment, the industry prioritized the most pressing areas of environmental sustainability as the foundation for the 2050 goals:
Become carbon neutral or better
Optimize water use while maximizing recycling
Improve water quality by optimizing utilization of manure and nutrients
Dairy Management Inc. led the industry mobilization touting the goals while celebrating farmers through earned and paid media including a spot with FOX, full-page ads in the Washington Post and New York Magazine, and partnerships with key trade publications that collectively garnered more than 5 million in potential total reach.
---