House, Senate Pass Separate Farm Bills; Versions Now Enter Conference Process
July 05, 2018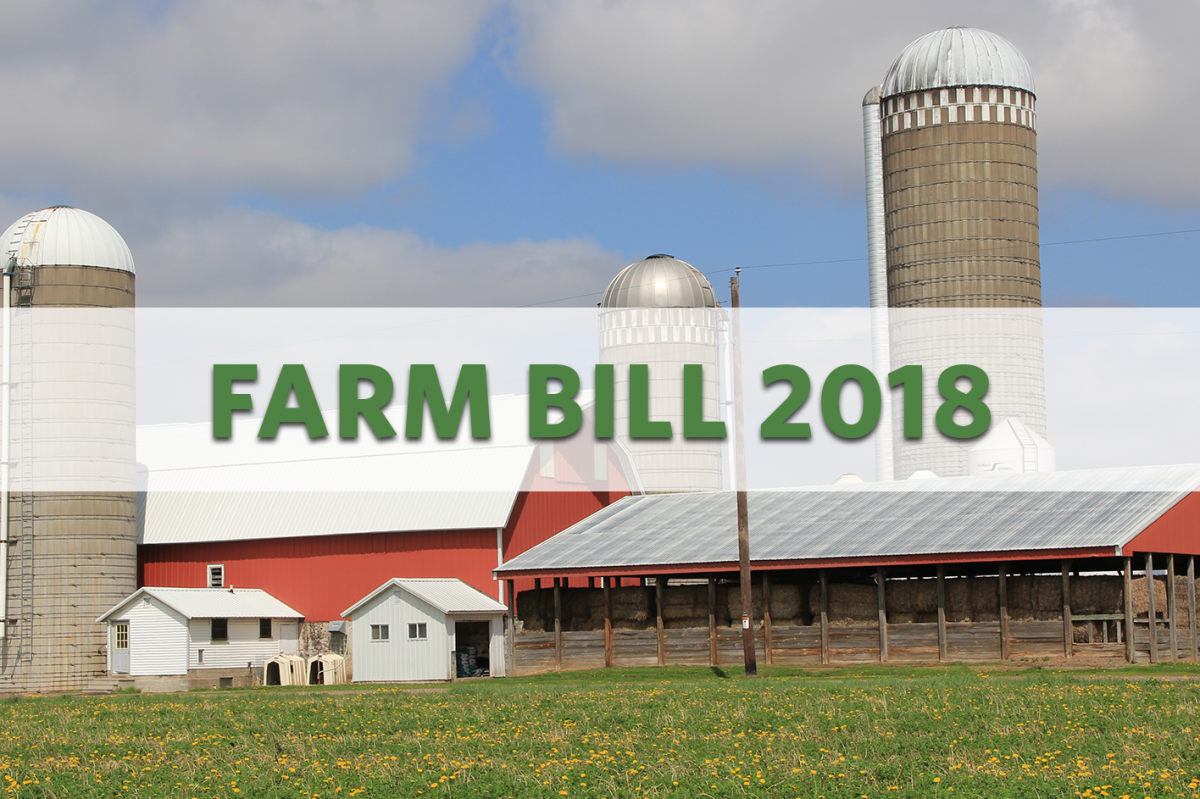 Adoption of a 2018 Farm Bill took two major steps toward realization in late June when both the U.S. House of Representatives and the Senate passed their versions of the bill. The two chambers must now reconcile the two versions through a conference committee process before voting on a final, compromise version.
Both bills contain several significant provisions beneficial to U.S. dairy farmers, among them improvements to the dairy safety net. Both versions raise the maximum covered margin in the dairy Margin Protection Program (MPP) to $9/cwt. and broaden the range of a farm's milk production history that can be insured. Such changes will improve the program for dairy producers of all sizes. The bill also includes a provision to improve milk price risk management, reflecting an agreement reached between NMPF and the International Dairy Foods Association.
These improvements in dairy policy resulted from NMPF's engagement with House and Senate Agriculture Committee leadership, as well as other key congressional allies. On the House side, NMPF thanked House Agriculture Committee Chairman Mike Conaway (R-TX) and Ranking Member Collin Peterson (D-MN) for their work to improve dairy risk management programs. In the Senate, the Federation commended Agriculture Committee leaders Sens. Pat Roberts (R-KS) and Debbie Stabenow (D-MI) for their leadership, as well as Sens. Dianne Feinstein (D-CA) and John Cornyn (R-TX) for their efforts to improve dairy policy for producers of all sizes.
"Dairy farmers, along with many other food producers, need a better safety net as they struggle with a very daunting economic situation," said NMPF President and CEO Jim Mulhern. "It was critical that both the House and Senate pass their bills in June, which should give them sufficient time to generate a compromise bill that Congress can approve by September 30."
The two bills also contain new elements in their respective conservation titles, which will help producers access technical and financial assistance to carry out multiple conservation practices on their land and water. Under the trade titles, both Farm Bills authorize the trade promotion programs that are very useful to dairy farmers and their cooperatives. The two bills also feature helpful provisions intended to increase fluid milk consumption.
---
Immigration Reform Legislation Again Fails to Pass the House
July 05, 2018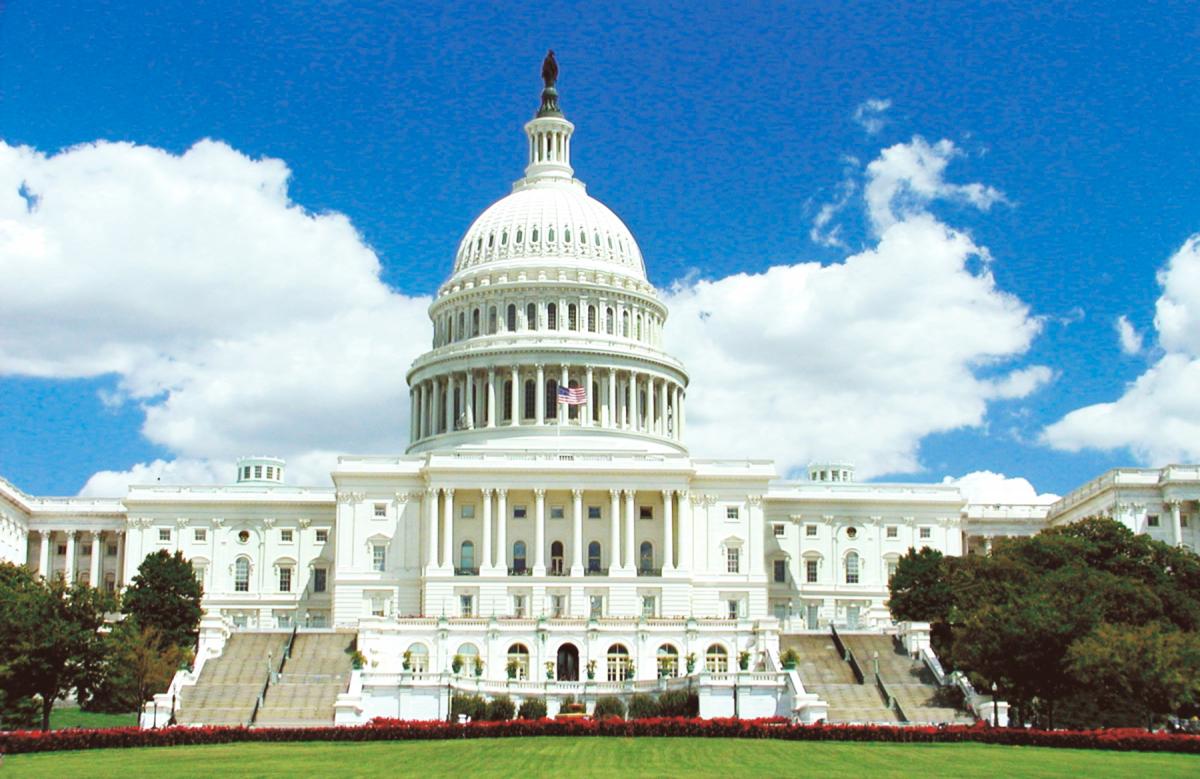 The U.S. House of Representatives failed last month to pass an immigration reform bill, as members of Congress considered two different versions, but couldn't muster the votes to pass either one. The outcome means dairy farmers and other agricultural employers are again left without a functioning agricultural worker program – although House leaders have committed to a separate vote on a guest worker visa program once Congress returns to Capitol Hill in July.
As the controversial issue of migrant families being separated at the U.S.-Mexican border drew intense scrutiny in recent weeks, members of Congress were faced with increasing public pressure to deal with the separation policy, along with establishing a reprieve for the "Dreamer" immigrants that are seeking longer-term legal protections.
House leaders packaged together several immigration policy items in both bills the chamber considered in June.  The initial bill contained several agriculture workforce provisions backed by NMPF, while the second one did not. After the first bill faltered, National Milk urged lawmakers to include a farm guestworker visa program in the second version of the immigration legislation, which House leaders brought to a vote on June 27. Continued infighting between House Republicans led to the bill's demise. However, NMPF noted appreciation for the efforts of key members of Congress to improve the agriculture workforce provisions in the run-up to the second vote.
President and CEO Jim Mulhern expressed dissatisfaction that Congress again failed to pass any immigration measure, despite the palpable need to create an agriculture guestworker program.
"We are deeply disappointed that a small group of House members chose to undermine this process by refusing to compromise, undermining good faith negotiations and ultimately preventing forward progress," Mulhern said. "This kind of hostage-taking cannot continue if Congress is to make meaningful progress on a critical issue for our country."
Still, Mulhern remained appreciative of the congressional allies who fought to address farm workforce needs in the immigration policy process, as it "demonstrated the need to tackle the farm worker issue sooner rather than later."
"We commend Reps. David Valadao (R-CA), Dan Newhouse (R-WA) and Jeff Denham (R-CA) for their exemplary negotiations on this bill. We also thank House Judiciary Committee Chairman Bob Goodlatte (R-VA) for his ongoing efforts to establish a farm guestworker visa program, as well as House Agriculture Committee Chairman Mike Conaway (R-TX) for his work to secure key improvements."
---
NMPF Expresses Concern about Impact of Mexico, China Tariffs on Dairy
July 05, 2018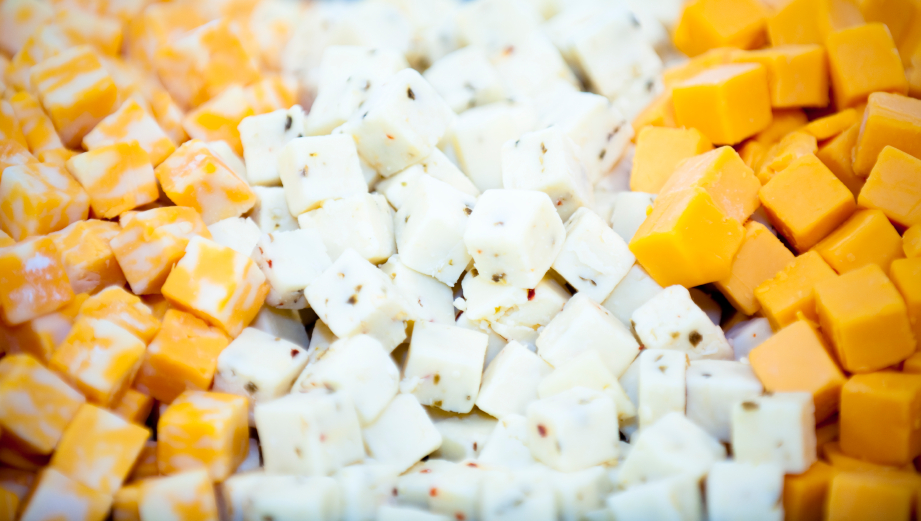 Two of U.S. dairy's top trading partners, Mexico and China, have enacted new tariffs against U.S. dairy products in response to American tariffs on Mexican steel and aluminum, as well as soon-to-be imposed tariffs on a variety of imports from China. National Milk, in collaboration with the U.S. Dairy Export Council (USDEC), has raised concerns about the financial impact of these actions on America's dairy farms.
In the case of Mexico, retaliatory tariffs are already beginning to deliver a blow to the U.S. dairy sector, which is increasingly reliant on exports. On June 5, Mexico, dairy's the largest cheese export market for American producers, applied tariffs of 10-15 percent on various U.S. cheeses. Those cheese tariffs were increased further to 20-25 percent on July 5. Through joint work with USDEC, NMPF secured a phase-in of these tariffs to soften the immediate blow, but the impact is still a significant setback for U.S. dairy farmers.
NMPF, again in collaboration with USDEC, helped collect farm group and cheese processor signatures on a broad-based industry letter sent to President Donald Trump last month that outlined concerns about the impact of Mexican cheese tariffs, and requested that the administration suspend the steel and aluminum tariffs on Mexican products in light of their constructive engagement on negotiations over the North American Free Trade Agreement (NAFTA). NMPF supported USDEC in helping disseminate news of the letter to ensure that a wide range of policy-makers were aware of this important message. NMPF believes it is essential to focus U.S.-Mexico trade discussions on restoring duty-free trade, which is vital to achieving an updated NAFTA.
In China, retaliatory tariffs of 25 percent on U.S. goods including milk powder, cheese, whey, yogurt, butter and butter oil, fluid milk and cream will start on July 6. China is the industry's second-most important export market, last year accounting for a total of $577 million in U.S. dairy exports. These tariffs will make U.S. dairy exports considerably more expensive than those from our competitors also selling in China.
The one-two punch of Mexico's retaliatory tariffs on cheeses and China's subsequent tariff announcement sent U.S. dairy futures plummeting last month. Based on futures price expectations from a few days before the Mexico announcement to a few days after the one from China, the average price impact during the second half of 2018 reflected a loss of about $1.10/cwt per month. Dairy futures losses already exceed $2 billion for the balance of 2018.
---
Canada's Dairy Trade Practices Take Center Stage
July 05, 2018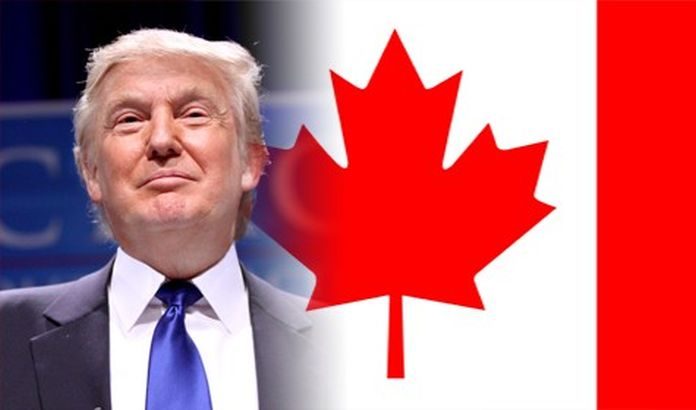 NMPF's efforts to elevate the dairy industry's concerns with Canada's harmful dairy trade practices have had a noticeable impact in the White House: during the past month, President Donald Trump repeatedly pointed out the excessive nature of Canada's exorbitant dairy tariffs, a move that shows that the administration is intent on rectifying the current dairy trade imbalance with Canada.
Although significant work remains in the North American Free Trade Agreement negotiations, Canada's dairy trade barriers have become a key focal point within talks over a modernized NAFTA. With no end yet in sight, NMPF and its members continue to stress the importance of addressing Canada's Class 7 pricing scheme and exorbitant tariffs that deny the ability of the U.S. industry to fairly compete.
President Trump's recent statements came after his previous acknowledgement that Canada's other non-tariff policies (primarily Class 7) have been harmful to the U.S. dairy industry. While on a trip to Canada last month, Agriculture Secretary Sonny Perdue also noted that "…they can't use their supply management system to negatively affect our dairy producers south of the border." While there, Secretary Perdue also reiterated his previous comments that Canada's supply management system needs to manage its supply "…so it's not over produced and spilling over into the export market."
In addition to communicating with the White House and Congress, NMPF's education efforts have also been directed at helping shape public support for these priorities by ensuring the news media is armed with the facts and why they are so important for American dairy farmers. As part of that broad-based outreach effort, NMPF President and CEO Jim Mulhern provided U.S. dairy's perspective at a highly- attended NAFTA panel discussion hosted by the Washington International Trade Association on June 21.
In his remarks, Mulhern highlighted the trade differences between Mexico and Canada as the United States works to improve NAFTA. In Mexico, he said, the United States has historically enjoyed a two-way street when it comes to dairy trade.
"In that market, we've worked collaboratively with our industry colleagues there to grow total dairy demand and have established a critical partnership that has allowed our industry to weather the various policy ups and downs driven by non-dairy issues over the years," Mulhern said. Maintaining that relationship is critical in a NAFTA rewrite.
NMPF's goals with Canada are simple, he said. "With respect to tariffs, we want parity for dairy; we want what virtually every other sector of the U.S. and Canadian economies has enjoyed for decades – free trade between our two countries. In the context of a free trade agreement, that is about as traditional a goal as it gets. And we need to put a stop to Canada's habitual use of policy tools to thwart trade, such as the Class 7 pricing scheme. Canada started the program over a year ago, and the U.S. is not the only nation with concerns about Class 7."
---
NMPF Urges USTR to Hold India, Indonesia Accountable
July 05, 2018

India and Indonesia are using policy tools to impact market access for American dairy producers, and because of this, should not receive trade benefits under the U.S. Generalized System of Preferences (GSP), according to testimony last month from NMPF's Shawna Morris before the U.S. Trade Representative (USTR).

Speaking on behalf of NMPF and the U.S. Dairy Export Council (USDEC) on June 19, Morris recommended that USTR ask President Donald Trump to suspend GSP benefits that would allow in certain products duty-free to participants in the program. India, she said, has a 14-year record of using unscientific sanitary and phytosanitary requirements to erect barriers to dairy trade in a way that fails to comply with the GSP program's congressionally mandated requirements.

"In practice, [India's] requirements have created an unjustified impediment to U.S. exports despite extensive and creative efforts spanning three administrations to reopen the market," she said. "It is unfortunate that India has not chosen over the past 14 years to engage constructively with the U.S. to resolve this issue in full and reopen the market. U.S. dairy products are safely consumed by people in countries all around the world and we would very much like to offer the people of India the choice to consume our products, as well."

In 2003, India introduced new requirements for the government-issued health certificates that must accompany dairy imports. The United States has pursued resolution of one challenge after another in the hopes of re-opening access to India for U.S. dairy products. Those efforts included data, evidence and solution-based proposals to work through each topic, but the market remains closed to most U.S. dairy products due to continued intransigence by India on certain animal feeding provisions that go well beyond international guidance.

During the day-long hearing on various countries' GSP standing, Morris also testified on one of the dairy industry's most important export markets in Southeast Asia: Indonesia. Indonesia has long been a strong U.S. trading partner. In 2017, the United States exported $133 million in dairy products to Indonesia. It has been the third-largest market for skim milk powder and is a top-10 U.S. dairy export market. But new local content policies for dairy are intended to curtail imports from a variety of sources, including the United States.

In 2017, the Indonesian Ministry of Agriculture issued a new regulation that required local milk processors to procure locally-produced milk or invest in ways to support the local dairy farming sector. Businesses that only import, and do not have manufacturing facilities in Indonesia, are also required to enter into agreements to provide support to or promote the local dairy industry. U.S. companies have reported being required to submit such "partnership plans" to be assured of access to import licenses in 2018.

The United States has been working extensively since 2017 to convey concerns about the policy to Indonesia. To date, however, Indonesia has not yet agreed to change course. "We are spotlighting our concerns here today through this process in the hopes of preserving what has long been a positive relationship on dairy trade, rather than allowing a deterioration of that dynamic," Morris said.
---
CWT-Assisted Export Sales Contracts Reach 11.8 Million Pounds in June
July 05, 2018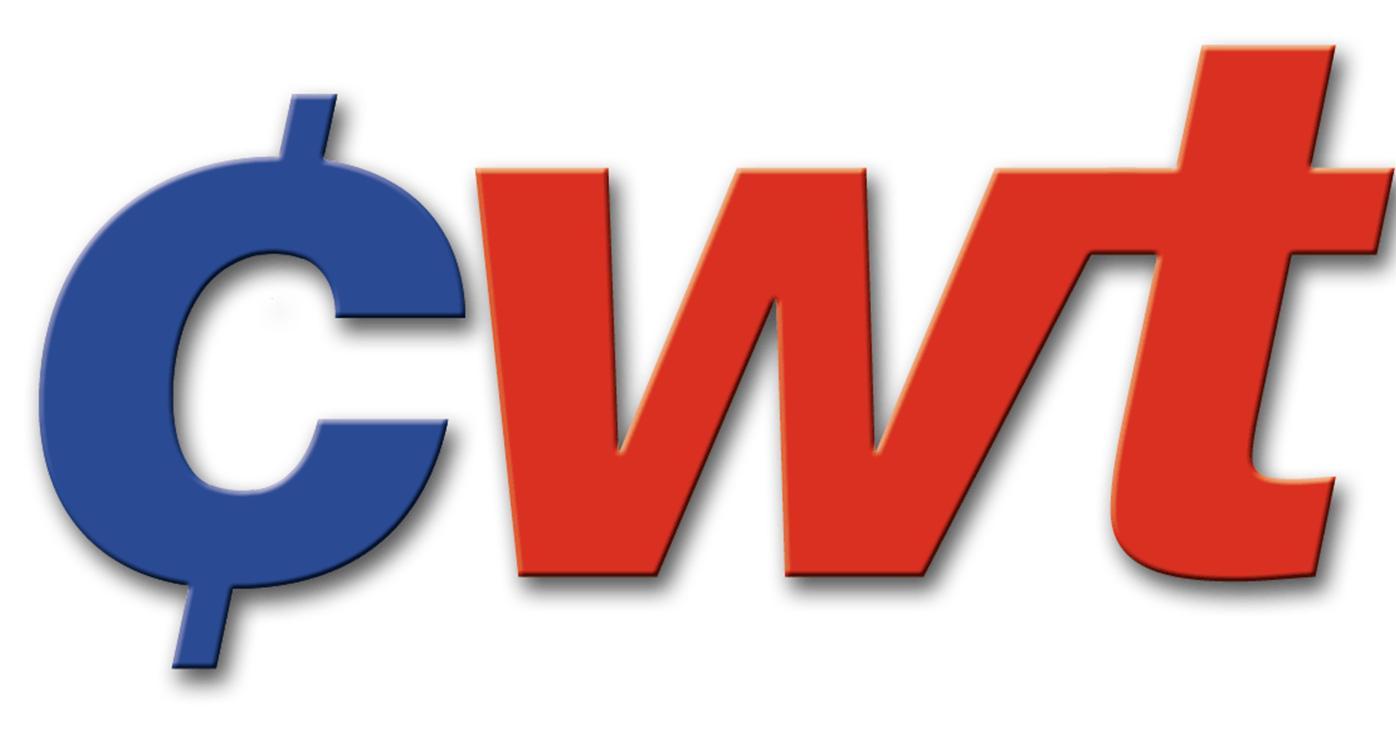 CWT helped member cooperatives secure 44 contracts to sell 5.88 million pounds of American-type cheeses, 194,007 pounds of butter and 5.69 million pounds of whole milk powder to customers in Asia, Central America, the Middle East, North Africa, Oceania and South America. The product will be shipped to customers in 15 countries in six regions of the world during the months of June-December 2018.
These contracts bring the 2018 total of CWT-assisted product sales contracts to 40.25 million pounds of cheese, 11.23 million pounds of butter and 15.87 million pounds of whole milk powder. These transactions will move overseas the equivalent of 740.06 million pounds of milk on a milkfat basis.
Assisting CWT member cooperatives gain and maintain world market share through the Export Assistance program in the long-term expands the demand for U.S. dairy products and the U.S. farm milk that produces them. This, in turn, positively impacts all U.S. dairy farmers by strengthening and maintaining the value of dairy products that directly impact their milk price.
The amounts of dairy products and related milk volumes reflect current contracts for delivery, not completed export volumes. CWT will pay export assistance to the bidders only when export and delivery of the product is verified by submission of the required documentation.
All cooperatives and dairy farmers are encouraged to add their support to this important program. Membership forms are available on the CWT website.
---
FDA Issues First Intentional Adulteration Guidance Document
July 05, 2018

On June 19, the U.S. Food and Drug Administration (FDA) released the first of three draft guidance documents designed to support compliance with the Intentional Adulteration (IA) Rule under the agency's Food Safety Modernization Act (FSMA). The remaining two documents are expected to come out later this year.

In the coming weeks, NMPF will review the nearly 100-page guidance document and provide feedback to FDA. Following initial review, the document appears to be consistent with the views NMPF has expressed during the numerous vulnerability assessments that it has engaged in over the years. However, a more thorough review is still warranted.

The final rule on intentional adulteration is designed to address hazards that may be intentionally introduced to foods with the intent to cause wide-spread harm to public health. Unlike the other FSMA rules that addresses specific foods or hazards, the IA rule requires the food industry to implement risk-reducing strategies for processes in food facilities that are significantly vulnerable to intentional adulteration.

Food facilities covered by the rule will be required to develop and implement a food defense plan that identifies vulnerabilities and mitigation strategies for those vulnerabilities. These facilities will then be required to ensure that the mitigation strategies are working. Dairy processing facilities are covered by the rule, but dairy farms are not. The first compliance date for large facilities is in July 2019.  Small businesses have an additional year.

FDA will announce plans to hold a public meeting on the draft guidance when the second installment is released. All three parts will be available for public comment upon release. NMPF has been collaborating with FDA on intentional adulteration since 9/11. It has participated in numerous vulnerability assessments and exercises, chaired the Food & Agriculture Sector Coordinating Council (FASCC), and is part of the Food Safety Preventive Controls Alliance Intentional Adulteration Subcommittee, which develops IA training programs for FDA.
---
FARM Animal Care Kicks Off Version 4.0 Revision Process
July 05, 2018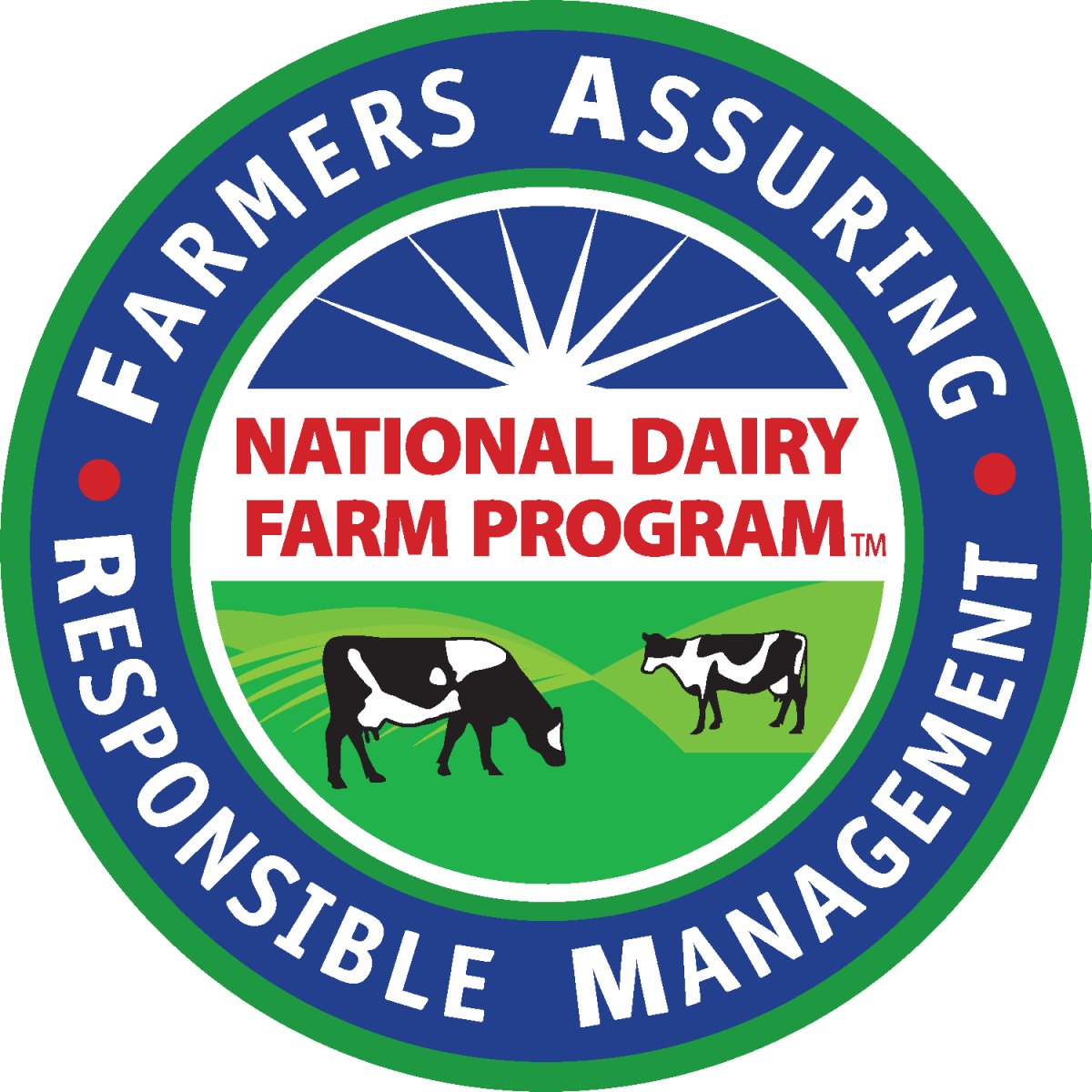 The National Dairy Farmers Assuring Responsible Management (FARM) Animal Care Technical Writing Group met in June to kick off the FARM Animal Care Version 4.0 revision process.
During the first in-person meeting of the technical writing group, members reviewed the program evaluation form and started discussions on which standards or guidelines need to be updated. Accountability measures and program implementation standardization were also a focus.
There was also discussion about the FARM Program's new Farmer Advisory Council, which will comprise dairy farmers who will share guidance and input toward the program's ongoing and future development. Nominations to be on the council have been received and the selection committee will be convening soon to select members.
The FARM Program, the U.S. dairy industry's animal care quality assurance program, was established in 2009 and operates on a three-year revision cycle. Each cycle, the Technical Writing Group reviews current program standards, new and relevant science, and comments provided by industry stakeholders to incorporate into the new version of the program. The group will provide recommended updates for Version 4.0 to NMPF's Animal Health & Well-being Committee this fall.
Once approved by the committee, final approval for the updated version will be made by NMPF's Board of Directors, with ultimate implementation slated for Jan. 1, 2020. FARM Animal Care evaluators will undergo training during the summer and fall of 2019.
---
New Spanish-language Resources on Drug Residue Management Now Available
July 05, 2018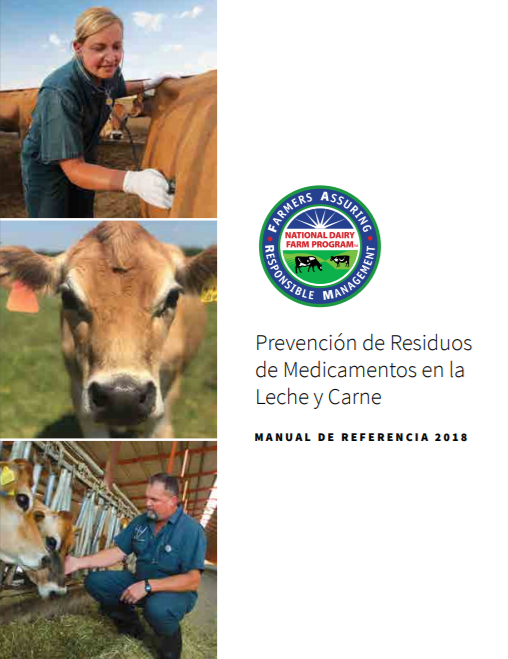 To create relevant on-farm resources for Hispanic farm workers not fluent in English, the National Dairy Farmers Assuring Responsible Management (FARM) Program is releasing two Spanish-language tools: The 2018 Spanish Drug Residue and Prevention Manual is now available for download and the 2018 Spanish Pocket Guide is available for purchase in the FARM Store.
The 2018 edition of the FARM Program's Milk and Dairy Beef Drug Residue Prevention Manual is the primary educational tool for dairy farm managers on the judicious and responsible use of antibiotics, including the avoidance of drug residues in milk and meat. The manual and pocket guide are resources that allow dairies to review what antibiotics are approved for use in dairy cattle, and can also be used as an educational tool for farm managers as they develop best management practices necessary to avoid milk and meat residues on their operations.
The manual is updated on annual basis in partnership with Merck Animal Health, Elanco Animal Health, Zoetis, Merial, Charm Sciences Inc. and National Beef Quality Assurance.
---
NMPF Presents Awards to Academics Contributing Research to Dairy Industry
July 05, 2018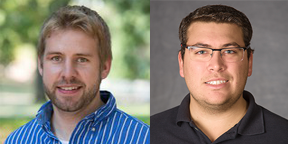 At its June meeting in Arlington, Virginia, the NMPF Scholarship Committee selected two graduate students to receive scholarships as part of the 2018 NMPF National Dairy Leadership Scholarship Program. These students are conducting research in areas that will benefit dairy cooperatives and producers.
The 2018 Hintz Memorial Scholarship, given to the top scholarship candidate, was awarded to Isaac Salfer (above left), a Ph.D. candidate in animal science at Pennsylvania State University, studying the effect of nutrient intake on circadian rhythms in the mammary gland of dairy cows.
A scholarship was also awarded to Gustavo Mazon (above right), a master's candidate in animal science at the University of Kentucky, studying the effects of yeast-derived microbial protein in transition dairy cows' health and production.
The NMPF Dairy Leadership Scholarship Fund also sponsors the Richard M. Hoyt Award, which recognizes research efforts that have direct application to issues in the U.S. dairy industry. It was awarded to Zheng Zhou at the American Dairy Science Association (ADSA) Annual Meeting in late June.
Zhou, an assistant professor of nutrigenomics at Clemson University, has conducted extensive research in assessing the efficacy of methyl donor supplementation on transition cow performance, immune metabolism and health. His studies have shed light on immune, inflammatory and metabolic status in-transition dairy cows.
NMPF also presented awards to Russell Pate and Justin Rosadiuk as part of the NMPF Graduate Student Paper Presentation Contest in Dairy Production, Ph.D. and MS divisions, respectively. Pate is a graduate student at the University of Illinois. His presentation was titled, "Aluminosilicate clay reduces the deleterious effects of an aflatoxin challenge on inflammation markers in lactating Holstein cows." Rosadiuk is a graduate student at the University of Alberta. His presentation was titled, "Effects of differing planes of pre- and post-weaning phase nutrition on intake, growth and puberty in Holstein heifer calves."
---
MPP Forecast: July 2018
July 05, 2018

For May 2018, the monthly margin under the dairy Margin Protection Program (MPP) rose by $0.16/cwt. from April, to $6.78/cwt. This broke a string of five consecutive drops in the MPP monthly margin. The May all-milk price was $0.40/cwt. higher than April's, at $16.20/cwt. The May MPP feed cost formula was up by $0.24/cwt. from April, with the increase distributed almost evenly – on a per-hundredweight-of-milk basis – to increases in the reported costs of all three feed components.

Dairy farmers who signed up by June 22 for $8.00 margin coverage at the lower, Tier 1 premium level will receive a May payment of $1.22/cwt. (before a 6.6-percent reduction required by budget sequestration).  Those covered at that level may also receive further, smaller payments this summer, which would raise the projected average net return at $8.00 coverage with Tier 1 premiums to $0.30/cwt. for the entire calendar year.

USDA's MPP margin forecasts can be accessed online. NMPF's Future for Dairy website offers a variety of educational resources to help farmers make better use of the program.
---