Coronavirus Package Aids Dairy, More Measures Needed as Marathon NMPF Efforts Continue
March 31, 2020

As Congress attempted to navigate the national response to COVID-19 by passing three coronavirus response packages in March, all of which became law, NMPF's government affairs team worked to ensure dairy-farmer needs were top of mind in agriculture-related provisions of the new laws, gaining success on several fronts.

A crucial advance came with the March 27 passage of a massive, $2 trillion stimulus bill approved on March 27 that creates a $9.5 billion coronavirus agricultural disaster fund that specifically includes dairy among the producers targeted for aid. The bill also provides $14 billion in additional funding for the Commodity Credit Corporation that USDA can use to assist producers in various ways. Finally, the measure aids small businesses, a key link in the entire dairy supply chain.

"We are very grateful that Congress understands the significant economic challenges our farmers face and is rising to that challenge on a bipartisan basis," Jim Mulhern, president and CEO of NMPF, said of the package, the third – but not the last – congressional coronavirus bill. "Dairy farmers have worked 24/7 to produce safe, affordable, and nutritious products for families throughout the coronavirus crisis, even as their own economic outlook grows darker."

The specific attention to dairy – thanks in large part to the bipartisan attention from lawmakers ranging from Senate Minority Leader Chuck Schumer, to Senate Agriculture Committee Ranking Member Debbie Stabenow, to House Agriculture Committee Chairman Collin Peterson and Representative Glenn "GT" Thompson – was encouraged and aided by the work of NMPF government relations staffers Paul Bleiberg and Claudia Larson, who coordinated with other NMPF staff and across the dairy community to work with lawmakers on dairy's behalf.

With Washington policymakers working around the clock, many from home, "it's kind of like, what day is a weekend, what day is a weekday. But we've been having many conversations on Capitol Hill, on the House side, on the Senate side, folks in USDA," said Bleiberg, NMPF's vice president for government relations, in an NMPF podcast. "And of course, with our own membership, because everybody is worried about the situation, everybody wants to know what's going to happen here because people have to get answers."

Beyond the main stimulus bill, the second coronavirus package that passed Congress included additional funding and flexibility for nutrition programs — specifically, an additional $1.2 billion for nutrition programs. It also allows states and USDA to waive administrative requirements for SNAP and WIC as well as group-setting meal requirements for school meal and adult and childcare meal programs. The first aid plan was relatively smaller and did not address agriculture.

The NMPF government affairs team continues to work closely with both chambers of Congress and USDA, encouraging additional actions that help ensure dairy producers and workers continue to feed Americans without interruption and that families facing food insecurity have access to nutritious food, including the healthy milk many have access to most readily through nutrition programs. It's also closely coordinating with government affairs staff from other cooperatives and dairy organizations and actively seeking feedback and ideas from members, including by leading a conference call with NMPF communications staff that included cooperative government relations and communications representatives.

NMPF will continue its multi-front approach to best address dairy's needs and looks forward to working with Congress and the Trump Administration on additional responses anticipated in coming weeks.
---
Milk-Price Drops to Cost Dairy Billions in Lost Revenue as Coronavirus Bites
March 31, 2020

Dairy futures markets became significantly more volatile in March as they struggled to estimate the coronavirus pandemic's impact on the dairy industry. But broader certainties are clear: The effects will be negative, and they will be large.

Markets in early March indicated the U.S. all-milk price would average about $18.50 per cwt. during 2020, just below the 2019 average of $18.60 per cwt. Since then, the futures-based 2020 average price estimate dropped sharply, rebounded a bit, then resumed dropping, to about $17.20/cwt. on March 26.

The USDA DMC Decision Tool, which can be accessed online, has followed a similar trajectory. By March 25, it was projecting that the program would make payments for margin coverage at $9.50 per cwt every month from March through the end of 2020, as shown in the chart below, with payments averaging $0.73/cwt., before premium payments, for the entire year.

The dramatically shifting outlook means a radically different margin situation than what producers anticipated last December, the deadline for farmer signup for the 2020 DMC program. USDA forecasters then expected monthly margins to remain above $10.00/cwt. during all months of 2020, which translated to no payments at any level of coverage.

The rosier outlook discouraged signups. Only 47.8 percent of operations with established DMC production histories are signed up for the 2020 DMC, in contrast to the 82.3 percent of operations with established production histories that signed up for the program for 2019, a year of significant payments. That discrepancy in turn has become a driver of NMPF efforts to aid producers — in its March 24 letter to Agriculture Secretary Sonny Perdue, NMPF requested reopened enrollment for this year's program, a measure made appropriate by the unprecedented nature of the coronavirus situation.

The DMC information page on NMPF's website offers a variety of educational resources to help farmers make better use of the program.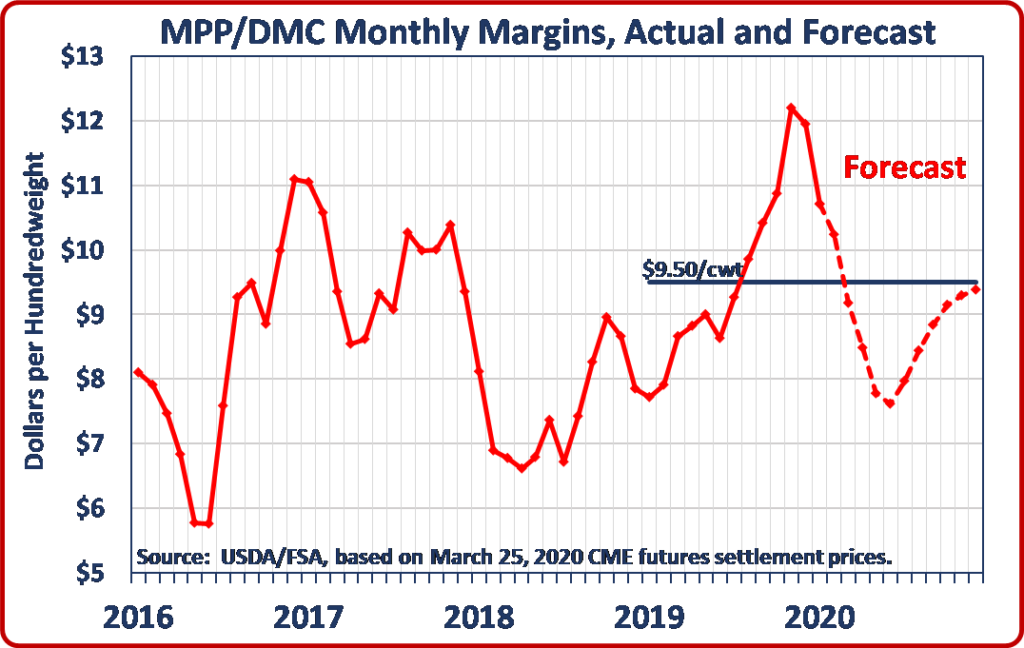 ---
NMPF Staff Leading Efforts to Ensure Agricultural Supply Chain Functions
March 31, 2020

Disruptions across the entire food supply chain have been hard to avoid as COVID-19 worries have spread the United States. NMPF has responded with tools for dairy producers and processors – and a position of leadership across the entire food sector through its involvement in a private-sector collaboration with federal authorities.

Senior Vice President of Regulatory Affairs and Staff Counsel, Clay Detlefsen, is the private-sector chair of the Food and Agricultural Sector Coordinating Council, which was developed after Sept. 11 terror attacks to maintain secure, functioning, resilient critical infrastructure in the United States. In that role Detlefsen has been working across agriculture to address supply-chain issues throughout the country, including initial runs on grocery items including milk in stores. Detlefsen urged consumers to stay measured in their buying.

"There is plenty of food in this country. There is no food shortage," said Detlefsen in an NMPF podcast on March 19. "We have a bit of a distribution problem caused largely by consumers, in essence, over-consuming."

In his role with the council Detlefsen has been invaluable to supply-chain coordination with the government, including the Department of Homeland Security's recognition on March 19 of farm workers, food manufacturers, firms supporting food, feed and beverage distribution, animal agriculture workers, and others, as critical infrastructure employees.

The reaffirmation of agriculture's crucial economic role allows it to operate as normal while other sectors may be forced to suspend work. Complementing the efforts Detlefsen led, NMPF has also developed an Essential Food and Agricultural Employee Work Permit Template to be used by food and agriculture employees to be granted permission to travel to and from work.

After concerns arose about potential plant closings should workers test positive for COVID-19, food industry professionals developed a document describing what should be done when an employee or customer tests positive for COVID-19. The Food and Drug Administration (FDA) and Centers for Disease Control and Prevention (CDC) are in the process of reviewing the document before it is posted on their websites. The recommendations are focused on how to keep employees safe without having to shut down an entire plant given FDA has repeatedly stated that food safety is not a concern when it comes to COVID-19 transmission.

MPF has also been working with other agriculture organizations and federal agencies on shaping guidance documents and influencing regulatory actions. One example: On March 26, the Environmental Protection Agency (EPA) released a statement announcing it will be using enforcement discretion in several areas for noncompliance issues during the pandemic. This decision comes after NMPF and other livestock groups including the National Cattlemen's Beef Association and National Pork Producers Council sent a letter requesting they issue a "no action assurance" given the "unusual circumstances" we are facing.

Finally, NMPF has been in a leadership role with government and industry stakeholders looking for solutions to shortages of cleaners and disinfectants, hand sanitizers and personal protective equipment and the regulatory team is in constant contact with the federal agencies to ensure dairy farmer needs are being met.
---
FARM Writes the Book – Literally – on Dairy Farmers and Coronavirus Prevention and Management
March 31, 2020

Collaborating with industry partners and NMPF staff, the National Dairy Farmers Assuring Responsible Management (FARM) Program developed a Coronavirus Prevention and Management Dairy Farmer Handbook for producers released March 19 as the coronavirus crisis took shape. A Spanish-language version followed within a week. Both are posted on the NMPF coronavirus website.

The handbook, developed largely by NMPF Vice President of Sustainability and Scientific Affairs Jamie Jonker, provides an overview of COVID-19, including symptoms, preventive measures, and action steps that employers can take on-farm for their employees. A major goal of the handbook is to help ensure business continuity, with best practices to prevent illness on the farm and manage any dairy-farm disruptions that might result from employee sickness or supply-chain disruptions, Emily Yeiser Stepp, vice president of the FARM Program, said in an NMPF podcast released shortly after the document was published.

Despite the unique challenges that coronavirus presents to a program that's been based on person-to-person contact, "in agriculture, in our industries, we figure things out," said Yeiser Stepp in an NMPF podcast March 24. "And that is the beauty of being part of this community, is that we will figure out how to do this in the most effective manner that provides those assurances long-term," Yeiser Stepp said. "We're all in this together."

FARM also has managed the coronavirus threat by adapting its rigorous inspection and evaluation programs by following Centers for Disease Control and Prevention (CDC) recommendations regarding social distancing and immediately adjusting its operations. FARM strongly recommends that program participants (cooperatives and processors) do the same. These adjustments will be reevaluated weekly based on the latest CDC recommendations.

The FARM Program recommends:
Temporary suspension of all on-farm operations of the program.
All in-person evaluator or trainer trainings scheduled should be cancelled and rescheduled for a later date.
Any farm tours for customers/brands or the general public should be cancelled and rescheduled for a later date.
FARM also has developed a short, confidential five-to-ten-minute survey requesting additional information on the impact of COVID-19 on dairy operations to help in better understanding and assisting with farm needs. The survey can be completed by following this link. Any information that can be provided is important and will not be disclosed publicly.
---
Trade Staff Closely Monitoring World Actions
March 31, 2020

As foreign governments implement measures to mitigate the spread of coronavirus, the NMPF trade team closely works with the US. Dairy Export Council in monitoring any action that could negatively impact dairy trade. On March 26, Mexico's Ministry of Health issued a decree announcing a halt to all administrative operations, including the issuance of import permits from March 26 through April 19 – the first direct, major threat of disruption to U.S. dairy trade caused by coronavirus measures, as dairy products require import permits to enter the market.  

 

Outreach to contacts in Mexico suggested that the Mexican Ministry of Health had not considered the full ramifications of this decree, including the impact it would have on trade and food supplies to Mexico. NMPF's trade policy team, working closely with USDEC Regulatory team and USDEC's Mexico office, immediately contacted the U.S. Trade Representative's Office (USTR) and the U.S. Department of Agriculture (USDA) to urge aggressive action to secure clarification on the issue and preserve trade continuity. In addition, NMPF staff drew on their contacts in the Mexican government to raise alarm bells about the consequences of this new policy.  

 

While at press time the issue had yet to be fully resolved, these actions have generated encouraging steps in the right direction: the Mexico government issued a directive on March 31 that categorized the food and beverage sector as an essential industry that must remain working throughout the outbreak. The trade policy team has continued to collaborate with USTR and USDA, as well as with our colleagues at USDEC, to ensure that this directive extends to the issuance of import permits so that dairy trade with Mexico remains uninterrupted.  

 

As that situation develops, trade policy staff has been closely monitoring other possible market access restrictions as a result of the pandemic. While government efforts to mitigate the spread of COVID-19 domestically evolve daily, NMPF is actively assessing these responses to determine effects on major dairy sectors and international trade flows.   

 

Earlier this year, lost trade was the initial coronavirus concern, as the virus's spread in Asian markets were the first impacts felt on U.S. producers early in 2020. As restrictions spread worldwide and have profoundly altered the U.S. economy, NMPF is collaborating with domestic and international partners to monitor any additional trade disruptions caused by COVID-19 responses or resulting in border restrictions and workforce limitations worldwide.   

 

NMPF is working alongside the U.S. Dairy Export Council (USDEC) to gather data on how the impact of COVID-19 is affecting dairy supply and demand overseas and sharing information with the International Dairy Federation on U.S. COVID-19 response efforts, strengthening NMPF's ability to respond to a rapidly evolving situation.  

 

For example, personnel issues in Asia that had hindered shipments are being gradually resolved. Consumer response to coronavirus has varied worldwide as well: Some overseas markets have indicated increased demand for milk and dairy products, while others see less. NMPF is tracking closely calls from European dairy stakeholders to initiate private storage aid for butter, skim milk powders, and cheeses, in which the European Commission covers the cost of storage until the product can reenter the market.   
---
NMPF Website Anticipates Coronavirus Surge, Shares Essential Resources
March 31, 2020

Launched as a simple statement on March 6, NMPF's special coronavirus webpage has quickly become a go-to compilation of essential dairy-farmer and dairy-industry resources, including everything from an aggressive expansion of Spanish-language materials to the launch of a new podcast series specifically devoted to dairy-related coronavirus issues.

The site, www.nmpf.org/coronavirus, was shepherded by NMPF Communications Manager Theresa Sweeney, who worked closely with web vendor Dupont Creative to turn the initial basic webpage into a fully functional site within 24 hours of the initial decision to do so. The coronavirus page was NMPF's most-visited webpage for the final three weeks of March, drawing twice as many views as the NMPF home page, www.nmpf.org.

Content on the site was specifically focused toward dairy farmer and employer needs, including contributions from the full range of NMPF staff ranging from government guidance on reducing the virus threat in the workplace to a template work permit to be given to employees reminding relevant officials that agriculture is considered critical infrastructure by the Department of Homeland Security. Sweeney, who grew up on a California dairy farm, oversaw which documents were translated into Spanish, with an eye toward materials that would benefit employees, while the FARM team shared its own expertise on workforce management and effective stewardship in a time of crisis.

At the same time, the new NMPF podcast series highlighted on the site – a repurposing of its existing "Dairy Defined" thought-leader series to the coronavirus era – featured NMPF experts discussing facets of government and industry responding, ranging from Senior Vice President and staff counsel Clay Detlefsen discussing supply-chain issues and Vice President for Sustainability and Scientific Affairs Dr. Jamie Jonker on dairy-farm best practices to FARM Vice President Emily Yeiser Stepp explaining adjustments in the FARM Program and Vice President for Government Affair Paul Bleiberg on federal stimulus.

The initial focus of the series was on public-health and supply-chain issues, with Jonker the first guest. Additional podcasts touching on economic and other issues were planned for April, with outside guests also integrated into the program.

With more activities occurring online and via teleconferencing and other web-based technologies, NMPF plans to continue its proactive communications approach, adapting communications tools to meet dairy needs throughout the current challenge.
---
March Board Meeting Highlights Farm-Labor Needs
March 31, 2020

In the final moments before coronavirus began to dominate American life, dairy farmers from National Milk Producers Federation member cooperatives and state dairy associations visited U.S. Senate offices as part of a fly-in calling for an agricultural labor bill that could be reconciled with a plan the House approved last year, providing the stable, secure labor force U.S. dairy producers need.

"The situation is dire," said Jim Mulhern, president and CEO of NMPF, the biggest U.S. dairy-farmer organization, at the NMPF's March board of directors meeting held March 10-11 in Arlington, Virginia, which immediately preceded the fly-in. "Dairy farmers face labor shortages while they are forced to navigate the deeply uncertain and volatile realities undergirding agriculture labor in the U.S. Meanwhile, uncertainty on the farm harms individuals and rural communities that rely on those farms to generate jobs."

The House of Representatives in December passed bipartisan legislation allowing for year-round visas in dairy as part of the first ag-labor bill to pass that chamber since 1986. NMPF supported the bill, noting that, although imperfect, its passage was a necessary step in moving toward a legislative solution addressing the ag labor crisis, with further work to be done in the Senate to improve upon the House measure.

During the board meeting, NMPF officially expanded its membership with the addition of Cayuga Marketing, LLC based in Auburn, NY, adding an important upstate New York voice to NMPF's work on behalf of all dairy producers.

NMPF also endorsed dairy-sector sustainability efforts during its meeting, lauding industrywide plans to reduce carbon emissions to net zero.
---
Non-coronavirus efforts continue
March 31, 2020

While the coronavirus crisis dominated the work of NMPF – and everyone else – in March, the organization still progressed in other areas, including:
Following NMPF Board approval of the FARM Workforce Development 2nd party evaluation tool at its March meeting, FARM staff is working to finalize the FARM Workforce Development Participation Agreement for coops and processors to voluntarily participate in this program area. The Participation Agreement will be distributed within the next 2 weeks. Staff also is working to integrate the evaluation tool into all the relevant platforms, including the database and app, necessary for full implementation.
Connecticut dairy farmer James "Cricket" Jacquier, a member of NMPF's Board of Directors and Executive Committee, testified March 10 before the House Committee on Agriculture's Subcommittee on Livestock and Foreign Agriculture to provide a dairy perspective on agricultural trade. Jacquier urged Congress to work with the Administration to use negotiating resources wisely to target important agricultural markets, noted the need for careful implementation of negotiated trade agreements, and raised concerns with European efforts to misuse geographical indications to confiscate common food names.
NMPF and USDEC submitted joint comments Feb. 26 to the U.S. delegate on the Codex Task Force on Antimicrobials Resistance Draft Revised Code of Practice to Contain and Minimize Foodborne Antimicrobial Resistance. The comments emphasized that much progress was made at the 7th CODEX TFAMR meeting and that it should proceed to the next step for adoption in the CODEX process. The few remaining items can be work on through an electronic working group and finalized at the 8th CODEX TFAMR meeting.
---
First Quarter CWT-assisted export sales top 20 million pounds of product
March 31, 2020

In the first three months of 2020, CWT member cooperatives secured 171 contracts to sell 8.9 million pounds of American-type cheeses, 1.3 million pounds of butter, 1.8 million pounds of cream cheese, and 8.8 million pounds of whole milk powder. These totals include March contracts for 4 million pounds of cheese, 165,347 pounds of butter, 449,743 pounds of cream cheese, and 3.5 million pounds of whole milk powder. The milk equivalent of the 2020 contracts 189 million pounds on a milkfat basis.

The coronavirus situation in the U.S. has dramatically changed the domestic market for dairy products, with much of the food-service and school-milk sectors, critical markets for U.S. dairy farmers, drying up as businesses and schools close nationwide. The Cooperatives Working Together export assistance program counteracts the shakeup in domestic demand by moving U.S.-created dairy products overseas, helping to support farm milk prices.

Assisting CWT member cooperatives gain and maintain world market share through the Export Assistance program, in the long-term expands the demand for U.S. dairy products and the U.S. farm milk that produces them. This, in turn, positively impacts all U.S. dairy farmers by strengthening and maintaining the value of dairy products that directly impact their milk price.

The amounts of dairy products and related milk volumes reflect current contracts for delivery, not completed export volumes. CWT will pay export assistance to the bidders only when export and delivery of the product is verified by the submission of the required documentation.

All cooperatives and dairy farmers are encouraged to add their support to this important program. Membership forms are available at http://www.cwt.coop/membership.
---