NMPF President Says Stronger Dairy Program Must be Priority as Farm Bill Discussions Commence
April 07, 2017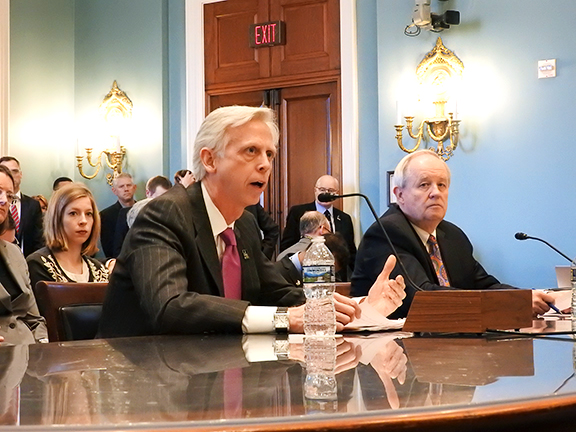 Congress must make it a priority to adopt badly needed improvements to the dairy safety net as soon as possible, said NMPF President and CEO Jim Mulhern at a House hearing last month on dairy policy and the upcoming farm bill.
Mulhern told members of the House Agriculture Committee on March 22 that the current Margin Protection Program (MPP) contains several flaws – including a faulty calculation of the true cost of feeding dairy cattle – that need to be resolved to make the program effective and restore farmers' faith in it. Absent the necessary changes, Mulhern said the MPP will not be the safety net that dairy farmers and Congress envisioned when it was first proposed.
"While MPP was, and is, the right approach for the future of federal dairy policy, the program in its current form does not provide meaningful safety net support to the nation's dairy farmers," Mulhern said. To rectify that problem, Mulhern shared with the committee the NMPF Board of Directors' recommendations to improve the MPP, unanimously approved earlier in March.
Since its creation in the 2014 farm bill, the MPP has offered little effective support to dairy farmers, resulting in dwindling participation and diminished confidence in the program. Of the four main areas within NMPF's package of reforms, the most important is restoring the feed cost formula to the level originally proposed by NMPF. That formula was cut by 10 percent due to erroneous cost estimates generated by the Congressional Budget Office. The resulting formula "understates the price to farmers of producing 100 pounds of milk, thereby overstating the actual margins farmers are experiencing," Mulhern said, adding that the Agriculture Committee "got the calculation right the first time," and thus needs to restore the MPP feed formula to its original level.
Mulhern's testimony also addressed an issue of great concern to many in the dairy community: the need for immigration reform. Because the seasonal H-2A visa program does not apply to dairy farms with their year-round demand for labor, Congress must provide the agriculture industry with an effective guest worker program to meet its future needs, while also providing a way to address current workers with improper documentation.
"Without access to a steady and reliable workforce, our industry will not be able to survive, let alone thrive, in the future," Mulhern said.
He also emphasized the critical importance of dairy trade policy, highlighting the U.S. dairy industry's strong relationship with Mexico while chastising Canada for implementing a pricing policy designed to block American dairy imports.
Mulhern also stressed the need for strong congressional support of the DAIRY PRIDE Act, introduced in the House and Senate in January. Plant-based alternatives lack real milk's consistent and high levels of nutrition, he said, and in the absence of proper labeling enforcement, increasing numbers of nutritionally inferior dairy imitators will continue to create confusion for consumers in the marketplace.
---
Perdue Agrees During Senate Hearing to Help Fix Dairy Safety Net
April 07, 2017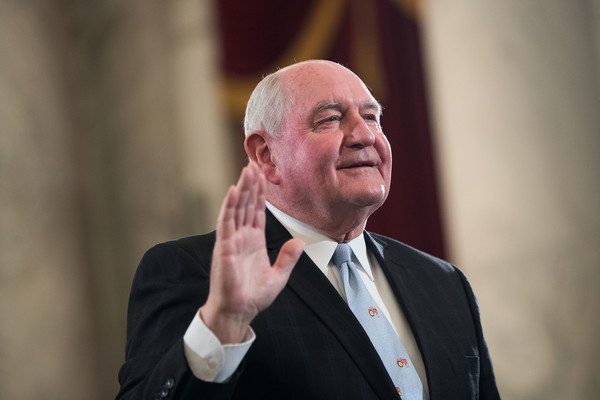 During a Senate Agriculture Committee confirmation hearing March 23, Agriculture Secretary-elect Sonny Perdue indicated he supports improvements to the dairy safety net, and as head of USDA would also advocate for policies that expand the availability of farm labor in dairy production.
The nomination of the former Georgia governor as the next Secretary of Agriculture was approved by the Senate Agriculture Committee on March 30. His confirmation now awaits action by the full Senate, expected to take place sometime after Congress returns from its two-week Easter recess beginning April 7. NMPF has urged the Senate to swiftly confirm Perdue.
Perdue, who grew up on a farm, told Agriculture Committee members that he understands the plight of dairy farmers, and promised to work with the dairy sector on improving the Margin Protection Program (MPP). This includes reviewing NMPF's recent four-point plan to fix the MPP. Perdue also expressed an openness to examining ways to create additional risk management coverage for milk through USDA's Risk Management Agency.
Perdue said he is "absolutely committed to looking for a way to give immediate and temporary relief ahead of the 2018 farm bill."
On the issue of immigration reform, Perdue said he would support an exemption to the H-2A program so that dairy farms could hire workers for year-round labor. The current seasonal H-2A visa program does not apply to dairy farms because of their perennial need for farm labor.
Perdue was the last of Trump's nominees to receive a hearing. After the announcement of his nomination, NMPF joined more than 600 other farm organization in January urging his approval to the post. NMPF believes Perdue's extensive experience in public policy, business and agriculture makes him well-positioned to lead USDA. In addition to serving as governor for eight years, Perdue is the founder of three agribusiness firms and is trained as a veterinarian.
---
NMPF Urges Federal and State Government to Take Immediate Action Regarding Canada's Dairy Policies
April 07, 2017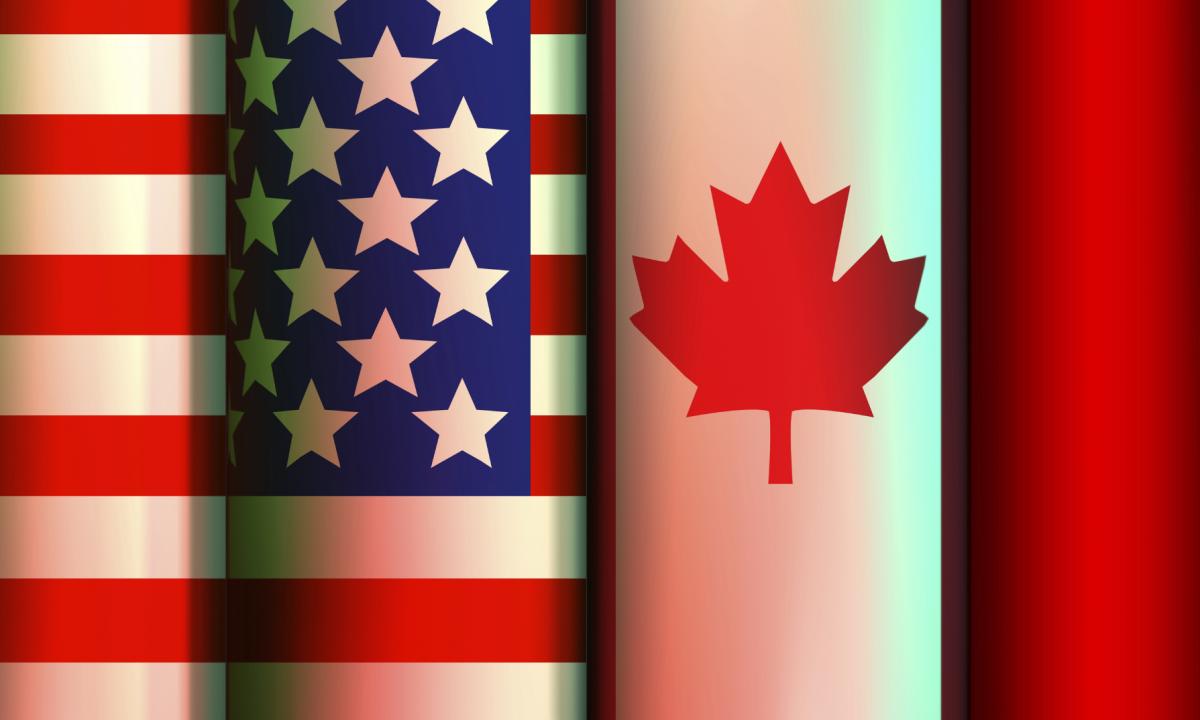 NMPF, together with the U.S. Dairy Export Council and the International Dairy Foods Association, are urging the Trump Administration and the governors of northern border states to fight back against protectionist Canadian trade policies that are increasingly shutting out American dairy exports, and thereby violating existing trade commitments between the two nations.
Canada's new "Class 7" pricing policy, which is expressly designed to disadvantage U.S. exports to Canada and U.S. milk powder exports to other markets, has resulted in multiple dairy companies in Wisconsin and New York informing many of their supplying farmers that the Canadian market for their exports is drying up. A number of dairy farmers in Wisconsin have been told by the company processing their milk and shipping it to Canada that they can no longer accept it starting in May as a result of Canada's National Ingredients Strategy and new Class 7 milk pricing program.
NMPF has been focusing on Canada's use of policy and regulatory tools to harm U.S. dairy exports for some time. In light of Canada's disregard for its trade obligations, and the damage this disregard causes to U.S. dairy farmers, NMPF has strongly urged the U.S. government and states to attack Canada's habitual efforts to negatively impact dairy trade.
"Canada's protectionist dairy policies are having precisely the effect Canada intended: cutting off U.S. dairy exports of ultra-filtered milk to Canada despite long-standing contracts with American companies," said Jim Mulhern, president and CEO of NMPF. "American companies have invested in new equipment and asked dairy farmers to supply the milk to meet demand in the Canadian dairy market. This export access has suddenly disappeared, not because the market is gone, but because the Canadian government has reneged on its commitments."
Although the near-term consequences of Canada's harmful approach to dairy policy affect farmers in the regions of this country that were exporting ultra-filtered milk to Canada, the even larger concern is the impact Canada's new ingredients strategy and Class 7 program could have on global milk powder markets. U.S. exports of skim milk powder play a critical role in contributing to the prices farmers receive for their milk.
Roughly half of U.S. milk powder is exported around the world. Part of what Canada has sought to do with its new program is to use it to move significant quantities of excess skim solids out of Canada and onto global markets – at whatever the price may be. This intention to undercut global milk powder markets poses a risk of hundreds of millions of dollars to American dairy farmers through downward pressure on global milk powder markets. This element has been a key concern for NMPF throughout the process and is part of what makes this a national issue with the risk to impact producers across the country.
While Canada goes to great lengths to limit U.S. dairy access to the Canadian market, our northern neighbor is quite happy to ship goods to the U.S. — we are Canada's largest export market, accounting for approximately three-fourths of Canada's total exports.
---
U.S. Dairy Execs Tout Strong Partnership with Mexican Dairy Industry During Visit
April 07, 2017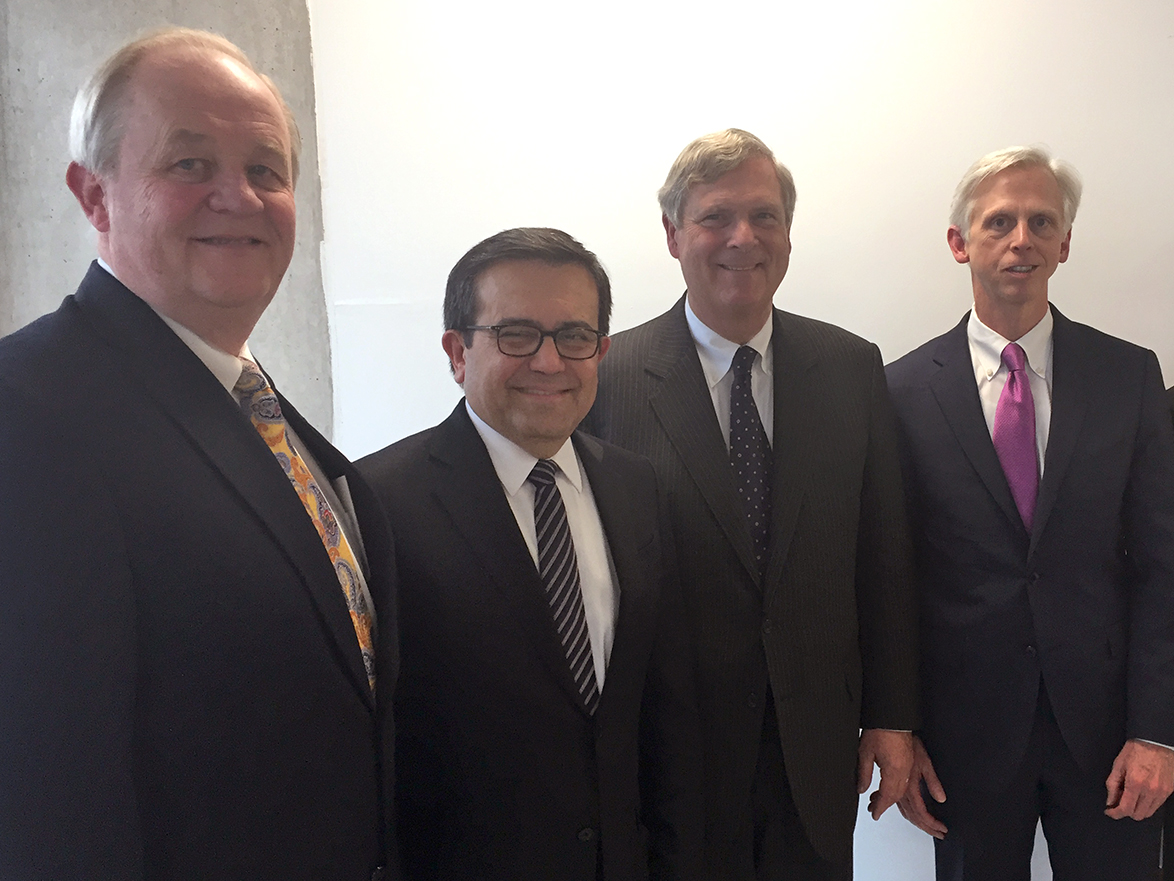 NMPF President and CEO Jim Mulhern, along with his counterparts at the U.S. Dairy Export Council (USDEC) and the International Dairy Foods Association (IDFA), pledged a continued commitment to dairy trade with Mexico during discussions last month with Mexican government, dairy farmers and industry officials.
Mulhern, joined by Tom Vilsack of USDEC and Michael Dykes of IDFA, stressed the U.S. dairy sector's robust commitment to Mexico's dairy industry – the No. 1 market for American dairy exports.
"Mexico is our friend, ally and most important trading partner," said Mulhern in meetings with high-ranking leaders of the Mexican dairy industry. "Our goal in visiting Mexico is to communicate our steadfast dedication to our partnership with the Mexican industry, even as we continue to explore ways to deepen that relationship by working on issues of mutual benefit."
Mulhern and Vilsack spoke at the Femeleche conference in Mexico City, which brought together Mexican dairy industry leaders, farmers and government officials. To further convey the organizations' commitment to collaboration with Mexico, the three CEOs also met with Mexican Minister of Economy Ildefonso Guajardo Villarreal (pictured above), as well as the Mexican Minister of Agriculture Jose Eduardo Calzada Rovirosa and the U.S. Ambassador to Mexico Roberta Jacobson.
"By working together on these issues, we can harness the strength of our voices," Mulhern said during the forum. NMPF's outreach follows the Memorandum of Understanding NMPF and USDEC signed last August with key Mexican industry organizations, creating the U.S.-Mexico Dairy Alliance. Both initiatives were aimed at cultivating the critically important U.S.-Mexico relationship, which has provided a boon to U.S. dairy exports and helped spur gains in Mexican dairy consumption, to both nations' benefit.
The reassurance from U.S. dairy leaders is coming at a pivotal time in U.S.-Mexico trade relations. The Trump Administration recently released a draft of the NAFTA renegotiations letter it intends to submit to Congress. That letter references the goal of "maintaining and expanding current market access" to Mexico and Canada – echoing a key message Mulhern delivered while in Mexico last month.
---
Dairy Trade Priorities Reflected in USTR National Trade Estimate Report
April 07, 2017

The Office of the U.S. Trade Representative's annual National Trade Estimate (NTE) report issued late last month highlighted many of the dairy trade priorities that NMPF has been encouraging the Trump Administration to address.

The NTE, submitted to Congress and the president, highlights significant foreign barriers to U.S. exports. It is intended to represent an "inventory of the most important barriers affecting U.S. exports" and to "enhance awareness of these trade restrictions and facilitates negotiations aimed at reducing or eliminating these barriers."

To ensure that USTR incorporated in its list several key issues for U.S. dairy producers, NMPF and the U.S. Dairy Export Council filed detailed comments, and many of the topics the groups highlighted were subsequently cited in the 2017 report. Among the dairy trade issues included were: Canadian dairy trade barriers and policies; geographical Indications and their role in impeding US exports; Japan's high dairy tariffs; EU regulatory issues such as certification concerns and country of origin labeling requirements; Israel market access; Russia dairy plant registration requirements; Indian dairy certificate requirements; and other topics.
---
Coalition Letter to Trump Urges Need for Immigration Reform for Dairy, Other Ag Sectors
April 07, 2017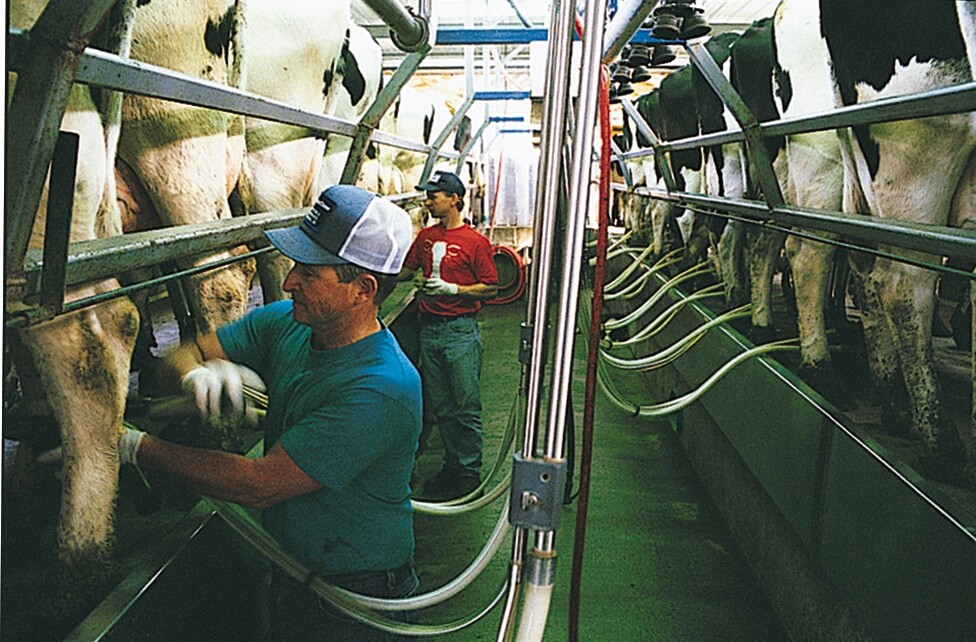 The Agriculture Workforce Coalition (AWC), of which NMPF is a founding member, called on the Trump Administration to focus on immigration reforms that will benefit dairy farmers and the rest of U.S. agriculture in a letter sent last week to President Donald Trump. NMPF signed the letter on behalf of all its dairy cooperative members, and was among 70 groups representing a broad cross-section of farm commodities calling for labor policy reforms to ensure that American agriculture has a legal, stable supply of workers.
"Our farmers face growing shortages of legally authorized and experienced workers each year," the AWC told the White House. "This shortage of labor negatively impacts our economic competitiveness, local economies and jobs. Reforms are necessary to address the agricultural labor shortage."
The letter specifically addressed the needs of the dairy sector, emphasizing that for dairy farmers, "cows must be milked twice a day, 365 days a year. Thus, dairy farmers are left without any legal channel to find workers when U.S. workers are simply not available or not interested."
The AWC noted that the only current guest worker program available, the H-2A visa program, only allows for temporary or seasonal workers, and therefore cannot be used by certain farm sectors, including dairy, that have a year-round need for labor.
What's more, the coalition said, this labor shortage threatens jobs far beyond the farm. Each farmworker engaged in crop or livestock production supports 2-3 other jobs off the farm, such as those in food transportation, processing and marketing.
In addition to laying out the reason why a new guest worker program is essential to the health of the farm sector, AWC also urged the Administration to create a lawful path so the current undocumented foreign laborers can obtain legal status.
"Agriculture needs a new program that meets the needs of our diverse industry and functions as efficiently as the current free market while providing the security of legal, documented temporary workers," the letter said.
---
Dairy Farmer Newspaper Column Encourages Support for DAIRY PRIDE Act
April 07, 2017

In mid-March, Maine dairy producer Travis Fogler, a member of Dairy Farmers of America, published an opinion piece in the state's largest newspaper in which Fogler encouraged support for the DAIRY PRIDE Act (DPA), legislation that would require the U.S. Food and Drug Administration (FDA) to enforce the long-standing regulation that "milk" must come from an animal source. Shortly after its publication, Maine Sen. Angus King (ME-I) came out in support of the legislation.

In the piece, printed in the Portland Press Herald, Fogler said that "dairy farmers work extremely hard to follow our industry's extensive regulations – including the Food and Drug Administration's labeling laws specifying what milk is. Government regulations say imitators shouldn't be able to copy the names of cheese and yogurt," he noted, adding that "for more than a decade, we've seen an explosion of products that mimic certain attributes of milk, including co-opting that very name. Unfortunately, the FDA has turned a blind eye to this growing practice."

Fogler's article joins another recent op-ed column from NMPF President and CEO Jim Mulhern in calling for congressional backing of the DPA, which was introduced by Sen. Tammy Baldwin (D-WI) in the Senate, and by Representatives Peter Welch (D-VT), Mike Simpson (R-ID) and Sean Duffy (R-WI) in the House.

To help generate support from its dairy producer-members, NMPF has been providing cooperatives with legislative action alerts, news articles, infographics and other materials. NMPF strongly encourages cooperatives to share these materials with staff, producer-members and on social media to whip up industry and congressional support for the two bills.

NMPF has also been promoting a series of colorful graphics on Facebook and Twitter that call out the nutritional disparity between real dairy and its copycats. As Fogler noted in his column, "All the camouflage in the world won't produce the natural goodness of real milk."
---
Trump Pick for USTR Says Agriculture Will be Priority in Trade Negotiations
April 07, 2017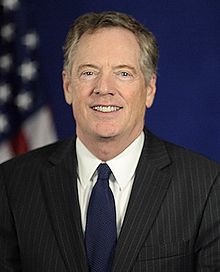 U.S. Trade Representative Robert Lighthizer aligned himself with several NMPF trade priorities during a hearing on his nomination last month before the Senate Finance Committee. In preparation for that hearing, NMPF and the U.S. Dairy Export Council (USDEC) asked senators on the committee to ensure that key dairy policy issues, including trade with Canada and the importance of common food names, were addressed.
Lighthizer's replies reflected a clear recognition of the importance of agricultural trade, a point NMPF has raised repeatedly with Congress and the Trump Administration to counter what has appeared to be a growing skepticism of trade agreements.
Lighthizer was nominated for the USTR position in January, but has not yet been confirmed. NMPF supports his confirmation and has urged the Senate to quickly approve him.
As the lead U.S. trade negotiator, Lighthizer said he would be a champion for agriculture, adding, "I assure you we will prioritize agriculture, both with maintaining what we have and by also gaining market access."
With the future of NAFTA still uncertain, Lighthizer said that any negotiations must preserve current market access while improving NAFTA for all three countries. If done properly, he added, it will not harm agriculture's stake in the agreement. This approach is the same one NMPF has recommended to the Trump Administration and Congress as being most beneficial in NAFTA discussions.
In addition to questions from senators highlighting the importance of agricultural trade, Lighthizer was also pressed on both Canada's protectionist dairy policies and Europe's use of Geographic Indications (GIs). In reference to the latter, he said, "We have to take it head on … We want to discourage other countries from agreeing to these geographic indicators and resist them in the United States."
Sen. Orrin Hatch, chairman of the Senate Finance Committee, has indicated the Committee hopes to vote to approve Lighthizer's nomination as the U.S.'s chief trade negotiator when the Senate returns after the Easter recess.
NMPF looks forward to engaging with the incoming USTR on the importance of pursuing well-negotiated trade agreements that would help the dairy sector serve consumers all over the world.
---
MPP Forecast: April
April 07, 2017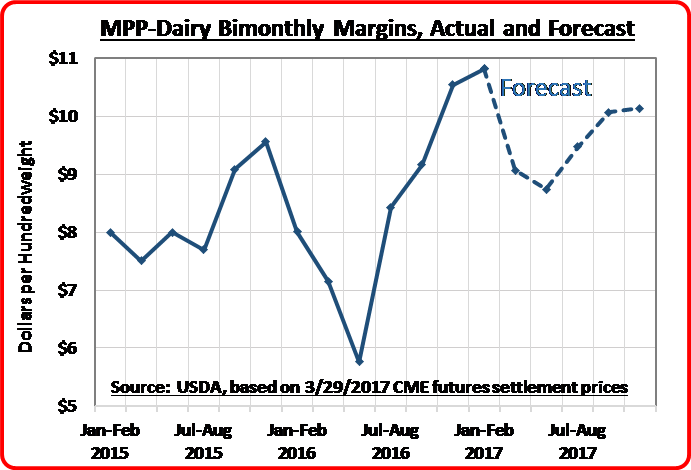 The U.S. average all-milk price dropped $0.40 per hundredweight from January to February, to $18.50 per hundredweight. The February all-milk price decline was consistent with the February federal order prices announced at the beginning of March.
Milk prices have come under pressure from increased U.S. milk and cheese production, as well as recent weakness in global nonfat skim milk powder/nonfat dry milk markets. These developments have dragged the CME price for block cheese down by almost $0.50 a pound from its high in early February, to a mid-March low. The daily CME price for Grade A nonfat dry milk dropped by $0.26 between early January and the beginning of March.
However, the domestic cheese market became oversold and subsequently rebounded by $0.15 a pound later in March. This price rebound occurred despite significant American-type cheese stock levels at the end of February that have been exceeded only during the dairy surplus years of 1983-1986.  Prices were also influenced by indications that milk production growth has likely stabilized at around 2.5 percent per year.
The March 30 CME futures prices indicated that the U.S. average all-milk price should bottom out in the high $16-per-hundredweight range during the spring months, and average about $17.80 per hundredweight during calendar year 2017 — $1.50 higher than 2016. USDA currently forecasts that average milk prices for all of 2017 will fall within in the range of $17.80-$18.40.
Feed ingredient prices announced by NASS for February translate into a monthly Margin Protection Program feed cost of $7.92 per hundredweight and a monthly MPP margin of $10.58 per hundredweight for February, which makes the January-February margin equal to $10.82 per hundredweight.
USDA's current MPP margin forecast, based on the March 29 CME futures settlements, projects the margin will remain above $9 during most of 2017. USDA is currently projecting a lower probability than it did a month earlier in that the margin will fall below the $8 coverage level during 2017, with an 18 percent probability that this will occur during May-June and a lower likelihood during other bimonthly periods this year.
USDA's MPP margin forecasts are updated daily online. NMPF's Future for Dairy website offers a variety of educational resources to help farmers make better use of the program.
---
CWT Assists Members in Capturing 12.5 Million Pounds of Dairy Export Sales in March
April 07, 2017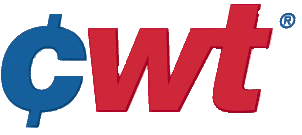 Cooperatives Working Together assisted member cooperatives in securing 78 contracts in March to sell 12.53 million pounds of cheese and 52,360 pounds of butter to customers in Asia, Central America, the Middle East, North Africa and Oceania. The product will be shipped from March through June 2017.
The addition of these transactions to the CWT-assisted sales made in January and February raised the total number of CWT sales to 23.49 million pounds of cheese and 1.43 million pounds of butter. In total, these sales to customers in 12 countries on five continents will move the equivalent of 248.94 million pounds of milk on a milkfat basis overseas in the first six months of 2017.
Helping CWT member cooperatives gain and maintain world market share through the Export Assistance program in the long-term expands the demand for U.S. dairy products and the U.S. farm milk that produces them. This, in turn, positively affects all U.S. dairy farmers by strengthening and maintaining the value of dairy products that directly impact their milk price.
The amounts of dairy products and related milk volumes reflect current contracts for delivery, not completed export volumes. CWT will pay export assistance to the bidders only when export and delivery of the product is verified by submission of the required documentation.
All cooperatives and dairy farmers are encouraged to add their support to this important program. Membership forms are available on the CWT website.
---
FARM Program, BQA Releases Stockmanship Training Video
April 07, 2017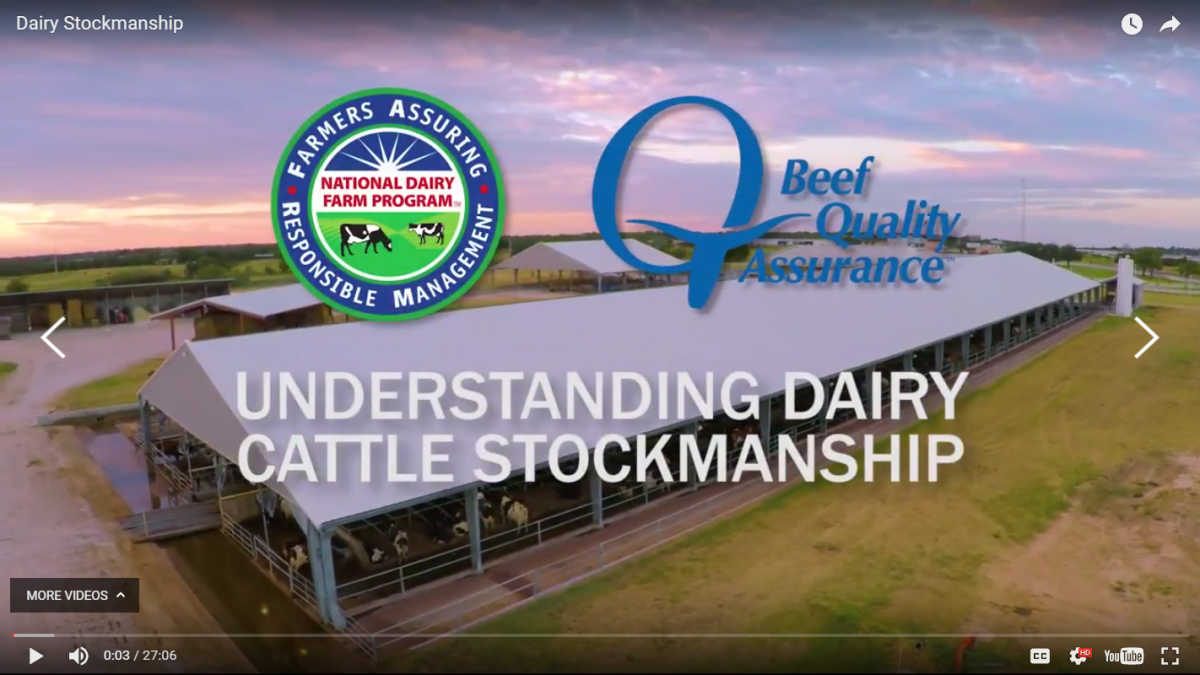 The National Dairy FARM Program released in mid-March a new stockmanship training video as part of the program's partnership with the National Beef Quality Assurance (BQA) program.
The 27-minute video is divided into several chapters, including "Point of Balance," "Understanding the Flight Zone" and "Utilizing Tools to Effectively Move Cattle." Each segment contains reminder points and multiple choice questions to test viewers' understanding of the content. The video can serve as a training resource to satisfy the FARM Animal Care Version 3.0 requirement for annual employee training.
The video, directed by Dr. Robert Hagevoort of New Mexico State and the U.S. Dairy Education & Training Consortium is available on the FARM Program website and YouTube page in both English and Spanish.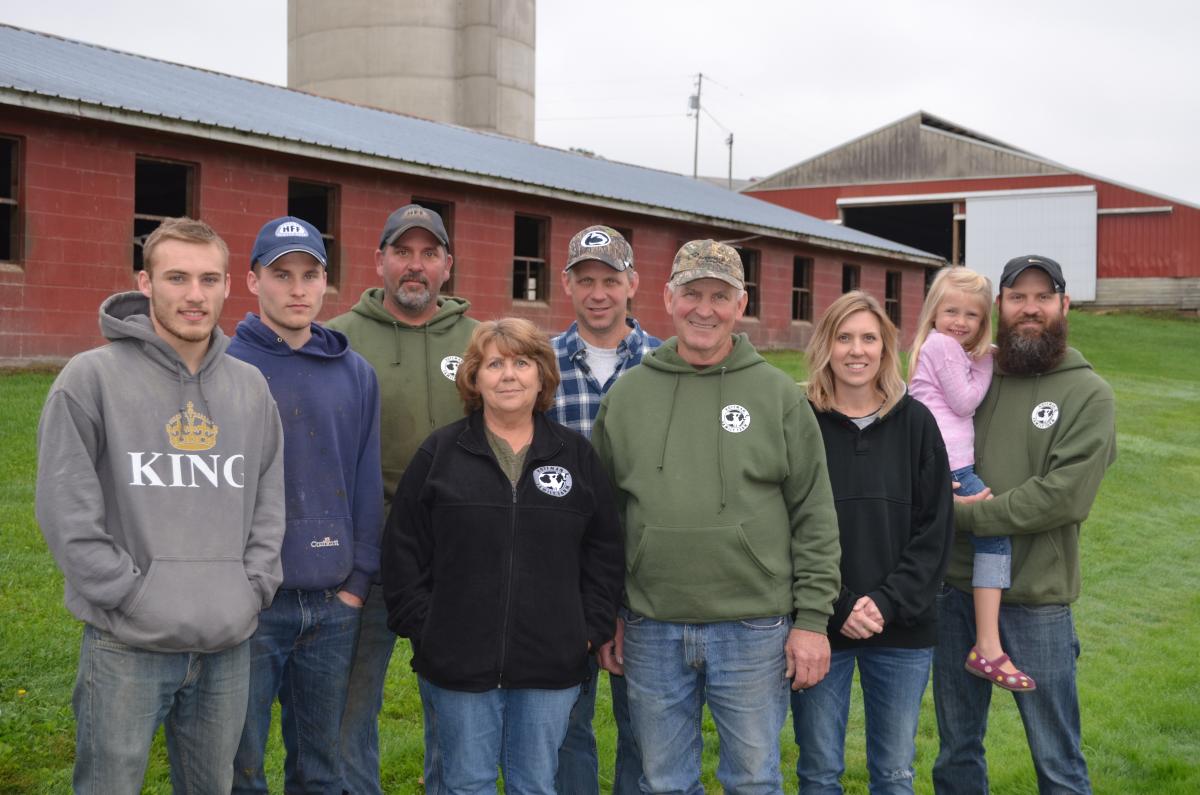 One FARM Program family recently received recognition for their work in stockmanship. Dale and Carol Hoffman were awarded the 2017 National Beef Quality Assurance Award in March. The award is given to outstanding members of the beef industry in five categories: Cow-Calf, Feedyard, Dairy, Marketer and Educator
The Hoffmans (pictured right) are members of Land O' Lakes, Inc., and hail from Pennsylvania. Their farm began in 1976 with just 40 cows and 400 acres, but has since expanded to include 800 milking cows.
---