Perdue Agrees During Senate Hearing to Help Fix Dairy Safety Net
April 7, 2017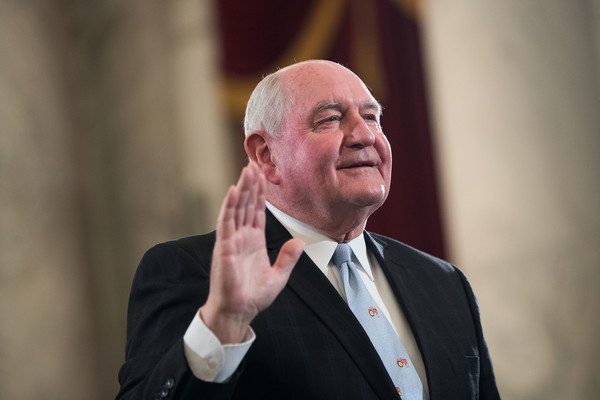 During a Senate Agriculture Committee confirmation hearing March 23, Agriculture Secretary-elect Sonny Perdue indicated he supports improvements to the dairy safety net, and as head of USDA would also advocate for policies that expand the availability of farm labor in dairy production.
The nomination of the former Georgia governor as the next Secretary of Agriculture was approved by the Senate Agriculture Committee on March 30. His confirmation now awaits action by the full Senate, expected to take place sometime after Congress returns from its two-week Easter recess beginning April 7. NMPF has urged the Senate to swiftly confirm Perdue.
Perdue, who grew up on a farm, told Agriculture Committee members that he understands the plight of dairy farmers, and promised to work with the dairy sector on improving the Margin Protection Program (MPP). This includes reviewing NMPF's recent four-point plan to fix the MPP. Perdue also expressed an openness to examining ways to create additional risk management coverage for milk through USDA's Risk Management Agency.
Perdue said he is "absolutely committed to looking for a way to give immediate and temporary relief ahead of the 2018 farm bill."
On the issue of immigration reform, Perdue said he would support an exemption to the H-2A program so that dairy farms could hire workers for year-round labor. The current seasonal H-2A visa program does not apply to dairy farms because of their perennial need for farm labor.
Perdue was the last of Trump's nominees to receive a hearing. After the announcement of his nomination, NMPF joined more than 600 other farm organization in January urging his approval to the post. NMPF believes Perdue's extensive experience in public policy, business and agriculture makes him well-positioned to lead USDA. In addition to serving as governor for eight years, Perdue is the founder of three agribusiness firms and is trained as a veterinarian.