Trump Pick for USTR Says Agriculture Will be Priority in Trade Negotiations
April 7, 2017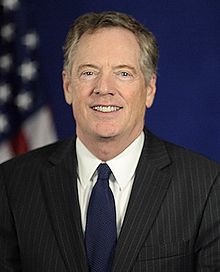 U.S. Trade Representative Robert Lighthizer aligned himself with several NMPF trade priorities during a hearing on his nomination last month before the Senate Finance Committee. In preparation for that hearing, NMPF and the U.S. Dairy Export Council (USDEC) asked senators on the committee to ensure that key dairy policy issues, including trade with Canada and the importance of common food names, were addressed.
Lighthizer's replies reflected a clear recognition of the importance of agricultural trade, a point NMPF has raised repeatedly with Congress and the Trump Administration to counter what has appeared to be a growing skepticism of trade agreements.
Lighthizer was nominated for the USTR position in January, but has not yet been confirmed. NMPF supports his confirmation and has urged the Senate to quickly approve him.
As the lead U.S. trade negotiator, Lighthizer said he would be a champion for agriculture, adding, "I assure you we will prioritize agriculture, both with maintaining what we have and by also gaining market access."
With the future of NAFTA still uncertain, Lighthizer said that any negotiations must preserve current market access while improving NAFTA for all three countries. If done properly, he added, it will not harm agriculture's stake in the agreement. This approach is the same one NMPF has recommended to the Trump Administration and Congress as being most beneficial in NAFTA discussions.
In addition to questions from senators highlighting the importance of agricultural trade, Lighthizer was also pressed on both Canada's protectionist dairy policies and Europe's use of Geographic Indications (GIs). In reference to the latter, he said, "We have to take it head on … We want to discourage other countries from agreeing to these geographic indicators and resist them in the United States."
Sen. Orrin Hatch, chairman of the Senate Finance Committee, has indicated the Committee hopes to vote to approve Lighthizer's nomination as the U.S.'s chief trade negotiator when the Senate returns after the Easter recess.
NMPF looks forward to engaging with the incoming USTR on the importance of pursuing well-negotiated trade agreements that would help the dairy sector serve consumers all over the world.