Rep. Goodlatte's Agriculture Guestworker Act Would Create New Visa Category to Include Dairy Workers
September 11, 2017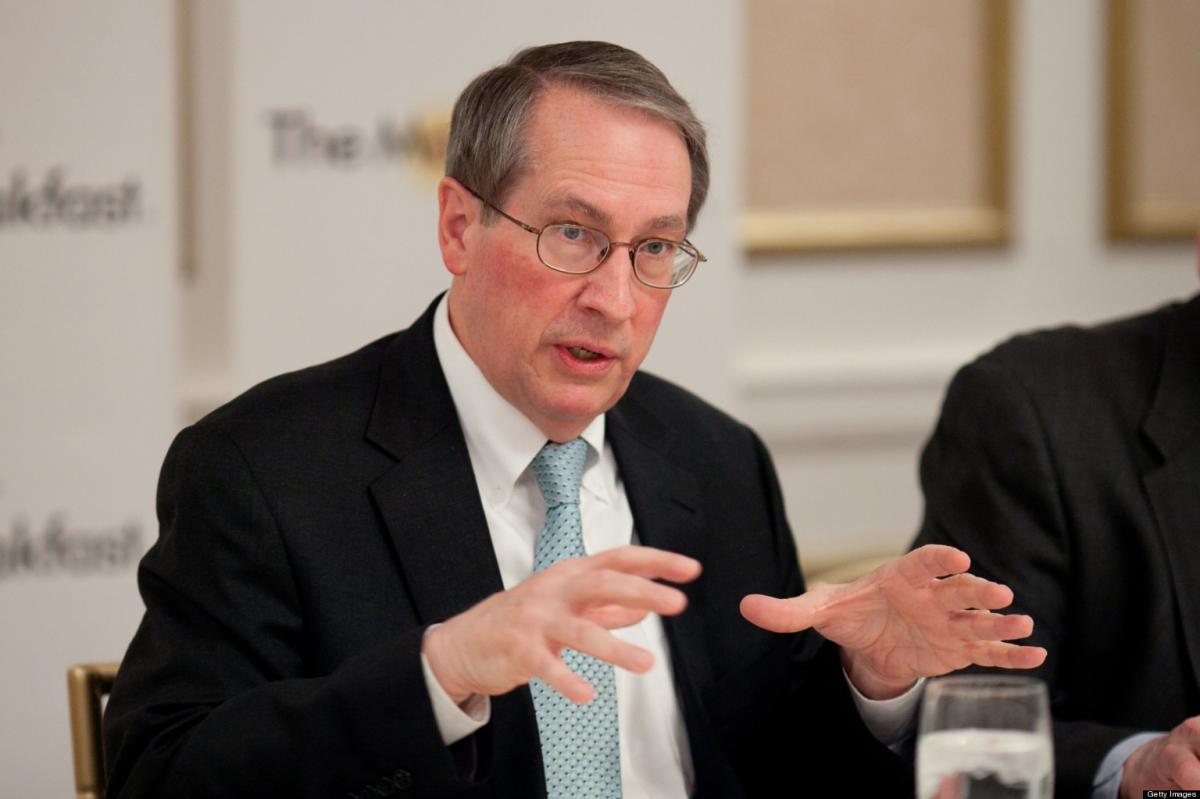 In response to requests from NMPF and other farm groups, House Judiciary Committee Chairman Bob Goodlatte (pictured right) plans to introduce the Agriculture Guestworker (AG) Act in the near future, a new approach to resolve many of the labor challenges facing dairy farmers. Chairman Goodlatte has long been a strong supporter of the need to create a viable guest worker program for the agriculture community, and has worked with National Milk to ensure his new legislation will address the unique challenges that the dairy industry faces in obtaining farm workers.
The AG Act will create a new H-2C visa category for agriculture workers that will include the dairy industry – both on-farm workers and those in food processing. The proposed legislation will require a "touchback" of current workers, but these workers will be able to return to their place of employment afterward. In addition to addressing current workforce issues, this legislation will also establish a pipeline for future foreign workers. Importantly, it will include provisions that ensure dairy farmers who have employed improperly documented workers will be held harmless.
On Sept. 8, National Milk hosted an informative webinar for the organization's board of directors and state dairy associations to discuss recent developments on immigration reform, including the latest on the AG Act. Stephanie Gadbois, senior counsel for the House Judiciary Committee, outlined the collaborative process that led to the creation of the AG Act, and expressed Chairman Goodlatte's appreciation for NMPF's leadership, engagement and advocacy on this important issue.
"This legislation represents our best opportunity to develop a new visa program that can be utilized by dairy farms and their workforces," said NMPF President and CEO Jim Mulhern. "We've worked extensively with Rep. Goodlatte and his staff on this bill and believe passage of an ag jobs bill is critically important to agriculture as a whole."
When the House begins work to advance immigration reform legislation, it will be vital for dairy farmers to continue making their voices heard on this critically important issue.
---
USDA Opens MPP Enrollment, Allows Farmers to Opt Out for 2018
September 11, 2017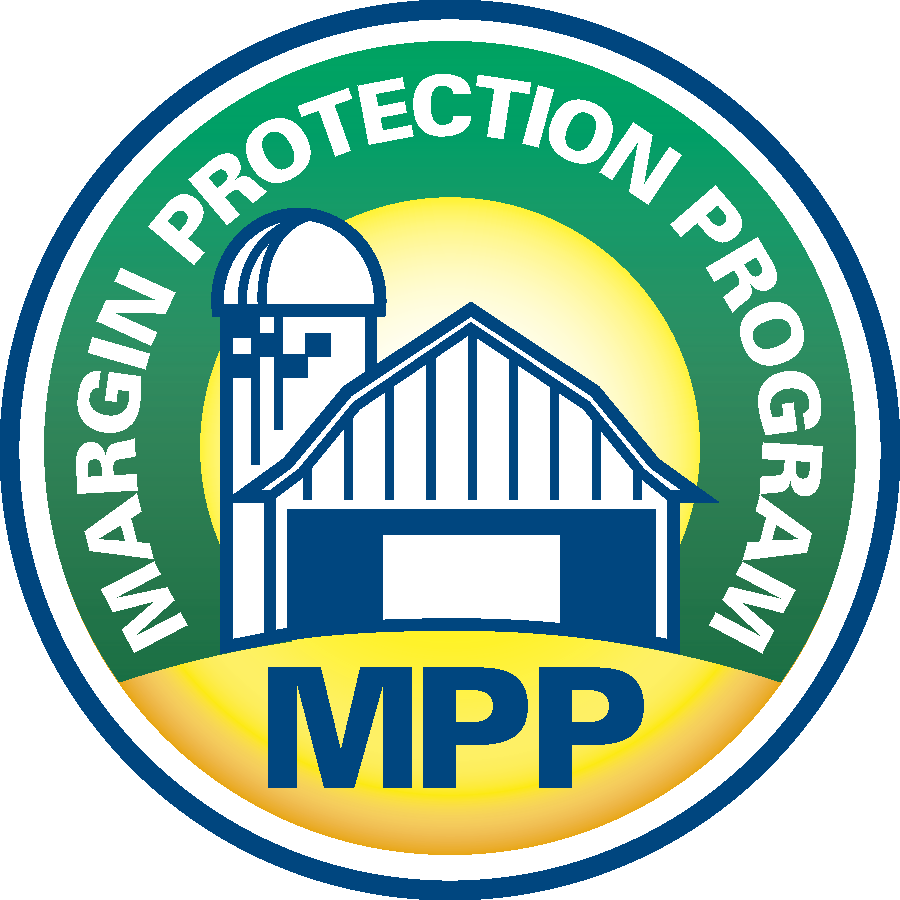 The U.S. Department of Agriculture (USDA) responded to requests from NMPF to allow farmers more flexibility in the use of risk management tools by announcing on Aug. 31 that dairy farmers currently enrolled in the Margin Protection Program (MPP) can opt out of it in 2018.
Producers wishing to opt out should not sign up during the annual registration period that began Sept. 1 and closes Dec. 15. By opting out, a producer will not need to pay the $100 annual administrative fee, but will not receive any MPP-dairy protection if payments are triggered for 2018. This disenrollment option is for 2018 only and is not retroactive.
"The MPP in its current form has been a disappointment to many dairy farmers, which is why NMPF has been working both with USDA and Congress to make significant improvements to the program. We had earlier suggested to USDA that, given this level of dissatisfaction, one option would be to allow farmers to opt out of the MPP in the coming year," said Jim Mulhern, president and CEO of NMPF.
"Looking ahead, Congress must make necessary improvements to the MPP so that the program provides a more effective, affordable safety net – one that provides support when farmers need it. We are currently working with lawmakers to secure such program improvements that will restore farmers' faith in the value of the MPP. We also will continue to work with USDA and Congress to develop additional risk management options for dairy producers," Mulhern said.
The USDA has more information about the MPP on its website, with additional resources available also at its Future for Dairy website.
---
U.S., Mexico Dairy Industries Agree on Priorities for Solidifying Partnership, Advancing NAFTA Goals
September 11, 2017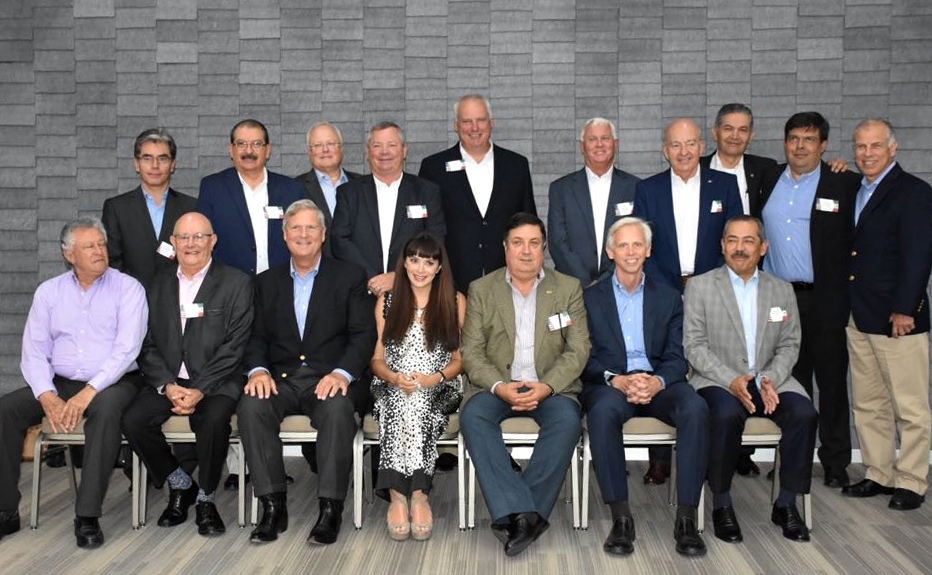 At a time when dairy exports play a growing role in boosting U.S. dairy farmers' incomes, NMPF has been engaged on several fronts to defend access to Mexico, its largest export market, including during a high-level industry meeting last month.
Representatives from NMPF and the U.S. Dairy Export Council (USDEC) met last month in Guadalajara with their counterparts from several Mexican dairy organizations to prioritize ways to solidify the already strong relationship between the countries, even as government trade negotiators began meeting in August to decide the fate of the North American Free Trade Agreement (NAFTA).
"This deepening of the U.S.-Mexico dairy partnership comes at a particularly important time, given the ongoing NAFTA negotiations, Canada's threat to dump milk proteins in global markets, and the EU-Mexico trade talks that could restrict the use of common food names," said Jim Mulhern, who represented NMPF at the meeting of the United States-Mexico Dairy Alliance. Alliance members met for the first time in 2016 to identify mutual concerns; this year's focus was on expanding collaboration while preserving current trade benefits.
The Alliance generated a set of nine priorities, with the protection of current trade relationships at the top of the list. That was followed by the need to address harmful European Union (EU) and Canadian trade policies. In addition, the United States included a provision that the exportation of dairy products should be based on sanitary and scientific standards.
The NAFTA renegotiation process emerged as an important topic of discussion because the trade agreement is the foundation of the industries' mutually beneficial free-trade relationship. Enacted in 1992, NAFTA removed barriers to dairy trade, and has led to more than a six-fold increase in U.S. dairy exports to Mexico, reaching $1.2 billion in 2016.
In addition, Alliance representatives assessed the threat posed by efforts to restrict the use of common food names, as the EU seeks to impose new geographical indications that will be barriers to dairy trade. U.S. and Mexican cheesemakers are concerned this strategy would give the EU exclusive use of common cheese names like asiago, gorgonzola, parmesan and feta.
The summit also reviewed the implication of Canada's new dairy pricing policy, which is a major concern to all parties. Canada's new Class 6/7 pricing policy has drawn strong objections from both the United States and Mexico, and was a significant point of discussion at the meeting.
"We are very pleased that our friends in Mexico have joined us in expressing opposition to the abusive attempts of the EU to confiscate common food names, as well as the trade distorting practices of Canada, at a time when we are working to facilitate new opportunities throughout North America," Mulhern said. "This meeting provided an opportunity to explore how we can deepen those efforts."
---
NMPF Engages with U.S. Negotiators Throughout NAFTA Modernization Process; Objects to Korea Trade Pact Pullout
September 11, 2017

Last month, negotiations over the North American Free Trade Agreement (NAFTA) kicked off in Washington, followed shortly by a second round of talks in Mexico. NMPF has been preparing for these negotiations throughout the year by engaging with the Trump Administration and Congress, as well as through complementary efforts with several Mexican dairy organizations [see related story above] to advance dairy priorities in the United States' most important free trade agreement (FTA).

NMPF staff attended the first round of negotiations in Washington and were in Mexico the week before the second round. The first-round engagement included meetings with U.S. and NAFTA partner negotiators, as well as discussions with agricultural industry representatives from Mexico and Canada. The visit to Mexico offered an opportunity to show U.S. and Mexican NAFTA negotiators the alignment between the two dairy industries on many of NMPF's key goals before discussions began the following week. The administration's NAFTA objectives, released in July, capture NMPF's key priorities in these negotiations. NMPF's focus now is on working with U.S. negotiators to achieve those goals.

The next stage of negotiations will take place in Canada in late September. Throughout the month, NMPF will engage with Congress and U.S. negotiators on the importance of preserving existing trade opportunities in NAFTA, which includes rejecting new barriers to trade, removing existing trade-distorting policies – such as Canada's Class 6/7 pricing program – opening Canadian market access opportunities, and updating NAFTA rules on SPS and geographical indications to safeguard avenues for U.S. exports.

NMPF also raised concerns with U.S. trade officials during the Labor Day weekend to a rumored withdrawal by the United States from its free trade agreement with South Korea. In interactions with members of Congress, state governors and the Trump Administration, NMPF and its members said that withdrawing from the 10-year-old U.S.-South Korea FTA would devastate exports to the United States' fourth-largest dairy export market. Following the Labor Day weekend, the White House indicated it was not planning to pursue withdrawal in the near term.
---
NMPF Tells FDA: Reject Vegan Petition Encouraging Misleading Labeling Tactics
September 11, 2017

In the latest chapter in the debate over the proper use of dairy food terms, National Milk and its members told the U.S. Food and Drug Administration (FDA) last month to reject a petition by a vegan organization that would undermine federal standards of identity for food and encourage misleading marketing tactics of imitation dairy products.

Earlier this spring, the Good Food Institute (GFI) filed a petition requesting that FDA permit manufacturers of plant-based products to use labels that employ standardized dairy terms such as "milk." In response, NMPF submitted comments on Aug. 29 declaring the petition at odds with established laws and inconsistent with FDA regulations, which state that foods labeled "milk" must come from an animal. Many of NMPF's members, along with other dairy organizations, provided similar input to FDA. The 130 comments ran 12-to-1 in favor of NMPF's position.

"GFI's petition flies in the face of established law and common sense," said NMPF President and CEO Jim Mulhern. "Nothing has happened in the last 20 years that makes it OK to combine plant or nut powders with water, sugar, emulsifiers, stabilizers, and other chemicals, and call it 'milk.' This request is wrong on its merits and is designed to further mislead consumers."

In its comments, NMPF argued that plant-based beverages use standardized dairy terms "to imitate milk and other real dairy products, and to benefit unfairly from the reputation that real dairy foods have for nutritional content and quality." However, none of these beverages has been found to contain the consistent nutrient package found in cow's milk and therefore cannot be considered an adequate replacement.

Labeling non-dairy products with dairy terminology, the organization added, can mislead consumers into thinking the imitation contains the same nutritional benefits. GFI's petition "would only exacerbate this misconception," NMPF said.

Instead, truthfully labeling these foods as plant-based beverages is the "simplest and most certain way to promote honesty and fair dealing in the interests of consumers," according to the comments.

NMPF also challenged GFI's argument that enforcing standards of identity is "anti-competitive," and said plant-based drinks are welcome in the marketplace so long as they are labeled appropriately.
---
New Food Labeling Regulation Should Not Disparage Biotechnology, NMPF Tells USDA
September 11, 2017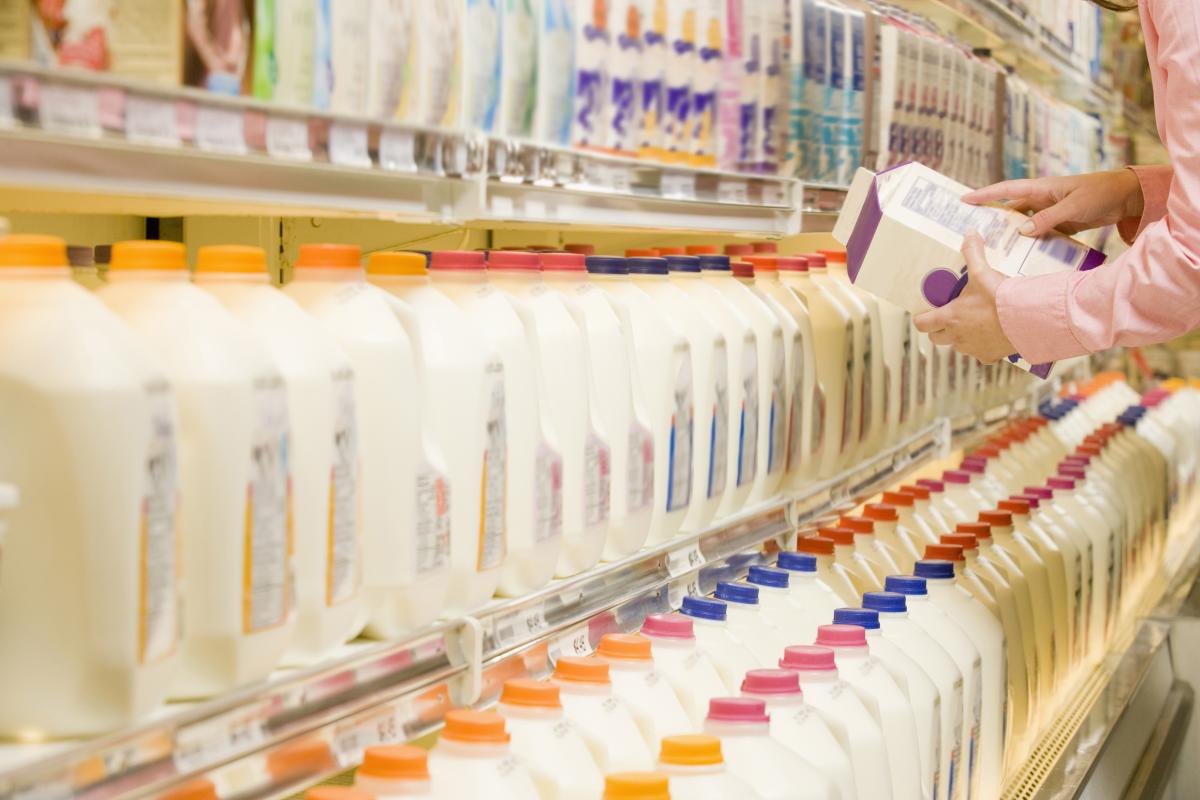 As the U.S. Department of Agriculture (USDA) prepares to develop a regulatory standard for the labeling of bioengineered food ingredients, it must ensure that consumers receive clear, accurate information about the foods they eat, NMPF told the agency last month.
In comments filed with USDA's Agriculture Marketing Service, NMPF said it supports a strict, science-based approach in determining how foods made using bioengineering should be regulated. Since bioengineered foods have repeatedly been found to be completely safe by both domestic and international science organizations, NMPF said the new standard under review by USDA should focus on providing consumers accurate information, while discouraging misleading marketing tactics or meaningless absence claims.
NMPF's comments were among many submitted to USDA by farm and food organizations that worked together last year to help pass the National Bioengineered Food Disclosure Standard, which was signed into law by President Barack Obama in July 2016.
There is "irrefutable scientific evidence that such foods are safe and not materially different from their conventional counterparts," said NMPF President and CEO Jim Mulhern. However, he said, too many food companies utilize "fear-mongering" to vilify food biotechnology as they seek to profit from the consumer confusion surrounding its use.
In its comments, NMPF emphasized that Congress clearly recognized in the law that feeding farm animals grains developed through biotechnology has no effect on the meat and milk derived from those livestock. Thus, Mulhern noted, "dairy foods are not genetically modified products and therefore there is nothing to label." More than 60 other nations around the world have biotech disclosure requirements, and none have labeling requirements on milk or meat from animals that may have consumed bioengineered grains.
National Milk stressed that the bioengineered food disclosure standard is really a measure to regulate food marketing, not food safety. Therefore, in determining the level of a substance needed for a product to be considered bioengineered, NMPF suggested that USDA use the same 5-percent threshold employed by the National Organic Program (NOP), another marketing program administered by the department. Under this approach, the minimum disclosure level for bioengineered ingredients would be 5 percent, below which mandatory label disclosure would not be required.
To avoid consumer confusion and the use of ambiguous labels, NMPF suggested that only two designations be used to disclose bioengineered foods: "contains bioengineered ingredients" and "may contain bioengineered ingredients." It also insisted that any disclosure be "non-disparaging" to bioengineering technology.
USDA will review all the comments it received and use them in developing a proposed rule, to be issued in the months ahead. When issued, NMPF will review the proposed rule and submit comments on behalf of the dairy industry.  A final rule is planned for July 2018.
---
NMPF Launches New Consumer Campaign to Call Out Misleading Food Labels
September 11, 2017

NMPF launched a new consumer-focused campaign last week to highlight the need for truth and transparency in food marketing. Billed as "Peel Back the Label," the campaign calls out food manufacturers that increasingly utilize absence claims like "GMO free" to play on consumers' food safety fears and misconceptions.
This effort comes as almost 70 percent of consumers say they look to front-of-label claims when making food purchasing decisions, and as food manufacturers increasingly turn to fear-based food labeling to hold or gain market share, presenting consumers with more confusion in the grocery aisles.
"America's dairy farmers strongly support open, honest and transparent engagement with consumers. The deceptive labels and fear-based marketing increasingly used by some food manufacturers damages consumer trust and jeopardizes the safe, sustainable farming practices that have enhanced farm productivity over the last 20 years," said Jim Mulhern, president and CEO of NMPF. "Consumers have a right to both truth and transparency in food labeling. We launched this campaign to help consumers peel back the label on deceptive food marketing in the name of profits."
This trend toward deceptive labeling practices is particularly concerning for the dairy industry. Last year, NMPF and other leading farm organizations publicly raised concerns regarding Dannon's announcement of its plans to eliminate GMOs from its products, saying the company's decision was "the exact opposite of the sustainable agriculture that you claim to be seeking."
Other recent examples of deceptive or confusing marketing surrounding GMOs include:
Hunt's adding a "GMO-free" label to its canned tomatoes, even though there is no such thing as a genetically modified tomato currently on the market.
Florida's Natural adding a Non-GMO Project certification to its orange juice labels, despite the fact there are no commercially grown, genetically modified oranges.
TruMoo milk acknowledges GMOs are safe on its website, while at the same time launching an advertising campaign for its milk with the tagline, "No GMOs, No Worries."
Through the Peel Back the Label website, the campaign will give consumers access to the tools they need to separate hype from fact as they work to make informed food decisions for their families. It also will include ways for consumers to tell their own stories about the negative impacts of deceptive labeling, and share information with their social networks. NMPF will continue to highlight the problems caused by fear-based marketing as it also raises the issue with the news media, opinion leaders and the public.
---
Land O' Lakes on Fortune Magazine List Sustainable Companies
September 11, 2017

NMPF member Land O' Lakes, Inc. was recently included in Fortune Magazine's annual Change the World list, which honors 50 companies across the globe that include positive social impact as part of their core business strategy. Fortune ranked companies on three criteria: measurable social impact, business results and degree of innovation. Land O'Lakes was honored in part for its SUSTAIN program, which develops technology and tools to facilitate farmers' sustainability efforts.

In 2016, Land O'Lakes, Inc., formed SUSTAIN as a standalone business unit and natural extension of its member-farmers' commitment to caring for the earth. Since then, SUSTAIN has focused on conserving resources and highlighting methods to reduce greenhouse gas emissions, improve soil health, reduce soil loss and improve water quality.

"Stewardship of the land, water and air has been a hallmark of our farmers for generations, and Land O'Lakes SUSTAIN is a step forward to serve our members and customers even better while continuing to preserve our resources," says Chris Policinski, president and CEO of Land O'Lakes, Inc. "We believe that view, paired with the tools and technology we have developed, will help sustainability practices across the value chain of all our businesses and those of our partners."

NMPF President and CEO Jim Mulhern added: "This honor illustrates that farmers play a pivotal role in building a sustainable world. We are proud of the example set by Land O'Lakes as it commits to making meaningful impact on the environment by working with farmers, for farmers and for a better world for all."
---
MPP Forecast: September
September 11, 2017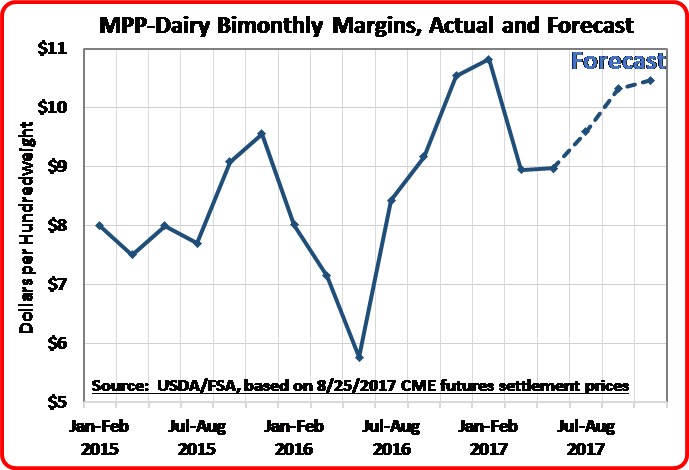 The U.S. Department of Agriculture's (USDA) Farm Service Agency announced in August that the monthly Margin Protection Program (MPP) feed cost for July was $8.22/cwt. NASS also reported that the U.S. average all-milk price was $17.30/cwt. in July, which was unchanged from June. The monthly MPP margin for July was $9.08/cwt.
Following recent drops in cash markets, particularly for block cheese, the current CME dairy futures have become less optimistic about the milk price outlook through the end of the year. They now indicate that there may be about another $1/cwt. of upside from the July all-milk price by November, the heart of the holiday season. The grain market futures collectively indicate that the MPP feed cost will remain relatively flat through the end of the year and that the monthly MPP margin will therefore advance to just over $10/cwt. by November. USDA's current MPP margin forecast, based on late August CME futures settlements, is slightly more optimistic. As shown, it forecasts that the last bimonthly margin for the year will be about $10.50/cwt.
USDA's MPP margin forecasts are updated daily online. NMPF's Future for Dairy website offers a variety of educational resources to help farmers make better use of the program.
---
CWT Members Make 3.3 Million Pounds of Cheese Sales in August
September 11, 2017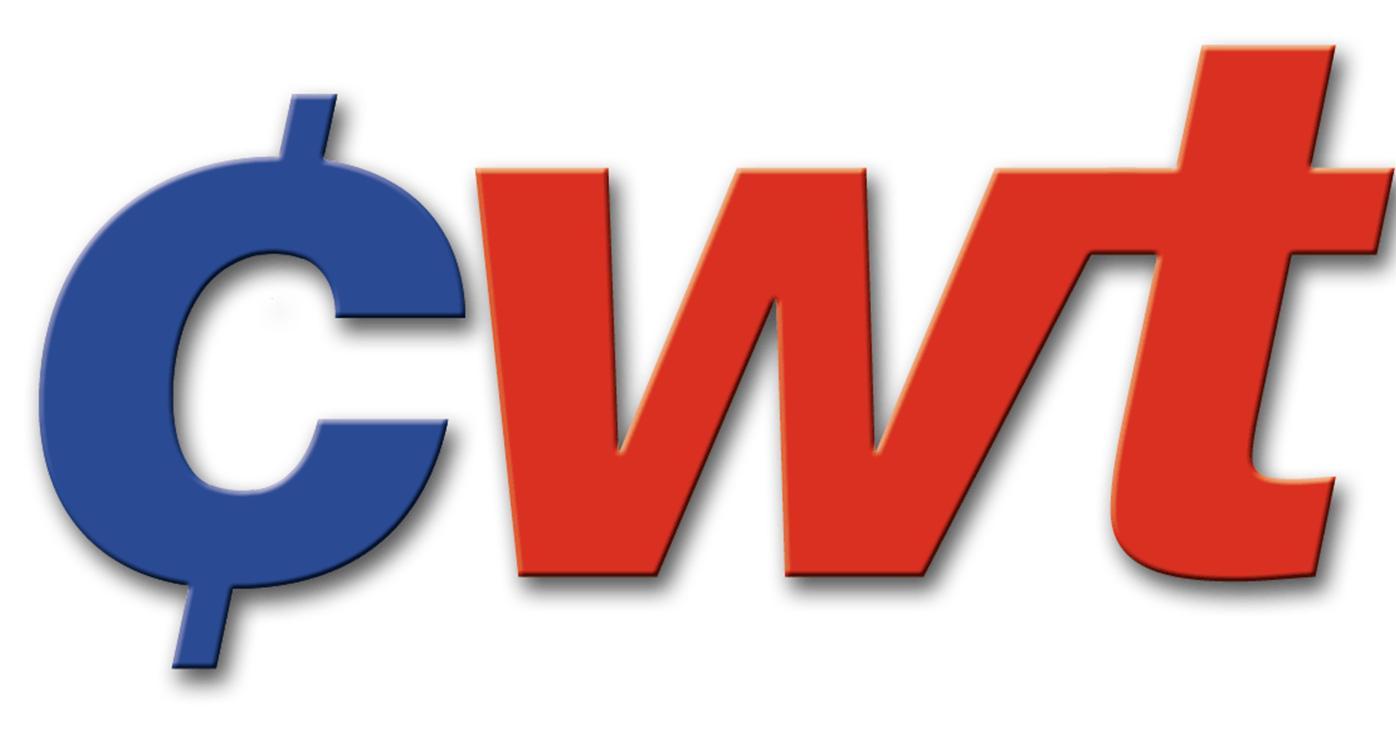 Cooperatives Working Together's export assistance program helped members secure 32 contracts in August to sell 3.27 million pounds of American-type cheeses to customers in Asia, Central America, the Middle East, North Africa and Oceania. The product will be shipped during the months of August through November 2017.
These transactions raise the total of CWT-assisted year-to-date net product sales to 48.31 million pounds of cheese and 3.01 million pounds of butter. These sales are going to customers in 17 countries in five regions, and will move the equivalent of 513.65 million pounds of milk on a milkfat basis overseas through November 2017.
Helping CWT member cooperatives gain and maintain world market share through the Export Assistance program in the long-term expands the demand for U.S. dairy products and the U.S. farm milk that produces them. This, in turn, positively affects all U.S. dairy farmers by strengthening and maintaining the value of dairy products that directly impact their milk price.
The amounts of dairy products and related milk volumes reflect current contracts for delivery, not completed export volumes. CWT will pay export assistance to the bidders only when export and delivery of the product is verified by the submission of the required documentation.
All cooperatives and dairy farmers are encouraged to add their support to this important program. Membership forms are available on the CWT website.
---
FARM Program, Innovation Center Host Customer Forums Around Country
September 11, 2017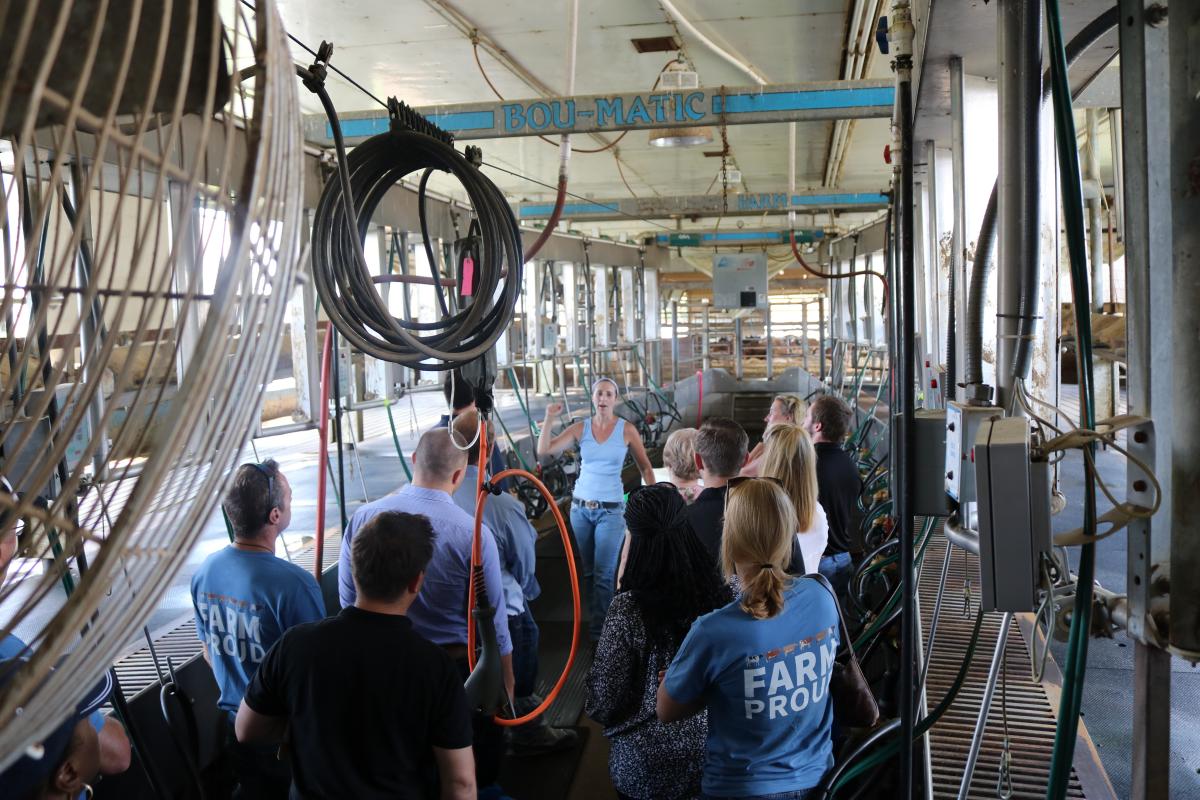 The National Dairy FARM Program and the Innovation Center for U.S. Dairy cohosted three customer forums this summer that shared the dairy industry's focus on social responsibility with prominent national and international dairy customers. Representatives from grocery stores, chocolate companies and restaurant chains attended forums in Los Angeles, Minneapolis and Washington, D.C.
Throughout each two-day forum, educational sessions provided a deep dive into the FARM Program. Expert speakers shared insights into the rigorous standards of the program, including animal care and environmental and antibiotic stewardship, as well as updates on emerging issues in the social responsibility arena. On the second day of the event, participants had the opportunity to visit a local dairy farm to see the FARM Program in action.
The FARM Program would like to thank Gordon Hay Dairy #6 in Ontario, Calif., Krause Holsteins in Buffalo, Minn., and Cow Comfort Inn Dairy in Union Bridge, Md., for hosting forum attendees, and all of the dairy customers for making these events a success. A final forum is planned for Jacksonville, Fla., from Oct. 17-18, 2017.
---
FARM to Provide Programming at AABP Conference, Host Final 2017 Evaluator Training
September 11, 2017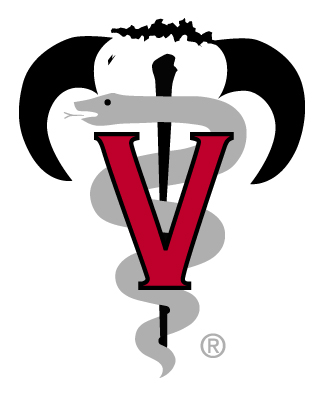 In September, the National Dairy FARM Program is joining the National Beef Quality Assurance Program to host a half day of programming at the 2017 annual conference of the American Association of Bovine Practitioners in Omaha, Neb.
The meeting on Sept. 14 features several sessions that will focus on emerging animal care issues within the dairy industry. These include topics like the veterinarian's role in crisis management and the release of the National Beef Quality Audit results. Speakers will include Dr. Nigel Cook of the University of Wisconsin School of Veterinary Medicine and Dr. Hans Coetzee of Kansas State University College of Veterinary Medicine. More information can be found on the AABP website.
In addition, FARM's Animal Care Program will host the final 2017 Train-the-Trainer and Evaluator Training course from November 14-15 in Albuquerque, N.M. The two-day course will review FARM Program goals and explain how to successfully complete a FARM Version 3.0 evaluation under the new program guidelines.
All FARM Program trainers wishing to maintain their certification must attend an in-person training course. Additionally, all FARM Program Evaluators must be certified annually on Version 3.0 of the program to conduct evaluations. The registration deadline is Oct. 30. The link to register for the Train-the-Trainer and Evaluator Training course can be found here.
---