NMPF Summer Board Meeting Set for June 9 – 10, in Arlington, Virginia
May 11, 2015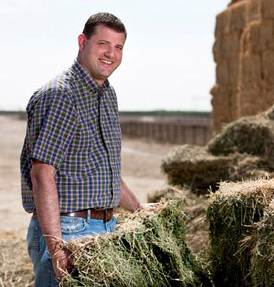 NMPF's summer board of directors meeting will take place Tuesday and Wednesday, June 9–10, in Arlington, Virginia. Discussion topics will include the organization's activities and budget, as well as continuation of the export assistance program known as Cooperatives Working Together. Also, Rep. David Valadao (R-Calif.) has been invited to address the organization's political action committee. Valadao (pictured) is a key member of the House Agriculture Committee and a dairy farmer from Tulare, CA.
Concurrent with the board meeting, members of NMPF's Young Cooperators Program will gather for their annual dairy policy and legislative forum. The YCs will receive legislative updates, lobby their members of Congress, and tour Washington at night by bus.
---
CWT-Assisted Sales Help U.S. Dairy Farmers Maintain World Market Share
May 11, 2015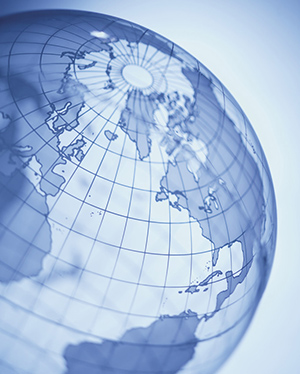 In April, Cooperatives Working Together helped its member cooperatives contract to sell 6.047 million pounds of American-type cheese, 55,116 pounds of butter, and 9.841 million pounds of whole milk powder.
When added to sales placed under contract from January through March, the April sales bring the 2015 year-to-date totals to 29.5 million pounds of cheese, 24.4 million pounds of butter, and 9.9 million pounds of whole milk powder. Together, these sales will send the equivalent of 893 million pounds of milk, on a milkfat basis, to customers in 28 countries on five continents, now through October 2015.
Developed by NMPF, CWT is a voluntary export assistance program supported by the majority of the nation's dairy farmers. By helping to move U.S. dairy products into world markets, CWT grows the U.S. dairy farmers' share of these expanding markets which, in turn, benefits farm milk prices.
---
NMPF Praises House Vote to Repeal the Estate Tax but Bill's Future is Questionable
May 11, 2015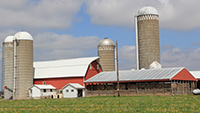 NMPF praised a mid-April House of Representatives vote to repeal the estate tax as a step toward protecting farms' financial viability for future generations. But the future of the repeal legislation looks murky at best. Long a priority of agriculture and congressional Republicans, the repeal bill was approved on a largely party-line vote April 16.
"It's hard enough for new generations of dairy producers to establish their own farms without the prospect of the estate tax penalizing the transfer of farms between generations," said NMPF President and CEO Jim Mulhern in a statement. "That's why we support the action in the House of Representatives to repeal the estate tax."
"When younger farmers inherit farms, they are often asset rich and cash poor," Mulhern added. "The estate tax can hit them with a bill to the IRS that is prohibitively costly. This legislation helps address that problem, and will facilitate the ability of established farmers to transfer their businesses to their offspring."
The bill repeals the estate and generation-skipping transfer taxes and makes permanent the maximum 35 percent gift tax rate and lifetime gift tax exemption. It also provides for an inflation adjustment to the exemption amount.
House consideration of the measure, H.R. 1105, known as the Death Tax Repeal Act, was timed to coincide with the April 15 tax filing deadline.
---
NMPF, Dairy Co-ops Urge Congressional Support for Voluntary GMO Labeling Bill
May 11, 2015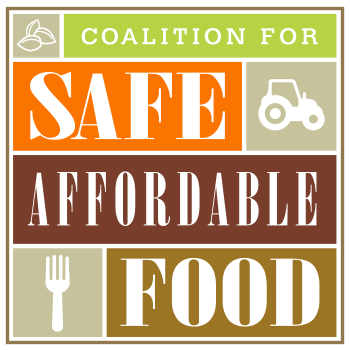 NMPF joined hundreds of organizations across the food and agriculture industry on a letter sent to members of the U.S. House of Representatives, asking them to support the Safe and Accurate Food Labeling Act. The 373 organizations – including 17 dairy coops – urged House members to back legislation that would ensure Americans continue to have access to consistent science-based standards for food labeling.
The measure, designated H.R. 1599, will set clear standards for companies that voluntarily wish to label their products, either as containing or not containing GMOs. The Safe and Accurate Food Labeling Act would counter efforts, at both the federal and state levels, to require food companies to display GMO content on their product labels. By putting a stop to the patchwork of state-based labeling requirements, the Safe and Accurate Food Labeling Act will protect consumers from unpredictable price variations and protect farmers and food manufacturers from having to contend with inconsistent and costly regulations and standards.
NMPF has been working through the Coalition for Safe Affordable Food to generate support for the legislation, introduced by Reps. Mike Pompeo (R-KS) and G.K. Butterfield (D-NC). H.R. 1599 currently has 37 cosponsors. The measure was the subject of a congressional hearing in March, and may be advanced out of the House Energy and Commerce committee later this spring.
---
NCIMS Conference Approves Pilot Program to Expand Testing for Drug Residues; Aligns PMO with New FSMA Regulations
May 11, 2015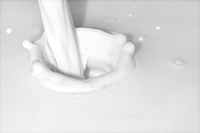 The National Conference on Interstate Milk Shipments met in Portland, Oregon, from April 24-29, to address the 100 proposals submitted to revise the Grade A Pasteurized Milk Ordinance and its related documents. NMPF staff attended the conference to advocate positions of interest to dairy cooperatives and farmers. Many NMPF members also attended and played key roles in the deliberations of the Conference, which is comprised of state health departments and the FDA.
There were several noteworthy developments among the proposals adopted by the conference during its biennial meeting:
This year's NCIMS meeting culminated a years-long effort to align the PMO with the Food Safety Modernization Act's Preventive Controls provisions, an effort spearheaded by NMPF in collaboration with the NCIMS Liaison Committee. Ultimately, four separate proposals from the Liaison Committee were passed by the delegate body to modify the PMO to address gaps that existed between the PMO and FSMA. By passing the proposals, it was recognized that an exemption from FSMA for Grade-A facilities would not be necessary, as PMO-regulated facilities would be compliant with FSMA, and these facilities would continue to be regulated and inspected under the PMO moving forward. This is an important victory for farmers so that they will not be regulated by duplicative federal regulations.
Three significant proposals related to drug residue testing were passed by the delegates: 1) A pilot program will be developed to expand the drugs (beyond beta-lactams) for which testing is required; 2) Protocols and responsibilities were established related to use of "unapproved" drug residue testing, or testing that is done outside of what is currently required (i.e., non-beta-lactams) using test kits that have not been approved by FDA and NCIMS; 3) The criteria for approving drug residue test kits was modified – specifically the sensitivity requirement for tetracyclines and for other drugs that have "safe" levels was lessened. Many details about the new pilot program, including its scope and timing, were left unresolved. The Appendix N committee of NCIMS will meet in early June to being addressing the details.
A proposal to lower the Somatic Cell Count requirement from 750,000 cells/ml, to 400,000, failed on the delegate floor by a vote of 18-32.
A special NCIMS edition of NMPF's Regulatory Register will be published soon to provide a detailed accounting of all actions from the NCIMS Conference.
---
Agencies Send WOTUS Rule to White House as House Panel Votes for Its Withdrawal
May 11, 2015

The Obama administration's controversial Waters of the U.S. rule continued to draw opposition on Capitol Hill in April, even as the Environmental Protection Agency continued to push the regulatory measure forward.

Early in the month, the EPA and the Army Corps of Engineers submitted their final proposed WOTUS rule to the White House Office of Management and Budget. The step is typically one of the last before a regulation is officially issued. But nine days later, a key House committee approved legislation directing the agencies to withdraw the regulation and substantially revise it.

After it was published in draft form last year, the WOTUS rule was roundly criticized by agriculture groups for greatly expanding the waters subject to regulation under the federal Clean Water Act. NMPF recommended a series of changes to the draft regulation and urged the agencies to either include National Milk's recommendations in the final rule, or withdraw the draft and rewrite it.

Officially, the Office of Management and Budget has 90 days after it receives a draft from an agency to issue a final regulation. In practice, however, the process can be much quicker or much slower, depending on a myriad of factors. Whenever OMB acts on the WOTUS rule, NMPF will review the result and assess the implications for the dairy industry.

In the meantime, on Capitol Hill, the House is expected take up legislation this month directing EPA and the Corps to withdraw the rule. Known as the Regulatory Integrity Protection Act, the legislation was approved, 36 – 22, by the House Transportation and Infrastructure Committee on April 15. In addition to telling the agencies to withdraw the rule, the bill offers a laundry list of parameters for reissuing the regulation.

Similar legislation was introduced in the Senate.
---
NMPF, USDEC Punctuate Japanese Leader's U.S. Visit with Appeal on Dairy Trade
May 11, 2015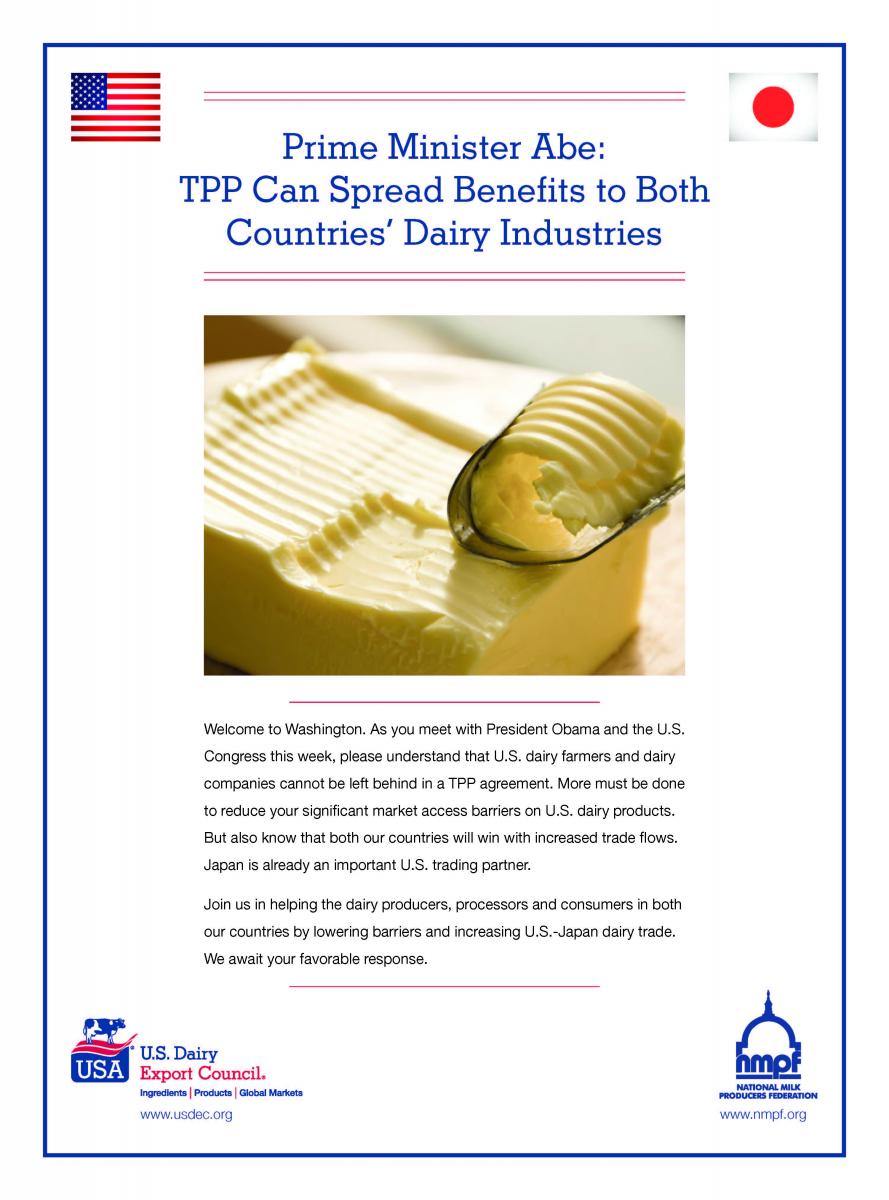 NMPF and the U.S. Dairy Export Council marked Japanese Prime Minister Shinzo Abe's state visit to Washington last month by publicly urging his Asian nation to go further in reducing trade barriers to U.S. dairy products.
In ads placed in Washington publications Politico and Roll Call, the groups welcomed Abe to the capital, but said the U.S. dairy industry cannot be left behind in negotiations over a massive, 12-nation Pacific free trade agreement. "Both our countries will win with increased trade," NMPF and USDEC said in their open letter to Abe. "Join us in helping the dairy producers, processors and consumers in both our countries by lowering barriers and increasing U.S.-Japan dairy trade."
Abe's visit included formal meetings with President Obama on April 28 and an address to a joint session of Congress on April 29.
---
NMPF Provides Tools to Help Producers Urge Passage of Long-Awaited Trade Promotion Authority Bill
May 11, 2015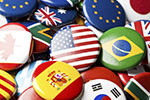 NMPF is encouraging dairy producers to contact Congress and urge their representatives to pass long-awaited new Trade Promotion Authority legislation as a way to secure trade agreements that deliver positive results for U.S. dairy farmers. Through the NMPF Dairy GREAT grassroots program and materials sent directly to members, NMPF is working to make it easy for producers and their cooperatives to weigh in on this important legislation.
The bipartisan TPA legislation was introduced April 16, and won strong support in committee approvals in both the House and Senate panels that oversee trade policy. Those votes set up House and Senate floor votes on the measures, likely later this month.
NMPF joined the U.S. Dairy Export Council in endorsing the legislation, saying TPA is particularly important to the U.S. dairy industry because the United States now exports the equivalent of one-seventh of its milk production. TPA creates rules under which Congress can vote on finished trade agreements without amendments.
"We need well-designed free trade agreements to keep expanding our exports," said NMPF President and CEO Jim Mulhern. "All of the past trade agreements that were well-negotiated have been beneficial to the U.S. dairy industry, and none of those have been implemented without Congress first approving trade negotiating authority."
TPA allows U.S. negotiators to prioritize negotiations about products that are subject to significantly higher tariffs in key foreign markets. "This is extremely important for our industry since foreign dairy tariffs are often extremely high," said Mulhern.
---