NMPF Provides Tools to Help Producers Urge Passage of Long-Awaited Trade Promotion Authority Bill
May 11, 2015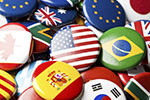 NMPF is encouraging dairy producers to contact Congress and urge their representatives to pass long-awaited new Trade Promotion Authority legislation as a way to secure trade agreements that deliver positive results for U.S. dairy farmers. Through the NMPF Dairy GREAT grassroots program and materials sent directly to members, NMPF is working to make it easy for producers and their cooperatives to weigh in on this important legislation.
The bipartisan TPA legislation was introduced April 16, and won strong support in committee approvals in both the House and Senate panels that oversee trade policy. Those votes set up House and Senate floor votes on the measures, likely later this month.
NMPF joined the U.S. Dairy Export Council in endorsing the legislation, saying TPA is particularly important to the U.S. dairy industry because the United States now exports the equivalent of one-seventh of its milk production. TPA creates rules under which Congress can vote on finished trade agreements without amendments.
"We need well-designed free trade agreements to keep expanding our exports," said NMPF President and CEO Jim Mulhern. "All of the past trade agreements that were well-negotiated have been beneficial to the U.S. dairy industry, and none of those have been implemented without Congress first approving trade negotiating authority."
TPA allows U.S. negotiators to prioritize negotiations about products that are subject to significantly higher tariffs in key foreign markets. "This is extremely important for our industry since foreign dairy tariffs are often extremely high," said Mulhern.