Iowa Farm Group Honors Former YC Chairman
May 06, 2014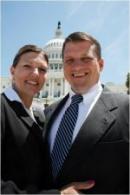 The Coalition to Support Iowa's Farmers presented its April Good Farm Neighbor award to former NMPF Young Cooperator Chairman Marty Burken, and his brother Michael. The Burkens run Blue Hyll Dairy in Clinton County. They were cited for leadership in conservation and sustainability and also for their community activities. The award was presented April 23 by Iowa Secretary of Agriculture Bill Northey.
The Burken family (Lisa, at left, and Marty at right) milks 810 cows, raises 170 beef steers, has a compost business and also raises row crops. Blue Hyll Dairy has received awards for both water recycling and composting and was the inaugural recipient of Iowa Farm Environmental Leader Award, presented at the 2012 Iowa State Fair. Marty Burken chaired NMPF's Young Cooperator program in 2010.
---
Joint ABI-ADPI Meeting Features GMO Discussion, Attracts Record Attendance
May 06, 2014

Genetically modified food ingredients and opportunities and challenges in the Middle Eastern and North African markets were among the topics discussed at the 15th joint conference of the American Butter Institute and the American Dairy Products Institute. Held at the Hyatt Regency Chicago in late April, the 2 ½-day meeting attracted more than 900 attendees.
Otis Wilson from the 1985 Championship Chicago Bears and former Chicago Bear and Green Bay Packer Anthony Morgan were keynote speakers at the conference, which opened with a discussion of the growth, production, pricing and weather issues impacting the dairy industry.
A separate panel on genetically modified food ingredients included farmer, manufacturer and distributor perspectives. Other topics included mandates created by the Dodd-Frank financial reform act, the Food Safety Modernization Act, the infant nutrition market, and dairy ingredient plant technology and practices.
Former NMPF President and CEO and ABI Executive Director Jerry Kozak received ADPI's Award of Merit, which annually recognizes those individuals who have made a difference in the processed dairy products industry. Kozak retired from NMPF in December after 16 years. He served as ABI's executive director for 22 years.
Two new members – Brian Caspary from Foremost Farms USA and Brian Linney from MD & VA Milk Producers Cooperative Association – were elected to the ABI board at the conference, which also included three receptions featuring world championship cheeses. The next conference will be held April 26 – 28, 2015, also at the Hyatt Regency Chicago.
---
Chocolate Milk Ban in Schools Backfires
May 06, 2014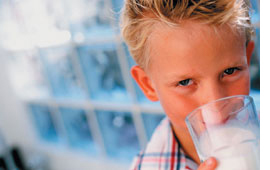 Confirming what the dairy industry has said for years, a Cornell University study found that banning flavored milk from school cafeterias can trigger unintended consequences that outweigh any potential benefits from reduced sugar consumption.
With funding from the Agriculture Department, the Cornell researchers looked at milk consumption in 11 Oregon elementary schools before and after chocolate milk was taken out of cafeterias. With chocolate milk gone, researchers found a 10 percent decline in milk sales and a 29 percent increase in milk waste, with a corresponding decrease in protein and calcium consumption, and an increase in other fats in student lunches. In addition, eliminating chocolate milk was associated with 6.8 percent fewer students eating school lunches.
"Removing chocolate milk from school cafeterias may reduce calorie and sugar consumption," the study concluded, "but it may also lead students to take less milk overall, drink less of the white milk they do take, and no longer purchase school lunch. Food service managers need to carefully weigh the costs and benefits of eliminating chocolate milk and should consider alterative options that make white milk more convenient, attractive and normal to choose."
Co-author Brian Wansink is a former head of USDA's Center for Nutrition Policy and Promotion and an expert on eating behavior and behavioral economics.
---
Obama Administration: EU Cheese Maneuver is a Trade Barrier
May 06, 2014

A new report from the Obama administration calls out as a trade barrier the European Union's efforts to prevent the U.S. dairy industry from using common cheese names.
Essentially, the Europeans claim American versions of cheeses like parmesan, feta and muenster are not authentic, and thus shouldn't use names of products originating in specific locations in Europe (i.e. "geographic indications"). But the latest edition of the National Trade Estimate from the office of the U.S. Trade Representative agrees with the U.S. dairy industry that this approach is nothing more than thinly veiled protectionism.
"The United States continues to have serious concerns with the EU's system for the protection of [geographic indications], including with respect to its negative impact on the protection of trademarks and market access for U.S. products that use generic names," the report said. It added that the United States will monitor the EU's actions in this area closely in the future.
The NTE also recognized as a trade barrier Canada's actions to limit U.S. access to its cheese market through both high tariffs and customs arrangements. In addition, a separate USTR report found unwarranted sanitary and phytosanitary requirements imposed on U.S. dairy products by multiple countries, including India, Indonesia, Mexico, Russia, Saudi Arabia and the European Union.
"We appreciate USTR's recognition of all these actions as limiting U.S. dairy exports around the globe," said NMPF President and CEO Jim Mulhern. "We will continue to work with the Obama administration in the future to lessen these trade barriers."
---
CWT Helps Members Export 28 Million Pounds of Dairy Products
May 06, 2014

April was another strong month for Cooperatives Working Together, with the program helping cooperatives sell 28 million pounds of dairy products overseas. Nearly 140 requests for export assistance were received, and of those, 86 were accepted during last month. Of the 86 bids accepted, 36 involved cheese totaling 10.9 million pounds; 27 involved butter totaling 12.7 million pounds; and 23 involved whole milk powder totaling 4.4 million pounds.
April's activity brought the year-to-date CWT export totals to 47.2 million pounds of cheese, 42.1 million pounds of butter, and 7.8 million pounds of whole milk powder. All the products will be shipped by October. It will move the equivalent of 1.4 billion pounds of milk (on a milkfat basis) to 33 countries on six continents.
---
Waters of the United States Definition Proposed by EPA
May 06, 2014

On April 21, 2014 the Environmental Protection Agency (EPA) and the U.S. Army Corps of Engineers (Corps) published for

public comment

a proposed rule defining the scope of waters protected under the Clean Water Act (CWA), in light of several U.S. Supreme Court cases. The agencies proposed to define "waters of the United States" for all sections of the CWA to mean: traditional navigable waters; interstate waters, including interstate wetlands; the territorial seas; impoundments of traditional navigable waters, interstate waters, including interstate wetlands, the territorial seas, and tributaries, as defined, of such waters; tributaries, as defined, of traditional navigable waters, interstate waters, or the territorial seas; and adjacent waters, including adjacent wetlands.

In tandem with the proposed rule, the agencies have issued an

interpretive rule

that continues existing statutory and regulatory exemptions from CWA Section 404 permitting requirements for normal farming, silviculture and ranching practices where these activities are part of an ongoing farming, ranching or forestry operation. The interpretive rule is immediately effective and expands the list of existing agricultural exemptions to include an additional 53 activities that are exempt from permitting requirements so long as they are conducted consistent with Natural Resources Conservation Service (NRCS) conservation practice standards.
---
FDA Agrees to Rewrite Draft Animal Feed Regulation after NMPF Raises Concerns
May 06, 2014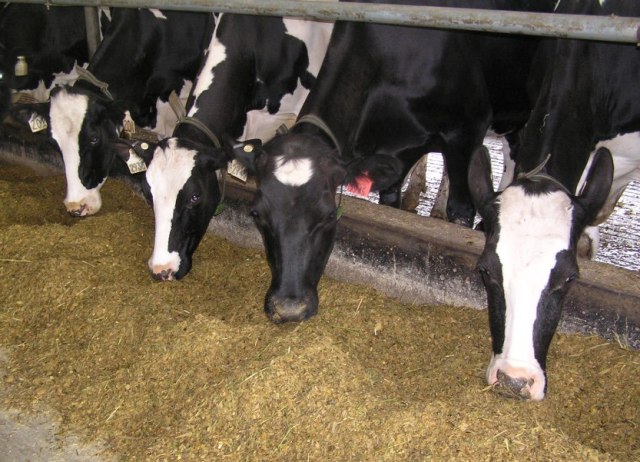 NMPF joined other farm groups in blasting a draft Food and Drug Administration livestock feed regulation, saying the agency went beyond Congress' intent and proposed requirements that will not make animal feed safer. NMPF asked FDA to rewrite the regulation and open a new round of comments from industry and the public.
Among other things, NMPF said the draft incorrectly imposes safety standards on animal feed that are similar to those for human food. "The innate hygienic standards of humans exceed the hygienic standards of livestock," NMPF said.
The draft regulation was issued under the Food Safety Modernization Act, which gave the FDA broad new authority to regulate food. NMPF said it supports the 2010 law, but believes that the draft regulation goes too far, in particular because it would make it harder to use brewers' grain as animal feed, a practice in use for hundreds of years.
This "will result in unnecessary increased costs to dairy producers," NMPF said. It joined the Beer Institute and the American Malting Barley Association in asking FDA to exempt feed products made during alcoholic beverage production from the regulation. Late last month, FDA officials indicated they will change the proposed regulation of brewers' and distillers' grains in light of the opposition of NMPF and other organizations.
In separate comments submitted with the International Dairy Foods Association, NMPF identified unnecessary requirements for dairy processing plants, which divert some food materials such as cheese trim and liquid whey to animal feed. NMPF said the proposed standards "do not reflect the inherent differences between foods for human and animal consumption."
---
NMPF, IDFA Jointly Oppose Louisiana Raw Milk Bill
May 06, 2014

Dairy producers and processors joined forces to oppose another state-level raw milk bill in April, urging Louisiana lawmakers to reject HB 247 two days before it was scheduled for a hearing. The bill would lift the state's ban on selling unpasteurized milk to consumers.

In a joint letter, NMPF and IDFA cited the government statistics on illnesses and deaths from raw milk consumption and noted that raw milk is a vehicle for transmitting pathogens including E. coli 0157:H7, Campylobacter, Listeria monocytogenes, and Salmonella.

The groups also debunked advocates' claims that consuming raw milk has health benefits and that testing and regulation can protect consumers. "No claim related to the health benefits of consuming raw milk has been substantiated in any of the medical literature," they said, adding that "product testing … cannot ensure the same level of safety as pasteurization."

More than three dozen raw milk bills have been introduced in state legislatures this year, but as of April, only one had passed, despite intense lobbying by a small group of advocates. The successful bill authorized a study of liability issues related to raw milk sales between Utah farmers and consumers. In January, NMPF Vice President Beth Briczinski testified against a raw milk bill in Maryland that was subsequently withdrawn.
---
NMPF Sends USDA Recommendations on New Safety Net Program
May 06, 2014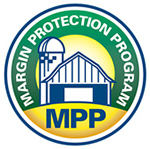 NMPF has sent a series of recommendations to the Agriculture Department on how to implement the new dairy safety net included the 2014 farm bill. The Margin Protection Program, or MPP, is a voluntary risk management plan that will address fluctuations in margins caused by high feed costs as well as low milk prices. NMPF was instrumental in the program's enactment.
NMPF's recommendations, forwarded in mid-April, cover 17 issues that are either unclear in the legislation or were left up to USDA to decide. Included are the timing for first-year and subsequent registrations; the timing and structure of premium payments from farmers enrolled in the program; and how farms with different ownership structures will be treated. Several recommendations involve the operation of the dairy product donation program that will be triggered when margins are extremely low.
NMPF President and CEO Jim Mulhern said he is pleased with discussions with the Agriculture Department over the new program so far. "While USDA has not yet made final determinations on any specific program provisions," he said, "we are pleased with the positive dialogue and level of understanding we've seen."
Mulhern said NMPF's goal is to achieve a Margin Protection Program that is both producer-friendly and maintains fiscal integrity in future years. The program is scheduled to be rolled out on or before September 1st.
---