Dairy Defined: Dean Foods a Reminder of Cooperative Strength
November 25, 2019
ARLINGTON, Va. – "Disruption" is a present-day buzzword, and dairy has had its share. From the globalization of markets to the rise of plant- and cell-based competitors, farmers are grappling with a shifting landscape, even as dairy farms themselves have changed.
But none of that is as personally disruptive as a missed milk check – the interruption of the cash flow that's necessary to keep a dairy operating. That's the disruption some farmers have worried about in recent weeks, following the Dean Foods bankruptcy announcement. It's one we at National Milk have followed closely, and it's one that forcefully reminds us of the value of the cooperatives we serve, from their farmer-owners to the consumers who depend on them.
Cooperatives have played a crucial role in protecting their members' economic interests for more than a century. As the industry deals with the uncertainty surrounding what the processing landscape will look like post-Dean Foods, hundreds of dairy farmers have no doubt been wondering what ultimately will happen to their milk as the bankruptcy sorts itself out.
Some cooperative members might be among those wondering — but their membership in a co-op can help provide more certain answers. Finding markets for milk is what cooperatives do, 365 days a year, regardless of disruptions that may develop. With the strength of the co-op backing them up, farmers know they have expertise and networks they can rely upon to help handle the unexpected. Even in temporary situations when milk deliveries exceed processing capacity, co-op members still have steady, predictable access to markets for their milk.
When processors struggle, co-ops help protect farmers and consumers. Cooperatives also allow farmers to become processors themselves, giving them more opportunity to profit from the production and sale of dairy products and react to changing consumer tastes. It's no surprise, for example, that as the popularity of butter has risen, the number of cooperative-owned processing plants has risen by 8 percent since 2012, and that the cooperative-created volume of popular dairy products such as butter is rising.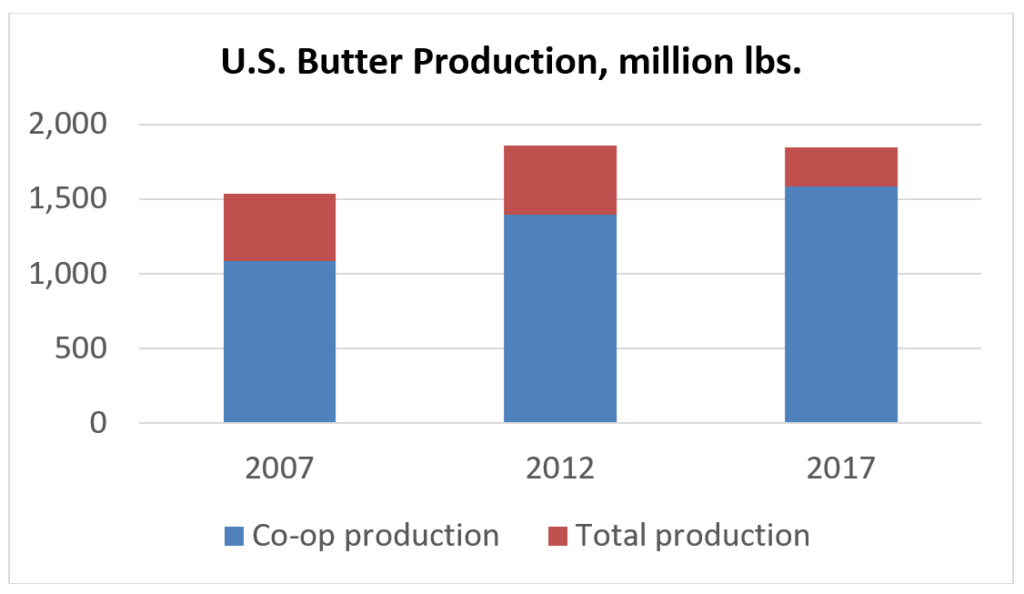 This all comes down to the essence of what a cooperative is: a self-help organization in which farmers stick together in good times and bad – sharing in profits and navigating through difficulties.
Protection against supply-chain disruptions was one of the reasons cooperatives formed the National Milk Producers Federation in 1916. Public desire to see farmers succeed pushed adoption of the Capper-Volstead Act of 1922, which allowed farmers to gain greater influence in their own markets. That same collaborative spirit led NMPF in the 1930s to push for the Federal Milk Marketing Order system, which levels the playing field for farms of all sizes in all parts of the country, helping harmonize pay for producers regardless of the end use of their milk while stabilizing prices for consumers nationwide.
And it animates our efforts to the present day, through initiatives such as Cooperatives Working Together, which helps boost U.S. dairy exports, and NMPF's own collaborations with organizations including Dairy Management Inc., the U.S. Dairy Export Council, the National Council of Farmer Cooperatives, the International Dairy Foods Association and numerous other dairy groups that span states, regions and the globe.
Cooperatives, to be sure, can't completely insulate anyone from disruption. But dairy is resilient, and cooperatives are fundamental to that resilience. Despite changing consumer tastes and never-ending, inaccurate campaigns against them, per-capita U.S. consumption of dairy products last year was its highest since 1962. Exports are again rising despite trade turbulence, and with potential new leadership at the U.S. Food and Drug Administration, we're even more hopeful that our decades-long battle against milk imitators who inappropriately claim our product names will be resolved in our favor.
Dean's bankruptcy is creating uncertainty for some producers. But seen from another angle, it's just another disruption this sector will be able to withstand, due in no small measure to the strength of cooperatives and their dairy farmer-owners. That's worth remembering as disruption continues to challenge dairy.  We've always been a much stronger industry when farmers have worked together. That's true today, and it will remain true in the months and years to come.
(Note: NMPF's Dairy Defined explores today's dairy farms and industry using high-quality data and podcast interviews to explain current dairy issues and dispel myths.)
###
The National Milk Producers Federation (NMPF), based in Arlington, VA, develops and carries out policies that advance dairy producers and the cooperatives they own. NMPF's member cooperatives produce more than two-thirds of U.S. milk, making NMPF dairy's voice on Capitol Hill and with government agencies. For more, visit www.nmpf.org.