Registration for Dairy Industry Joint Annual Meeting Is Underway
September 8, 2015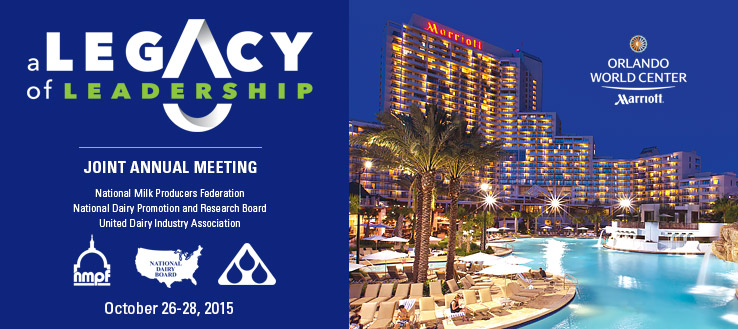 In less than two months, hundreds of dairy industry leaders will converge in Orlando, Florida, for the joint annual meeting between the National Dairy Board (NDB), the National Milk Producers Federation (NMPF), and the United Dairy Industry Association (UDIA). "A Legacy of Leadership" will take place from October 26-28 at the Orlando World Center Marriott.
Farmers and other industry leaders will discuss the major trends and issues affecting today's dairy industry, and how those trends will affect its future. The meeting will feature a special presentation from market expert Jeff Fromm on how best to reach millennial consumers, who are now controlling a significant share of the retail food dollar. The meeting will also feature a panel discussion on animal care, and its significant across the food value chain.
With the days ticking away, it's important to both register for the event and make hotel reservations. This year's event features a new online registration site, Eventbrite, which is compatible with mobile phones. Please go to http://annualmeeting.dairy.org and register by Wednesday, October 7, 2015.
For hotel reservations, please visit https://aws.passkey.com/g/29748120 and mention "2015 NDB/NMPF/UDIA" to receive the group rate. The deadline for reservations is also October 7.