REAL® Seal Campaign Grows in July
August 7, 2013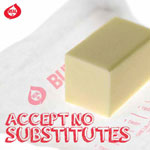 NMPF's campaign to reposition the REAL® Seal program continued in July, with a big push to garner visibility on Facebook, where in less than two months, the RealSealDairy page has earned nearly 50,000 fans.
The Facebook site is one of three elements to create stronger consumer awareness for the Seal, and where and why it is used by dairy companies. The other two are blogger outreach, and a more consumer-focused website, www.realseal.com. The blogger component of the campaign connects bloggers writing about food, health and family, with farms and dairy products, establishing why products with the REAL® Seal are a desirable choice for their recipes.
The revamped REAL® Seal website also has new consumer-friendly information about the Seal. And through the month of August, it features a naming contest where people can submit recommendations for what to name the animated REAL® Seal logo that greets those who go to the website.
Another new educational tool for companies using the Seal is a short video that's available on YouTube. The video summarizes the NMPF-designed campaign, and how it will connect a new generation of American consumers with dairy products displaying the Seal.