REAL® Seal Buyers Guide Debuts
February 5, 2014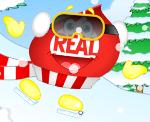 Dairy marketers that make, sell, or distribute foods composed of real American milk can tout their offerings in the new Buyer's Guide on the new, consumer-oriented REAL® Seal website.
The guide, the latest REAL® Seal innovation, is designed to make it easy for consumers to find stores, restaurants and brands that feature products made from cows on U.S. dairy farms. There are categories for manufacturers, distributors, retailers, wholesalers, restaurants, and more. Listings include a company's name, address, and telephone number, along with an email contact.
To be included, email REAL® Seal Administrator Carol O'Connell at info@realseal.com. She will validate those who meet the guidelines for using the REAL® Seal and add them to the Buyers Guide.
NMPF took over management of the REAL® Seal in 2012 and has been promoting the seal heavily on the internet and in social media. In February, these efforts will focus on Valentine's Day and the winter Olympic Games. A new YouTube video reminds the public that foods made with real dairy products are a good complement to winter sports.