NMPF to Continue Pushing Congress to Act on Farm Bill in 2012 in Lame Duck Session
November 9, 2012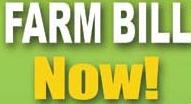 With the dust settling on this week's elections, the focus in Washington will turn to resolving unfinished business that languished during the campaign season. Congress will return to Capitol Hill next week in a lame duck session, where it will have to tackle issues such as the fiscal cliff of tax increases and budget cuts looming in January.
Passing the 2012 Farm Bill is at the top of the congressional act list for NMPF, which will continue to urge the leadership in the House of Representatives to complete work on the pending farm bill. NMPF is joined in this effort by dozens of other farm, ranch and feeding organizations, who remain united in support of a new five year bill, and opposed to any temporary extension of existing programs.
Dairy farmers can use NMPF's Dairy GREAT system to write an email to their elected officials, urging them to act on the Dairy Security Act in the remaining eight weeks of 2012.