NMPF Talks with Pacific, European Negotiators on Free Trade Agreements
December 4, 2014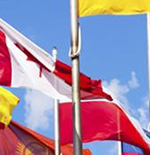 NMPF has held extensive consultations with key negotiators on the Trans-Pacific Partnership trade pact in advance of a meeting set for Washington during the second week in December. NMPF staff has been in constant communications with U.S. TPP negotiators, and traveled to China in November for discussions with U.S. negotiators and others involved in the Asia-Pacific Economic Cooperation forum.
The Washington meeting next week is aimed at helping drive the TPP trade talks to a close. The dairy industry is seeking increased access for U.S. dairy products in Japan and Canada as a key outcome of the talks involving 12 Asian and Pacific countries.
In early December, NMPF staff also traveled to Brussels for meetings with European Union officials on the planned U.S.-EU trade agreement, and for talks with the Danish government about its plan to ban use of the term "Havarti" by non-Danish companies. Denmark is seeking a Geographical Indication that would limit Havarti to only cheese produced within its borders.
Havarti is widely produced in the United States and is also the subject of an international standard. NMPF says a GI for Havarti would create a troubling precedent that could affect use of other cheese names, including mozzarella and provolone.
NMPF has strongly opposed efforts to erode international cheese standards through its leadership in the Consortium for Common Food Names, an alliance of organizations seeking model worldwide geographical indication guidelines.