NMPF Seats Two New Board Members at Annual Meeting; Associated Milk Producers Wins Cheese Championship
November 9, 2012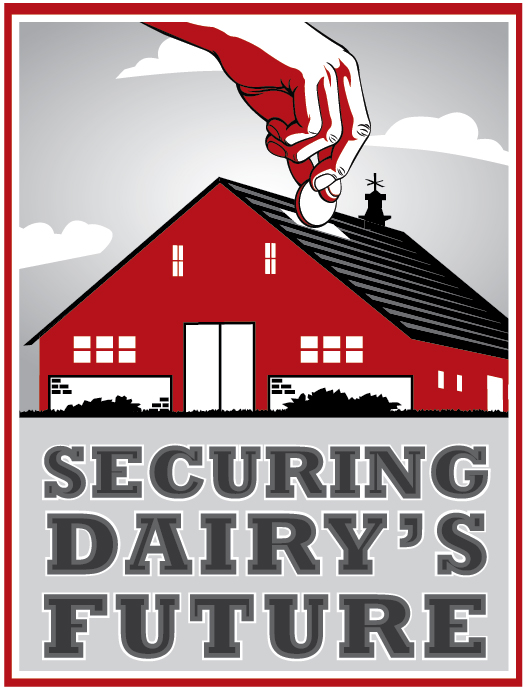 Last week, dairy producers, member cooperatives, Young Cooperators (YCs), industry representatives, staff, and others from all over the country met at the Walt Disney World Dolphin Hotel in Orlando, FL for NMPF's annual meeting, which is held jointly every year with the National Dairy Promotion and Research Board and the United Dairy Industry Association.
During the meeting, NMPF Chairman Randy Mooney and President & CEO Jerry Kozak addressed the NMPF membership and discussed the organization's progress over the past year. They provided updates on efforts to pass a new Farm Bill that includes NMPF's dairy policy reform package, known as the Dairy Security Act.
They also discussed other priority issues that the organization had dealt with in the past year, touching on topics like the National Dairy FARM (Farmers Assuring Responsible Management) Program, the Trans-Pacific Partnership Free Trade Agreement, and NMPF's management of the REAL® Seal program.
Mooney and Kozak's joint presentation emphasized the proactive attitude the organization assumed throughout the year, partly because "we face a future of reduced government support on the one hand, and more government intrusion on the other," Mooney explained.
NMPF's Board of Directors met during last week's meeting and seated two new members. Donald De Jong from Dalhart, Texas was elected to represent Select Milk Producers, Inc., while Larry Webster from Buffalo, New York, was elected to represent Upstate Niagara Cooperative.
The eight officers currently serving NMPF were reelected to their existing positions. They include:
Chairman Randy Mooney, from Rogersville, Missouri, representing Dairy Farmers of America;

First Vice Chairman Ken Nobis, from St. Johns, Michigan, representing Michigan Milk Producers Association;

Second Vice Chairman Cornell Kasbergen, from Tulare, California, representing Land O' Lakes, Inc.;

Third Vice Chairman Mike McCloskey, from Fair Oaks, Indiana, representing Select Milk Producers, Inc.;

Treasurer Pete Kappelman, from Two Rivers, Wisconsin, representing Land O' Lakes;

Assistant Treasurer Adrian Boer, from Jerome, Idaho, representing Northwest Dairy Association;

Secretary Dave Fuhrmann, from Baraboo, Wisconsin, representing Foremost Farms USA;

Assistant Secretary Doug Nuttelman, from Stromsburg, Nebraska, representing Dairy Farmers of America.
In addition to the officer elections at this year's meeting, NMPF recognized three outgoing directors for their service on the NMPF Board of Directors: Tom Croner, from Berlin, Pennsylvania, and Les Hardesty, from Greeley, Colorado, both representing Dairy Farmers of America, and Clyde Rutherford, Syracuse, New York, representing Dairylea Cooperative. NMPF also recognized four Honorary Directors, who provided exemplary service not only to NMPF, but also to the entire dairy industry: Lew Gardner from Galeton, Pennsylvania; along with Tom Croner, Les Hardesty, and Clyde Rutherford.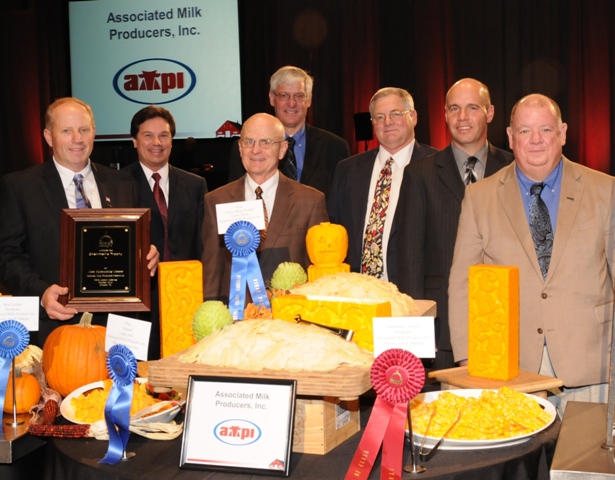 In other news at the annual meeting, a Parmesan cheese made by Associated Milk Producers Inc. (AMPI) was awarded the Grand Champion Cheese award at the 2012 NMPF cheese competition. The cheese, made in Hoven, South Dakota, received a score of 99.0 from the judges. The AMPI Parmesan was selected from among 176 entries to this year's NMPF cheese contest – a record number of entries. A total of 3,006 pounds of cheese was judged. (Right: AMPI representatives accept the Chairman's Plaque for their winning Parmesan.)
The 2012 NMPF Communicator of the Year award was presented to Amber DuMont Sheridan of Maryland & Virginia Milk Producers Cooperative Association in Reston, Virginia. In addition to directing Maryland & Virginia's communications, Sheridan also oversees its Young Cooperator program.
Members of NMPF's new 2013 YC Advisory Council met to elect their officers for the upcoming year. Kris and Carla Wardin, from St. Johns, Michigan, representing Michigan Milk Producers Association, were chosen to be the new YC Chaircouple. Nathan and Barbara Blesy, from Springville, New York, representing Upstate Niagara Cooperative, were elected YC Vice Chaircouple. David and Katherine Pyle, from New Columbia, Pennsylvania, representing Land O'Lakes, were elected Secretary Couple.
Information about the meeting, including links to speeches and presentations, is available on the NMPF website: www.nmpf.org/nmpf-joint-annual-meeting. Photos will be posted on NMPF's Facebook page and Flickr account.
Download