NMPF Offers Federal Agencies Extensive Comments on Dietary Guidelines Report
June 4, 2015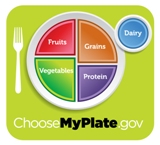 Following up on its engagement throughout the U.S. Dietary Guidelines Advisory Committee process, NMPF last month submitted 17 pages of written comments to the Departments of Agriculture and Health and Human Services on the DGAC's final report and recommendations.
Like the earlier testimony, the written comments filed in May urged the federal government to continue recommending three servings of dairy a day. They also suggested adding a recommendation for one additional daily serving of milk or dairy foods. Other NMPF recommendations urged the government to:
Continue to represent dairy as a separate food group
Encourage those who are lactose intolerant to choose low-lactose dairy products over non-dairy substitutes
Stop calling non-dairy substitutes "milk" or "yogurt" since they do not meet the federal definitions for those products
Adopt a balanced approach to nutrients like added sugars so that Americans are not discouraged from consuming otherwise beneficial dairy products like chocolate milk
Take note of emerging science on the potential benefits of consuming whole-fat dairy foods
Urge consumers to avoid unpasteurized dairy products since they are a demonstrated health risk
The Dietary Guidelines for Americans, the federal government's basic nutrition advice for consumers, are updated every five years. The Departments of Agriculture and Health and Human Services will issue the full, formal 2015 Guidelines later this year.