NMPF Leadership, Members Address Fake-Milk Labeling Fight with FDA at Annual Meeting
November 13, 2018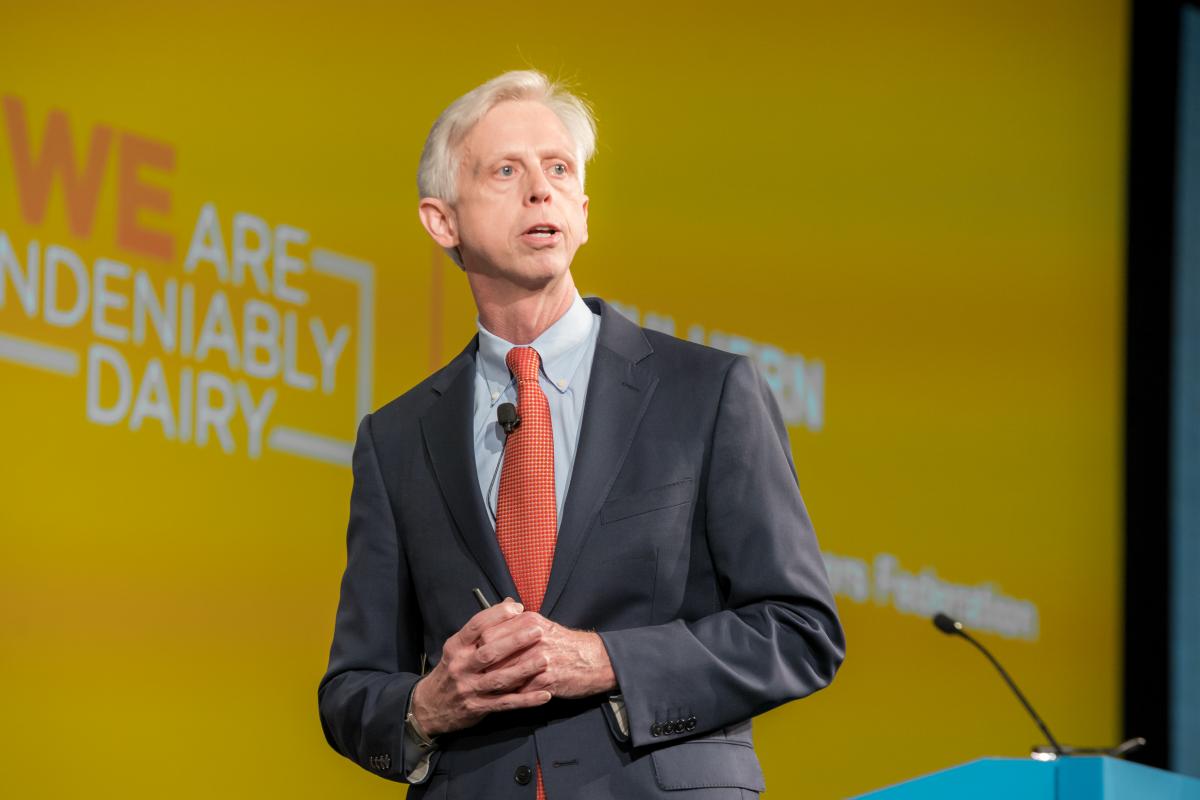 NMPF's member cooperatives mobilized at the organization's annual meeting in Phoenix last month to tell the U.S. Food and Drug Administration (FDA) the agency must end the misleading labeling of plant-based beverages as "milk."
As a step toward potential rule-making, FDA announced earlier this fall that it would begin accepting comments from the public on the labeling practices of plant-food companies that use dairy terms on their products. NMPF President and CEO Jim Mulhern told members that FDA's interest is a crucial opportunity for dairy producers to help end deceptive labeling in which plant-based beverage producers exploit the "health halo" of dairy to peddle nutritionally inferior items.
"We've got to take this on," he said. "It's important to the future of the dairy industry, and it's important to consumers."
Beverages made of water, emulsifiers and plant ingredients have long used dairy terms to falsely associate themselves with the positive traits of milk-based foods, including milk's essential nutrients. While FDA standards clearly specify that milk is the product of an animal, enforcement of those rules has been neglected for decades.
FDA finally took up the standards-of-identity issue earlier this year, holding a hearing in July before putting out its request for information, which ends Nov. 27. NMPF has requested an extension.
Accompanying the release of a four-page document that contained NMPF's position and instructions for contacting FDA, NMPF also directed members to a survey commissioned by Dairy Management Inc. and conducted by research firm IPSOS that detailed levels of consumer confusion over fake milks. The study found, among other results:
73 percent of consumers believed that almond-based drinks had as much or more protein per serving than milk, even though milk has eight times as much protein.
53 percent said they believed that plant-based food manufacturers labeled their products "milk" because their nutritional value is similar.
Misinformation was even more prevalent among consumers who solely purchase plant-based beverages. Of those buyers, 68 percent strongly or somewhat agreed that those drinks have the same nutritional content as dairy milk.
Mulhern added that while NMPF members are central to getting FDA to improve marketplace transparency, dairy producers won't win the battle alone.
"The comment period is open right now. It's open for just under a month," he said. "We need to generate communication not just from you. You've got to talk to people to get the word out. People need to communicate this issue. We've got to get our message across to FDA to trigger rulemaking that will fix this problem once and for all."