NMPF Calls Out Sweden's Oatly for Exploiting International Double Standard in Its Labeling
June 13, 2018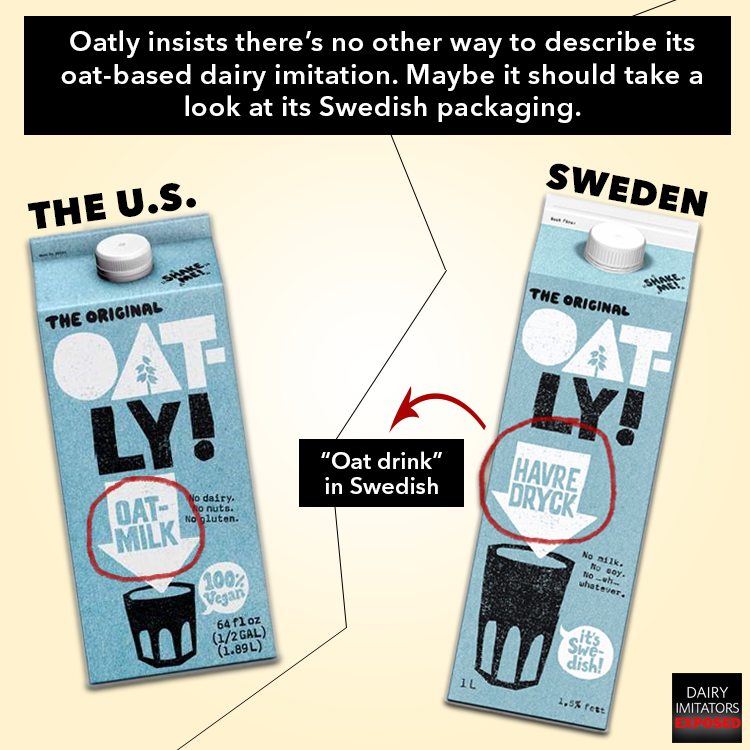 Swedish beverage company Oatly needs to respect U.S. food labeling standards that restrict the use of the term "milk" to real dairy products, according to NMPF, especially because the brand already follows such rules in its native Sweden.
Oatly is the latest brand targeted by NMPF because it exploits the U.S. Food and Drug Administration's (FDA) lax regulatory environment. In promoting its cereal-derived beverage as oat "milk," Oatly is blatantly skirting U.S. food labeling regulations, which dictate that any product using dairy terms including "milk," "cheese" or "yogurt" must have originated from an animal. NMPF has long insisted that FDA take enforcement action against similarly misbranded products, the same way the standard is enforced in Europe and many other nations.
NMPF criticized Oatly for complaining to FDA in an April 11 letter that it would be placed at a disadvantage if it could not call its product "oat milk." Oatly's complaint was sent to FDA in support of a petition by the vegan trade association Good Food Institute (GFI). GFI's petition calls on FDA to modify existing food standards to endorse the current marketplace abuse of some food companies using dairy terms on products made from plants, not milk.
"Budding and innovative companies like Oatly would be placed at a serious disadvantage if we were no longer allowed to use terms that instantly and accurately convey what's inside the carton," said Oatly U.S. General Manager Mike Messersmith, in arguing that its product must be labeled as "oat milk."
However, in its home market, Oatly is sold as "havre dryck," or "oat drink" in Swedish.  European Union (EU) regulations – similar to existing U.S. government standards – define milk as an animal product and do not allow plant-based milk copycats to use dairy terms.  Messersmith's letter did not explain this obvious contradiction to his argument.
To spotlight Oatly's doublespeak to the FDA, NMPF has created a graphic that illustrates the difference between Oatly's U.S. and Swedish packaging. This image will join others in NMPF's "Dairy Imitators: Exposed" campaign, which calls out non-dairy imitation brands for ignoring federal standards and failing to live up to real milk's complete nutrient package.