NMPF Board Reaffirms Support of Dairy Security Act as Farm Bill Process Begins Again
April 8, 2013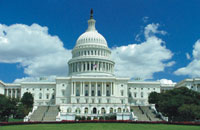 As the effort to pass a farm bill continues this spring on Capitol Hill, NMPF's Board of Directors recently reaffirmed the organization's support for a new farm bill – containing a better safety net for dairy farmers – at the Federation's spring meeting last month.
The Senate Agriculture Committee is expected to begin a legislative markup of the farm bill, perhaps as soon as this month. NMPF's Board signaled both the Senate and House Agriculture Committees that the dairy producer community remains committed to the voluntary dairy program known as the Dairy Security Act (DSA), which combines margin insurance with market stabilization.
"Our members went through a tough year in 2012, with high feed costs and low milk prices putting the squeeze on farmers across the country," said Randy Mooney, Chairman of NMPF, and a dairy farmer from Rogersville, Missouri. "Existing federal dairy programs don't offer the type of safety net our members need, but the Dairy Security Act does."
NMPF members met last month with Rep. Collin Peterson (D-MN), the ranking Democrat on the House Agriculture Committee, who is the lead sponsor of the DSA in the House. Peterson reiterated his commitment to passing the DSA, and indicated that the House Agriculture Committee is expected to begin work on a farm bill this spring, likely after the Senate ag panel works on its own farm bill version.