2020 DMC Signup Looms as Dairy Margins Stay Above Aid Trigger
December 09, 2019

With the deadline for 2020 farmer Dairy Margin Coverage program signup looming on Friday, Dec. 13, forecast margins remain high for 2020.

The National Milk Producers Federation is urging producers to visit their local Farm Service Agency offices to take advantage of the DMC, which is meant to provide risk management tools for farmers and provide some relief against financial hardship. The popular program paid dairy farmers more than $308 million in benefits for 2019.

All farmers who signed up for 2019 are encouraged to re-enroll for 2020, given the unpredictability of dairy markets. Farmers who elected to enroll for the full five-year life of the program need to visit their FSA office to keep their information current for the upcomingina year.

In October, the milk price/feed cost margin calculated under the Dairy Margin Coverage program was $10.88 per cwt., $0.46 per cwt. higher than the September DMC margin and remaining above the threshold below which payments are triggered. The October all-milk price was $0.60 per cwt. higher than September's, while the DMC calculated feed cost for September was $0.14 per cwt. higher than September's, mostly due to a higher soybean meal price.

As of December 4, USDA's DMC Decision Tool, which can be accessed online, projected the margins shown in the chart below. The DMC margin is currently projected to remain above $9.50 per cwt. for the remainder of 2019 and during all of 2020.

NMPF has a resource page on its new website with more information about the program, including a 4-page brochure summarizing key facts about the DMC and a video specific to 2020 signup.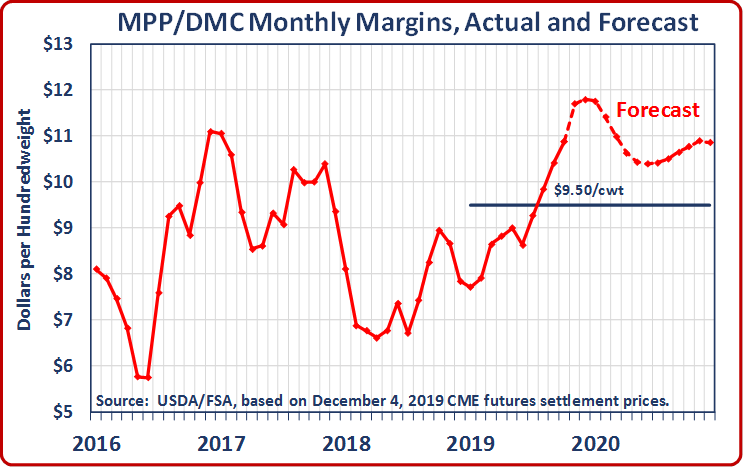 ---
NMPF Thanks Sen. Baldwin for Advocacy on Dairy Imitators as Hahn Nomination Advances
December 09, 2019

The National Milk Producers Federation thanked Senator Tammy Baldwin (D-WI) for her advocacy for public health and labeling transparency in her questions for Dr. Stephen Hahn during last month's hearing on his nomination to be Commissioner of the U.S. Food and Drug Administration. Hahn's nomination was later advanced to the Senate floor on Dec. 3.

Sen. Baldwin serves on the Health, Education, Labor, and Pensions Committee, which must review and vote on Dr. Hahn's nomination before it can be considered by the full Senate. In response to a question from Sen. Baldwin asking him whether and when the FDA will begin enforcing its own labeling standards, Dr. Hahn voiced his support for "clear, transparent, and understandable labeling for the American people.

"The American people need this so that they can make the appropriate decisions for their health and for their nutrition. I very much will look into this issue," Dr. Hahn said, adding he would "look at this as soon as I am confirmed." Video of Dr. Hahn's exchange with Sen. Baldwin is here.

"As the nation's top health official, Dr. Hahn would face many challenging issues, labeling integrity high among them. It's heartening to hear the nominee pledge that an FDA under his leadership will immediately examine this crucial unfinished business," said Jim Mulhern, president and CEO of NMPF.

"Given his stated commitment to science- and data-based decision-making and his concern for public nutrition, we expect FDA will soon begin enforcing its own standards – which clearly reserve dairy terms for real dairy products, not plant-based imposters who mislead consumers by mislabeling nutritionally inferior products. We thank Senator Baldwin for pressing for urgent action today as part of her ongoing efforts to resolve this health and nutrition issue."

NMPF has been long advocated for labeling transparency and has been encouraged by recent overdue FDA attention to the issue. NMPF looks forward to working with Dr. Hahn upon his confirmation as the FDA's Commissioner.
---
Dairy Industry to Congress: Phase 1 Japan Deal Makes Key Gains, But Phase 2 Needed
December 09, 2019

NMPF and 33 other agricultural organizations sent a letter last month to the House Ways and Means Committee expressing strong support for a "Phase 1" trade agreement with Japan while emphasizing the need to continue Phase 2 of the negotiations.

This year has been critical for expanding trade opportunities for U.S. dairy exports. In September, the U.S. and Japan struck a so-called Phase 1 trade deal that improves market access for U.S. dairy products in this growing market. Japan approved Phase 1 U.S.-Japan deal Dec. 4, clearing the path for the agreement to be implemented on Jan. 1. That would then be followed by "Phase 2" – a more comprehensive deal that could include more gains for dairy.

The letter, signed by NMPF and groups including the U.S. Dairy Export Council, International Dairy Foods Association, and the Corn Refiners Association, reiterates that a Phase 1 agreement "is critical to our economic prosperity and strengthens the U.S. food and agriculture sector by increasing the competitiveness of American farmers, ranchers, and food exporters in the Japanese market." But it also notes that Phase 2 negotiations are necessary to "build on the market access gains" already achieved and address additional tariff and non-tariff barriers affecting the exports of U.S. dairy, beef, pork, poultry, fruit and vegetable, grains and other agricultural and food products.

The initial agreement makes significant headway in helping to close the gap between U.S. suppliers to Japan and some of our key competitors. To deliver the full range of access sought by the U.S. dairy industry and ensure U.S. dairy exports can most effectively compete in Japan, however, more work is needed

Timing on a Phase 2 agreement remains uncertain. The House Ways and Means Committee on Nov. 20 held a hearing on the Phase 1 deal and the prospects for a comprehensive deal. NMPF will continue its proactive engagement on this issue in order to achieve a Phase 2 agreement that builds upon the trade deals already secured by key dairy competitors.
---
CWT-Assisted Member Sales 4.3 million Pounds of Product in November
December 09, 2019

Cooperatives Working Together assisted member cooperatives in securing sales contracts to send 2.8 million pounds of American-type cheese, 1.3 million pounds of whole milk powder, and 262,350 pounds of cream cheese to customers in Asia, the Middle East, Central and South America, and Oceania in November. The products will be shipped during the months of November 2019 through May 2020.

Member cooperatives' sales activities through November bring the year-to-date CWT-assisted export sales to 46.7 million pounds of America-type cheeses, 4.6 million pounds of butter, and 45.1 million pounds of whole milk powder, 123,458 pounds of anhydrous milkfat, and 6.2 million pounds of cream cheese. The milk equivalent of these sales is 916.7 million pounds on a milkfat basis.

Assisting CWT member cooperatives gain and maintain world market share through the Export Assistance program positively impacts all U.S. dairy farmers by strengthening and maintaining the value of dairy products that directly impact their milk price. It does this by expanding the demand for U.S. dairy products beyond the domestic market thereby increasing the total demand for U.S. farm milk.

The amounts of dairy products and related milk volumes reflect current contracts for delivery, not completed export volumes. CWT will pay export assistance to the bidders only when export and delivery of the product is verified by the submission of the required documentation.

All cooperatives and all dairy farmers benefit from CWT's activities and should add their support to this important program in 2019 and beyond. Membership forms for 2019-2021 are available at http://www.cwt.coop/membership.
---
NMPF Drives Coast-to-Coast to Support USMCA
December 09, 2019

Lawmakers and the White House – and NMPF — remain hopeful that the United States-Mexico-Canada Agreement (USMCA) may pass Congress in 2019, possibly as soon as this week. NMPF has kept up the drumbeat for USMCA passage this year, proactively meeting with key legislators, engaging with agricultural allies, and working to ensure that the dairy-farmer voices are heard loud and clear on Capitol Hill.

NMPF in October worked with USDEC to organize a farm and food coalition letter to every member of New York's congressional delegation. This letter cited the critical benefits that agricultural producers and food manufacturers, including dairy farmers and processors, bring to New York. NMPF also helped rally support for USMCA in the state of Washington by working with one of our members and securing placement of a letter to the Seattle Times written by a dairy farmer whose farm relies on trade.

NMPF is poised to engage quickly with lawmakers once implementing legislation is sent to Congress, given the dwindling numbers of legislative days.
---
NMPF-Backed Bipartisan Ag Labor Bill Advances Through House Judiciary Committee
December 09, 2019

The House Judiciary Committee, with NMPF's support, on Nov. 21 passed the "Farm Workforce Modernization Act" (H.R. 5038), a bipartisan agriculture labor bill introduced late last month by Immigration Subcommittee Chair Zoe Lofgren (D-CA) and Congressman Dan Newhouse (R-WA). The legislation, which may pass the full U.S. House of Representatives as soon as this week, would provide legal status to current agricultural workers and their families and reform the H2A guest-worker visa program to permit year-round agriculture to participate, two workforce needs vital for dairy.

Republican and Democratic committee members spoke during the committee markup about the crucial need to address the labor crisis, thanking Lofgren and others for bringing forward a bipartisan ag labor bill. Some members opposed the bill in its current form and expressed a willingness to work to improve the measure as it moves forward. During the markup and in subsequent interviews, Chair Lofgren indicated she would continue working to address members' concerns with the bill, with close attention being paid to maintaining the bipartisan support that has helped move the measure thus far.

NMPF appreciates the efforts of Chair Lofgren and Rep. Newhouse and has worked closely with them throughout this legislative process. NMPF worked to build support among member cooperatives and state dairy associations via a Nov. 18 letter in which more than 300 agricultural organizations urged the House to move this bill forward. While it is not perfect, the bipartisan bill is a critical starting point to reforming U.S. agricultural labor policy.

"Our dairy farmers face unique workforce challenges that require a solution from Congress," said Jim Mulhern, NMPF President and CEO. "Advancing the Farm Workforce Modernization Act is essential for us to have the opportunity to continue bipartisan efforts to address the labor crisis hurting dairy farms across the U.S. NMPF thanks Chairwoman Lofgren and Congressman Newhouse for their bipartisan leadership in drafting a bill that's capable of moving ag labor reform through Congress."

NMPF is hopeful that the legislation will be considered on the House floor in December. Successful House passage of H.R. 5038 is expected to tee up bipartisan discussions to produce ag labor reform in the Senate.
---
NMPF Files Comments to Origin of Livestock Docket, Using Plant-Based Analogy
December 09, 2019

NMPF used its opportunity to file comments to a USDA organic origin of livestock docket on Dec. 2 to keep organic-dairy farming accessible to farmers considering entry into or expansion within the business – and used a novel analogy connected to the plant-based foods debate to remind government regulators of their responsibilities.

The dairy-centered portion of the docket, which was the focus on NMPF's comments, sought input on two key issues: how a one-time transition requirement is implemented, and how nonorganic breeder stock can properly be integrated into the organic program.

On the transition issue, NMPF emphasized in its comments that the transition from conventional to organic shouldn't be tied to the producer, but instead to the certified dairy operation, arguing that eliminating a farmer's ability to transition a second or a third farm from conventional to organic – which is being proposed by organic-farm advocates seeking to raise barriers of entry to their business — is overly restrictive and unnecessary.

NMPF and others cited numerous examples of how this could be problematic. For example, should a farmer transition a farm to organic, then decide to relocate to a different part of the country, that farmer could not transition another farm to organic. NMPF questioned whether such a restriction could meet constitutional scrutiny and is hopeful that USDA will revise its proposal on this issue and not deprive a farmer's right to transition whatever farms he/she want to.

The second, more controversial issue, involves the use of nonorganic breeding stock to produce organic heifers. When Congress passed the Organic Food Production Act as part of the 1990 Farm Bill, it specifically stated that breeding stock from any source, organic or nonorganic, could be used to produce organic heifers if that breeding stock were organically managed for at least the last third of gestation.  NMPF believes this is appropriate, arguing that advocates who want only organic breeding stock to produce an organic heifer – again, reducing competition in the organic sector — are taking a position inconsistent with current law.

NMPF's comments to USDA suggests that the agency either work with Congress to change the law or make it abundantly clear that when the rules are followed (e.g. currently a bred nonorganic cow must be raised organically for at least last trimester), nonorganic breeding stock can produce organic heifers. NMPF's comments also note that from the time a heifer whose mother began feeding an organic diet to when that heifer is milked, that heifer would have spent at least 27 months managed as organic — much more time than the 12 months used for a one-time herd conversion, leaving no scientific basis for such a restriction.

Finally, the comments point out that there is no violation of the one-time transition rule when using nonorganic breeding stock, as that breeding stock never transitioned – tying the two issues in its main comments.

Inaction not an option 

NMPF also supplemented its comments with an additional filing to the docket, noting that whatever agencies may or may not want to do, their discretion to enforce or not to enforce their own rules is increasingly limited, as shown in a separate issue – NMPF's urging of the FDA to enforce its own rules on plant-based beverages.

In the case of the transition allowance, NMPF argued that, rather than create a stricter standard that may not comply with law, a simple clarification that the Act is correct would ensure consistency. On the organic breeder stock, NMPF also pointed out that agencies don't have discretion to enforce or change Congressional Acts.

Pointing out that a court recently ruled that FDA doesn't have unfettered discretion not to enforce provisions that Congress has put in place, USDA doesn't have this right either. Therefore, it shouldn't entertain a rule that disputes the Organic Food Production Act.

"We cannot support FDA not enforcing the standards of identity for labeling food products, nor can we support FDA rewriting the Congressionally-enacted Butter Act," NMPF wrote in its comments "By analogy, NMPF cannot support a USDA rewrite of the Congressional expression that nonorganic breeder stock can produce organic heifers when those heifers are raised and managed under the organic program requirements. USDA must finalize this part of the proposed rule as proposed, which allows for nonorganic breeder stock's ability to produce organic heifers under rigorously mandated NOP conditions."

The full comments can be found here.
---
NMPF-Backed Environmental Mitigation Bill Included in House Energy Tax Draft
December 09, 2019

NMPF is pleased that core provisions of the bipartisan Agriculture Environmental Stewardship Act (H.R. 3744), introduced by Reps. Ron Kind (D-WI) and Tom Reed (R-NY), have been included in the Growing Renewable Energy and Efficiency Now (GREEN) Act discussion draft put forward by Representative Mike Thompson (D-CA), Chairman of the House Ways and Means Subcommittee on Select Revenue Measures, which has oversight of tax policy.

The provisions in the GREEN Act would make methane digesters eligible for a Section 48 Investment Tax Credit to cover 30 percent of the upfront capital costs of installation.  Nutrient recovery technologies would be made eligible provided that they are attached to a digester.

NMPF has worked in partnership with the American Biogas Council on this proposal and particularly wishes to thank Rep. Kind for his advocacy on this effort.

"Thanks to the efforts of Rep. Ron Kind, this draft recognizes the value that biogas systems can have for dairy producers of all sizes as they continuously improve their sustainability nationwide," said Jim Mulhern, president and CEO of NMPF.  "This new investment tax credit would also address the value of nutrient recovery technologies, which can transform manure into fertilizer for crops and bedding for cows.  These technologies are important, but expensive.  If passed, this bill will help farmers incorporate these new technologies into their operations and benefit everyone."

The bill would enable dairy farmers to increase their investment in technologies that help recover and recycle nutrients from animal waste, in turn improving water quality in communities.  NMPF will continue working with Reps. Kind and Reed as well as Chairman Thompson as this effort moves forward.
---