New Farming Documentary to Reach Theatres Nationally this Spring
April 4, 2014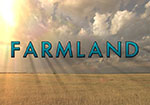 A new film that helps connect consumers with both farmers and modern farming practices will be released this spring, thanks to support for the movie generated by the U.S. Farmers and Ranchers Alliance, of which NMPF is a member.
Academy Award®-winning filmmaker James Moll's new feature length documentary, Farmland, will be released nationally May 1, and will be distributed in more than 60 major markets. The film will have its East Coast premiere at a private screening on April 17, during the 2014 Tribeca Film Festival.
Farmland offers viewers an intimate and firsthand glimpse into the lives of six young farmers and ranchers across the U.S., chronicling their high-risk/high-reward jobs and their passion for a way of life that has been passed down from generation to generation, yet continues to evolve.
The website www.FarmlandFilm.com will list local theatres where Farmland will be screening.