MPP Margin Above $11 in January
March 9, 2017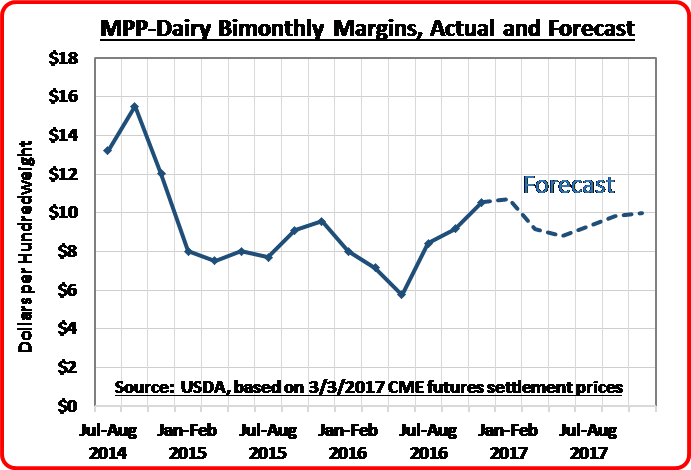 The U.S. average all-milk price rose $0.10 a hundredweight in January to $18.90 per hundredweight, as reported by USDA's National Agricultural Statistics Service (NASS). NASS also said the ingredient prices in the MPP monthly feed cost were $7.84 per hundredweight, generating a monthly margin of $11.06 per hundredweight. The January MPP margin was down $0.04 a hundredweight from the December margin.
USDA's current MPP margin forecast, based on the March 3 CME futures settlements, projects the margin will remain above $9 per hundredweight during most of 2017. However, this forecast has been dropping in recent weeks, and the department now projects a 25-percent probability that the margin will fall somewhere below the $8-per-hundredweight coverage level during both the May-June and the July-August bimonthly periods. USDA's MPP margin forecasts are updated daily online.
NMPF's Future for Dairy website offers a variety of educational resources to help farmers make better use of the program.