MPP Forecast: November 2018
November 13, 2018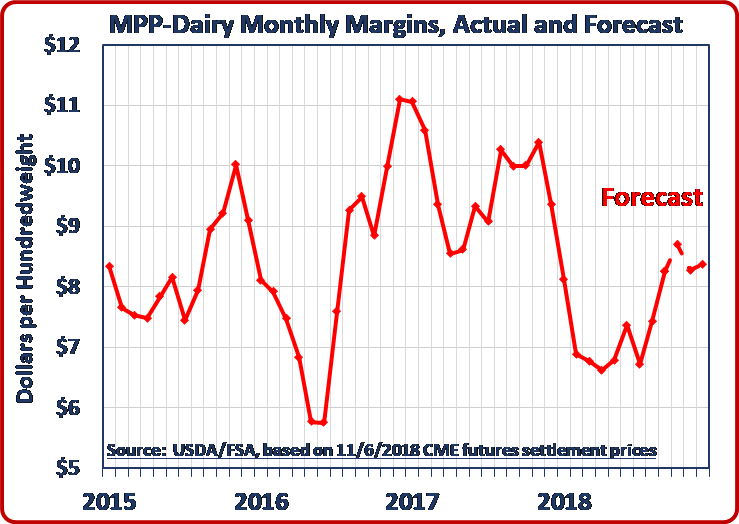 The monthly margin under the Margin Protection Program (MPP) for September 2018 was $8.26/cwt., $0.83 higher than the August margin. The MPP margin has improved by $1.54 over the past two months. The September all-milk price was $16.70/cwt., $0.80 higher than in August. The September MPP feed cost formula was $0.03/cwt. lower than the month before, marking the fourth consecutive monthly drop for this calculation. Since May, the MPP feed cost has dropped by $0.98/cwt. The small drop in the MPP feed cost between August and September was due to lower soybean meal prices being almost fully offset by higher corn and alfalfa hay prices.
The September margin ended seven consecutive months this year during which the MPP margin was below $8.00/cwt. It will remain above this level for the remainder of the year, according to Agriculture Department's (USDA) MPP Decision Tool forecast, calculated using the Nov. 6 CME dairy and grain futures settlement prices, shown in the graph. The USDA online tool does not yet show projections for 2019, but the current CME dairy and grain futures indicate that the MPP margin may remain in the $8.00-$9.00/cwt. range during the first half of next year and into the second half. House and Senate Agriculture Committee leaders are working to complete the pending Farm Bill before the end of this year. Based on the language in both bills, the final version will likely raise the maximum MPP coverage level above the current $8.00/cwt., which would make signing up at the new, higher maximum coverage level a viable option for many dairy producers next year.
As of Oct. 15, USDA had processed MPP payments totaling $250.9 million, and was pending disbursement of an additional $740,679 to producers who signed up for coverage in 2018 at the $7.00/cwt. coverage level or higher. USDA data show that 21,372 producers signed up for the program this year, 20,177 of them at the $8.00 margin coverage level, and 17,088 of these for 90 percent of their 2018 production histories.
USDA's MPP margin forecasts can be accessed online. NMPF's Future for Dairy website offers a variety of educational resources to help farmers make better use of the program.