More FARM Program Version 3.0 Materials Now Available
September 7, 2016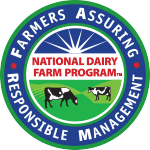 The National Dairy FARM Program continues to roll out materials to help producers prepare for the implementation of Version 3.0 of the program on Jan. 1, 2017. The following resources are now available on the FARM Program website:
FARM Version 3.0 Animal Care Manual: a comprehensive document, developed by the Technical Writing Group, that provides best management practices and guidelines for the highest level of animal care.
Version 3.0 Self-Assessment: a guide for producers to follow to prepare for their Version 3.0 evaluation. It has general FAQs about the FARM Program and the evaluation and also provides a checklist of documents to have ready prior to the evaluation.
Written Herd Health Plan: a guide for producers to create a Herd Health Plan for their dairy. It provides written protocols for all areas focused on within the Animal Care Manual.