Majority of Farmers Elect to Use New Dairy Safety Net
February 5, 2015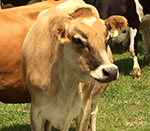 The U.S. Department of Agriculture announced last month that approximately half of the nation's 46,000 dairy farmers have chosen to enroll in the new Margin Protection Program for 2016. Not only did more than 50 percent of all dairy operations enroll in the MPP, but 55 percent of those who signed up selected coverage above the basic, $4 per hundredweight level.
"For a totally new program that asks dairy producers to pay to participate, these numbers are very encouraging," said NMPF President and CEO Jim Mulhern. "And with milk prices trending down, the MPP is the right solution at the right time for dairy farmers."
The USDA also published a state by state breakdown of enrollment levels, ranging from a low in Wyoming of 5%, to a high in Nevada of 90%. The participation level in the ten largest dairy states was 51%, almost identical to the national average.
Anecdotal reports indicated that the sign-up extensions granted by USDA after Thanksgiving, coupled with a sharp downturn in milk price forecasts for 2015, encouraged additional participation prior to the December 19 cutoff. The next enrollment window, for calendar year 2016, begins July 1 and lasts for three months.