June DMC Payment Higher than May as Feed Costs Push Down Margins
August 5, 2019
The margin for June under the Dairy Margin Coverage program will be $8.63 per cwt, $0.37 per cwt lower than a month earlier, as rising feed costs negated any economic gains created by a higher milk price. The falling margin will generate a June DMC payment of $0.87 per cwt for producers who purchase coverage at the DMC maximum level of $9.50 per cwt for up to 5 million pounds of production history. Thus far, margins under maximum DMC coverage would generate a payment for every month of 2019.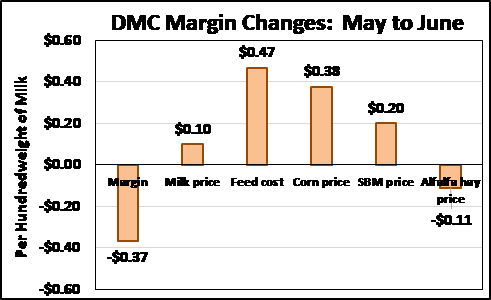 The All-Milk Price in June was up by 10 cents a hundredweight over May, but the June feed cost calculation was $0.47 per hundredweight higher than a month earlier, as the effects of this year's weather disruptions in the heart of the country began to take effect began to hit feed prices. On a per hundredweight of milk basis, the calculated feed cost for June rose 38 cents from May because of higher corn prices and 20 cents due to a higher soybean meal price, offsetting a decline of 11 cents in the average alfalfa hay price.
The June feed cost would have been 16 cents a hundredweight of milk lower, raising the June margin and lowering DMC payments by the same amount, had the dairy quality alfalfa pay price not been added into the calculation.
As of July 29, USDA's DMC Decision Tool, which can be accessed online, projected the margins shown below. These calculations would generate payments averaging $0.51 per cwt., net of sequestration, for all of 2019 to producers who sign up for $9.50 per cwt coverage on up to 5 million pounds of production history. Coverage at this level costs $0.15 per cwt for a one-year signup, or $0.1125 for the year, if signing up for five years.  Producers have until September 20th for 2019 enrollment.
NMPF's DMC information page on its website offers a variety of educational resources to help farmers make better use of the program.