FARM Program to Launch Social Properties, New Website at Annual Meeting
October 7, 2015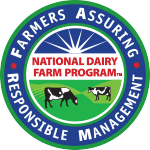 To help dairy marketers and farmers feed consumers' hunger for information about where their food comes from, the National Dairy FARM Program will be launching a new website this month. To help share the story of animal care on America's dairy operations, this October, the FARM Program will be releasing a new suite of communications resources that includes a brand new, consumer-friendly and updated website; a catchy, modern, animated video explaining the program and a blog to talk about animal care.
The FARM Program will also be active on Twitter, Facebook and Instagram to cross-promote the content from dairy farmers and co-ops that are active on social media, especially when they're mentioning or discussing topics that pertain to animal care. This activity is supported by Dairy Management Inc.
The new education tools come at a time when the number of consumers who say animal welfare is important has grown since 2013 from 17% to 31%. Today, more than 93% of the domestic milk supply comes from farms that participate in the National Dairy FARM Animal Care Program.