Disney Celebrates 10-Year-Old Farm Girl for Teaching Peers about Dairy
September 11, 2014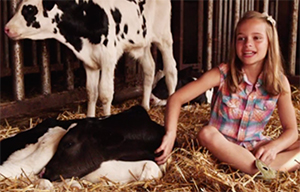 Ten-year-old Jenna Kelsay, the youngest generation in a multi-generational dairy farm family, is the latest "citizen kid" to be featured in a Disney Interactive web series that celebrates the extraordinary things kids accomplish when they embrace their interests and talents.
For the last two years, Jenna has been leading tours of her family's Indiana farm, educating children about the source of their food and the nutritional value of dairy products. "I really like teaching kids about dairy farming and why we do it," Jenna said. "I want kids to know when they pour a glass of milk that it actually comes from a cow."
"I've been giving tours here at the farm for about eight years," said Jenna's mom, Amy Kelsay. "I honestly think sometimes the kids listen better when she's giving the tour rather than when I'm giving it."
Jenna's story, and the stories of other Citizen Kids, are part of a partnership between Disney and Milk Life, a project of the Milk Processor Education Program. During the 18-episode Citizen Kid series, viewers will see children use ordinary activities to better the world around them. Episodes appear on Disney.com, Disney's YouTube channel and Disney's Roku connected TV app.